Successfully managing an e-commerce business involves leveraging different technologies. Understanding the functions of each technology and how they fit into your organization is essential for optimizing their use. Whether you are dealing with a small customer base or a large one, you require a centralized repository for storing contact details, transaction histories, communication logs, and other critical data. This is where the role of CRM vs. CMS comes, and the distinction between CMS and CRM becomes relevant, as both play vital roles in modern e-commerce systems.
CRM (Customer Relationship Management) and CMS (Content Management System) serve entirely different business purposes. CRM is focused on tracking and managing interactions with existing and potential customers to improve service delivery.
In contrast, CMS allows you to easily control and manage the content on your website through a user-friendly interface, without requiring extensive technical expertise. Whether your priority lies in customer-centricity or efficient content management, having a firm understanding of these potent software solutions is a crucial step toward achieving your business objectives.
"When talking about CMS vs. CRM (content management system vs. customer relationship management), it is crucial to understand their distinct purposes. While these systems share similarity, they are not interchangeable. However, when used in conjunction, they can significantly improve your e-commerce efficiency and boost sales."
In this guide, we will delve into the basics of CRM vs. CMS, explore their core functions, highlight the key differences between them, discuss their roles in business, and help you decide which one to pick based on your specific business needs. Before diving into the details, let us begin by clarifying the definitions of CRM and CMS.
What is a CRM?
Customer Relationship Management (CRM) software is designed to centralize and manage customer data, including contact information, past interactions, and other relevant details. It integrates data from various business channels, offering analytics and forecasts to improve the customer experience. 
CRM systems are comprehensive tools that handle the entire customer journey, from potential leads to loyal customers, and facilitate relationships with partners and vendors. 
CRM software is an essential tool for businesses to organize and nurture sales relationships. It offers a comprehensive view of customer data, aiding in lead management.
CRM systems excel in automating marketing and sales processes, managing leads and contacts, streamlining sales activities, enhancing customer service, providing robust reporting and analytics, optimizing inventory management, and facilitating customer segmentation. 
Also, read: Analytical CRM: Benefits with the 10 Best Analytical CRM Tools for 2023
Using CRM tools appropriately will result in the following benefits: 
Due to the ability to see preferences and demands, you will get better customer service. 
More client loyalty because of customization. 
A more effective sales process since it is possible to check sales funnel activities. 
Improved targeting and segmentation lead to improved lead conversion. 
Improved data visibility leads to more efficient marketing team communication. 
Improved sales efficiency because of shared data sets among team members. 
Customer satisfaction tends to increase when a company uses a CRM system to manage interactions, personalize experiences, and record preferences. 
Use Cases of a CRM System:
CRM systems automate a variety of customer service procedures, including chatbots, tracking client complaints, and personalized help. 
CRM solutions automate various sales operations, including lead generation, lead tracking, sales forecasting, sales pipeline management, deal closing, etc. 
These CRM systems furthermore help in automating a variety of marketing tasks, including segmenting clients, running marketing campaigns, and tracking target audiences.    
Also, read: Customer Service CRM Software: Why You Need the Best Tools & Support
Key Features of a CRM: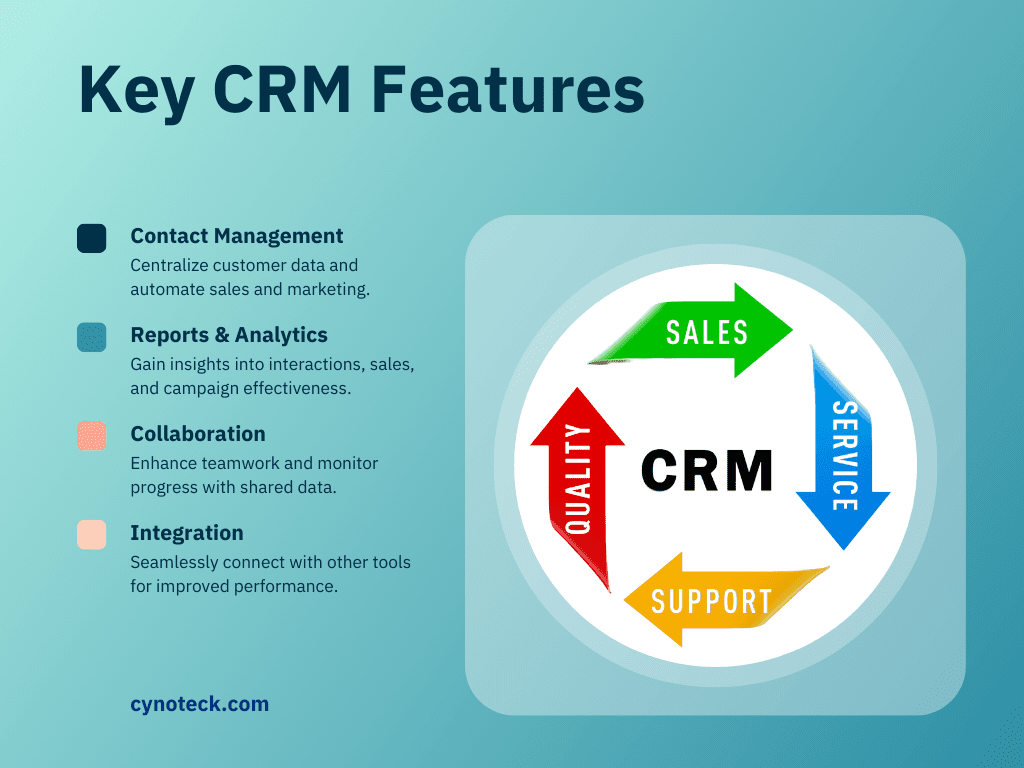 1) Contact, Sales, and Marketing Management 
CRM systems fetch and gather customers and lead contact details, store their interaction, and track their activities. They also help in automating sales processes and managing the customer sales cycle. These systems can automate marketing processes and effectively manage them. 
2) Reports and Analytics 
CRM systems generate reports and analytics about customer interactions, sales performance, and the effectiveness of marketing campaigns. 
3) Collaboration 
Team members can collaborate and work together on tasks using the centralized data accessible to all team members, while administrators can track and monitor team progress.    
4) Integration   
CRM systems can integrate seamlessly with other software applications and tools, improving overall performance.    
Why do you need CRM software? 
CRM software includes marketing automation to streamline sales processes and boost productivity. This allows employees to focus on lead nurturing, content creation, and revenue generation.
Additionally, by monitoring interactions across different channels, CRMs offer sales representatives valuable insights into each customer's position in the sales pipeline, allowing effective follow-ups.       
Also, read: CRM for Sales: Top 10 Sales CRM Solutions Compared for Sales Success
What is CMS software?
A Content Management System (CMS) is an application that enables the creation, management, and storage of web content. CMS software helps in the creation and administration of website content and other digital assets. Examples of CMS platforms include WordPress, Joomla, and Shopify, among others.
A CMS provides both back-end and front-end functionality for managing and publishing online content. Consequently, it is often one of the first software investments made by businesses.
CMS systems empower non-technical users to easily produce, edit, and publish content without requiring knowledge of web design or coding.
These platforms enable organizations to maintain their websites without the need for an in-house IT team or outsourcing work to third-party web designers or developers.    
The following are some Benefits of CMS Software: 
This type of system makes sure that content is current, safe, and search engine performance optimized. 
A CMS can also make it easier to create and publish content by allowing non-technical individuals to format and arrange web pages. 
The cloud-based CMS platforms of today provide collaboration. Even if they are not in the same workplace, different users can work on the same pages, blog articles, or marketing materials. 
A high-quality CMS empowers a business or organization to efficiently manage its online store and web presence without relying on technical personnel to develop and update the website. 
Use Cases of CMS platforms:
CMS systems are accountable for creating, maintaining, and allowing for periodic updates of website content. 
These CMS systems often come equipped with specialized features tailored for blogging, effectively managing the entire process of publishing blogs and promoting audience engagement with the content. 
CMS systems can create and manage online stores, including product catalogs, transaction processes, and tracking deliveries. 
Also, read: Operational CRM: What is it, How it works, and Examples?
Key Features of a CMS platform:
1) User management 
The system enables administrators to set up different accounts for authors, editors, administrators, and other website contributors with varying levels of access. 
2) Creation of Content 
The CMS enables the creation and storage of various kinds of material, including blog posts, pages, photos, and other files. These saved items are accessible at any moment for changes or editing by users. 
3) Search and Filtering 
The time it takes to find files and content is reduced because of the company's ability to quickly find content using the built-in search and filtering functions. 
4) Workflow management 
By providing users with specific permissions to create, save, edit, publish, alter, or delete content, the CMS can automate the processes of content generation and approval. The team member can automatically send it to the following person who must work on the content after each stage. 
5) Management of Media Files 
A CMS makes it possible to store and organize media assets like pictures and movies. 
6) Integration with other Tools  
A content management system (CMS) enables the integration of external software, such as analytics and social media interaction tools. 
Why do you need CMS software? 
CMS software offers customizable themes and templates, making it easy to update content with just a click. These templates are responsive, ensuring your website looks great on any device. With a CMS, you can schedule when and where to publish content.
Additionally, you can also integrate your CMS with popular business tools such as AWS and HubSpot or use CRM plugins to access extra features.
CMS systems furthermore provide built-in analytics to track website performance, including traffic sources, bounce rates, and the number of views on your video customer support page. 
Also, read: Best Ways to Increase CRM Usage by Salespeople
CRM Vs. CMS: What are the Differences Between the Two?
Businesses heavily depend on their CRM and CMS software to manage sales and marketing. Despite their similarities, these software programs serve different purposes. Let us differentiate them.
A CMS primarily holds customer data, resembling a database management system. In contrast, a CRM transforms this data into a valuable business asset.
Here are the key comparisons to illustrate these differences: 
Copy Infographic
1) Area of functionality
A CRM serves as the foundation for many core business operations, offering advanced features for sales streamlining, performance analysis, and customer relationship management, beyond just keeping customer data.
In contrast, a CMS focuses solely on contact information management, including names, phone numbers, and email addresses, with no involvement in other business operations. Its function is limited to contact management. 
2) Automation
Certain CRM platforms offer advanced email integration for effortless drip campaigns. CRM software allows custom sales workflows aligned with your specific business processes and provides automated email capabilities.
In contrast, CMS is not designed for extensive automation. More advanced contact management systems like ContactBook enable sending emails to contacts within designated groups.
3) Segmentation
CRMs and CMSs utilize different segmentation approaches. CRM segmentation involves categorizing leads based on interest, business value, and buying readiness. Conversely, a CMS segments contacts into groups primarily for user convenience.    
4) Analytics and Reporting 
CRM systems employ dashboards and robust reporting tools to provide data-driven insights. Sales representatives can monitor goal progress, sales leaders can generate precise forecasts, and executive teams can assess the impact of sales performance on the bottom line. Contrarily, a CMS can give you customer information but cannot consolidate, analyze, and present it in a readable format.    
5) Lead Management 
A CRM is purpose-built to help sales teams guide potential customers through the sales funnel, featuring advanced capabilities such as lead tracking and lead routing. In contrast, a CMS lacks any functionality to support the sales process.    
6)) Target Users
CRM systems are utilized by sales, marketing, and customer service teams in organizations. They facilitate collaboration and the sharing of valuable customer data to enhance customer interactions.
Conversely, CMS platforms are employed by content creators, website administrators, and digital marketers, empowering them to create, edit, and manage website content without necessitating extensive technical expertise.
7) Documentation 
Customer relationship management software proves particularly valuable for larger businesses. Its level-based access allows executives, managers, and employees to instantly share notes, documents, reports, and insights.
With critical information readily accessible in just a couple of clicks, users can address high-level inquiries using the available database documentation, regardless of their location.
This eliminates delays and inconsistencies that can harm customer service. Contrariwise, the Contact management system lacks any form of documentation. 
8) Integration 
CRM APIs play a crucial role in integrating with various business tools such as marketing automation software, email marketing platforms, e-commerce systems, and analytics tools. This integration results in a comprehensive view of customer interactions and behaviors.
Likewise, CMS platforms possess the capability to seamlessly integrate with a diverse array of third-party tools, encompassing SEO plugins, analytics services, and e-commerce modules. This integration serves to upgrade website functionality and overall performance. 
9) Pricing
CRM solutions employ a subscription-based pricing model, where the cost of the system depends upon numerous factors. These factors include the number of users, the extent of features and functionalities essential for the business, data storage capacity, and integration possibilities.
Consequently, the subscription fees for CRM systems can differ, based on the chosen vendor and the specific requirements of the business.     
CMS platforms present a diverse array of pricing choices, including both subscription-based plans and open-source alternatives. Like CRM pricing models, subscription-based CMS plans depend on user count, supplementary features, and storage prerequisites.
Additionally, an assortment of free and open-source CMS options is at the disposal of businesses, permitting them to leverage the core CMS software without incurring direct expenses. Still, costs related to CMS platforms often emerge as customizations, premium templates, plugins, or hosting services.    
So, it can be said that a CRM primarily concentrates on the management of customer relationships, whereas a CMS revolves around content creation and management for websites and online platforms. However, both systems hold crucial significance in contemporary business operations and can synergize effectively when seamlessly integrated.
Also, read: The Top eCommerce CMS Platforms for a Successful Online Business
Considerations for Choosing Between CRM and CMS
CRM and CMS systems are both valuable, but it is essential to designate one as the primary system for managing customer interactions, supporting sales and marketing operations, and managing data collection and analysis. To make this decision, consider the following factors to determine the best fit for your business. 
1) Business Objectives
When deciding between a CRM (Customer Relationship Management) and a CMS (Content Management System), it is crucial to weigh multiple factors to ensure you make the right choice for your business requirements.
If your primary goal is to cultivate relationships that result in loyal, long-term customers, CRM is the better choice. Likewise, if your objectives are centered around boosting website traffic and engagement, a CMS offers the most suitable option. 
2) Size of your Business
The size of the business is another significant factor in software preference. Small businesses with limited customer bases may choose a CMS to engage with new and existing customers.
In contrast, mid-sized and larger companies often prefer a CRM to manage the substantial volumes of data resulting from customer interactions.
Also, corporate digital marketing specialists and departments can integrate a CRM and CMS system into a unified platform to manage both content and customer data in one place.
3) User Roles and Team Requirements
It is essential to consider the roles and requirements of your team members who will be using the system. For example, sales, marketing, and customer support teams would derive substantial benefits from a CRM system, whereas content creators, website administrators, and digital marketers would find a CMS more valuable for their specific needs. 
4) Security and Data Privacy 
Consider the security measures and data privacy features of the system, especially if it involves handling sensitive customer data. Make sure the solution you choose complies with applicable data protection laws and regulations. 
5) Budget and Resources 
When deciding which system to adopt for your business, it is important to consider the associated costs of implementation and maintenance. These costs include licensing, hosting, and training employees and IT personnel to use the new platforms or tools.
Furthermore, you should consider the resources needed to effectively manage and maintain a CRM or CMS, including personnel, technical expertise, and time (which translates into employee wages).
All these costs can accumulate, so it is crucial to thoroughly evaluate them when deciding, considering the type of system and its complexity. 
With a thoughtful evaluation of these factors, you can make an informed decision and choose from the "CRM vs CMS" that best aligns with your business needs and supports the attainment of your organizational objectives. 
Also, read: The Power of AI in CRM: Revolutionizing Customer Relationships
How might the integration of CRM and CMS benefit your business?
A successful integration of CMS and CRM will enable the direct filtering of all website interactions into your CRM system, ensuring immediate data analysis, reporting, and the generation of valuable insights.
Furthermore, this integration allows you to assess your website's performance on your other online channels, a significant asset for your marketing and content strategy.
If you are planning to select a CMS, it is essential to conduct a thorough examination of the CRM integration options offered by each CMS on your list of considerations.
While many well-established CMS platforms provide integration with one or more CRM systems, it is crucial to weigh factors such as cost, functionality, and the array of integration choices available.
By carefully evaluating which CMS-CRM configuration best suits your business requirements, you can make an informed and advantageous decision. 
Also, read: Salesforce Use Cases: How Companies Boost Sales with CRM
Conclusion – CRM vs CMS
Having learned the distinct roles of CRM and CMS, they fulfill different functions. CRM and CMS tools have become indispensable assets for online businesses. While they may have distinct functionalities, their purpose is to enhance the overall customer experience for companies.
However, it is important to note that these systems can also complement each other effectively. By integrating a CMS with a CRM system, you can leverage the potential to improve website traffic and optimize data collection on your website. This collaborative approach can offer significant benefits for your business.    
If your business is still in its initial stages and you are choosing between CRM and CMS software, consider your business focus. If outbound sales are a primary concern, CRM software is your best choice, offering customer data management, lead tracking, and insights.
Contrariwise, for small businesses relying on inbound marketing, CMS software will help you manage your functions and fulfill business requirements, especially for SEO, content management, and digital content-related tasks. As your business grows, consider building an efficient CRM-CMS integration to enhance operations and scale up. 
Also, read: Salesforce Use Cases: How Companies Boost Sales with CRM
FAQs (Frequently Asked Questions)
1) What differentiates a CMS from a CRM?
A CRM (Customer Relationship Management) system serves as a central hub for managing a company's interactions with current and potential customers. It efficiently tracks customer data, purchase history, interactions, and other pertinent information. On the other hand, a CMS (Content Management System) empowers users to create, manage, and update website content without requiring specialized technical expertise. It effectively manages the website's infrastructure, enabling users to concentrate on the front-end aspects such as content and design.  
2) Are Salesforce and Shopify both CRMs?
Salesforce is a CRM (Customer Relationship Management) platform, which excels in integrating sales, marketing, and customer data for comprehensive insights. However, Shopify is a CMS (Content Management System) that simplifies setting up and managing e-commerce websites. It provides the tools to create a branded online storefront, launch the store, and facilitate payment processing.  
3) Is it possible for a business to work effectively with just a CRM or CMS?
A business can operate with either a CRM or a CMS, but integrating both can significantly improve efficiency and productivity. Utilizing both a CRM and a CMS ensures not only effective website content management but also the nurturing and enhancement of customer relationships over time. This integration furthermore provides a comprehensive solution for businesses to excel in both aspects.  
4) Is it possible to increase operational efficiency with a CRM-CMS integrated system?
The integration of your CRM and CMS is not just a technological union; it is the art of synchronizing two powerful systems to create a unified force that magnifies operational efficiency. Imagine it like this: merging a CRM powerhouse like Salesforce with a content management system like WordPress. When these two giants join forces, the possibilities are remarkable. 
– Operational Synchronization  
– Data-Driven Content  
– Valuable Insights  
– Personalization Potential  
– Continuous Improvement  
– Empowering Customer Journeys  
– Business Excellence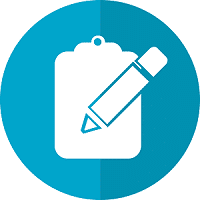 Do you want to implement a CRM system within your organization? Connect with our CRM Experts today!