Salesforce CRM is a customer relationship management (CRM) tool that runs on the cloud and helps businesses in managing their sales, marketing, and customer service operations. Whether you run a major corporation or a small firm trying to establish yourself in your field, it can help you improve sales.
Later in this article, we will examine multiple Salesforce use cases to help us understand this concept more thoroughly. Now, let us focus on what Salesforce is, and how it can help businesses get the results they want. 
Salesforce helps you customize contact management, lead tracking, order processing, analytics tools, and many other features. It furthermore makes it simple to follow leads from the first point of contact through to the point of sale. Moreover, it helps design campaigns to bring in new clients, keep track of customer activity, automate processes for more efficiency, and obtain insights into your client's needs with powerful reporting capabilities.  
In addition, Salesforce makes it simple to communicate with customers by offering a variety of features like customer-specific communication templates, automated workflows, and customer segmentation tools. This helps you target certain customer groups with personalized messaging. It furthermore offers integrated contact center solutions, real-time notifications and alerts that keep customers informed about their orders or purchases, and more.     
Salesforce is more than just a CRM
Customer relationship management (CRM) is software that stores all a company's customer information, including name, address, and information about previous meetings and interactions, in one location. The concept of conventional CRM has been radically changed by Salesforce. It provided its users with much more than ever before by combining all the characteristics of a standard CRM with a ton of new innovative tools and capabilities.
Based on the Customer 360 concept, Salesforce compiles customer data from every stage of the customer experience into a single database. Businesses can deliver exceptional service and develop lasting relationships by knowing their consumers' needs and preferences.      
Moreover, Salesforce CRM modules let you extend the customer experience by building customer relationships, implementing client retention strategies, and driving growth through sales.     
Important Salesforce Features
A few of the features that CRM offers are as follows: 
Account Management;  
Marketing Automation;   
Lead Management;   
Collaborative Sales;   
Centrally Managed Repository;   
Tools for managing pipelines and sales, as well as tracking and analyzing sales.     
Also, read: Salesforce Report Types for Best Data Visualization
What exactly does Salesforce do?
You can improve productivity, expand your business, and accomplish more with the Salesforce CRM, which brings together tools for marketing, sales, commerce, and customer support under one roof.
Additionally, it offers clients cloud technology so they may communicate and work more effectively with clients and partners. Salesforce has become a market leader and is exceptionally well-liked across a variety of social circles and corporate sectors.      
The three key components of the Salesforce CRM platform are as follows:     
PaaS (Platform as a Service) – Salesforce offers tools for development and deployment that make it simple and quick to create your applications and websites.  
Salesforce is a SaaS (Software as a Service) provider that offers software services and applications. As a SaaS provider, Salesforce enables you to access the system from any computer with an Internet connection at any time.   
IaaS (Infrastructure as a Service) – As an IaaS provider, Salesforce provides the infrastructure, such as virtual servers, storage discs, etc., that you need to run your apps.   
Also, read: Salesforce for non-profits: features, benefits, getting started
Salesforce Use Cases: Different Ways to Use Salesforce for Your Business
Salesforce is the most popular CRM platform that offers a ton of standard functionality (think of features and products that are included right out of the box). It is used by many firms for various functions depending on their unique requirements and corporate objectives.
By boosting profitability, targeting your leads can help you in running a successful firm. When your team is busy with several tasks, they are more likely to overlook essential information, which could cost you a sale. Salesforce can help, it makes businesses operate more profitably and efficiently.     
Some of the most typical task's businesses do use Salesforce are listed below:     

Copy Infographic
1) Improve sales with efficient pipeline conversion  
It is simple to keep track of all the different possibilities with Salesforce CRM. It makes it easier to store important data like possibilities, problems, and other things that might help influence future customers to make a purchase.
With the help of Sales Cloud, you can manage leads and opportunities, examine statistics. Plus, the success of the sales team can also be evaluated. As a result, your business will get the right sales leads.      
2) Higher rate of customer and partners engagement  
Consistently offering a positive experience is essential if you want to increase customer involvement. Your business will be more successful if more clients interact with your brand.
Using Salesforce's products and services improves the effectiveness and productivity of your business's collaboration.
If you offer quick and hassle-free service, you will quickly attract satisfied customers. This furthermore improves consumer involvement, enabling repeat business and your company's return on investment.     
3) Improve business processes 
Businesses can use multiple Salesforce modules to help their clients. Like, businesses can start new campaigns for products and include leads or contacts as members of the campaign by using Marketing Cloud.
They can also examine and report on the deals that your sales team has been diligently working on using Sales Cloud. Additionally, they can help their customers even after a sale by using Service Cloud's capabilities.     
4) Better managing teams 
Salesforce keeps your team updated on crucial customer information, improving the efficiency of the team. You can connect with your team and gather data about clients, locations, and other crucial details using the Salesforce Chatter tool.
More participants in the chatter group help them organize their tasks better, which closes more leads and boosts sales.      
5) Salesforce data analytics tracking  
Salesforce data analytics provides you with key details about your business. When data is used appropriately, it can reveal previously hidden patterns, performance, opportunities, and issues.
Without data, you will not be able to take advantage of opportunities or resolve recurring problems. Your management team can track their progress using the great analytics and statistics provided by Salesforce service cloud.
Additionally, this functionality helps them to uncover new business opportunities and make informed decisions while improving customer service.     
6) Salesforce offers different integration options 
Salesforce's app-based, API, custom, and UI connectors help you to quickly link your apps with the platform. As businesses today cannot restrict themselves to a small number of tools and platforms for efficient performance, management, teamwork, and communication.
Although Salesforce is not the ideal option for all these business operations, it is an integration-friendly platform, allowing you to use Salesforce integrations for your business.     
So, a business's performance is influenced by how well it communicates with and understands its customers. Because of this, a lot of modern firms rely on Salesforce to streamline and improve the management of client relationships.
CRM like Salesforce offers an all-in-one solution to manage all parts of customer relationships, from processing leads to creating customer-focused applications. This makes it a market leader in CRM software.         
Also, read: An overview of what is Account Teams in Salesforce
Salesforce CRM Use Cases for Different Roles    
Salesforce CRM is cloud-based software that helps businesses manage their customer relationships in an organized and efficient way. It lets you manage all your customer data in one place. You can access it from anywhere in the world, and it works on any device (PCs, Macs, tablets, and phones). Salesforce CRM works as a powerful tool that can help businesses of all sizes manage their customer relationships.      
1) Salesforce CRM for Operations 
Operations teams use a range of roles and tasks, including strategy, data analysis, hiring and training, forecasting, territory design, and sales process optimization, to achieve their goals.      
If your company's goal is to use collective data effectively, it has a chance to succeed if data is the future. Understanding how data is currently being used is crucial for improving your business. The best option for this is the Salesforce CRM.      
Salesforce's multi-tenant design makes it simple to accommodate teams of varied sizes, even if they are distributed across the globe. You have access to a wide range of tools with the help of its strong partner ecosystem, which helps the business improve the product based on user feedback.     
2) Salesforce CRM for Sales    
Running sales and boosting activity both demand a combination of strategies. Sometimes all a firm needs to succeed is to have different strategies in place. Salesforce is a cloud computing company that specializes in customer relationship management (CRM) and delivers software as a service (SaaS).
Organizations can use cloud computing to better communicate with their present and potential customers and business partners with the help of Salesforce's services.      
Sales managers can also rely on Sales Cloud Einstein, an AI technology that analyses previous data from the organization to identify trends. Using Einstein to gain knowledge from prior experience.
For insight-driven actions and a predictive customer experience, this product improves the existing Salesforce apps in your organization with powerful AI capabilities.
With Salesforce Einstein, there are several use cases to automate the CRM process and enhance the customer experience, including user and customer insights, future outcome prediction, next-best-action suggestions, and process automation.      
3) Salesforce CRM for Marketing
Provide your marketing teams with the freedom to coordinate their efforts to find and convert the right prospects. Businesses can increase lead generation, boost lead conversion rates, and improve customer satisfaction by adopting Salesforce CRM for marketing.
Salesforce CRM's tools for lead management, sales enablement, marketing automation, reporting, and analytics help businesses in streamlining their marketing operations and expanding their customer base.     
Salesforce Marketing Cloud can be used by marketers to connect and integrate not only the Salesforce systems but also other systems like content management systems (CMS) and analytics to improve the customer experience.      
The following use cases can be brought by this integrated CRM platform, which is ideal for organizations of all sizes:     
Marketing and Sales  
Customer Experience Personalization   
Innovate   
Customer Support     
4) Salesforce CRM for Support    
Overall, Salesforce CRM is a strong tool that can assist you in providing your clients with outstanding service. Businesses can use Salesforce CRM to boost customer satisfaction, enhance support performance, and promote business expansion.     
When we talk about the Salesforce use cases for support. Businesses can offer their customers a seamless and effective assistance experience by adopting Salesforce CRM for support. Customers can browse the knowledge base and contact the support team through their preferred channels.
Moreover, the support agents have all the tools they need to efficiently address situations. Additionally, this helps in gathering insightful input to improve the customer care processes, allowing the business to maintain high levels of client pleasure and boost growth.     
5) Salesforce CRM for Customer Experience 
Businesses today need to build relationships with their customers and deliver personalized experiences across all channels. In such case, if you are unable to do this, your connected customer will go for a competitor who can.
Additionally, companies can advance by adopting a CRM system to manage client data and automate internal processes.     
Organizations can offer a smooth and customized customer experience across all channels by utilizing Salesforce CRM. They can deliver the appropriate message, at the right time, through the right channel.
This is possible with unified customer data, marketing automation, sales automation, service automation, and community portal. Customers are more engaged, content, and devoted as a result, and the business can expand sales and generate more income.     
Also, read: Chatbots and Salesforce – Top Recipes for Maximum Conversions
Conclusion – Scale as You Grow    
Salesforce is a comprehensive system that combines lead management, invoice processing, account management, and customer service. Salesforce's clients are happy with the services offered by the company. You must have understood after going through the above Salesforce use case examples of how it can help different businesses.
It might be quite beneficial to your sales model to start using this user-friendly software, Salesforce. It can help you understand how customers interact with you, how your sales process works, and what must be changed to boost your performance. Since their customer base is always growing, Salesforce customers can successfully dominate the market in their respective industries.
As a certified Salesforce consulting partner, Cynoteck offers a unique blend of specialized services, expertise, and practical solutions. Since we have technical and strategic expertise in building specialized Salesforce apps and integrating the platform with different sales and marketing platforms, we can be your reliable partner in Salesforce-enabled growth.
Our experienced team provides the best-managed services and Salesforce customization services. This furthermore helps businesses in maximizing the efficiency of the Salesforce platform for their sales team.         
Also, read: Virtual Sales Teams with Salesforce – 10 Tips and Techniques for Success
FAQs (Frequently Asked Questions)    
1) What are the use cases for Salesforce CRM?
A use case explains how users engage with a CRM system to accomplish a certain task. Instead of system design or structure, the applications are the focus. How a business will use a CRM is defined by a complete set of use cases. The main Salesforce uses case examples are leads, opportunity, contact, and account management, reports and analytics, marketing automation, sales, and customer service management, and lead, opportunity, contact, and account management.  
2) How can a Salesforce CRM be used by businesses?
A CRM offers a central location to keep data about potential customers and clients, tools for analyzing the data in the system, and programs to help with sales, marketing, and customer service. Salesforce CRM is furthermore used to automate repetitive work, personalize customer interactions, spot market trends, and improve other aspects of corporate performance.  
3) What are the Salesforce Marketing Cloud and Salesforce Service Cloud use cases?
Salesforce Marketing Cloud use cases include social media marketing, automated email sends based on customer data, enhanced segmentation of email lists, and automated email execution of marketing campaigns.     
Salesforce Service Cloud use cases include the development of customer self-service knowledge bases and streamlined knowledge management. This furthermore includes the automation of customer inquiry capture, escalation, tracking, and assignments to a support person.  
4) What programs can we integrate with the Salesforce CRM?
The Salesforce CRM platform is designed to integrate with multiple programs to offer a streamlined back-end experience that enables you to efficiently run your business. Program integration is also possible through AppExchange. Each app is simple to install, allowing you and your team to start utilizing it right away in your Salesforce product.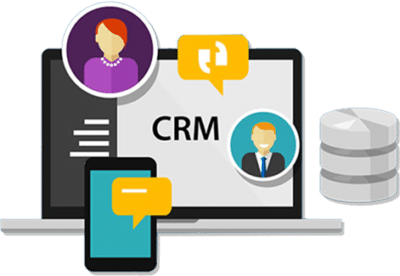 If you are new to automation and confused about Workflow or Process Builder. Need not to worry, we have got you all covered. Talk to our experts and clear all the cloudy thoughts about automation.