"Are you looking for a CRM tool that offers more automation and less administrative work? Your search for a solution that streamlines your business and frees up your time for growth ends here."    
When you think of Customer Relationship Management (CRM), you might associate it with streamlining customer interactions, email marketing, or service automation. However, there is more to CRM, especially if you have not explored and tried Analytical CRM.     
In today's rapidly changing business landscape, understanding customers has become increasingly complicated due to the vast amount of data generated daily on the internet. Customers' behaviors have become less predictable, necessitating quicker adaptation by businesses. This is where the integration of CRM with analytical tools becomes crucial.
CRM software excels in creating a centralized customer database, ensuring easy access for all team members. The cornerstone of effective CRM solutions lies in their data and analytics capabilities, guiding the strategies adopted by sales and marketing teams. While some CRM solutions include analytics as a feature, others provide standalone analytical CRM platforms or add-ons.     
In this article, we will explore Analytical CRM, its essential features, and the advantages it offers. Additionally, we have curated a list of highly rated analytical CRM software and tools to help you find the perfect solution for your business requirements. Keep reading for more insights!       
What is Analytical CRM?
Analytical CRM plays a crucial role in managing customer relationships by collecting and analyzing many customer data.
This includes purchase and return history, brand preferences, payment, and credit history (including credit scores), customer responses to marketing campaigns, satisfaction levels, retention rates, and more.
Businesses employing analytical CRM do so to improve customer satisfaction and retention, often undiscovered by the customers, as it operates behind the scenes.
By scrutinizing customer behaviors, experiences, and outcomes, businesses can predict future customer behavior and offer products or services that are likely to resonate more effectively.    
"CRM's two main goals are customer development and retention, which are achieved through customer satisfaction and customer insight, respectively. To effectively fulfill these CRM objectives, organizations must leverage the power of data analysis. For this, they can deploy analytical CRM to gain valuable insights into their customers, their needs, and their preferences."
Also, read: Customer Service CRM Software: Why You Need the Best Tools & Support
Benefits of Analytical CRM Systems
The primary goal of implementing analytical CRM is to improve customer relationships and associated business processes like sales, marketing, and services. CRM analytics tools provide detailed insights and help in critical decision-making, boosting customer retention.
Here are the key advantages of CRM analytics tools: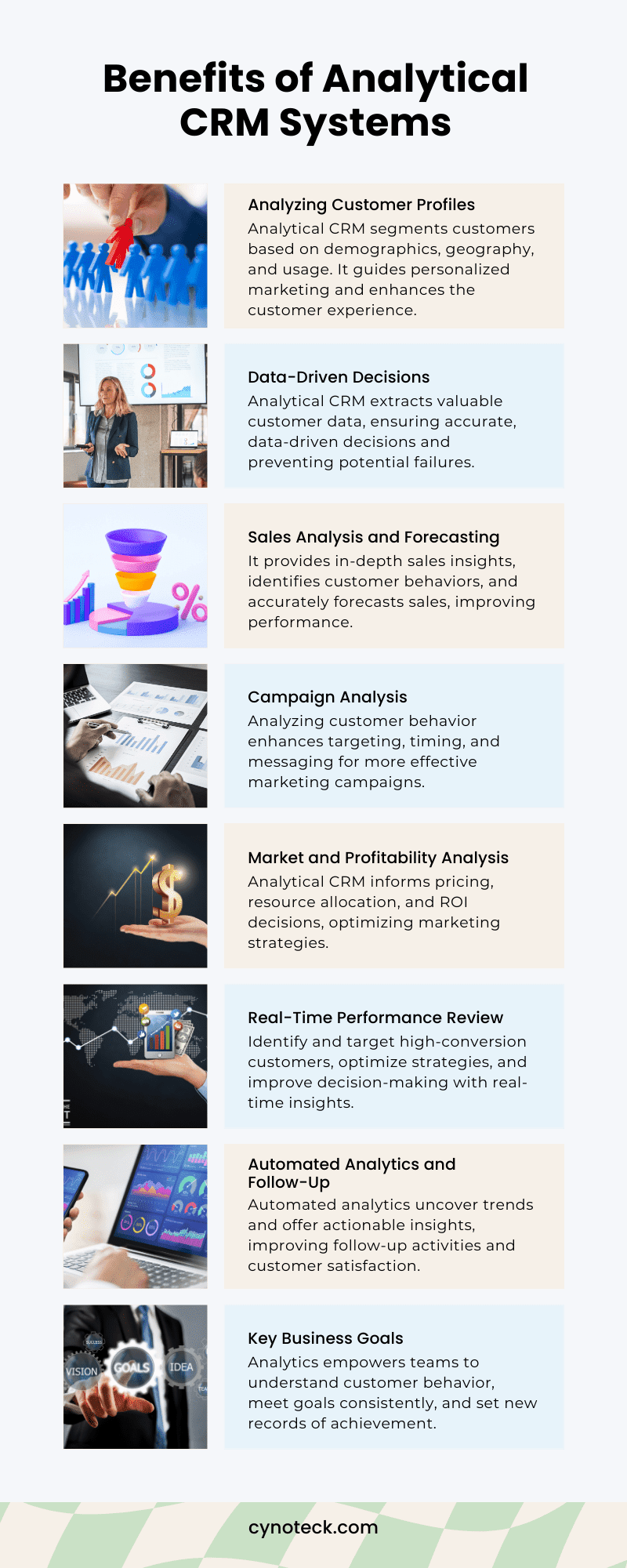 Copy Infographic
1) Analyzing Customer Profiles to Gain a Better Understanding  
Analytical CRM delivers thorough analysis by segmenting group customers and prospects based on various criteria such as demographics, geography, and product usage.
This profiling enables businesses to gain insights into customer expectations and preferences, fostering personalized marketing efforts.
It also facilitates customer segmentation by purchase frequency, product usage, and demographic, psychographic, and geographic factors.
These insights are invaluable for improving customer service and enhancing the overall customer experience.    
 2) Reconsider your Branding and make Data-driven Decisions 
In today's data-driven business landscape, making decisions based on intuition or guesswork is no longer advisable.
Analytical CRM software empowers business owners to extract valuable customer information from diverse sources, including sales data (purchase and return history), financial data (credit score and annual income), and marketing data (retention, loyalty, and satisfaction).
This tool organizes data effectively, enabling business owners to make more accurate, error-free, and data-driven decisions, preventing potential failures resulting from poor decisions.    
3) Sales Analysis and Forecasting 
Sales analysis conducted by analytical CRM provides an in-depth overview of sales performance, including various dimensions like sales by channel, organization, product, category, group, region, season, cross-selling, up-selling, demographics, and more.
Over time, as you analyze these patterns, you can identify customer use cases, preferences, and concerns. This allows you to devise strategies for closing more leads and reaching a broader audience by addressing previously unmet needs.
Analytical CRM employs techniques like lead scoring, regression analysis, and historical data analysis to forecast sales accurately, helping in the identification of bottlenecks and enhancements to improve sales performance.    
4) Campaign Analysis 
Analyzing customer behavior and responses through analytical CRM provides a significant advantage in understanding customer interests and transitions.
Beyond informing your strategy during and after customer interactions, this data can be transformed into valuable reports for your marketing teams to optimize future campaigns.
It enables them to refine audience targeting, fine-tune timing, and tailor messaging, enhancing the overall effectiveness of marketing efforts.
Furthermore, analytical CRM allows for the measurement of individual campaign performance, media effectiveness, and cost-benefit analysis. This adds purpose and control to campaign efforts through in-depth analysis.    
Also, read: Also, read: Operational CRM: What is it, How it works, and Examples?
5) Optimize Market and Profitability Analysis 
Analytical CRM plays a vital role in enabling businesses to make informed decisions regarding pricing, offers, discounts, resource allocation, and return on investment (ROI).
Through profitability analysis, it thoroughly examines and explores various inputs, encompassing resources, manual efforts, and financial investments.
Analytical CRM is influential in evaluating the success of past and current marketing strategies, identifying which campaigns have been effective and which require adjustments.
With this valuable insight, the marketing team can strategically plan, manage, and scale up marketing campaigns.
This results in delivering personalized email marketing, mobile marketing, or social media marketing to target customers more effectively.    
6) Reviewing and improving the performance in real-time 
Analytical CRM helps in identifying and targeting customers with a higher likelihood of conversion. This reduces customer acquisition costs while boosting sales, which contributes to the company's bottom line.
By integrating data with business intelligence (BI) tools, analytical CRM enables the creation of real-time dashboards that provide insights into various performance metrics, such as call volumes, call duration, and deal closures.
These insights help businesses understand what their successful agents are doing differently, informing future strategies and tactics.
Furthermore, analytical CRM optimizes revenue and empowers businesses to engage in strategy planning based on data analytics, enabling better decision-making.    
7) Automated Analytics and Follow-up Activities
The volume of data collected by CRMs can be overwhelming for manual analysis, highlighting the significance of automated analytics.
Automated analytics are invaluable in uncovering trends and patterns across tens of thousands of data points, dispelling misconceptions, and revealing valuable insights that might otherwise remain hidden. In the context of sales, follow-up activities are particularly important.
But the key question is whether your agents are investing enough time and acting at the right moments. Analytics not only provide answers but also offer actionable insights.
This enables your agents to know when and how to follow up for improved conversion rates and improved customer satisfaction following a purchase.    
8) Key Business Goals
Understanding customer behavior and their responsiveness to your products or services is vital for the success of a company's growth strategy.
It provides insights into critical factors such as customer life cycle, risk assessment, profitability, customer loyalty, and market segmentation.
While setting goals for your sales and support teams is essential for ensuring performance, analytics is the tool that enables you to delve deeper into the specifics.
Analytics furthermore empowers your teams to consistently achieve these goals and strive for even more ambitious ones over time.
It serves as crucial feedback that not only ensures your team meets its objectives but also continually sets new records of achievement.
Also, read: CRM for Sales: Top 10 Sales CRM Solutions Compared for Sales Success
Our Top 10 Picks for the Best Analytics CRM Tools
Now that we have covered the advantages and other points of Analytical CRM, let us explore the top brands in analytical CRM software. To help you in selecting the most suitable solution for your business requirements, we have compiled a list of top-rated analytical CRM software and tools.    
1)  Salesforce  
Salesforce offers an innovative CRM Analytics solution that seamlessly integrates with a company's CRM data. This software can automatic data analysis, predictive analytics, and automated actions through pre-built apps.
Known for its capability in sales force automation and CRM, Salesforce's Einstein analytics solution has various cloud platforms, including Marketing Cloud, Service Cloud, Sales Cloud, Sales Cloud, Salesforce Platform, and Analytics Cloud.
This analytical CRM software is tailor-made for customer-facing teams aiming to enhance actionable insights with AI, embed analytics throughout the Salesforce CRM, and provide analytics accessibility to employees of all skill levels.     
Pros: 
Einstein's machine learning capabilities are pre-trained with predictive models derived from Salesforce, making it an advanced cloud-based business intelligence analytics platform. 
With Salesforce's analytical CRM solution, you can measure KPIs and other key metrics while identifying deals that are most likely to close. 
Utilizing Salesforce's Storytelling tool, you can automatically create slides or presentation graphics. 
Cons: 
Customer support is not always responsive, and for some small businesses, the high cost per user can be an obstacle to purchase. 
Pricing: 
Sales Cloud Einstein: $50 monthly per user, payable annually. 
Service Cloud Einstein: monthly fee of $50 per user, payable annually. 
Einstein the cost is expected to be $75 per user per month, billed yearly. 
Transform your business with expert Salesforce Consulting. Let us boost your sales and efficiency. Get started today!
2) Microsoft Dynamics 365   
Microsoft Dynamics 365 is a powerful enterprise CRM platform that provides an extensive set of tools for effective customer relationship management, sales performance monitoring, and collaborative customer engagement.
One of its standout features is Customer Insights, which seamlessly integrates transactional, behavioral, and demographic data in real time to construct a 360-degree view of customers.
Microsoft Dynamics 365 also has a range of digital and cross-channel analytics, customizable reports, and pre-built AI models equipped with predictive capabilities.
These analytics functionalities are purpose-built to consolidate customer data and deliver AI-driven insights into customer behavior. 
Pros:  
Seamless integrations with other Dynamics 365 CRM applications, Power BI, and Microsoft 365.  
Enjoy the benefits of flexible customization and configuration during the setup process, all while ensuring cost-effectiveness when compared to similar solutions offered by other developers. 
Cons:
The user interface, although robust for Microsoft product users, may pose challenges for those unfamiliar with the ecosystem.
Additionally, the configuration can be rigid, making post-setup modifications challenging.  
Pricing: 
Microsoft Dynamics 365 for Sales offers distinct plans:  
Dynamics 365 Sales Professional: Priced at $65.00 per user per month.  
Dynamics 365 Sales Enterprise: Available at $95.00 per user per month.  
Dynamics 365 Sales Premium: Offered at $135.00 per user per month.  
Elevate your business with Dynamics 365 CRM. Streamline operations and drive growth. Contact us for a tailored solution today!
3) Insightly
Insightly is a CRM designed for sales and project management, featuring distinct pipelines for leads and projects.
Its standout analytical tool is the real-time projects dashboard, which automatically generates a visual dashboard with four project-related reports upon account creation.
These reports include a project pipeline funnel, projects by status, projects by rep and status, and projects completed by month, enabling progress tracking and enhanced delivery timelines.
Insightly suits users seeking both sales and project management functionalities, although it may appear less user-friendly compared to some other CRMs. 
Pros: 
You can leverage Insightly to strategize and execute your marketing campaigns, including email marketing initiatives.  
Insightly's analytics operate on the CRM data at the core of their platform. Additionally, this top-notch analytical CRM tool offers a valuable mobile app and digital note-taking capabilities. 
Cons: 
Insightly may not be the most budget-friendly CRM system.
Also, some users find the user interface challenging, and there's room for improvement in terms of customer support. 
Pricing: 
Free Plan: Supports up to 2 users. 
Plus Plan: Priced at $29 per user, per month. 
Professional Plan: Priced at $49 per user, per month. 
Enterprise Plan: Priced at $99 per user, per month. 
All paid plans come with a 14-day free trial. 
Also, read: Best Ways to Increase CRM Usage by Salespeople
4) HubSpot  
HubSpot CRM is a comprehensive solution offering free access to marketing, sales, and service functionalities, with the option for additional upgrades. The free version includes the ability to automatically create standard dashboards within your account.
This allows you to analyze various marketing channels such as your website, landing pages, blog posts, CTAs, emails, and social accounts.
HubSpot's analytics capabilities include assessing both the quantity and quality of web traffic, evaluating page performance, applying filters based on geographical location or specific URL structures, and identifying the most successful traffic sources in terms of sessions, contacts, and customers. 
Pros: 
The different dashboards in HubSpot CRM provide analytics and reporting information.  
By combining these analytical CRM capabilities with HubSpot's all-in-one Marketing Hub, they can be enhanced even further.  
It is great for figuring out whether marketing initiatives were effective and for producing new ones.
Cons: 
Significantly more money is spent on the HubSpot Marketing Hub Professional plan than on the Starter plan.  
There are few options for customization, and database filters need improvement.    
Pricing: 
Free Plan: Unlimited user support 
Starter Sales Hub: $45 per month for two users 
Professional Sales Hub: $450 per month for 5 users 
Enterprise Sales Hub: $1,200 per month for 10 paid users 
5) Zoho 
Zoho CRM is a powerful analytical CRM that serves both sales and marketing needs and offers a comprehensive suite of business optimization software.
Its business intelligence module provides robust analytics capabilities, allowing you to analyze essential data such as revenue, website traffic, and trends.
Moreover, it enables you to perform "what-if" analyses, which are valuable for testing imaginative scenarios. For example, you can assess the potential impact of a specific discount on your overall sales.
This unique analytical feature, combined with Zoho's other measurement and analytics functionalities, positions it as a powerful decision-making tool for businesses. 
Pros: 
Zoho Analytics offers in-depth reporting, data analysis, and automatic or scheduled data synchronization from apps, servers, and other potential locations.  
A highly visual drag-and-drop user interface, together with powerful analytical tools and teamwork features, are all provided by the software. 
Cons: 
Although the user interface is nice and typically useful, it might be more customizable.  
Since reporting data is served by Zoho servers, you are unable to access your data outside of the app.    
Pricing: 
Free Plan: Three users are supported 
Regular: $14 for each user, every month 
Professional: $23 per month for each user 
Enterprise: $40 each month for each user 
Maximum: $52 per month, per user 
Free Trial: For all paid subscriptions, 15 to 30 days 
6) Pipedrive 
Pipedrive offers a user-friendly and interactive CRM solution designed to help sales professionals in lead management, communication tracking, task automation, performance measurement, and sales process enhancement.
To improve its analytical capabilities, you can leverage the Web Visitors add-on.
This tool allows you to closely monitor how leads discover your website, their duration of stay, and their interactions with your content.
This information helps identify leads that are in a buying-ready state, ultimately improving your outbound sales efforts.
Furthermore, Pipedrive offers the Prospector feature within the LeadBooster add-on, which helps you find contact information for these leads and initiate contact. 
Pros:  
The broad integration possibilities of Pipedrive, a CRM, ensure simple syncing with your favorite programs.  
Pipedrive has a user-friendly interface and advanced features that empower your team to create multiple sales pipelines, effectively manage leads and deals, track all communications, automate follow-ups, and generate customizable reports on sales performance.  
Get information on past performance and recommendations for future improvement. 
Cons:
It is important to note that Pipedrive CRM software lacks an inbound email-sending feature, necessitating the use of another platform for regular email communication with sales prospects.  
Pricing: 
Essential: $14.90 per user, every month 
Advanced: $27.90 per user, per month 
Professional: $49.90 each month for each user 
Power: $64.90 per user, per month 
Enterprise: $99 per month, per user (a minimum of 10 users) 
Free Trial: 14 days for all plans 
Also, read: The Power of AI in CRM: Revolutionizing Customer Relationships
7) Freshworks  
Freshworks offers a comprehensive, AI-powered enterprise platform with an integrated analytics system.
This system is designed to enable users to gain insights from key user interactions, improve the customer journey, streamline employee workflows, and make informed strategic decisions throughout the customer lifecycle.
Freshworks Analytics also provides customizable reporting capabilities, allowing businesses to track the specific metrics that are most relevant to their operations.
Freshworks includes various products, including Freshsales, Freshmarketer, and Freshdesk, with analytics technology known as Freshdesk Neo integrated into several of their offerings. 
Pros: 
An analytics program called Freshworks provides you with helpful data. 
One of the greatest CRM analytics solutions allows you to obtain more specific information while also providing insights from vast aggregate data.  
The UI is easy to understand, and setting up reporting is simple. 
Cons: 
Neo's more advanced analytics features are included in the higher pricing plans. 
Pricing: 
There are free versions of Freshworks apps 
Its monthly fees start at $15 per user, billed annually 
Its monthly fees for users begin at $15, billed annually 
Freshmarketer: monthly fees start at $19, billed annually 
8) Zendesk  
Zendesk offers a CRM platform with a strong focus on customer service and sales functionality. While it is recognized for its customer service and helpdesk features, Zendesk has also expanded into sales capabilities.
The platform's reporting and analytics, known as Zendesk Explore, empower service-oriented users to combine data from various channels, enhance representative productivity, uncover valuable insights, and simplify the process of tracking customer interactions.
Key features include real-time and historical data analysis, ready-made dashboards for multiple channels, customizable dashboards, shareable charts, etc. 
Pros: 
Zendesk Explorer serves as a reporting and analytics tool in the wider Zendesk toolbox. 
KPI tracking is made easier with omnichannel analytics and intuitive dashboards. 
Cons: 
Complicated report creation might be challenging. 
Pricing: 
Zendesk Service Suite is invoiced annually for $49 per user each month. 
Zendesk Service Growth is payable annually at $79 per user each month. 
Zendesk Service Professional is priced annually at $99 per user per month. 
9) Creatio 
Creatio offers marketing and sales CRM solutions with built-in customer data analytics capabilities. These tools enable users to track leads, establish criteria, and assess the overall coverage of current and potential customers within the database.
Creatio's platform is designed for users of all backgrounds, allowing them to implement business automation without programming expertise.
The intuitive and user-friendly interface ensures that new users can quickly grasp the software's functionality.
Both the sales and marketing modules provide robust analytics features, helping users evaluate marketing effectiveness, optimize campaigns, identify bottlenecks, analyze conversion rates at various stages of lead management, and gain a comprehensive view of ongoing sales and marketing initiatives. 
Pros: 
Creatio for marketing includes business process management, which is used to set up automation.  
With Creatio for Sales, you can evaluate your customer database.  
It collects a range of customer data that identifies the most crucial customers and provides you with better insights into how to move them along the pipeline. 
Cons: 
Creatio offers both on-premises and cloud configurations, but the on-premises option is less expensive—a drawback for people who prefer the cloud. 
Pricing: 
Growth begins at $25 per user each month. 
Enterprise costs $55 per user every month.  
Unlimited costs $85 per user per month.  
You can try Creatio out for free for 14 days. 
10) Sugar 
Sugar Sell by SugarCRM is a collaborative CRM solution that empowers users to track activities, map customer journeys, and automate workflows. It offers a comprehensive set of features suitable for small businesses.
In terms of analytical CRM software, SugarCRM competes with top players like Salesforce and Dynamics 365, providing detailed insights into your small business's sales performance.
However, it is worth noting that SugarCRM has a steeper learning curve and is best suited for more established small businesses that can leverage its extensive feature set. 
Pros: 
Good customer satisfaction ratings and an easy onboarding procedure. 
Its 'root cause identification' capability enables your team to quickly identify the root of problems. 
   Cons: 
It is expensive and not very user-friendly. 
Third-party integration needs to allow VoIP calling.
No sales reporting functionality. 
Pricing: 
SugarCRM offers a range of pricing plans starting at $52 per user per month, with the most popular plans typically priced at $80 per user per month. However, the cost can go up to $1,000 per month depending on your specific requirements and the features you need. 
Key Takeaways: 
   CRMs with analytical capabilities track multiple types of data to improve business insights. 
You can more effectively target your audience with the help of this tool's assistance. 
Analytical CRMs allow real-time performance assessments and improved customer experiences. 
With data-driven insights, you can open new sales prospects and guide marketing initiatives.  
Automated analytics can be used to process a lot of data and improve your branding. 
Analytical CRMs guide follow-up actions and help with important corporate objectives. 
Also, read: Improving Physician Relationship Management with CRM
Conclusion - Choosing the Right CRM for Your Business
Data and customer relationships are essential in the modern business landscape. Data analytics allows organizations to gain deep insights into customer behavior, preferences, and trends, enabling them to tailor their products and services more effectively. This, in turn, improves customer relationships, as businesses can provide personalized experiences and solutions. The constructive collaboration between data analytics and customer relationships can indeed lead to significant growth and competitiveness in today's market.    
The combination of data and intelligence offers insights into customer journeys, business processes, investment results, and more. This foresight empowers you to enhance your strategies, predict future outcomes, and optimize customer relationships for increased satisfaction and loyalty. Utilizing analytical CRM tools such as dashboards, reports, forecasting, and AI further amplifies your efforts.    
Cynoteck provides top-notch CRM solutions recognized for their technological sophistication and cost-effectiveness, making them suitable for businesses of all scales. Before making any purchase or implementing a new program, it is vital to align your decision with your overall business strategy. We ensure that the chosen CRM software solutions will help your business boost sales and enhance your business operations. Contact us today. 
FAQs (Frequently Asked Questions)   
1) What is an example of analytical CRM and is Salesforce an analytical CRM?
Indeed, Salesforce CRM analytics stands out as an excellent tool for collecting, managing, and analyzing customer data. It offers valuable insights into customer buying behaviors and patterns. There are other top-notch analytical CRM tools available in the market, such as Zoho Analytics, Microsoft Dynamic 365, Pipedrive, Zendesk, HubSpot, and Salesforce's CRM Analytics solution, each with its own set of features and capabilities.  
2) What differentiates operational CRM from analytical CRM?
Operational CRM focuses on streamlining and automating day-to-day sales, marketing, and customer support activities, while analytical CRM dives deeper into customer data and interactions to provide insights, forecast sales trends, and recommend products or actions based on that analysis. For businesses, both types of CRM play important roles in improving customer relationships and driving business growth.  
3) How does Analytical CRM work?
Analytical CRM works by collecting and analyzing various data sets, which can include a customer's purchasing history, buying patterns, data from marketing campaigns, and more. By carefully analyzing this data, businesses can gain valuable insights that allow them to refine their marketing strategies and adapt their sales methods to better align with customer preferences and behaviors. This data-driven approach is a key advantage of analytical CRM, enabling organizations to make informed decisions and ultimately improve their customer relationships and bottom line.  
4) What type of businesses use Analytical CRM?
Analytical CRM is typically used by data analysts and business intelligence professionals who need to delve into customer data to extract valuable insights, such as buying patterns, preferences, and trends. This analytical approach helps businesses make data-driven decisions and tailor their strategies to better serve their customers.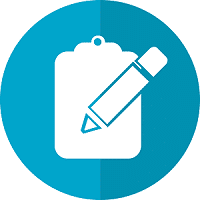 Do you want to implement a CRM system within your organization? Connect with our CRM Experts today!