Delivering exceptional customer service is a crucial component of business operations. If your organization seeks to leverage the power of customer data for analysis and action, operational CRM is the key. It offers a centralized hub for marketing, customer service, and sales teams, boosting your company's agility and customer-centric approach.
CRM for Operations furthermore automates routine processes and manages client interactions, serving as a communication bridge between departments. It enables scheduling meetings, exchanging information, and sharing insights.
By accessing precise customer information, brands improve communication and allocate resources to refine sales strategies, demo presentations, email campaigns, and innovative marketing approaches.
"A centralized solution for managing interactions with potential clients and nurturing connections is operational CRM software. It allows customer data storage, marketing campaign management, and deal tracking, all in one place."
Now that you have insights into the advantages of Operational CRM, let us delve into its benefits, types, and exemplary applications for your business in this article.
What is an Operational CRM?
Access to customer data and understanding their requirements are essential for gaining a competitive edge, making high-tech CRM skills essential. And Operational CRM works as the vital link between your company, your team, and potential clients. Its core objective is to streamline business processes for an improved customer experience.
Operational CRM primarily focuses on the enhancement, automation, and refinement of customer-facing and customer-supporting business processes. It includes tools like websites, call centers, and data aggregation systems. Operational CRM is the key to addressing challenges like high service costs and customer turnover.
Using high-tech expertise, it provides comprehensive customer insights and helps you stay competitive by meeting customer needs effectively.
How does Operational CRM work?
Operational CRM primarily automates and improves customer-facing and customer-supporting business processes, optimizing operations in sales, marketing, and service across the entire customer journey:
Sales-force Automation:
CRM systems are not just for managing existing customers; they are also valuable for acquiring new ones.
Sales-force automation efficiently automates the entire sales cycle, from identifying new prospects to tracking customer interactions, making sales projections, and managing documentation.
Sales reps can set workflow conditions to save time, enabling them to cultivate lasting customer relationships and focus on critical tasks rather than routine activities.

Marketing automation:
In the campaign management phase, the marketing team identifies leads and devises strategies for effective targeting.
Marketers utilize customer-specific data to create tailored communications, whether individually or across multiple channels.
Individualized campaigns involve direct and unique communications, including event-based marketing and timely offers to customers.

Service:
Service automation involves the management of an organization's customer service operations. This includes support staff responsible for handling customer inquiries, addressing issues, and fulfilling assistance requests.
Every customer interaction is documented in a central customer database, commonly referred to as the "customer's history," for future reference and utilization as required.
Also, read: Best Ways to Increase CRM Usage by Salespeople
Benefits of Operational CRM
Operational CRM serves as a strong link between your business and its customers, enabling effective customer data segmentation for targeted marketing and streamlined sales processes. Its advantages are significant, and here are a few key reasons not to overlook it: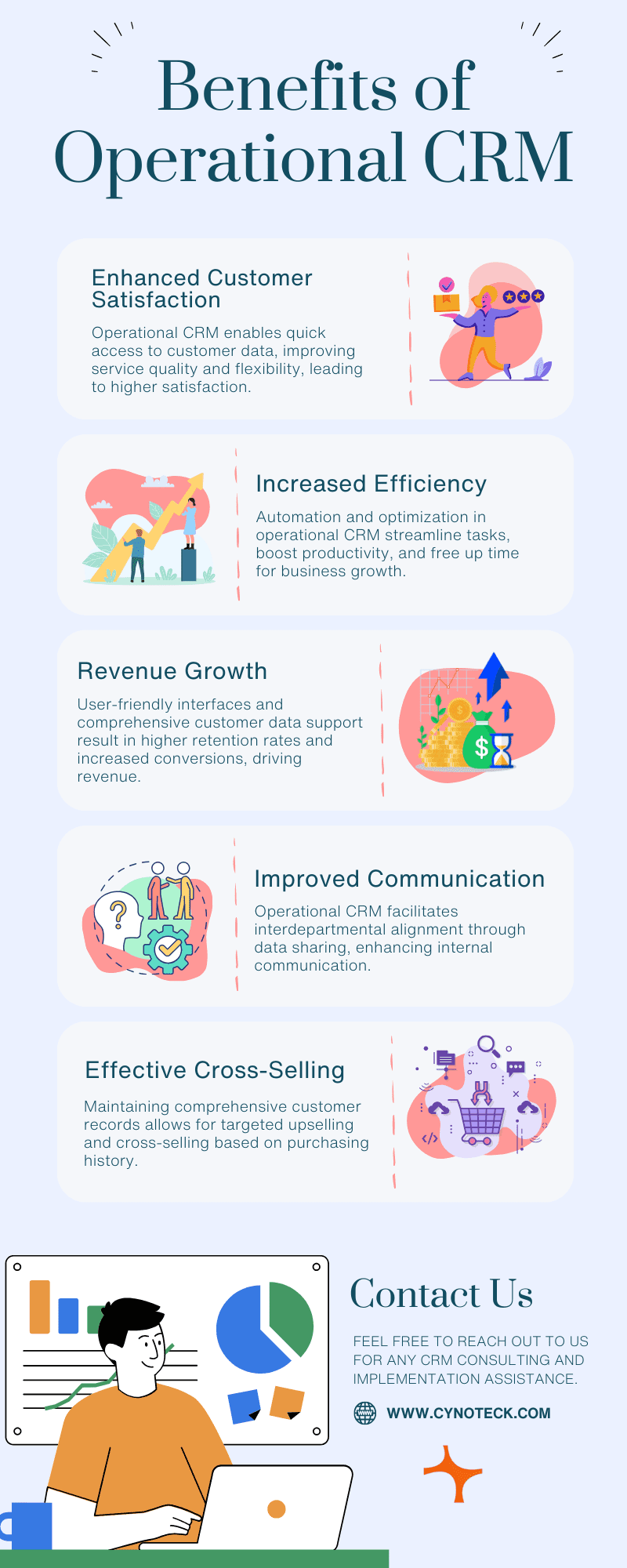 Copy Infographic
Improved Client Satisfaction and Superior Customer Service:
You can effortlessly access relevant customer data. Operational CRM ensures quick access to essential customer information, empowering employees to deliver top-notch customer service while improving your business's flexibility.
Streamlined data retrieval simplifies customer relationship management, reducing redundancy in customer interactions.

Improved Effectiveness:
An operational CRM strategy boosts your company's efficiency by automating repetitive tasks and optimizing inefficient processes.
This leads to improved task management, improved productivity, and allows you to allocate more time to business growth initiatives, ultimately improving your overall business operations.

Higher Sales:
The improved user interface and comprehensive customer data support facilitate the adoption of best practices in business processes.
This, in turn, leads to higher customer retention rates and increased conversions for new leads, driving revenue growth.
These additional funds can be reinvested to further support the company's growth and development.

Improved Internal Communication:
Departments that lack connectivity often struggle to align their goals. When a company shares access to the same data, it ensures that everyone is on the same page and working towards a common objective.
An operational CRM's ability to collect, store, and distribute data makes it a valuable tool for facilitating interdepartmental communication and information sharing.

Improved cross- and up-selling:
Operational CRMs can collect customer data from initial interactions, maintaining records throughout their journey, including transactions, contacts, and issues.
This helps the sales team to identify upsell and cross-sell opportunities, enabling them to use customized sales strategies based on each customer's purchasing history.
Also, read: AI in CRM: Top Use Cases, Best Platforms, and Guidelines
The Top Performing Operational CRMs
Modern operational CRM systems are significantly more robust than their predecessors, enabling businesses to optimize the utilization of customer data.
Operational CRMs provide comprehensive customer data, improving customer service experiences. Here are some top operational CRM tool examples:
1) Salesforce
Salesforce, a prominent industry leader, provides a comprehensive CRM solution tailored for sales processes and collaboration.
It effectively manages sales, marketing, and service operations, featuring seamless integrations. Its advanced automation streamlines daily tasks, reducing manual data entry and enhancing decision-making efficiency.
Elevate your business with our Salesforce services today. Let's transform your operations and boost productivity together! Get started now.
2) Dynamics 365 CRM
Dynamics CRM, developed by Microsoft, is essential business software. It empowers businesses to efficiently manage customer databases, drive lead generation, enhance customer engagement, and quickly address customer service issues.
Microsoft Dynamics 365 CRM includes a suite of apps, including Sales, Marketing, Customer Service, Field Service, and Project Service Automation.
This CRM solution offers seamless integration with other Microsoft services, delivering exceptional flexibility and AI-driven automated responses.
3) Zoho
Zoho's operational CRM, tailored for small businesses, boasts a user-friendly interface, customizable modules, social media listening capabilities, and seamless integration with Twitter, Google+, and Facebook.
It simplifies workflows, automates tasks, and offers advanced features like sales forecasting and KPI tracking in its paid versions. The Enterprise plan even includes comprehensive sales funnel tracking and custom data comparisons.
Operational CRM emphasizes the automation of customer-centric business processes including marketing, sales, and customer service.
4) Pipedrive
Pipedrive is an operational CRM that puts a strong focus on all things pipelined. Pipedrive provides contact management, lead tracking, sales activity monitoring, and information synchronization across channels in addition to highly customized pipeline management tools.
It lets you focus on closing business while keeping all your prospects in one location. The sales assistant on the platform makes recommendations based on your prior performance.
You can use it to identify gaps and boost sales. You can build up an automated flow of emails to reach your prospects.
5) Zendesk
Zendesk offers customer support software solutions designed to facilitate customer engagement across various channels, including web chat, email, and social media platforms like Facebook Messenger and Twitter.
With an excellent User Experience (UX), Zendesk stands out as an intuitive and user-friendly choice for businesses seeking such software solutions. It is a top recommendation for enhancing customer support within your organization.
6) Marketo
Marketo is an adaptable marketing automation platform designed to streamline customer lifecycle management. It offers a wide range of features including automated email campaigns, social media advertising, and various online activities.
Known for its connectivity and exposure, Marketo facilitates lead management, automation, lead scoring, account-based marketing, digital advertising, email marketing, real-time personalization, reporting, ROI analysis, event marketing, and more.
7) HubSpot
HubSpot's CRM, a free solution, provides essential operational features like project management, workflow tools, and inbound marketing.
It allows tracking of prospects and their assignment to sales reps while centralizing customer interactions from various channels including chat, email, social media, and websites.
This CRM seamlessly integrates with G Suite and Microsoft Office and offers numerous Zapier integrations with apps such as Slack, Facebook Lead Ads, and Google Sheets.
Also, read: Improving Physician Relationship Management with CRM
Operational vs Analytical CRM
Operational CRM and Analytical CRM differ in their purposes and the features they offer. Operational CRM enables synchronized processes and task management, enhancing coordination among management and teams. This tool prioritizes and streamlines various tasks.
Operational CRM allows for the synchronization of tasks between multiple teams, facilitating the collection and effective organization of essential business data.
This data can aid companies in processing day-to-day operations and providing efficient customer service. In contrast, analytical CRM tools primarily focus on enhancing back-office support processes.
Indeed, formulating a strategy is just the initial phase. The subsequent step involves the implementation of your strategy, which necessitates distinct software functionalities. This difference lies in the features of operational and analytical CRM systems.
Operational CRM plays a pivotal role in the actual execution of data-driven strategies. It provides businesses with tools to streamline workflows and automate tasks, facilitating the efficient implementation of sales and marketing strategies.
Consequently, this leads to the attainment of higher sales targets and the consistent generation of improved marketing campaigns.
Also, read: What is CRM Data Maintenance and How Does It Affect B2B Marketing?
Conclusion
Operational CRM offers many benefits, including improved customer service, increased sales, and revenue growth. By automating routine tasks and prioritizing strategic activities, businesses save time and boost efficiency. Furthermore, insights derived from customer behavior enable smarter decision-making.
This potent tool empowers businesses to outperform competitors by delivering exceptional customer service. The comprehensive perspective it offers fosters a deeper understanding of customers, anticipation of their needs, and the provision of personalized service. This leads to heightened customer satisfaction and unwavering loyalty.
Before investing in CRM software, it is crucial to align it with your business strategy to optimize sales and overall growth. Complicated business processes and growth potential often necessitate the adoption of an operational CRM solution tailored to your specific requirements.
Also, read: The Key Benefits of CRM in Healthcare: Improving Your Patient Care and Business Results
FAQs (Frequently Asked Questions)
1) What does Operation CRM software do and what are its components?
Operational CRM serves as a valuable tool for integrating and automating customer service, marketing, and sales workflows, primarily focusing on customer-facing processes within a business. 
The primary components of an operational CRM are:  
– Sales automation   
– Marketing campaign management   
– Customer support processes   
2) What are the Benefits of Operational CRM?
Operational CRM tools are commonly implemented to optimize and simplify sales, marketing, and service processes, ensuring efficient coordination across different business units, and ultimately boosting overall organizational productivity. The key advantages of operational CRM tools include: 
Centralized storage of all important corporate data improves the efficiency of daily activities. 
Automates unnecessary tasks to boost business productivity. 
– Track and evaluate team members' performance. 
– Improves marketing initiatives.  
– Boost client service and satisfaction.  
3) When it comes to sales and marketing, how does Operational CRM help?
Operational CRM enables smoother and more efficient processes for sales and marketing teams, simplifying lead management, contact tracking, and campaign execution.
With a centralized database, these teams can access and collaborate on customer data, enabling tailored and personalized communication.
Real-time analytics and data insights enhance sales forecasting and discover opportunities for upselling and cross-selling, leading to improved customer acquisition and retention. 
4) Can Operational CRM be used by all types of businesses?
The practicality of operational CRM can vary based on individual requirements and industry nuances. While popular CRM solutions like Salesforce and HubSpot can benefit many businesses, certain industries with complicated operational processes, such as manufacturing or construction, may require specialized CRM solutions tailored to their unique workflows.
Smaller businesses with limited resources often prefer simpler CRM systems, while larger enterprises may demand advanced features and scalability. It is crucial to evaluate specific needs and explore industry-specific CRM solutions before implementing operational CRM.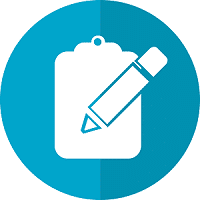 Do you want to implement a CRM system within your organization? Connect with our CRM Experts today!