CRM systems offer more than mere data storage; they can serve as a strategic asset for businesses. When utilized effectively, CRM can improve various aspects of your sales process, such as customer retention, sales productivity, and overall sales performance. This strategic approach can deliver a significant return on investment, making it a valuable tool for businesses.     
Successful businesses prioritize positive customer experiences, which are essential for sustained growth. These experiences promote customer loyalty, improve satisfaction levels, and minimize customer disloyalty to competitors. CRM customer service software, for example, can increase customer retention by up to 30%. Leveraging CRM to improve your client experience provides a competitive edge and fuels both business growth and an expanding customer base.     
The primary challenge lies in effectively utilizing Customer Service CRM Software. Despite having a CRM system in place, many businesses struggle to develop strong customer relationships. The issue does not arise from the CRM itself but rather from how it is employed—or often, how it is not.
For multiple companies, CRM serves merely as a customer database. So, discovering innovative ways to leverage CRM software enables the creation and nurturing of vital customer relationships. Actively integrating CRM into your sales and marketing efforts helps in customer retention and the delivery of exceptional customer service.     
"A CRM is an essential part of the customer experience. Implementing an effective CRM system will enable you to manage your customers, prospects, and leads, and build valuable relationships to drive the growth of your business." 
In this article, we will provide a clear definition of CRM, examine the advantages of CRM for Support, and provide key methods for integrating best practices.    
CRM System – What is it Exactly and How it Works?
CRM software is an essential tool for improving customer relationships. By leveraging CRM to enhance customer service, businesses can efficiently monitor customer interactions and purchase history.
This data empowers organizations to improve their customer support, offer personalized assistance, and respond promptly to customer queries.     
CRM customer service software furthermore serves as a centralized hub for managing customer data and interactions. It works as a unified platform accessible to your team, improving productivity and increasing sales opportunities.
This comprehensive view of interactions contributes to a streamlined and efficient process, ultimately boosting your business's profitability.     
"Research shows that CRM can elevate customer retention by around 25%. Leveraging CRM to improve the client experience not only offers a competitive advantage but also results in improved service and increased customer satisfaction."     
Some of the basic features of a CRM tool include: 
Manage contact information  
Marketing automation  
Lead generation  
Track communications  
Business forecasting   
Pipeline management  
Analytics & Reporting   
Also, read: CRM for Sales: Top 10 Sales CRM Solutions Compared for Sales Success 
What are the Benefits of using CRM Customer Service Software?
"An effective CRM system offers benefits such as sales growth, in-depth analytics, automated sales reporting, and improved customer retention. Additionally, CRM systems promote improved internal communication, ensuring your entire team stays aligned around each lead and customer." 
CRMs provide benefits across various sectors. Sales and marketing teams leverage CRM data for client management and targeted messaging. Moreover, CRM software significantly improves customer service by efficiently managing customer data and interactions.
CRMs excel in addressing crucial challenges faced by many customer service centers, making them invaluable for improving customer service. Here are some ways CRM systems can enhance customer service: 
1) Keeps You Connected
CRM systems help businesses maintain client communication, track interactions, and ensure timely follow-ups to address any inquiries or concerns promptly. Your CRM works as a storehouse for conversations, interactions, notes, contact details, and requirements.
And it is cloud-based, it remains constantly updated, allowing easy access for your team to make informed decisions based on its records.  
2) Adapting well to Corporate Growth
As businesses undergo rapid growth, manual CRMs become less efficient. Cloud-based CRMs offer scalability without the need for constant software or hardware investment.
This flexibility eliminates uncertainty about required capacity or features, reducing the risk associated with CRM adoption as businesses can easily upgrade or downgrade as required. 
3) Addresses Concerns and Complaints
CRM software offers significant advantages to customer service teams. One of the leading among them is the efficient and effective resolution of issues and complaints.
Centralizing customer information enables quick access for service representatives, enabling speedy problem resolution.
CRM software furthermore empowers you to monitor prospects' interactions with your business across social media, email, and your website. This enables rapid response to customer complaints. 
4) Real-time Gathering and Sharing of Customer Data
CRM software simplifies customer data tracking and management, ensuring you always have the latest information at your fingertips. This enables a personalized customer experience that promotes appreciation. Accurate client data furthermore enables quick and efficient issue resolution.
CRM provides a comprehensive history of customer interactions, including previous calls and issue resolutions. Representatives can address outstanding matters quickly, reducing customer frustration while improving efficiency. 
5) Addressing Requests on Social Media
Social media platforms have emerged as highly popular methods for customer interaction with brands and businesses. CRM enables you to monitor and address customer inquiries, complaints, and feedback across various social media channels.
Additionally, CRM allows for customer segmentation based on preferences, behavior, and engagement. This empowers you to personalize responses and offers according to individual needs and interests. 
"Today, over 65% of customers use social media for customer service." 
6) Improves Efficiency of Customer Service and Core Business Functions
CRM software streamlines and automates key business functions like sales, marketing, and customer service, improving overall operational efficiency and service quality.
This efficiency enables resource reallocation for improved technology, training, or compensation, boosting employee satisfaction and retention.
A top-notch customer service experience, facilitated by CRM, ensures consistent and well-informed communication with potential clients.  
Also, read: Operational CRM: What is it, How it works, and Examples?
How can a CRM system be used to enhance Customer Service?
Exceptional customer service plays a significant role in promoting trust, loyalty, and retention among your customers.
A CRM system serves as a software solution for storing, organizing, and analyzing customer data, while also automating and streamlining customer service functions.
Let us understand how a CRM system can improve your customer service: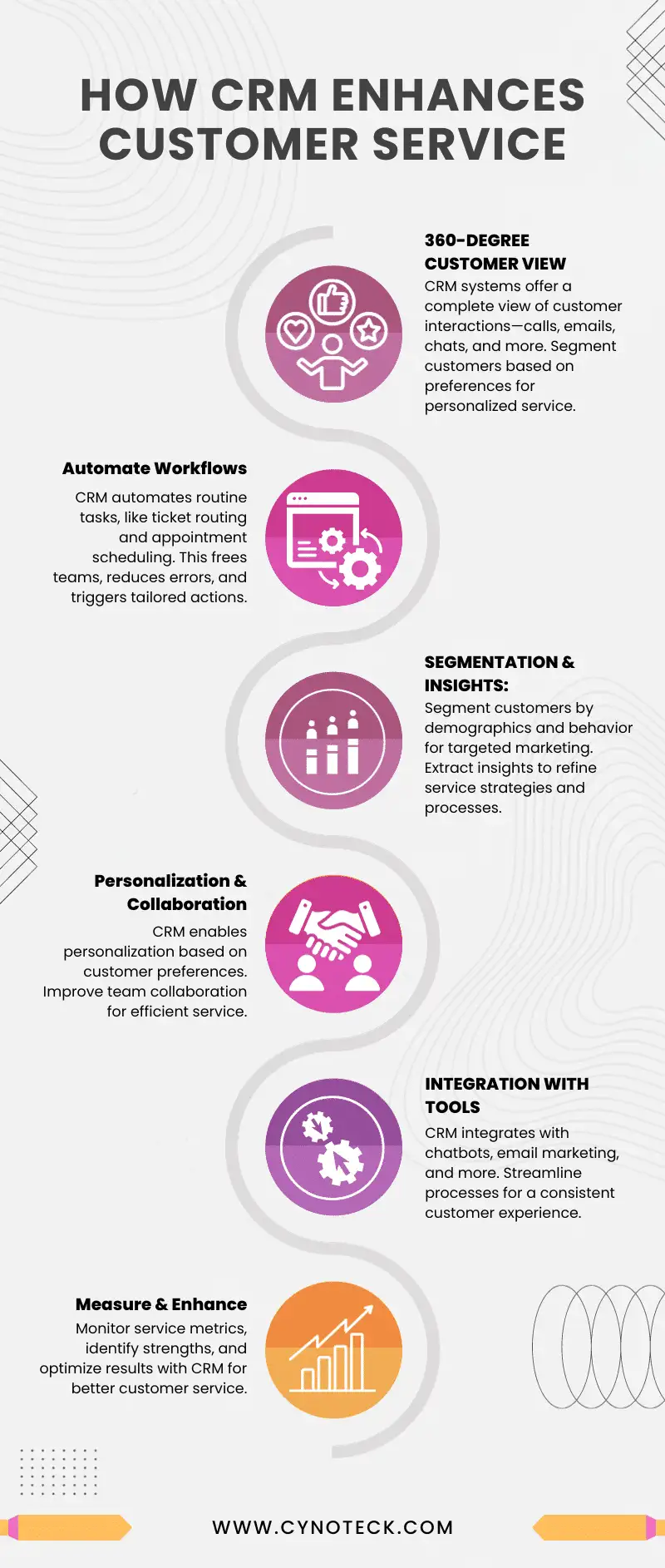 Copy Infographic
1) 360-degree View of Customer History and Interactions 
Customers always value service providers who remember their previous interactions, promoting a sense of being valued and understood.
CRM customer service software allows you to keep a record of every interaction you have with your customers, such as calls, emails, chats, purchases, feedback, and support tickets.
To better serve your customers, you can segment them depending on their preferences, behaviors, and needs. 
2) Automate Workflows for Customer Service 
CRM systems streamline routine tasks and workflows, automating ticket routing, follow-ups, and appointment scheduling. This frees customer service teams to concentrate on intricate and value-added responsibilities. Automation ensures consistency, reduces human errors, and improves service efficiency.
Furthermore, you can implement CRM workflows to trigger tailored actions based on customer actions or events, such as sending post-purchase, thank-you notes, or subscription renewal reminders.  
3) Segmentation and Data-Driven Insights 
CRM systems enable customer segmentation based on demographics, behavior, preferences, and purchase history. This segmentation encourages precise marketing campaigns and customized service offerings.
Additionally, businesses can extract valuable insights into customer behavior, feedback, response times, and service quality.
Leveraging these insights, businesses can establish benchmarks and make informed decisions to enhance customer service strategies, streamline processes, and fine-tune service offerings. 
4) Enhance Personalization and Team Collaboration 
Utilizing CRM customer service software, businesses can customize interactions based on individual customer preferences, purchase history, and behaviors.
Whether it is addressing customers by their names or recommending products aligned with their interests, personalization enables a deeper connection and leaves a positive impression on customers.  
By leveraging a CRM system, you can establish teams, roles, and permissions to ensure unified access to customer data and service standards.
Additionally, you can utilize the CRM to streamline communication among team members, exchange notes, attach files, and update statuses. This improved team collaboration improves customer service efficiency, accountability, and coordination.  
5) Integration with Other Systems and Tools 
CRM for Support enables integration with different tools to enhance customer service, including chatbots, live chat, phone systems, email marketing, social media, analytics, and more.
By connecting and syncing data across platforms, CRM enables the utilization of these tools' features and functionalities.
This integration streamlines processes, eliminates data silos, and offers a comprehensive view of the customer journey. A seamless data flow ensures a consistent customer experience.  
6) Measure and Enhance Performance
Leveraging CRM customer service software, you can monitor and analyze critical customer service metrics such as response time, resolution time, customer satisfaction, and retention rate.
It also allows the identification of strengths, weaknesses, opportunities, and threats, supporting data-driven decisions for improving your customer service. Through performance measurement and enhancement, you can optimize results, goals, and ROI.  
Additionally, as your business grows, a CRM system can adapt to accommodate larger customer bases, evolving service requirements, and more complex customer interactions.      
Also, read: Best Ways to Increase CRM Usage by Salespeople
What are Some of the Best CRM Software?
Utilize the potential of top-tier CRM software to improve your customer service. When selecting the ideal CRM software for your business, consider the following leading solutions that can make a significant difference in enhancing your customer interactions and overall operations. 
1) Salesforce 
Salesforce is a powerful CRM tool designed to empower sales professionals in customer management and deal closure. Salesforce simplifies customer data tracking, enables effortless identification of sales prospects, and automates sales task management, streamlining sales processes.
It also offers performance monitoring, lead tracking, and report generation capabilities. Beyond sales, Salesforce helps in customer service and support, ensuring timely assistance for sales representatives when needed. 
Unlock the full potential of your business with Salesforce CRM Services. Contact us now to streamline your operations, boost productivity, and drive growth with the industry's leading CRM solution. Get started today!
2) Microsoft Dynamics 365   
Microsoft Dynamics 365 is a good CRM platform for efficient customer relationship management and sales tracking. It offers features like role-based access control, automated workflows, and contact management.
It seamlessly integrates with Microsoft Office 365 for data accessibility and third-party apps like Slack and GitHub for collaboration. This empowers sales teams to manage customer relationships effectively and stay informed about their performance. 
Elevate your business with Dynamics 365 CRM Services. Contact us today to harness the power of Microsoft's cutting-edge CRM solution. Empower your team, delight your customers, and drive success – seize the opportunity now!
3) Monday Sales CRM
Monday Sales CRM simplifies customer interactions and offers automated workflows. Its integration with email services is particularly valuable, allowing you to log sent emails, track opens, and monitor communication.
This CRM streamlines the entire sales cycle, from pre-sales to post-sales, ensuring a seamless process.
It is highly customizable, offering flexible column types, detailed subitems, customizable views, and robust sorting capabilities, enabling businesses to tailor the platform as per their requirements. 
4) Insightly  
Insightly CRM captures all customer communications, providing precise customer insights. Insightly streamlines lead tracking, facilitates opportunity progression, and simplifies customer relationship management.
It provides seamless integration with essential business tools like Gmail, Slack, and QuickBooks, further optimizing operations.  
Also, read: The Power of AI in CRM: Revolutionizing Customer Relationships
Conclusion – CRM's Impact on Improving Customer Service
Leveraging CRM customer service software can significantly improve customer service within your business. By automating core functions, ensuring faster responses, gathering customer data for personalization, resolving issues and complaints, and improving communication, you empower your team to deliver exceptional service to customers and clients. Providing an outstanding customer experience is very important for business success.
CRM software augments your existing efforts, making them more efficient. When you use CRM for your business's customer service, you create a mutually beneficial solution for both your customers and your team. So, with the right system in place, you can improve your customer service to a whole new level. 
Cynoteck offers award-winning and budget-friendly CRM solutions, designed to meet the needs of businesses of all sizes. If you are interested in getting one for your business, contact us today.   
"A significant 70% of businesses utilizing CRM systems state that they have strengthened their customer relationships with improved customer service."  
Also, read: Improving Physician Relationship Management with CRM
FAQs (Frequently Asked Questions)
1) What is CRM, and why should your business utilize one?
CRM, or Customer Relationship Management, is a tool that helps businesses in managing customer interactions. CRM systems track customer details, sales prospects, and support inquiries while automating tasks like follow-up emails and appointment scheduling.  
CRM can help firms grow revenue, improve customer service, and save time. CRM enables businesses to:  
– Keep track of the history and contact details of your customers;  
– Management of sales leads;  
– Automating tasks;   
– Gain useful insights into customer behavior.  
2) Can a CRM help segment up your existing contact database?
CRMs offer robust contact management, simplifying database segmentation. You can categorize contacts by location, industry, job title, or other criteria, allowing precise targeting in your marketing and sales endeavors. For example, segmenting by job title ensures your sales team contacts decision-makers exclusively.  
3) What type of Business can benefit from a CRM?
CRM is valuable for businesses of all sizes and industries, extending its impact beyond sales and marketing. It includes every department and plays a pivotal role in customer acquisition, development, and retention. When seamlessly integrated with various business processes and departments, CRM enables the free flow of information across the organization to enhance customer service. The advantages of CRM software for businesses encompass increased sales, heightened employee productivity, improved profitability, reduced costs, and enhanced customer retention through superior service channels.  
4) How much will CRM cost?
Determining a fixed price for CRM solutions is challenging because CRM is highly adaptable. Several factors influence the installation and operational costs, including the chosen CRM software, the number of users, installation and implementation responsibilities, and the level of customization and training required.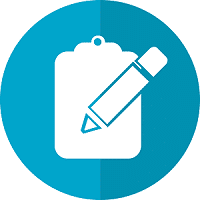 Do you want to implement a CRM system within your organization? Connect with our CRM Experts today!