Quick Summary
Customers today are very aware of their actions, and they have complete control over what, when, where, and how they interact with a brand. This makes it extremely difficult for marketers to manage their customer relationships using standard ways. As a result, businesses are constantly looking for new ways to increase brand awareness and improve consumer satisfaction.
Managing customer expectations is one of the most difficult tasks for marketers. Businesses adopt a variety of techniques to engage the customers with their platforms. The digital marketer typically employs multiple tools to capture the attention of users, but it becomes impossible to manage different marketing operations and activities using multiple platforms.
Salesforce comes in for help here, by introducing Marketing Cloud as an innovative offering. The Salesforce Marketing Cloud has everything you need to build digital experiences that will engage and inspire both new and existing customers.
Salesforce's Marketing Cloud makes it easy for businesses to organize and supervise their online marketing efforts. Everything can be done from a single platform called Marketing Cloud, whether it is monitoring social media accounts or sending out customized email campaigns.
This post is all about how Salesforce marketing cloud, its business benefits, products, and importance. This will help you understand how Salesforce Marketing Cloud can help you differentiate your business and help you stay ahead of the competition.
Overview
With each passing year, the way businesses communicate with their customers is changing. Over the years, the business sector has seen a significant transformation. Businesses now need to focus on providing a positive client experience and increasing brand awareness.
Customers increasingly want new types of information from businesses and new ways to communicate with brands through new platforms. Marketers must find effective ways to deliver relevant content and communicate with customers at the correct time and through the appropriate channel.
That is where the Salesforce marketing cloud comes into the picture and is in high demand throughout the world. Salesforce marketing cloud will undoubtedly be ideal for helping you in improving your operations.
It enables organizations to improve their digital marketing, get to know their customers, develop strong customer relationships, and improve their brand image.
Before exploring further, let us start with a basic understanding of Salesforce Marketing Cloud.
Also, read: What are Salesforce Governor Limits?
What is Salesforce Marketing Cloud?
Salesforce Marketing Cloud is a digital marketing platform that allows you to personalize every customer experience and optimize your marketing efforts. It automates marketing across a variety of channels, including email, social media, mobile apps, SMS, websites, and more.
Businesses use Salesforce Marketing Cloud (SFMC) to redefine their customer interactions for better business outcomes while bringing all marketing channels together in one place. It effectively manages B2C and B2B relationships and creates a comprehensive view of each customer.
This enterprise-grade digital marketing platform features a comprehensive API (Application Programming Interface) for platform integration, content personalization scripting languages, and SQL support for data transformation and segmentation.
You can connect every customer interaction and experience with your business across multiple channels with Salesforce Marketing Cloud. Controlling messaging flows, reacting to customer activities, and uncovering important insights to develop your business becomes simple and easy.
Also, read: What is Salesforce Health Cloud? Its features & Benefits
What is Salesforce Marketing Cloud used for?
Customers today are more likely to purchase from a company that provides personalized experiences. According to Salesforce, Marketing Cloud "covers every imaginable customer interaction and engagement."
Email Studio, Customer Journey Management, Mobile Studio, Social Studio, Advertising, Web Personalization, Content Management and Creation, and Data Analysis are some of the integrated solutions available in Salesforce Marketing Cloud.
All of these integrations work together to help you reach your key goals, set new ones, and use marketing goggles to visualize your customers' journey.
SFMC helps organizations in building targeted campaigns and sending engaging content to customers through the appropriate channels at the right times. This level of marketing precision helps brands in building more genuine and memorable customer interactions. The Salesforce Marketing Cloud can also be used for the following:
Create a customer journey that is personalized and targeted.
Make targeted CTAs (calls-to-action).
Engage your target audience appropriately at every crucial customer touchpoint.
Gain a deeper understanding of your customer base.
Execute cross-functional and cross-channel marketing campaigns.
Use statistics to back up your efforts (analytics).
Looking for Salesforce Marketing Cloud Implementation Services
Send us your requirements, we will get back to you with a quote
Salesforce Marketing Cloud: The Chronicles
Businesses faced numerous challenges in digital marketing before the development of Salesforce Marketing Cloud. Some of the most common ones are listed below:
Customer and organizational communication were dispersed across multiple mediums.
The growth of conversations and online metrics and interactions necessitated a platform that could handle the massive amounts of content being generated.
All information available regarding the client was locked up in silos and was never used.
The data about audiences and clients from social networks was difficult to deal with.
Businesses struggled to find profit from ventures across multiple channels.
Salesforce Marketing Cloud coordinated all social data and programs to overcome these challenges.
Also, read: What is Salesforce Enterprise Territory Management?
Why Choose Salesforce Marketing Cloud?
Marketing Cloud enables your company to take its client journey to the next level. You can deliver personalized engagement to your customers across all platforms with Marketing Cloud, including digital, advertising, email to web, social, and more.
Email marketing, SMS marketing, social media marketing, and display advertising are all examples of these campaigns. You can deliver personalized messages to your audience.
The Salesforce marketing cloud provides smart solutions for both B2B and B2C enterprises and businesses. Customizing each channel, integrating datasets, analyzing campaign performance, and communicating at each point in the customer relationship are the real benefits of the marketing cloud.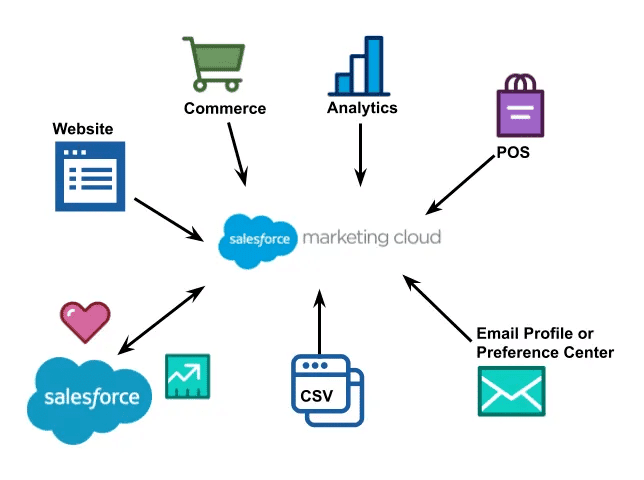 Also, read: Pipedrive vs Salesforce: Which CRM Is Best for Your Business?
Which business can use Salesforce Marketing Cloud?
Salesforce Marketing Cloud is often thought of as an enterprise-level platform (which it is), the multiple editions make it adaptable to businesses of all sizes. It is beneficial to both large and small B2B, B2C, and nonprofit businesses.
Salesforce Marketing Cloud should be considered by every business that needs a 360-degree view of its customers to generate targeted, intentional engagement and unique experiences. SFMC can be customized to meet your requirements, and it can adapt to your (and your customers') changing requirements.
SFMC is a flexible platform that will grow with your business, and it is not a tool that will become obsolete. Other than cost, there are other advantages to using SFMC, such as the capability to support your enterprise data model, integrations, data migrations, data for analytics and reporting, and more.
This also includes the overall impact on your organization such as organizational structure, training, ROI, and the capability to deliver a better customer experience while driving expected business outcomes. All of these factors should be considered when selecting a tool for your technology stack.
What can you do with Salesforce Marketing Cloud?
Existing Salesforce customers, particularly those looking to enhance their marketing strategy, tools, and analytics, will find Salesforce Marketing Cloud to be a perfect fit.
Marketers can better understand their customers and provide them with what they want with Salesforce Marketing Cloud.
It helps in the creation of automated multi-channel customer journeys that provide customers with a personalized, one-to-one experience.
SFMC helps users with a variety of marketing functions. A few of them are mentioned below:
Email and Marketing Automation
Real-time customer engagement
Push notifications
Mobile (SMS) Messaging
Social media engagement
Customer Marketing Analytics
Also, read: Pardot with Salesforce: 11 things to keep in mind in 2021
Powering your marketing strategy with Salesforce Marketing Cloud
Salesforce Marketing Cloud enables marketers to create tailored experiences for customers across every channel and device they use. The cloud has solutions for every imaginable customer encounter, from the data that drives your strategy to the final phases of the digital journey.
The Salesforce Marketing Cloud can be used by your company in the following scenarios:
If a vast amount of behavioral data from many sources needs to be compiled.
If you would like to segment contacts based on numerous datasets that are not kept in your Salesforce org's core.
If you have transactional purchases/short sales cycles.
If you have a spending budget!
If you are willing to put money into training.
This cloud-based tool helps teams provide the following features:
1) Provide a 360-degree view
Salesforce Marketing Cloud provides a comprehensive view of each customer, allowing you to gain a better understanding of your target market.
2) Appropriate messaging
You will be able to develop more relevant messaging that speaks to their specific goals and requirements as you construct your customer profiles using data-driven insights.
3) Right message at the right time
Combine all your Salesforce Marketing Cloud data and send customized campaigns to your target consumers on their preferred digital platforms.
This tool is designed to help both large and small businesses. The cloud can provide the assistance you need to develop meaningful relationships that drive revenue and boost returns on digital investments, regardless of the size of your business.
Also, read: Salesforce Customer 360 – All you need to know about
Why should you invest in the Salesforce Marketing Cloud in 2022?
Salesforce Marketing Cloud is a powerful, refined, and unified platform that allows marketing teams to manage their cross-channel marketing initiatives successfully.
This marketing Cloud, like others such as Oracle Marketing Cloud, IBM Marketing Cloud, and others, has earned its position. It is a platform followed by Adobe Marketing Cloud, which has a 24 percent market share.
Salesforce Marketing Cloud helps businesses in gaining a 360-degree perspective of their customers and accelerate their digital transformations.
Businesses who use this tool can make huge profits not only today but also in the future. Still, deciding to invest in the Salesforce marketing cloud should be taken with extraordinary care and consideration, ensuring proper implementation of the same to make sure that your business achieves its goals.
Salesforce Marketing Cloud has been utilized by top businesses such as Aston Martin, Philips, Western Union, and others.
Looking for Salesforce Marketing Cloud Implementation & Consulting Services
Send us your requirements, we will get back to you with a quote
Benefits that Salesforce Marketing Cloud offers
Salesforce Marketing Cloud provides marketing teams with a variety of solutions to help them improve customer experience and increase sales. It provides an array of benefits to businesses.
Copy Infographic
Salesforce Marketing Cloud allows you to:
1) Understand Your Customer Better
Salesforce Marketing Cloud offers personalized customer support by allowing you to connect data from numerous sources and devices to create a comprehensive, unified understanding of your customers.
Everything you need to know about your customers is displayed in an easy-to-understand manner along with clear visualization. This enables organizations to provide personalized solutions to their customers while also increasing engagement.
2) Customize with Artificial Intelligence
The most noteworthy advantage offered by the Salesforce marketing cloud is that it can be customized. SFMC lets users merge data with the Einstein tool, allowing AI to manage interactions.
It uses the Einstein tool to combine the customer's information and helps you to communicate with your customers more efficiently. This helps you make interactions more personal.
3) Effective and Impactful Analysis
Salesforce Marketing Cloud measures customer journeys across multiple channels and systems using artificial intelligence and the Google Analytics 360 digital tool.
Your marketing processes will be a lot more efficient and organized because of this. Businesses in both the B2B and B2C sectors can benefit from this since it allows them to deliver the correct messages to the right users at the right time.
4) Targeted customer journey
This Salesforce Marketing platform develops attention and awareness throughout the customer journey, offering adequate insights so you can provide the best possible service to your customers.
With the support of Marketing Cloud, every interaction is personalized, guiding customers through their journeys.
5) Security
Encryption is available in Salesforce Marketing Cloud. Nothing compares to Salesforce in terms of security; Salesforce is the best. Your information is safe and secure because of the encryption features. This ensures that your information is kept protected and invulnerable from unauthorized access.
6) Innovation
Salesforce marketing cloud provides a variety of tools to help organizations in reaching out to a large number of potential clients.
The marketing cloud has solutions for every business need, regardless of marketing activity or social media. It offers one-of-a-kind ways to connect with customers and provide the best possible service.
7) Linked Ecosystem
Salesforce Marketing Cloud is an integrated platform with a wide range of features. Organizations can accurately manage everything with this CRM system, whether they are sending emails, creating engaging social media posts, or sending customized messages.
8) Boost Sales
Salesforce Marketing Cloud uses extensive insights, analysis, and reporting to help marketing professionals achieve significant profits and speed up sales. It can also be used in combination with other tools such as Salesforce Sales Cloud, Workfront, and other apps.
Also, read: What is Salesforce Pardot? B2B marketing automation by Salesforce
Salesforce Marketing Cloud Products
Salesforce marketing cloud includes several tools that help businesses in accelerating their digital marketing efforts. Every product in the marketing cloud has its own set of features and functions that help in customers' touchpoints and improved business sales.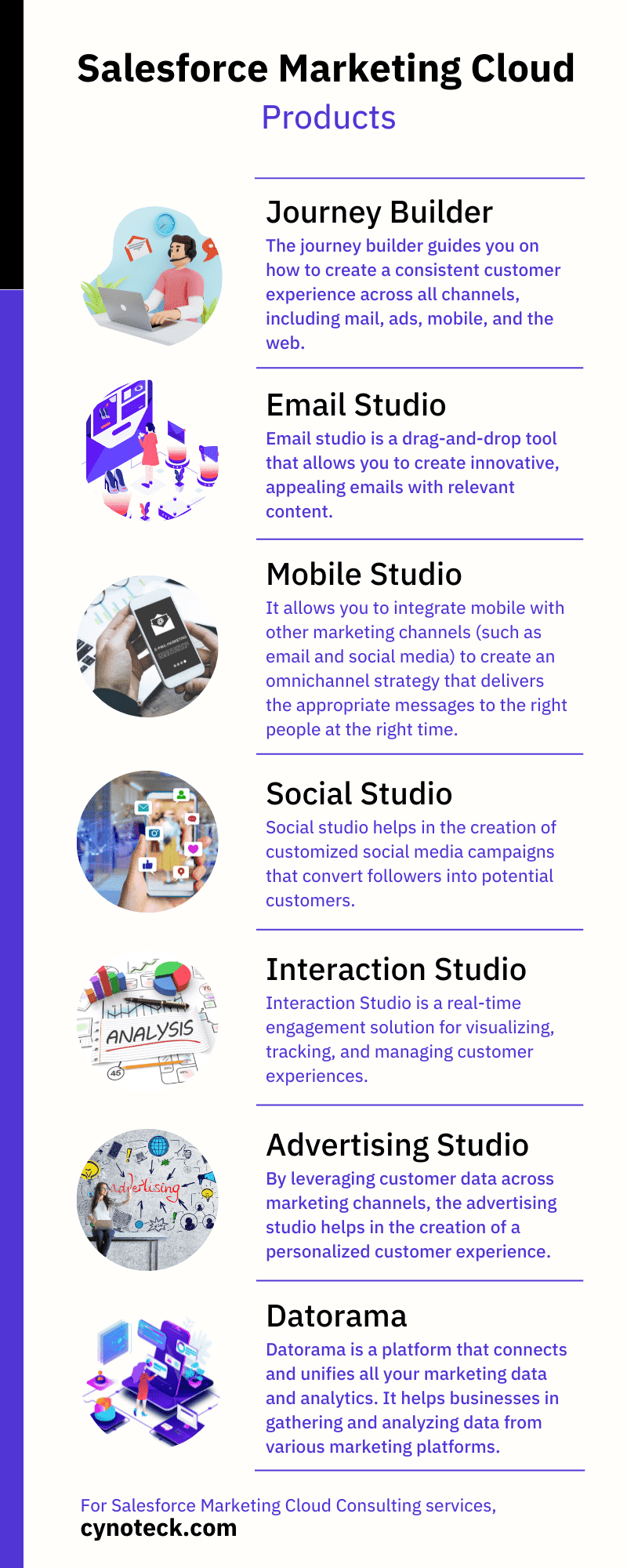 Copy Infographic
1) Journey Builder
The journey builder guides you on how to create a consistent customer experience across all channels, including mail, ads, mobile, and the web.
It is one of the most exciting Salesforce marketing cloud technologies, allowing businesses to provide tailored customer experiences at every stage of the customer lifecycle.
It links your message to every marketing channel, ensuring that your customers receive it at the right time and from any location.
Journey Builder has the following primary functions:
To define the customer journey.
Explore distributed marketing.
To align messages across marketing channels.
Adapt to the customers' changing requirements.
2) Email Studio
Email studio is a drag-and-drop tool that allows you to create innovative, appealing emails with relevant content.
You can use Email Studio to reach your potential customers with the right content, whether it is a primary marketing campaign or a sophisticated one-to-one campaign.
It categorizes profiles based on their data, making it simple for businesses to reach out to clients with customized emails. This results in successful and profitable email campaigns.
Email Studio Builder has the following primary functions:
Target your audience
Create the best emails
Automate Messages
3) Mobile Studio
Mobile Studio allows you to integrate mobile with other marketing channels (such as email and social media) to create an omnichannel strategy that delivers the appropriate messages to the right people at the right time and in the right place.
It helps digital marketers reach their customers on every device, whether it is through personalized messaging, SMS, push notifications, or group messages.
Mobile Studio Builder has the following primary functions:
Easily create and send high-targeted messages
Send relevant messages
Increase app engagement
Reach out to your audience at any time and from any location
4) Social Studio
Social studio helps in the creation of customized social media campaigns that convert followers into potential customers. It enables businesses to gain real-time insight into their customers' brand experiences.
By connecting social network posts to their CRM platform, businesses get a detailed image of their customers. With a single interface, marketing professionals can keep track of social and marketing campaign actions.
Social Studio Builder has the following primary functions:
Provide customer support and engage your community
Publish on social media
Keep an eye on engagement
5) Interaction Studio
Interaction Studio is a real-time engagement solution for visualizing, tracking, and managing customer experiences.
This tool takes personalization to a whole new level by allowing businesses to implement one-to-one personalization.
It enables you to quickly understand your customers' wants and demands and deliver relevant content at each stage of their journey.
Interaction Studio has the following primary functions:
Connect every interaction
Look at cross-channel customer insights
Optimize the overall experience
Making an impression
6) Advertising Studio
By leveraging customer data across marketing channels, the advertising studio helps in the creation of a personalized customer experience.
It helps manage the retargeting, acquisition, and alignment campaigns. Whether it is Facebook or Google, it rapidly synchronizes and updates customer data. It enables businesses to reach out to a vast number of potential customers.
Advertising Studio has the following primary functions:
Connect Channels
Harness Customer Data
Generate More Leads
7) Datorama
Datorama is a platform that connects and unifies all your marketing data and analytics. It helps businesses in gathering and analyzing data from various marketing platforms.
Marketing professionals can quickly optimize leads, pipeline growth, and conversions with this marketing dashboard. It offers detailed analytics and insights into social media, email, site landing pages, and sales platforms.
Datorama has the following primary functions:
Saves time and creates cross-functional ease
Provides a testing environment
Data-driven decisions
Also, read: What is Salesforce CPQ (Configure, Price, Quote)?

Business challenges that Salesforce Marketing Cloud can resolve
Businesses today confront a variety of problems that prevent them from growing at the pace they desire. Salesforce Marketing Cloud is a strong program that may help you handle a variety of business problems that are impacting your industry's success.
Here are the three most significant challenges that most organizations are facing these days.
1) Predicting the customer's behavior
Predicting customer behavior is crucial to success. If you can forecast your customers' behavior and get a clear understanding of what they want it helps you make better judgments.
You may utilize Einstein Al to understand and predict client behavior based on their previous interactions and then adjust their path accordingly. It not only allows you to tailor every interaction, but it also allows you to deliver relevant material and plan your marketing operations.
2) Personalization
Salesforce Marketing Cloud allows you to learn about your customers' preferences and choices, as well as their interests and purchasing patterns, and preferred communication methods.
Offering personalized content and a consistent experience to customers is a significant challenge for any company. All of these elements can be combined to provide your customers with a highly personalized experience.
3) Connecting information from multiple sources
Businesses and customers also struggle to submit and receive data from a variety of sources. Transactional systems, loyalty programs, data lakes, and other tools are used by businesses.
These systems hold a vast amount of client data and managing it all is a challenging task. Salesforce Marketing Cloud helps you to integrate all the information details from many sources and combine them into a single unified interface for businesses and customers.
Also, read: Reasons why Salesforce Custom Apps are Worth Your Consideration
How do Pardot and Marketing Cloud differ?
Pardot is one of the most effective Salesforce marketing cloud platforms, enabling sales teams to close more deals. It is utilized in situations where there are long sales cycles and several decision-makers.
On the other hand, transactional purchases across different marketing channels are best served by Salesforce Marketing Cloud.
Marketing Cloud is an excellent solution if you are a larger B2C firm that requires a comprehensive suite of marketing technology and automation.
If you have a smaller team or already have tools for social media, advertising, and other marketing channels, Pardot may be a better fit for email and demand generation.
Also, the cost of Marketing Cloud is more than that of Pardot.
Read more about the topic- Pardot vs Marketing Cloud: Learn what's right for your Business
Some examples of marketing cloud platforms
The following are some examples of frequently used marketing cloud platforms:
AgilOne Predictive Marketing Cloud
SAP Marketing Cloud
Adobe Marketing Cloud
Salesforce Marketing Cloud (SFMC)
Oracle CX Marketing Cloud
Salesforce Marketing Cloud – Cost
Salesforce Marketing Cloud offers four pricing models: Basic, Corporate, Pro, and Enterprise.
Basic
---
The most basic version includes content creation, content integration, and email marketing.
Pro
---
It has all the capabilities of Basic plus automation.
Corporate
---
This edition has all the features of Pro, plus Journey Builder, Al Einstein, and mobile messaging.
1) Basic – The most basic version includes content creation, content integration, and email marketing. It costs $400 per month.
2) Pro – It has all the capabilities of Basic plus automation. It costs $1,250 per month.
3) Corporate – This edition has all the features of Pro, plus Journey Builder, Al Einstein, and mobile messaging. It costs $3,750 per month.
4) Enterprise – It has all the features as well as the ability to manage multiple enterprises. This is a customized plan, and you will need to contact Salesforce representatives for a customized monthly cost quote based on your business requirement.
Also, read: Salesforce Edition Comparison: Features and Applications
How to start with Salesforce Marketing Cloud?
If you are concerned about the Salesforce marketing cloud, where to start from, or if the cloud appears to be a little overwhelming at first.
Our marketing professionals at Cynoteck can still help you. As a Salesforce partner, we will work with your team to explore ways to improve your marketing efforts by determining which features are most closely aligned with your needs and your customers' demands. Contact us today, and we will work together to create a digital experience that empowers your team and delights your customers.
Conclusion
If you want to grow and expand your marketing campaign, Salesforce Marketing Cloud is without a doubt the way to go. It boosts conversion rates and boosts the effectiveness of your marketing campaigns.
Increase the number of leads you generate, track the effectiveness of your email campaigns, and evaluate the marketing impact.
With this user-friendly automation Salesforce marketing solution, you can get qualified leads, build an accurate and in-depth database, and much more. The benefits of the system do not end here; however, once you begin implementing and modifying it, they are limitless.
By leveraging the capabilities of Salesforce Marketing Cloud, businesses can create personalized, timely, and relevant marketing campaigns across multiple channels, leading to improved consumer satisfaction.
To make the most of marketing automation settings and adjustments, you will also need the correct Salesforce consulting services like ours.
FAQs (Frequently Asked Questions)
1) What makes Salesforce Sales Cloud and Salesforce Marketing Cloud different?
Salesforce Marketing Cloud provides a 1:1 personalization of content messages to users, while Salesforce Sales Cloud is used to manage sales and marketing leads. It also provides excellent quotations and opportunities. 
2) How does Salesforce Marketing Cloud work?
Salesforce Marketing Cloud can help you integrate data from a variety of different sources. You may receive all your data from Salesforce's ecosystem, which is then delivered through the Marketing Cloud.
The Marketing Cloud then has access to all the data in the Salesforce ecosystem. It includes all things, such as reports, contacts, campaigns, and leads. App Cloud, Service Cloud, and Sales Cloud are all examples of this. 
3) What is the benefit of Salesforce Marketing Cloud?
Salesforce Marketing Cloud is a Customer Relationship Management (CRM) system designed specifically for marketers. It develops and manages marketing strategies as well as campaigns.
4) What does Salesforce Marketing Cloud offer?
Salesforce Marketing Cloud provides a comprehensive set of integrated services. 
Customer journey management 
Personalization via email, mobile, social media, and the web 
Content generation and management 
Data analysis 
5) What role does Marketing Cloud play in mapping out the customer journey?
Salesforce Marketing Cloud makes it easier to visually plan and map interactions for groups of clients at different stages of the customer lifecycle. The strategies are not centered on a single occurrence but cover the full customer lifecycle. It takes the form of a well-coordinated set of interactions and events that are driven by corporate goals and customer behavior.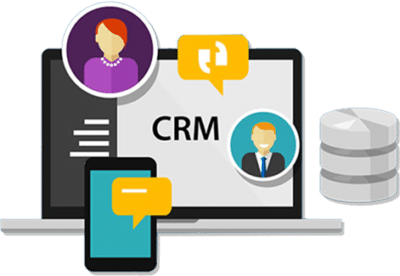 If you are new to automation and confused about Workflow or Process Builder. Need not to worry, we have got you all covered. Talk to our experts and clear all the cloudy thoughts about automation.