Salesforce Edition Comparison can help you determine the most suitable Salesforce CRM edition for your business. CRM software is an essential investment for your organization. For it to be beneficial for your organization, you must allocate time for planning, CRM consultant configuration, and training so that your work team has all of the necessary tools to holistically utilize the system.  
However, before you do anything else, make sure you make the right decision to adopt a CRM and select the best technology for your objective's achievement. Salesforce CRM is one of the most widely used CRMs globally. It is a sophisticated tool that can help you manage your business operations efficiently. However, there are several different versions or editions of this tool, each with its own set of features. Understanding them will let you make more effective and informed decisions with more knowledge to get to the next level in sales and service. 
There are different Salesforce editions that users can choose from according to their convenience and business requirements. However, determining the most suitable Salesforce edition can be an exhausting task since it requires extensive research and analysis of the Salesforce editions.
Different Salesforce editions have different functionalities, applications, limitations, and features, due to which, their prices also vary. With different editions in existence, it can be a complex task to determine which one is the most suitable according to your requirements.
We have created a Salesforce Edition Comparison so you can conveniently determine which one to choose for your business process.  

Salesforce Editions Brief Overview: Salesforce Edition Comparison
You can use Salesforce CRM to help your team manage all aspects of the commercial process, which results in more productivity, less time spent on administrative tasks, and more transactions done. This technology allows commercial executives more visibility to manage their teams and acquire more immediate information, allowing them to make more informed decisions.
A quick overview of all the editions will help you thoroughly compare the Salesforce editions and decide which suits your business best. 
Primarily there are 4 Salesforce editions that you can choose from: Essential, Enterprise, Professional, and Unlimited Salesforce edition.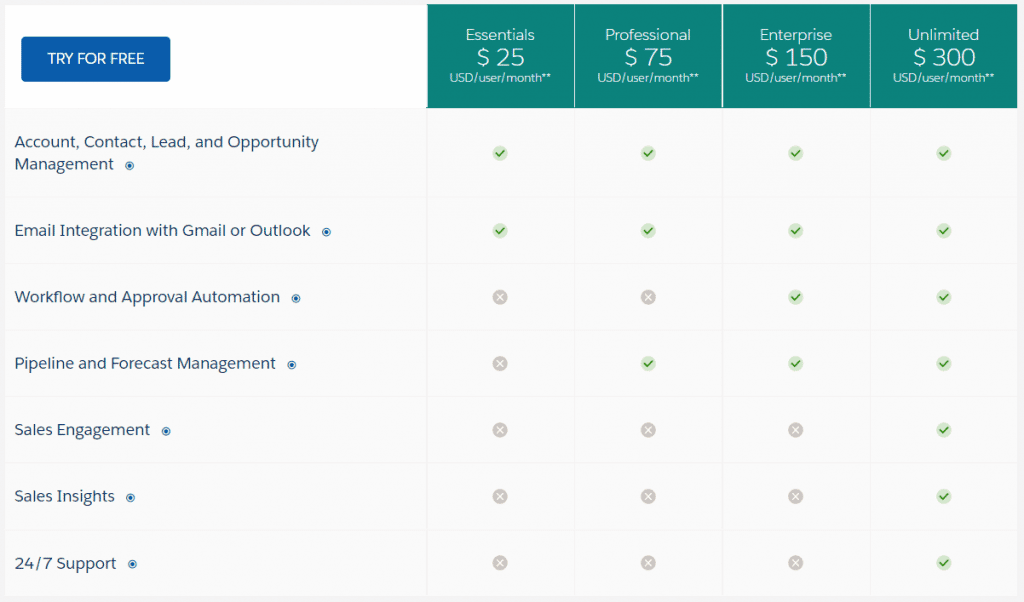 1. Salesforce Essential Edition
Usually recommended for small businesses, Essential Salesforce Edition has an easy-to-use user interface and insightful guide to walk you through the features and customizations to get you started. Essential Salesforce Edition offers default features to fulfill basic business sales needs, some of which are as follows.
Features of Essential Salesforce Edition:
Custom configurable Sales Process
Communication through multiple channels
Account, opportunity, lead, and contact management
Salesforce 1 mobile app for mobile access
Gmail and Outlook integration
Full offline mobile compatibility
Cost of Salesforce Essential Edition: $25/user per month. 
Salesforce Essential Edition is suitable for:
The Essentials package is ideal for startups and small organizations that just want basic CRM features. These businesses do not require a lot of customization or integration just yet. Instead, their marketing and sales teams require entry-level process automation.  
Also, read: Salesforce Customer 360 – All you need to know about
2. Salesforce Professional Edition  
Designed for small and medium-sized businesses, the Professional edition was created for enterprises that require a full-featured CRM to manage their operations. With the salesforce professional version, organizations can easily manage their entire sales cycle.
Consider the Professional Edition to be a step up from the Essentials edition. It is still a straightforward CRM, but with more features like customization, connectors, and administrative tools. To get the most out of it, a company will require someone familiar with Salesforce.  
All of the features from the Essentials level are available in the Professional plan. Other noteworthy features include:
Product and pricing list organized by market type, department, area, and so forth.
Estimating the number of items or services that will be sold during a specific time (through companies, sales teams, agents, territories, etc.).
Quantification based on guidelines that show your potential clients' level of interest in your products and services (rule-based lead scoring).
Administration of contracts.
Salesforce professional Sync allows you to synchronize contacts and events across any Microsoft Exchange and Salesforce-connected device.
Developer Sandbox is a non-production environment for developing and testing new features.
Quotations and orders are managed.
Cost of Salesforce Professional Edition: $75/user per month.
Salesforce Professional Edition is suitable for
The Professional edition is ideal for small and medium-sized enterprises that want to manage their full sales cycle in one location, including forecasts, user profiles, and real-time sales data. To receive the full benefits of the proposal, these enterprises would also need to establish a single sales unit.
Also, read: What is Salesforce Pardot? B2B marketing automation by Salesforce
3. Salesforce Enterprise Edition
Third, on the Salesforce edition comparison list is the Salesforce Enterprise Edition. Consider the Enterprise version to be a more sophisticated and configurable CRM. It can be relied on by everybody, from senior executives to sales teams to marketing teams.
It has Salesforce API (Application Programming Interface) access, making it simple to integrate the platform with your current systems. In addition to the capabilities included in the Professional Edition, the Enterprise Edition assists big enterprises in automating complicated business processes through workflow and approvals.
This version supports large-scale deployments with sophisticated customization and management options. Furthermore, the Enterprise edition has access to Salesforce APIs, allowing organizations to easily interact with back-end systems.  
The Enterprise edition includes all of the capabilities included in the Professional plan, as well as several unique features that have helped it become Salesforce's most popular version.  
Features of Salesforce Enterprise Edition:
Workflow and approval automation has a direct influence on the time and speed with which operations are completed.
Possibility for salespeople to interact and work in the same company (opportunity teams).  
Disseminating the income among team members for their contributions.  
Advanced functionalities for information management and generation of reports.  
Advanced data management and reporting features, Process Builder and Flow Builder that provides limitless automation possibilities.  
The lightning platform for building and managing apps with code or point-and-click tools.  
API to connect Salesforce to other applications.  
To build and test new features, there are up to 100 sandbox settings available.
Cost of Salesforce Enterprise Edition: $150/user per month. 
Salesforce Enterprise Edition is suitable for:
Large enterprises with several sales divisions will benefit from the Enterprise edition. This is because it enables the integration and control of several sales divisions. Large companies that want to automate their complicated procedures would also profit. Users can have a customization with this package, further assisting them to manage and organize their business processes more efficiently.  
Also, read: What is Salesforce CPQ (Configure, Price, Quote)?
Looking for Salesforce Development and Implementation Services
Send us your requirements, we will get back to you with a quote
4. Salesforce Performance Edition
Finally, there is the Unlimited Edition, formerly known as "Performance," which differs from the business edition in terms of storage capacity and customization and integration options. You will receive all the applications you require in this version at no additional cost because they are included in the package.
Large enterprises that require a high level of customization due to the intricacy of their business operations, and customer and prospect service may also choose this option.  
Features of the Salesforce Unlimited Edition:
Support and setup services are available 24/7.
World-class resources are available to you (knowledge bases, interactive webinars, etc.).
Access to Salesforce configuration services provided by a qualified administrator.
One-on-one training sessions with a Salesforce professional are available.
Developer support based on Salesforce best practices that give assistance and troubleshooting tips.
Cost of Salesforce Unlimited Edition: $300/user per month. 
Salesforce Unlimited Edition is suitable for:
One of the major advantages of this plan is the unrestricted Salesforce assistance that a team will receive. The low cost and sophisticated capabilities of this Unlimited edition make it a great alternative for large-scale enterprises with several sales divisions.
Copy Infographic
The right time to update the Salesforce edition:
So far, the Salesforce version you have installed must have helped your firm grow successfully. However, this has resulted in the emergence of new wants and expectations that necessitate the enhancement of your present capabilities.  
This means you require an upgrade. It simply entails paying the difference between your current and anticipated versions. Do not wait until your license is about to expire before anticipating and making the required modifications to satisfy the expectations of your new firm.
It is vital to examine the organizational complexity as well as the customization needs when choosing a Salesforce version. Salesforce Edition Comparison might come in handy during the time of upgrade. 
Conclusion
Choosing the right edition for your business is a big decision; however, it is easier to make an informed decision if you spend some time planning and identifying the goals that led you to implement a CRM in the first place. This way, you can make sure you are considering the requirements of your sales team and getting what you need while staying within your budget. 
A CRM, such as Salesforce, is a complete platform that enables you to perform sales and service work in a more agile and automated manner, allowing you to meet your company's goals and advance to the next level of growth. A Salesforce edition comparison can majorly help you in choosing the most suitable CRM according to your business objectives and requirements. 
Also, read: Reasons why Salesforce Custom Apps are Worth Your Consideration
Frequently Asked Questions:
1. Is it possible to integrate Salesforce CRM with third-party software? 
Salesforce solutions often integrate directly with a wide range of external apps and systems to help you connect your data. Integration of Salesforce with third-party applications provides various advantages such as ease of use, streamlined business processes, creating customer networks, and more.
2. Is it mandatory to pay annually or can I pay monthly as well for licenses?
Salesforce Essentials licenses are available on a monthly or annual basis. All other subscriptions are usually paid in advance each year. 
3. What is the standard validity of a Salesforce edition purchase? 
The majority of Salesforce products have yearly contracts, however, subscription lengths vary, such as Salesforce Essentials, which has monthly or multiyear payment choices. 
4. Can I add more products later? 
Salesforce is a flexible CRM when it comes to functionality, it allows you to add products later on. However, some products may require scalability. 
5. Which salesforce editions support API access?
The following are the Salesforce editions support API access
> Enterprise Edition
> Unlimited Edition
> Developer Edition
> Performance Edition
6. Which salesforce editions does not support API access?
These are the Editions without API Access
> Group Edition
> Essentials Edition
> Professional Edition*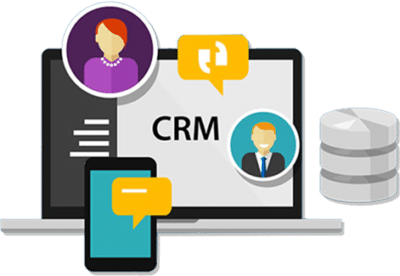 If you are new to automation and confused about Workflow or Process Builder. Need not to worry, we have got you all covered. Talk to our experts and clear all the cloudy thoughts about automation.