Salesforce Customer 360 is an integrated platform that integrates various business units within the organization and enables them with a single shared view of customers' information. This enables businesses to provide a holistic buying experience to their customers. It also helps them provide top-notch customer care services for better customer retention.
Today customers want to be at the center of every decision, and it is the role of a business leader to make that happen. Fortunately, Salesforce Customer 360 makes this achievable.
Also, to be noted, big data and technological advancements have increased the difficulty of sales. It is no secret that consumer expectations grow at the same rate as technological advancements, and it is no longer sufficient to provide an experience that is limited to a single point of contact: everything must be strategically linked.
With Customer 360 Salesforce, representatives can see how their campaigns convert into leads, prospects, pipelines, and sales by having all their marketing, sales, commerce, and service information in one place. Salespeople may access support cases before joining a meeting or opening a sales opportunity using Salesforce Customer 360.
In short, Salesforce Customer 360 allows them to gain a deeper, more thorough understanding of their customers, allowing them to provide genuinely extraordinary service.
What is Salesforce Customer 360?
Salesforce Customer 360 is a full-fledged Salesforce platform that unifies your company's departments and their relationships with marketing, sales, and customer service in a single CRM platform. It allows you to provide tailored and real-time experiences to your customers.
If you run a B2C firm (one that sells various items to end consumers and distributors) or B2B (one that works with other businesses), you already know how important it is to have the various departments communicate with one another to build stronger connections with customers or prospects.
Have you ever struggled with coordination and timely response to your client's demands in your own business?
Then you're aware that the appropriate answer at the right moment may help you resolve issues, increase sales, or provide great opportunities to enhance public perceptions of your firm. When creating direct contact with the customer, work teams frequently cross paths. Often, whether in marketing, sales, or customer service, they must engage the public discourse in the many channels through which it is offered, and these interactions must be coordinated.
Also, read: What is Salesforce Pardot? B2B marketing automation by Salesforce
What is included in Salesforce Customer 360?
Sales Cloud, Service Cloud, Marketing Cloud, Commerce Cloud, Analytics, and more are all part of Salesforce Customer 360. Salesforce Customer 360 pricing is also reasonable with different editions available to choose from, according to your business requirements.
This software will assist you in managing your complete process chain, from marketing to sales and service. The more applications you have, the better and easier it becomes to handle business operations!
Sales Cloud
You can manage customer and sales team relationships by using Sales Cloud. It helps you to keep track of your client's progress and close deals much more quickly. Sales Cloud enables businesses to manage leads and convert them into sales. It furthermore helps in automating the sales process. 
Service Cloud
You'll be able to provide a more customized and effective support service using Service Cloud. Automation technologies let you reply to consumers faster and offer successful solutions more swiftly.  
Marketing Cloud
Finally, with Marketing Cloud, you'll have all the tools you need to build a cohesive and effective marketing plan. Additionally, you may tailor each client's experience. It allows users to get access to customer behavior data for analysis, thus helping them create better marketing strategies. 
Also, read: Benefits of Magento Salesforce Integration for your E-commerce Business
Benefits of Customer 360 Salesforce:
You may use all the features that are built into the platform to enhance your business. You will get access to centralized and round-the-clock customer care.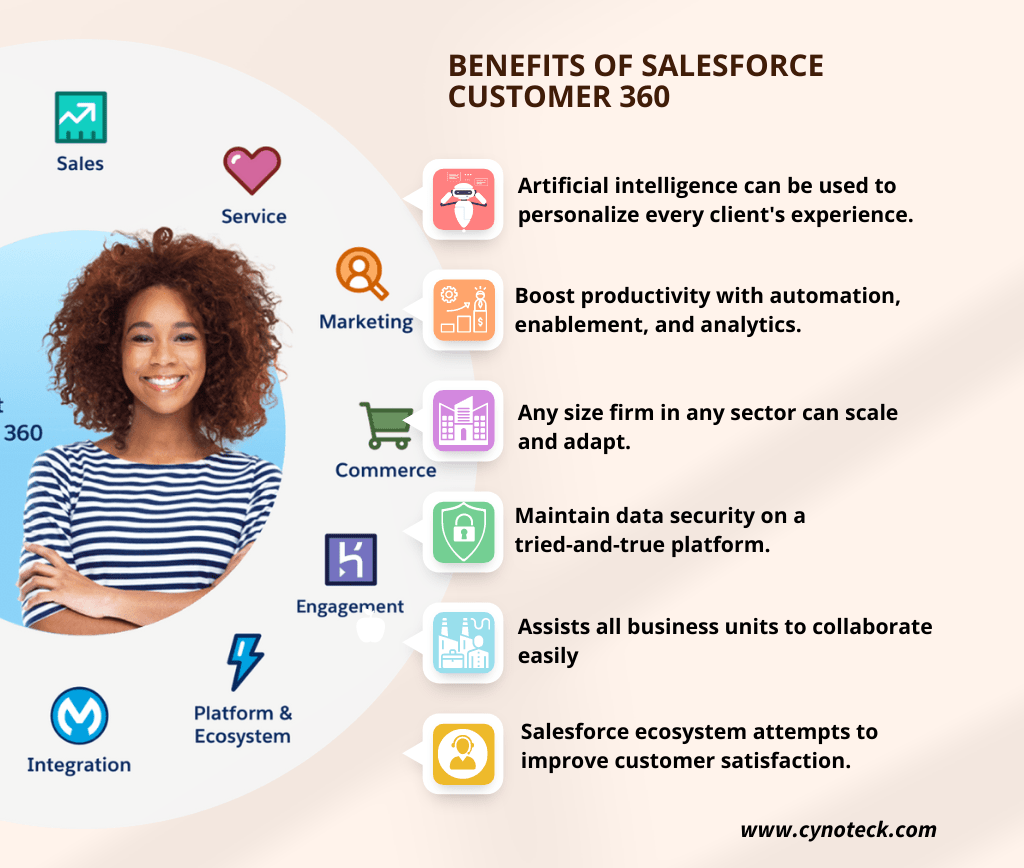 Copy Infographic
Salesforce Customer 360 transforms your business by assisting you in the following areas:
Artificial intelligence can be used to personalize every client's experience.
Boost productivity with automation, enablement, and analytics.
Any size firm in any sector can scale and adapt.
Maintain data security on a tried-and-true platform.
Assists all business units to collaborate easily as the customer data is shared between all business units
By connecting customers to your business, the Salesforce ecosystem attempts to improve customer satisfaction. You have the option to revise your business and participate in the transition.
Also, read: What is Salesforce CPQ (Configure, Price, Quote)?
Reasons to use Salesforce Customer 360
It might be tough to take the risk of introducing new technology within a business; nevertheless, there are many reasons to trust the Salesforce solution.
Copy Infographic
1. Enhance the customer experience
Eighty percent of customers anticipate a consistent experience. However, achieving this aim will be tough if we have distinct marketing, sales, and customer care, teams.
The usage of technology that links all departments will allow the workflow to be aligned and the client's expectations to be met. It helps different departments of an organization to work effectively in collaboration.
2. Provide unique experiences
This is crucial for establishing long-term connections and trust with the customer, to make them feel that we recognize him and remember him. Teams may gather, save, and exchange information about each client using Customer 360. Create customized marketing campaigns depending on your preferences. This will unquestionably outperform the competition.
3. Helps your company to prosper and expand
Customer 360 is a tool that changes and grows with the company. It may serve and fulfill the demands of both a small business and a major international corporation. It's a scalable and adaptable solution.
Also, read: Reasons why Salesforce Custom Apps are Worth Your Consideration
How can Salesforce Customer 360 provide a unified experience?
1. A single-click user interface for managing applications and data
To get a worldwide perspective of each customer's information, corporations had to rely on peer-to-peer connections previously. Admins may use Customer 360 to create trustworthy relationships across Salesforce apps and community, as well as identify and reconcile data across the cloud for a single view of customer data. Your firm will be able to link client data to one location easily and safely with these features.
2. All applications use the same ID and profile
All Salesforce apps will be able to recognize a consumer across different channels using a single identity or ID, regardless of how they identify themselves (name, email, social networks, phone number, etc.)
Information management capabilities prepare, match, reconcile, and update the customer profile across the cloud with Salesforce Customer 360. Data Exchange features allow you to access the relevant customer information when you need it with Salesforce Customer 360.
3. Services, marketing, and commerce bundles are pre-defined
Each "out-of-the-box" solution in Customer 360 includes everything your company needs to quickly launch connected experiences. Components in Service Cloud will have a pre-established Customer 360 connection. Rebuilt email and trip templates in Marketing Cloud will use content and data from Customer 360. Additionally, data and events from Commerce Cloud will be sent to all Customers' 360-connected systems.
The notion of a single view of the customers isn't new, but Salesforce's implementation is. Instead of producing enormous volumes of duplicate data, Customer 360 handles data correctly, enabling it to exist in the systems that manage it and request it as needed. Companies can now focus on creating genuinely unified experiences across all channels rather than maintaining data.
Conclusion
Salesforce CRM and its Customer 360 platform could be just what your business needs to compete with its rivals in today's competitive market. If you still do not have a solution like this, we recommend purchasing Salesforce 360 for your organization. Your sales team is capable of great things, by providing them with the appropriate tools you can help them save time, simplify their job, and grow and perform at their full potential.
Salesforce's Customer 360 is an excellent option for improving the commercial area and taking your company to previously unattainable levels of sales and productivity. Thanks to its extensive functionality, which includes business opportunity management, sales collaboration, lead management, sales projections, e-mail tracking, and many other features. Try it today and get the results that you always desired.
Also, read: What is Salesforce Service Cloud? All you need to know
Frequently Asked Questions
1. What is Customer 360 Salesforce?  
Salesforce Customer 360 is a comprehensive Salesforce technology that unites your company's departments and their interactions with marketing, sales, and customer service in a single CRM platform, allowing you to create customized and real-time customer experiences.  
2. What is the 360-degree view of customers in Salesforce?  
A 360-degree perspective, when applied to your consumers, provides a full picture of who they are, allowing you to observe all aspects of their connection with your firm. Customer 360 Salesforce helps businesses make better marketing strategies to boost sales. 
3. Is Customer 360 Salesforce compatible with other software?  
Salesforce Customer 360 is designed to integrate with other apps to give a unified back-end experience that helps you manage your business successfully. Salesforce AppExchange marketplace is one method of integration with other products. Each application is simple to install, so you and your team can start using it right away in your Salesforce product.  
4. How do businesses know Customer 360 Salesforce is the appropriate solution for them?  
Customer 360 Salesforce is meant to be personalized to the specific needs of each organization. Some businesses may just require one of the industry-leading solutions to serve a specific department or business goal, while others may benefit from bringing together more of their customization variants on a single, shared platform to better manage client connections.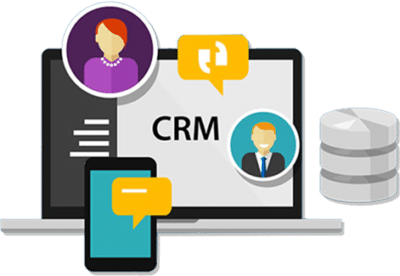 If you are new to automation and confused about Workflow or Process Builder. Need not to worry, we have got you all covered. Talk to our experts and clear all the cloudy thoughts about automation.