Configuring products and services according to consumers' needs and quoting the right price for it has always been a complex issue faced by businesses. Salesforce CPQ allows users to swiftly produce correct quotations for purchases. It is a Salesforce sales tool that allows firms and their salespeople to build sophisticated and customized product or service quotations rapidly and accurately. It generates quotes based on a set of pre-programmed criteria, providing error-free pricing that accounts for quantities, discounts, modifications, optional product features, numerous revenue kinds, and incompatibilities.
The abbreviation CPQ stands for the software's three major functions:
Configure: The customization of products and services based on their features.  
Price: The process of calculating pricing based on base prices and discounts.  
Quote: Using the information acquired in the previous phases for creating quotes.  
How does Salesforce CPQ work?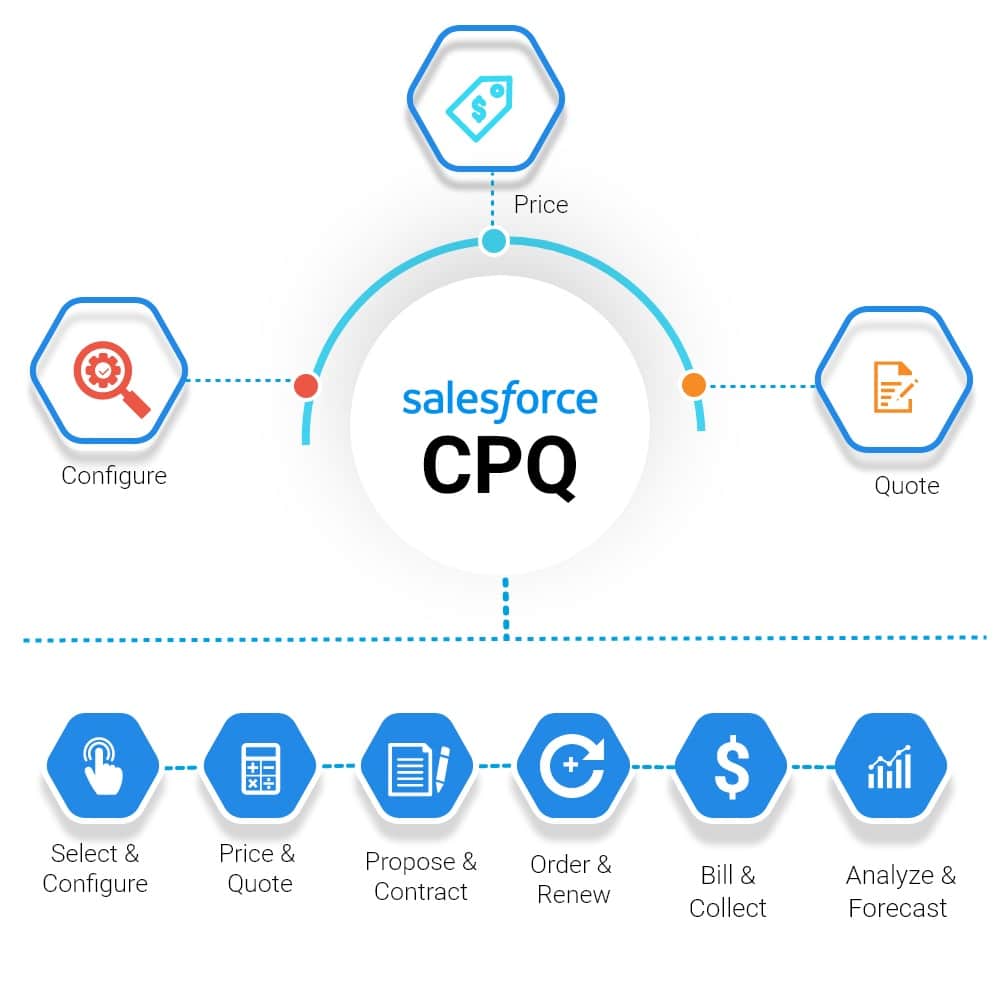 Configure
The first stage in the CPQ process is to configure the product. It is critical that you fill out key facts about the products or services before moving forward with the sales process. Aligning your product or service to your customer's needs can help you achieve maximum utilization.
Configuration involves carefully and smartly creating a bundle for customers that contains all the services that they need. The three most important characteristics to consider when creating a product for a client are quality, quantity, and configuration guidelines.  
Pricing
Post the configuration of the product, the right pricing for it must be determined. Users can apply discounts to products and bundles, and Salesforce CPQ will figure out how much the items or services should cost. Users can adjust the pricing based on the many price lists provided. After adding discounts, the sales team can quickly establish the unit, block, and subscription pricing with Salesforce CPQ.  
Quoting
The CPQ process concludes with the generation of product and service quotations. Finally, the quotations must be signed and authorized. Users can create customized branded quotations using Salesforce CPQ. Even with very basic information, CPQ creates appropriate quotations quickly.  
Also, read: Reasons why Salesforce Custom Apps are Worth Your Consideration
Features of Salesforce CPQ:
Salesforce CPQ includes several features that help users in quoting the correct pricing for a product or service to customers. Here are some of the most notable features: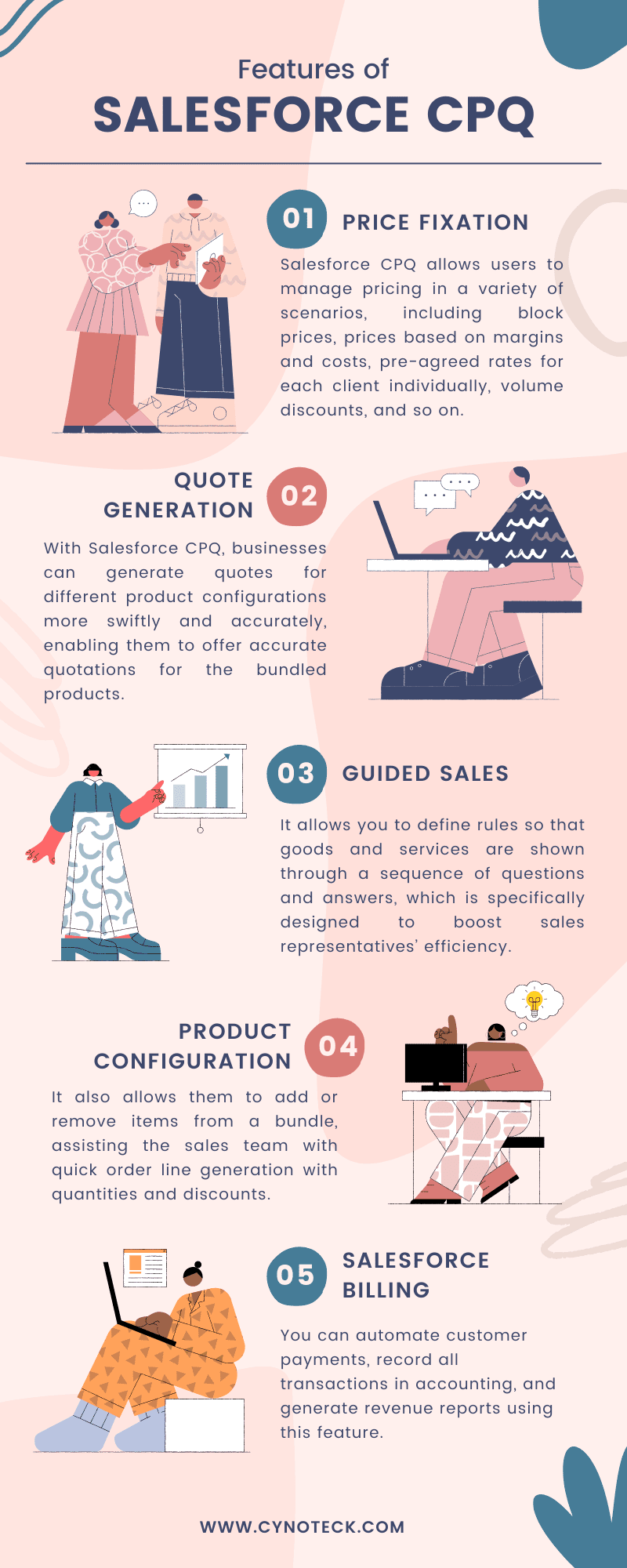 Copy Infographic
1) Price Fixation
Salesforce CPQ allows users to manage pricing in a variety of scenarios, including block prices, prices based on margins and costs, pre-agreed rates for each client individually, volume discounts, and so on, to obtain much more precise and optimal prices.  
2) Quote Generation
With Salesforce CPQ, businesses can generate quotes for different product configurations more swiftly and accurately, enabling them to offer accurate quotations for the bundled products.
Salesforce CPQ assists users in generating quotes after taking all the discounts into account. It prevents users from going through all the calculations for determining quotes for each product configured with discounts by providing appropriate quotations. 
3) Guided Sales
It allows you to define rules so that goods and services are shown through a sequence of questions and answers, which is specifically designed to boost sales representatives' efficiency.  
4) Product Configuration
Sales teams can use Salesforce CPQ to set up systems for product bundling. It also allows them to add or remove items from a bundle, assisting the sales team with quick order line generation with quantities and discounts.
Product rules can also be used to eliminate pricing inconsistencies and make cross-selling and upselling proposals easier.  
5) Salesforce Billing
Salesforce Billing is a Salesforce CPQ CRM add-on package that configures client data to be automatically retrieved for billing and payment once a salesperson completes a quote and places an order.
Additionally, you can automate customer payments, record all transactions in accounting, and generate revenue reports using this feature.
Looking for Salesforce Development and Implementation Services
Send us your requirements, we will get back to you with a quote
Advance Salesforce CPQ features:
1) Understand pricing and product rules
With a combination of product rules, Salesforce Billing is an add-on package for Salesforce CPQ that simply configures products once a sales representative finalizes them. Product rules allow the sales representative to assemble items, improve their selling experience, and produce correct quotations.
It allays your concerns about certain SKUs, fit for your business size, or compatibility with products and services. It all comes down to exceeding high-end customers' buying expectations. Product rules help you comprehend the evolution of your marketing strategy, from product packaging and price through SKU assembly and sales agents.  
Pricing helps regulate quotations and improve sales by working in tandem with product regulations. Validation, alert, and selection are the three most common product rules in CPQ. Salesforce CPQ updates the fields of the quotation lines and aids in price calculation automation.  
2) Advanced approvals 
The normal Salesforce CPQ approval capability can be used to understand most of the simpler business cases. However, Salesforce CPQ also has sophisticated approval features for approval workflows.  
A support method is used in the advanced approval system. Because Salesforce CPQ remembers the sequence, if an approver or group of approvers authorizes a quote and it is subsequently denied, the same individual or group does not need to re-approve the quotation upon resubmission.  
Additionally, while a representative is absent from the office, another person might be assigned to take over. The types of approvals that representatives seek are visible. If a prior approver needs to be replaced, it may be done with just one click, avoiding the need to go through a separate approval procedure for the previous approver.
Customers prefer to approve orders while on the go, and CPQ enables approvals at any time, from any location, as well as email and notification setup on mobile devices.  
3) Advanced Order Management
Businesses are likely to provide services in various locations, from different time zones. Advanced order management allows your organization to make several orders from a single offer by simply splitting them.
With complex protocols and dynamic approvers, it simply takes your approval process to the next level. Something useful for distributing items to many locations at different times.
Also, read: What is Salesforce Service Cloud? All you need to know
Benefits of Salesforce CPQ:
Here are some of the ways Salesforce CPQ can benefit your sales team:
Sales professionals have more power and visibility with Salesforce CPQ.
The sales team can prevent unintentionally entering unauthorized rates and offering items that are no longer available using Salesforce CPQ. This platform organizes data and gives clients a clear image of what the organization has to offer.  
With Salesforce CPQ, the sales team can efficiently collect and analyze data, as well as predict trends.  
By offering new revenue models, such as subscriptions, users can be more flexible with their client base, and adapt to all industry models.  
Simplify sales order acceptance and display all quotation data in real-time to help the front and back-office personnel collaborate. All of these can help to break down silos and make your firm more collaborative.  
Why Salesforce CPQ?
Customers increasingly want individualized interactions and want the proper quality of service delivered at the right time. Salesforce CPQ helps in the administration of processes, partnerships, and teams so that your company can achieve all its short and long-term objectives.
This is more than just an office or sales solution; it transforms your current inefficient sales processes into an efficient and productive one, thereby boosting sales efficiency. It also enables businesses to expediently offer complicated products and services that demand customization. Once the product is set, it automatically calculates an exact price based on each customer's pricing and discount regulations, further assisting in sales.  
Also, read: Salesforce Lead Management Features and key stages
Conclusion
Creating quotations using regular Sales Cloud opportunities or tools like Word or Excel may be enough in simple cases where there are few alternatives in product configuration and pricing combinations. However, if the tools meant to handle this sort of demand are not accessible, there is a great danger of making mistakes when the mix of product and service characteristics expands.
Salesforce CPQ enables businesses to offer complicated products and services that demand customization. Once the product is configured, it calculates a correct price for each client based on their pricing and discount criteria.
Sales Cloud has CPQ as one of its offerings. It is a product that is easy to use and built using native Salesforce objects, ensuring data uniformity across the client's life cycle. Furthermore, because it is based on cloud technology, it can be accessed from any device and anywhere.  
Also, read: Salesforce pros and cons? Consider them to choose the right CRM
Frequently Asked Questions:
1) What is Salesforce CPQ?
Salesforce CPQ is a sales tool included in the Salesforce system that allows businesses and their salespeople to produce sophisticated and configurable products and service quotations swiftly and reliably. Configuration, price, and quotation are abbreviated as CPQ. Taking the most critical aspects of the sales cycle from spreadsheets and placing them on an automated and error-free platform makes the sales process easier, faster, and more structured.
2) What features does Salesforce CPQ include? 
Process automation, workflow mapping, and advanced reporting are all available in Salesforce CPQ. Data about customers and products are retrieved straight from the cloud and connected smartly. The intelligent ideas of the solution experts are used to construct the most appropriate offer for each consumer, such as the ability to sell related items together.  
3) When Should You Use Salesforce CPQ? 
Salesforce CPQ is appropriate for sales teams working with complicated products supplied in bespoke packages (e.g., technology, medical, healthcare, and life sciences). Any sales team that routinely updates quotations manually, for example, based on data from separate systems, can benefit from CPQ.  
4) How Beneficial is Salesforce CPQ?
Salesforce CPQ saves the time and effort of sales teams by automating key aspects of the quotation generating process. This efficiency saves businesses money and human resources while also increasing client happiness, which boosts profits. Artificial intelligence will improve CPQ capabilities even further. Already, 66 percent of businesses believe AI is crucial to their sales process. Companies that use AI-driven CPQ now will be ready to take advantage of future advancements.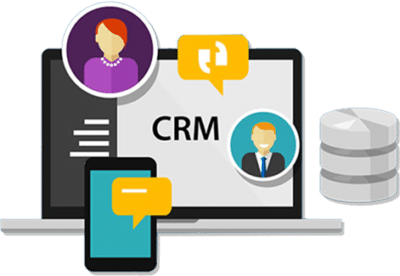 If you are new to automation and confused about Workflow or Process Builder. Need not to worry, we have got you all covered. Talk to our experts and clear all the cloudy thoughts about automation.