The relationship built between a firm and its clients is one of the most important parts of any company or organization. With the changes that have occurred in the digital environment and customer culture, this topic has gained increased importance. As a result, businesses have a higher need for solutions that allow them to add value to their consumers' consumption experiences.
CRM (customer relationship management) technology has become critical for businesses today, to get recognition and stand apart from others. We have seen how a range of different platforms can be found in the digital ecosystem, based on their relevance.
However, many of them offer a variety of approaches that improve certain aspects of each organization to varying extents.

CRM Comparison: Pipedrive vs Salesforce
Keeping in mind the necessity of these management tools for businesses today, we have decided to compare two of the most popular CRM solutions on the market.
Pipedrive vs Salesforce is a question that concerns a lot of people; these two platforms highlight the differences between customer relationship management systems and their respective methodologies.
Similarly, we will construct a comparison based on their functions, benefits, drawbacks, and more. This will help you get a holistic idea of which one best meets your company's demands.
1. Pipedrive CRM
Pipedrive, the younger of the two tools, was created by Timo Rein, UrmasPurde, Martin Henk, Ragnar Sass, and Martin Tajur in 2010. The necessity for a tool that "adapts to the demands of people who aspire to make genuine sales" inspired the creation of this platform.
As a result, Pipedrive's software prioritizes the demands of sellers, from over 100,000 organizations in 175 countries.
Pipedrive is designed to be a comprehensive solution, but its feature that favors sellers allows firms to progress more quickly in this area.
It helps you to increase your conversions and leads, allowing you to close 28% more cases on average.
However, excluding other areas of business such as marketing, labor relations, and so on, this suggests a restricted range of action for work teams.
Pipedrive offers a variety of features, including prospect management, sales process automation, and advanced campaigns and report generation. It also includes email campaign management capabilities and helps a variety of businesses in supporting their sales strategy.

Advantages:
The chatbot, phone, and email options provide better communication and client management.
With its automated procedures, you can effectively save money and time.
Protect the process with a sturdy safety net.
Disadvantages:
Some elements have limited support.  
SME-focused integration offers fewer features, in comparison to other CRMs such as Salesforce.
Basic plans have a restricted number of features.  
How does it help businesses?
Pipedrive includes a lot of features that will help you handle your prospects' and clients' information effectively. Here are some of the highlights:
Sales funnel management: Effortlessly add your contacts, customer data, and the stage of the sales funnel you are in.
Product management: You can access the inventory using the "features" function to add, delete, or update the items you offer.
Income management: Pipedrive includes a function that allows you to connect your income and anticipate how much you will get.
Metrics and analytics: The "Sales statistics and measurements" section provides a detailed breakdown of sales within each step of the funnel. On the whole funnel, you will be able to see several distinct aspects of the entire process. The "sales data and measures" section contain a breakdown of sales at each step of the funnel.
Sales Dashboard: The sales dashboard is a part where you can see real-time sales data organized by categories like items, services, and people.
Also, read: What is Salesforce Pardot? B2B marketing automation by Salesforce
2. Salesforce CRM
Salesforce has been functioning since 1999 and is regarded as the most experienced CRMs on the market.
With over 150,000 clients, it is one of the most widely used tools in the digital ecosystem, thanks to its pioneering role in customer relationship management.
Salesforce, unlike Pipedrive, offers a comprehensive suite of solutions that covers all the procedures that occur in organizations and businesses.
As a result, its customer 360 software provides integration of all departments involved in a campaign, allowing for the automation and optimization of procedures.
However, each of these features has an equal and opposite counterpart. Using Salesforce as a CRM solution necessitates a significant technical effort and a team, such as Cynoteck experts, educated in its functionalities to fully utilize its capabilities.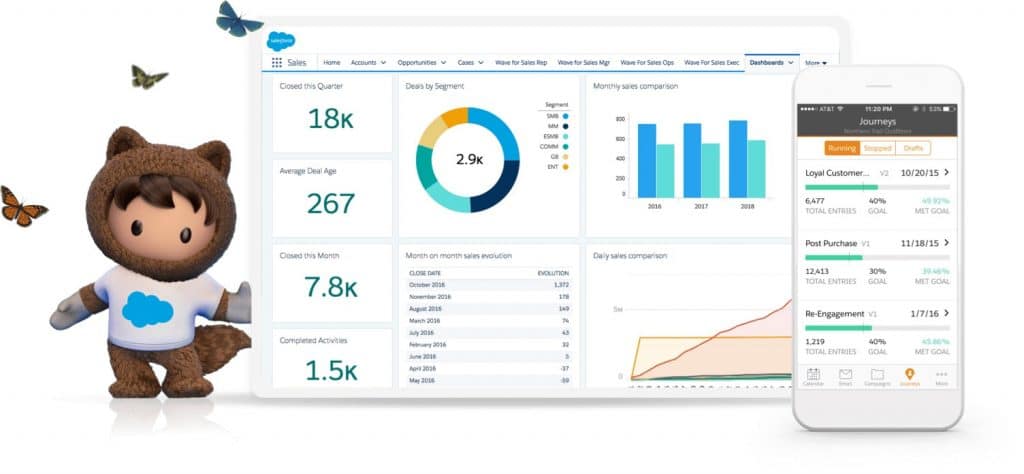 Advantages:
It includes a user-friendly and dynamic interface that allows it to adapt to the latest trends, technologies, and equipment.
Once the integration has been completed and the team has been trained, it ensures simplicity of use.
Its wide portfolio, which covers all divisions, makes it appropriate for large and medium-sized businesses.
Disadvantages:
Because the prices are changeable and expandable owing to customization, a budget set aside for this tool is required.
It necessitates a training procedure for tool users, resulting in higher initial expenditure.
How does it help businesses?
The following are the primary Salesforce features that can help you manage your sales:
Contact management: Salesforce provides you with a complete picture of your customers, including their contact history, social network information, and any internal issues with their accounts.
Opportunity management: With this CRM, you can keep track of all the specifics of your team's agreements (stages, products, skills, quotes, etc.)
Lead Management: Salesforce's lead management feature allows you to track and improve your campaigns across all accessible channels.
Marketing Automation: To produce and qualify leads, you may use marketing automation to create efficient campaigns and improve cooperation between marketing and sales teams.
Also, read: What is Salesforce CPQ (Configure, Price, Quote)?
The pricing difference between Salesforce and Pipedrive
Pipedrive Pricing:
Basic ($9 per month): You may have a simple and entirely visible administration of prospects, deals, calendars, and funnels; it allows for quick data import, comprehensive customization, and, of course, 24/7 support with all possible connectors.  
Advanced ($19 per month): In addition to the basic plan's features, it offers complete email synchronization with templates and programming, as well as the ability to create workflow with automation triggers. Naturally, you have complete control over the automation of all your everyday duties, minimizing monotonous labor and inefficient work teams.
Professional ($39 per month): This plan includes all collaborative tools that will increase business income, such as calls with a click and call tracking, electronic signing of documents and contracts, projections and income forecasts, and unique custom reports.
Enterprise ($59 per month): Contains a dedicated adviser, as well as unlimited user rights and visibility changes, as well as enhanced security options. The use of features is unrestricted in this plan.
Salesforce pricing: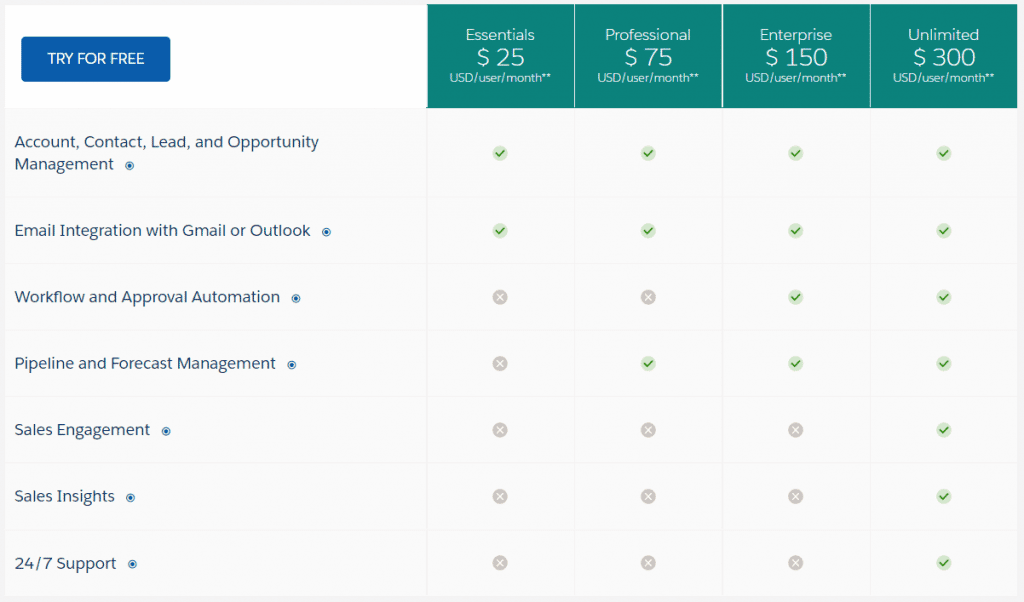 Essentials ($25): Includes account, contact, lead management, and opportunity management, as well as the Salesforce mobile app, chaos management, customizable reports, and dashboards for up to ten users.
Professional ($75): This option is ideal for medium-sized enterprises with complex requirements. It includes features including lead assignment and routing, campaign management, individual accounts, collaborative predictions, pricing and billing, and Google Apps connection.
Enterprise ($150): Enterprise includes most of the management, sales, forecasting, and administration tools.
Unlimited ($300): Support and resources are unlimited. This plan has identical aspects to the preceding plan, except for process automation.
You might also want to read the full article on- Salesforce Edition Comparison: Features and Applications
How to decide Right CRM
When we talk about a CRM, we are referring to the component that helps your organization manage the business process more effectively and sell more. Simple processes may be automated using CRMs, allowing your team to focus on the critical phases of sales conversion.
Before deciding on a CRM, it is critical to understand the fundamental challenges, tools, and features that any excellent CRM should include to help you sell more.
CRMs provide a plethora of services and capabilities that may or may not be relevant to your organization. As a result, the first step before selecting one is to define your objectives. To discover an efficient CRM system, you must consider the goals of all departments that will utilize it.
Also, keep in mind that only selected departments may utilize the program at first, but other departments could be included in the future.
After you have established your objectives, analyze each CRM's features, and compare them to your objectives, you can choose a CRM more wisely. This allows you to select the program that best suits your needs.
Consider the financial situation.
When creating a budget line item, it is critical to include the CRM's cost. Take into consideration the expenses of installation, maintenance, and staff training.
Make sure it has automation and notifications
The CRM must be user-friendly and allow for as much automation as feasible. Alerts are necessary for your sales team to know when to follow up on sales prospects.
Set up a common information system
Although CRMs have various responsibilities and access hierarchies, the information must be available to most departments. This will ensure process consistency and help eliminate mistakes.
Check the report-creation feature
The software's capacity to create analytical reports is one of its most valuable features. These reports must be comprehensive in terms of sales, marketing, and customer service. You will be able to generate estimates and optimize the customer experience with analytics.
Also, read: Reasons why Salesforce Custom Apps are Worth Your Consideration
Conclusion
The advantages that a CRM can bring to a company are enormous, and they span all the operations that are carried out within the organization, including lead generation, marketing, email marketing, customer care, and support.
Pipedrive CRM vs Salesforce is a neck-to-neck competition that does not necessarily have a decisive winner. Each CRM is suitable for businesses in its own way.
Salesforce is usually recommended for big enterprises; however, small, and medium businesses can benefit from it as well. On the other hand, Pipedrive is also a powerful tool that can effectively help in managing various business processes.
Both the CRM software have their advantages and disadvantages, respectively. Thus, at the end of the day, it all comes down to the requirements of the business and how much they can spend on CRM software.
Salesforce offers more features than Pipedrive, therefore, it is costlier. Businesses are recommended to opt for Salesforce if they have a sufficient budget, if not the case, Pipedrive can also be a reasonable option.
Frequently Asked Questions
1) Why do we need CRM?
Whether your organization is a small startup, a small business, or a huge corporation with many workers, you will eventually need to deploy an automated system to handle client information and sales.
For this, there are several CRM (customer relationship management) systems available that allow you to track all your contacts with clients and prospects inside your firm. Out of many, Salesforce and Pipedrive are two of the most powerful CRM tools available in the market. 
2) Which CRM is suitable for SMEs? 
Salesforce and Pipedrive are both sophisticated tools that can effectively help in managing business processes. With unique features available on different platforms, Salesforce and Pipedrive help businesses flourish in their own manner, respectively.
Hence, a CRM's suitability majorly depends upon the requirement the business has and the budget. Salesforce offers more comprehensive features than Pipedrive, however, it is also costlier.
Both the CRMs are suitable for SMEs, however, things like budget, features, and requirements can be a significant determining factor between the two. 
3) Which of the following is costlier? Salesforce or Pipedrive? 
Both Salesforce and Pipedrive have different editions available at different price rates. Each consecutively progressive package or edition has a greater number of features included; therefore, they vary in price as well.
However, each package of Salesforce is costlier than the corresponding package offered by Pipedrive. Business owners can choose any of the packages offered by Pipedrive and Salesforce according to their budget and requirements.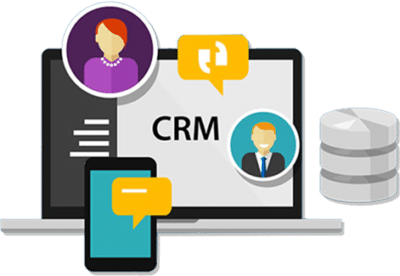 If you are new to automation and confused about Workflow or Process Builder. Need not to worry, we have got you all covered. Talk to our experts and clear all the cloudy thoughts about automation.