Data is now essential for digital transformation and obtaining a competitive edge because of the rise and demand for AI. According to Microsoft, today's data lakes can be fragmented, disorganized, and complex, which makes it challenging for enterprises to build, integrate, manage, and use data lakes.
As each day new enhancements in technology take over, users are scaling towards simpler versions. Technology that can unify and makes tasks easier than ever. For the very same requirement, Microsoft introduced its latest development – Microsoft Fabric.
In this blog, we're going to discuss all that's new about Fabric and how it is going to make everything simpler than ever:
What is Microsoft Fabric?
On the OneLake Data Lake of the corporation, Microsoft Fabric is a new kind of end-to-end data and analytics platform.
In the near future, this platform will also allow interaction with other cloud storage services like Amazon S3 and Google Cloud Platform.
A similar service was provided by rival Google before BigLake was introduced.
What assistance will Microsoft Fabric provide?
Architectures have become more complicated as a result of developments in data, AI, analytics, and databases.
Data fragmentation is a result of an increase in the amount of data being kept in different systems.
In order to manage various products, considerable integration as well as multiple teams and talents are needed.
Multiple products require security management since it must be done across all of them.
Over the past few years, many businesses have moved to the cloud, and the majority of PAYG (pay-as-you-go) models are challenging to comprehend. Complex cost management is another issue.
Also, read: What to Consider When Choosing Between Power Apps and Custom Apps
What are the benefits of Microsoft Fabric?
Power BI, Azure Synapse, and Azure Data Factory components are combined into a single integrated environment by Microsoft Fabric. Then, numerous tailored user experiences are delivered using these components.
The benefits of this integration are as follows:
A vast selection of intricately connected analytics.
Shared knowledge derived from simple-to-learn and familiar experiences.
Accessing and reusing all assets is simple for developers.
A unified data lake that enables you to use your favorite analytics tools while keeping the data in its current location.
Centralized control over all aspects of governance and administration.
Also, read: How to handle Survey data set issues in Power BI?
What are the Key Components of Microsoft Fabric?
A wide range of analytics experiences built to function together smoothly is available through Microsoft Fabric. Every experience has been specifically designed for a certain persona and task. For an end-to-end analytical need, Fabric includes experiences that are industry-leading in the following categories.

Copy Infographic
Data Factory: This offers drag-and-drop data transformation experiences, over 150 interfaces to cloud and on-premises data sources, and the capacity to choreograph data pipelines.
Synapse Data Engineering: This provides the potential for good Spark authoring experiences, a quick startup with live pools, and teamwork.
Synapse Data Science: This offers data scientists a complete approach to creating complex AI models.
Synapse Data Warehouse: Data Lakehouse and Data Warehouse experiences can be had with Synapse Data Warehousing.
Synapse Real-Time Analytics: Developers may work with data coming in from Internet of Things (IoT) devices, telemetry, logs, etc.
AI-driven analytics: Business analysts and other business users may learn from data with Power BI in Fabric, which offers industry-leading visualization.
Data Activator: This offers no-code data detection and monitoring in real-time, as well as the ability to start notifications and actions when it identifies particular patterns in the data.
What's the goal of Microsoft Fabric?
The main goal of Microsoft Fabric is simplicity. The Microsoft team invested in this new product over the last two years and came up with a technique to make things simpler. You don't have to worry much about the technology as the organization's data analytics lead; you can instead concentrate on the outcomes.
It's not necessary to spend a lot of time figuring out how the licensing for your Azure Synapse, Azure Data Factory, and Power BI will interact. Fabric greatly simplifies it.
Also, read: Create a custom connector in PowerApps from scratch
What are the advantages of Microsoft Fabric?
Microsoft's data platform service offering for the modern era is called Microsoft Fabric. Microsoft's three primary data analytics tools, Power BI, Azure Data Factory, and Azure Synapse are all covered under Fabric. When viewed in terms of functionality or burden, it is, however, simpler to comprehend.
Storage; OneLake
Data Integration; Data Factory
Data Engineering; Synapse
Data Warehousing; Synapse
Data Science; Synapse
Real-Time Analytics; Synapse
Business Intelligence; Power BI
Action platform; Data Activator
When all of the aforementioned are combined, you will have a single location to create and change them, a single structure to connect them (workspaces), a single setup for security and other configurations, and a much more straightforward licensing scheme that can be applied to all of the aforementioned.
Also, read: Introduction to Microsoft Power Automate – Working with Flow
What are the key features of Microsoft Fabric?
1. OneLake: Lake-Centric and Open Architecture
The data lake serves as the cornerstone on which the Fabric services are all constructed. OneLake is another name for Microsoft Fabric Lake. It comes with the Fabric service and gives the experience a single location to store all organizational data.
On top of ADLS (Azure Data Lake Storage) Gen2, OneLake is constructed. It offers a unified SaaS experience and a tenant-wide data repository for both expert and amateur developers.
Users don't need to comprehend infrastructure concepts like resource groups, RBAC (Role-Based Access Control), Azure Resource Manager, redundancy, or regions thanks to the OneLake SaaS experience, which simplifies the experiences. Furthermore, the user doesn't even need to have an Azure account.
2. Complete Analytics Platform
Six separate tools are integrated into the Microsoft Fabric suite to create a unified user interface and data architecture. Engineers and developers may easily extract insights from data and communicate them to corporate decision-makers thanks to this consolidation within the cost of Microsoft Fabric that you will pay.
Microsoft's emphasis on integration and unification distinguishes Fabric from competing companies like Snowflake, Qlik, TIBCO, and SAS, which solely provide particular parts of the analytics and data stack.
Customers are given a comprehensive solution that covers the whole data journey, from storage and processing to visualization and analysis, thanks to this integrated approach.
3. AI-Powered
Azure OpenAI Service is integrated throughout the layers of Microsoft Fabric, enabling customers to apply generative AI techniques to their data.
The AI-powered Copilot function helps with data-related tasks including developing machine learning models, creating dataflows, and generating code.
Also, read: How to create a Power Platform trial?
What is the cost of Microsoft Fabric?
Organizations can sign up for a free trial of Microsoft Fabric, which is now available in preview, to learn more about its capabilities.
Although this is still in preview and the price is subject to change, Microsoft states that in order for your organization to share material and collaborate using Microsoft Fabric, you must have both an organizational license and at least one individual license. Tenants, capabilities, and workspaces make up a Microsoft Fabric subscription, which can be set up in various ways to suit your organization's needs.
A company needs both capacity licenses and user licenses, to put it simply. You may read more about fabric licensing in the material below from Microsoft.
A specific collection of resources set aside for sole usage is referred to as capacity. For your content, it offers trustworthy, consistent performance. Each capacity offers a variety of SKUs, and each SKU offers several memory and processing power resource tiers.
Users can utilize Microsoft Fabric thanks to individual licenses:
Free trial: As long as a user has access to a Fabric Capacity (trial or paid), they are able to produce and share Fabric content in Microsoft Fabric for free.
Paid version: Users who have a Pro license can distribute Power BI content to other users. If a company wants to use Power BI, it must have at least one Pro license. Make sure to get at least one Pro license for your organization if you're buying a Microsoft Fabric license for it.
Also, read: Microsoft Power Automate with Robotic Process Automation capabilities in UI flows.
Conclusion
The data analytics landscape has been significantly simplified with the introduction of Microsoft Fabric. Organizations can concentrate on results rather than the difficulties of technology by combining multiple tools and services under one roof.
Fabric is positioned to have a big influence on the data analytics market thanks to its emphasis on integration and simplicity. It's also building the groundwork for an AI-driven future, which is transforming society and improving the power of data analytics tools.
Please keep in mind that this is just the beginning of our adventure as we wrap up this in-depth look at Fabric. The world of technology is always changing, and Fabric is just one piece of the puzzle that's giving data professionals new opportunities!
Also, read: How to Pick the Right Technology Stack for your Data Science Projects?
Frequently Asked Questions
Q. What is Microsoft Fabric and how does it empower unified data analytics?
Microsoft Fabric is a comprehensive data analytics solution that brings together disparate data sources, enabling organizations to gain insights and make data-driven decisions more effectively. 
Q. What are the key features of Microsoft Fabric that support unified data analytics?
Microsoft Fabric offers powerful features such as data ingestion, data integration, data preparation, data governance, and advanced analytics capabilities, all aimed at unifying and optimizing the data analytics process. 
Q. How does Microsoft Fabric handle data integration from multiple sources?
Microsoft Fabric provides seamless integration with various data sources, including databases, data lakes, cloud services, and even real-time streaming data, enabling organizations to consolidate and analyze their data from diverse origins. 
Q. What role does data governance play in Microsoft Fabric's unified data analytics approach?
Data governance in Microsoft Fabric ensures data quality, security, and compliance by providing robust mechanisms for data validation, access control, data lineage tracking, and adherence to regulatory standards, enabling organizations to maintain trust and accuracy in their analytics processes. 
Q. How does Microsoft Fabric enable advanced analytics and insights generation?
With its integrated suite of advanced analytics tools, such as machine learning, artificial intelligence, and data visualization capabilities, Microsoft Fabric empowers organizations to uncover patterns, trends, and insights from their data, facilitating better decision-making and strategic planning.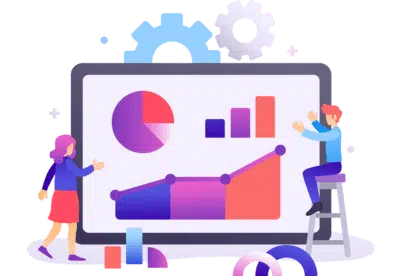 Harness the power of Data Science
Unlock hidden opportunities, optimize processes, and make smarter decisions. Contact us today to discover how our Data Science services can propel your organization forward. Don't let your data go untapped. Take action now and revolutionize your business with Data Science.