Today, every business needs the help of different software or apps to work efficiently. These software and applications have frequently been used by businesses to close gaps and address different challenges.
Microsoft and other industry giants have hundreds of products available. Right from solutions that are tailored to sectors and verticals to the fundamental programs needed to manage any modern workplace.
There are several programs used nowadays for various technological or digital development. So, you can get confused and lose track of them all.
The digital software tools that are custom-built for any business are occasionally the most important ones. However, the Power Platform makes developing applications much easier and simpler. When determining whether to use the Power Platform or develop a custom solution, your business should research and consider a few important aspects.    
A tough competitor in the field of low-code application development is Power Apps. Microsoft launched the Power Apps platform.
The reason being to empower small and medium-sized enterprises, which frequently lack the funding to hire a team of developers for application development.
These Power Apps enable non-technical people to create applications using a drag-and-drop interface, reducing the amount of coding necessary while providing faster development.
Custom software is another term for custom development. Custom mobile apps offer functionality that a ready-made solution does not.
Additionally, custom applications serve as effective business tools that enhance a company's product or service, boost efficiency, and broaden the consumer base.
Today, there are millions of software options available, so businesses that want to reach as many customers as possible can spend money on customized apps.    
Now, these two types of app development are the best options for businesses. Both remain the greatest choices. The key is figuring out which one best fits your business. We will now discuss the variables you need to think about when choosing both.
PowerApps: What do they do and how do they help businesses?   
PowerApps are created to maximize the capabilities of desktop and mobile devices for the benefit of customers and businesses. PowerApps offers a highly adaptable application lifecycle management solution with the help of its rich integration with Power BI, SharePoint Online, Delve, and OneDrive for Business.    
PowerApps also automates user-defined workflows by capturing business processes and using business activities, allowing businesses to concentrate on their customers, business processes, and internal business logic.
These apps provide attractive drag-and-drop user interfaces, which let you add various controls (such as text fields and choice fields), media (such as photographs, videos, and phone camera controls), forms, and screens.    
Even the most uncomplicated Power Apps allow for various controls, media, forms, and more. The complexity of your application depends on the sort of Power App you choose to design. After building the app framework, all you must do is link it to an external data source, press publish, and go!
Also, read: Know about User Roles in Microsoft Power Apps
Power Apps: Why should businesses choose them?
Organizations can use PowerApps to streamline their operations and boost productivity. Power Apps require no coding or development knowledge to create unique apps from scratch and are made to serve as many people as possible. An app can be created using pre-existing templates and modified over time as your business grows. The following points explain why businesses ought to select power apps:    
Power Apps is a single, integrated platform for developing apps. 
Organizations can access a platform with a wide range of capabilities with the help of PowerApps. 
Quick and dependable app development. 
PowerApps are developed to ensure that the organization will be completely satisfied with the app they build. 
PowerApps streamlines business processes. 
One of the most capable and user-friendly data storage technologies is PowerApps. 
PowerApps are priced. 
Integration with Office 365 tools. 
Smart workflows and effortless automation with Microsoft Flow.   
Also, read: Implement multilevel cascading dropdown in Power Apps from SharePoint
How do Power Apps contribute to business transformation?
You get the ability to make the right decisions when it comes to managing your business with the help of Power Apps. With this Microsoft Power Platform solution, all your data is connected.
You can create apps that accurately reflect your data without worrying about overlooking anything, whatever your requirements may be. This is how these apps help businesses:    
Copy Infographic
1) Mobile ready
All platforms, including PCs, smartphones, and tablets, provide the same user experience while using the applications created using this low-code platform.
Employees can utilize their apps from anywhere because they are made to be accessed via mobile/tablet devices or a web browser.    
2) Overcoming business challenges
Power Apps development helps businesses overcome the difficulties they face. Microsoft Power Apps can offer a customized solution when an off-the-shelf one is not available to address your business requirements.
Everything can be optimized using Power Apps, including managing team spending, automating communications, utilizing data analytics, and integrating AI into the processes.
The nature of Power Apps means that a solution can be built easily for any inefficiencies within your business.    
3) Quick development
Application development is no longer a rigorous, time-consuming, and unpleasing process.
One of the main advantages of this low-code strategy is that an app can be deployed more quickly than with traditional development techniques.
An easy drag-and-drop user interface is provided by this quick development environment.
As a result, users can create an application prototype (MVP) directly from the user interface, speeding up development. 
4) Cost efficiency
Conventional app development can be costly and time-consuming in comparison to Power Apps; Low cost is one of the main advantages of using Power Apps.
You can create business applications to meet your requirements in a very cost-effective manner using Power Apps.   
5) Integration with Microsoft apps
Being a Microsoft product, the Power App Platform can integrate with other Microsoft tools, which is one of its key benefits.
This means that programmers can use information from Microsoft programs (such as Dynamics 365, SharePoint, Excel, etc.) and other third-party services such as Dynamics 365, SharePoint, Power BI, etc.    
6) Security
The Microsoft Dataverse, which employs a role-based security model, is utilized by Power Apps.
When businesses first deploy Power Apps, there may be concerns about limiting user access to information within an app.
However, Microsoft has included features to make sure the apps are secure and that permissions can be granted as required.     
Also, read: 10 reasons why B2B Apps are a Great Investment for Your Business
Why is the development of custom apps important for businesses? 
You can create a distinctive user experience with your innovative mindset and custom app development. Being in the lead provides you with an edge because millions of customers prefer using customized applications for searches and information.
By establishing direct communication with the users of the custom app in a practical, distinctive, and creative way, you can strengthen your brand.
You can engage with your clients in a way they have never done before with customized apps. Your customers would feel a strong connection in this way.   
As your customized app content gets simpler to access and distribute across networks, these applications will also provide you with the ability to spread your wings to a far bigger audience. Additionally, you can easily collect data using your apps. Knowing your target market and how to appeal to them will help you grow your business in the correct direction.         
How do custom Apps contribute to business transformation?   
Developing a custom application is frequently done by in-house developers or by a third party using the same procedures and approaches used for ready-made applications.
As a result, low-code development platforms lessen the need for specialized developers, reducing production time and costs while increasing developers' productivity when utilizing them.    
For all organizations, developing a custom mobile app can be the first option. Mobile app solutions that are simple to use right out of the box can be provided by software companies.
Even though these tools are useful when starting online, businesses do compromise on customization and originality.
To meet the needs of your business, custom mobile apps can be partially or completely customized. Rather than offering a service that addresses the needs of a large group with a variety of requirements, these apps are tailored to a specific audience.
This is the primary factor behind the growing popularity of and appeal of a custom app development for businesses.    
Have an App Idea?
Send us your requirements, we will help you to build customized mobile apps according to your requirements.
What are the benefits of custom application development for businesses?
Being aware of the benefits of custom software development will help you make an informed selection for your business. It does not matter whether your objective is to increase reach or boost operations.   
Copy Infographic
1) Improves productivity 
Custom app development services have a direct impact on how well a business operates and increase efficiency.
The business expands in size and pace as consumption increases. To provide better results, these apps aim to increase the production and general efficiency of businesses.    
2) Personalization
Personalization is one of the most obvious advantages of custom applications. Custom solutions can fully satisfy your requests, whether you want to add new features, boost your production capacity, or simply support the expanding needs of your business.
Sometimes the commercially available solutions are insufficient to meet the demands of the current business environment and cannot be modified at will. You can count on customized software to cover all the functionalities you need.
Even if your needs change over time, thorough analysis during the research and prototyping process lets you consider multiple scenarios.
3) Seamless integration
One of the main advantages that customized solutions have over template-based options is integration. Real-time visibility is ensured by seamless integration, which also increases data accuracy.
Businesses can automate workflows, improve corporate operations, and promote informed decision-making by implementing systems and tools that are specifically designed for them.
They are designed to work with the various systems and procedures that your business needs.    
4) More secure and reliable
Customized software is designed following the strictest security guidelines and technological advancements applicable to your business and industry.
Because commercial software is widely used and accessible to all users, hackers become familiar with its code.
Customized apps are far more difficult to hack because they are exclusively utilized by one organization and have additional degrees of security. This makes them less appealing as a data source for any hackers.    
Also, read: Top tips to Build Secure Mobile Apps
5) Cost-Effective
Even though pre-built software could appear to be less expensive at first, pre-built apps require customization to effectively support business operations. They may eventually fall short of essential functioning, necessitating their redevelopment.
Finally, when expanding your project, you could encounter some hidden charges. Customized software, on the other hand, does not require any license costs.
In the end, it can be built iteratively and planned based on the business budget. Additionally, you can always create an MVP first to test your concept before designing a complete product. 
6) Support & Maintenance
Ongoing support and maintenance are the main reason you can always rely on custom software. Your dedicated software development team will offer you effective technical support if you run into any problems.
With ready-made applications, you are dependent on the designer of the product you use and have no control over when upgrades or problems will be fixed. 
Also, read: 12 Benefits of Mobile App Development for Small Businesses
Comparison of power apps and custom apps based on various aspects   
Custom software has traditionally been used by businesses to fill in the existing gaps, but Microsoft's Power Platform has made it simpler than ever for them to add it to their organization's toolkit.
If your business is considering using the Power Platform or developing a custom solution, there are a few things it should consider.    
1) Existing code 
Technological advancements often require robust programs adapt their old tools and code to new tools and platforms.
Employing a custom application to record the legacy of previous technologies can be beneficial for organizations with established codebases and technical support.
On the other hand, your business can create effective applications and related workflows with Power Apps and Power Automate with little to no coding.
These applications make it simple to create brand-new data storage sources from scratch as well as integrate existing SharePoint data sources. 
2) Significance of user interface    
A poor user interface can fail to address the application's purpose, or it may discourage adoption. Building a user interface that is both elegant and effective is simple with Microsoft's Power Platform.
Despite their restrictions, these apps can provide a range of appealing user interfaces that are tailored to the requirements of your business. Custom programs can have any type of user interface.
When the Power Platform is unable to fully satisfy all your application's needs, a customized application can balance those requirements with a user-friendly interface that is optimized for them.    
3) Data Requirements     
Adapting to the demands of specialized user bases is one of the main objectives of business apps. The number of inquiries and actions that Power Apps and Power Automate can manage is constrained by design.
This makes it difficult for you to scale beyond these boundaries.
On the other hand, the most effective custom apps can involve a significant financial investment. This investment can be worthwhile depending on the complexity of your data and scaling requirements.
Instead of being constrained by the limitations of another platform, building custom apps opens you up to a wide range of speed, security, and accessibility optimizations that your application can account for.    
4) Budget    
Without the appropriate investment needed for any application to succeed, it is challenging to establish a solid custom code or Power Platform application. A significant investment is needed to successfully develop and construct custom-coded apps.
A notable limitation is the amount of expertise and development time needed to construct a successful custom application. The time it takes for the application to generate a return on investment rises because of this higher bar.
Compared to custom-coded apps, Power Platform applications offer a greater range of possibilities out of the box but require significant design and development costs. The Power Platform's built-in capabilities reduce the difficulty involved in developing a top-notch application.    
5) Use Cases     
Different technologies and apps that businesses use is developed with typical use cases in mind. Any platforms that your business needs to use can be optimized for use with custom-built applications.
This implies that your team can create a potent program that is prepared for desktop or mobile use. Power Apps makes it simple to create effective desktop and mobile applications.
Both canvas and model-driven apps can be opened on iOS and Android smartphones using the Power Software apps.    
Also, read: Mobile App Development Process: Step-by-step Guide
Conclusion
So, should you use Power Apps or Custom Apps? The objective of all businesses should be to gain a competitive edge in a market that is always changing. You should not have much issue choosing by assessing the advantages and disadvantages of each.
You can obtain notifications, data collection, and automated approvals with your Custom Apps if you implement Power Apps' task automation features. Additionally, unlike PowerApps, custom apps will not have native out-of-the-box connectivity with workflow engines.
But Power Apps allow you to construct apps without requiring considerable code, whereas Custom Apps demand specialist programming abilities. Power Apps are therefore the best option for straightforward app creation, whereas Custom Apps are required for more complicated requirements. So, everything relies on what your different business needs. Make your choice wisely. All the best!  
Also, read: Most Popular Mobile App Development Frameworks for App Developers
FAQs (Frequently Asked Questions)   
1) What is the development of custom mobile apps?
The process of creating apps specifically linked to the requirements of your business is known as custom app development. An app like this is developed to address the needs of an extremely specific audience rather than every individual in the entire population, regardless of whether it is completely or partially customized. Simple off-the-shelf solutions are unable to offer the capability and capabilities that custom apps do.  
2) What types of applications can we create with PowerApps?
You can create straightforward, personalized business apps with PowerApps for both web and mobile platforms. This makes it easier for you to carry out daily tasks and complete your job more effectively. PowerApps can be used to improve peer collaboration, find solutions to problems unique to your business, or expand the functionality of an app or system you already use.  
3) Does the number of API call that PowerApps users can submit have a limit?
Although there is no restriction on how many PowerApps you may create, there is a limit on the number of API queries you can send. These limits are typically based on consumption and usage patterns at the individual user level, in both 5-minute and 24-hour intervals, to help ensure service levels, availability, and quality.  
4) How much will it cost to develop an app?
Your app's price will vary depending on various factors. This may include the complexity, the systems it must interact with, and the level of support required. The kinds of images employed, the platform selected, etc., are further significant variables. You can send us your specifications to know the approximate cost of your job, and we will get back to you right away.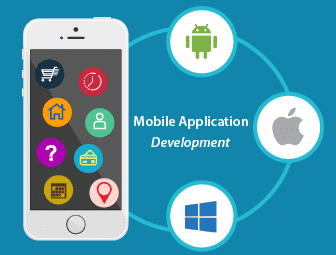 Do you want to leverage mobile technology for your business? Cynoteck is a one-stop Mobile app Development Services provider. We provide iOS and Android application development services so that you can reach your target audience on any device.