In our rapidly evolving world, the pace of change is relentless. The rise of AI and ML in the business landscape has spurred a race to stay relevant. To not just survive, but thrive, embracing hustle becomes essential. At the heart of this hustle lies the art of keeping up with the dynamic currents of business intelligence trends.  
To articulate the latest trends in business intelligence, you need DATA. Business analysis requires and works on Data Analysis. Now this practice has long been in the race. Yet with time, the use of data and the process of analysis keeps evolving for better results. 
In this insightful blog, we will dive into the dynamic world of business intelligence trends. We will not only explore the latest trends but also delve into a fascinating comparison of different big data methods, unveiling the frontrunners in the trend market.
Latest Trends in Business Intelligence
With each passing year, innovative methods for data analysis are becoming more important and better as well. Join us as we discuss a detailed exploration of these trends to uncover the perfect fit for your business needs.  
Copy Infographic
1. Advanced-Data Analytics
To start the list, we have 'Advanced-Data Analytics,' Data analysis that extends over basic mathematical operations like sums and averages, filtering, and sorting is referred to as advanced analytics.
Advanced analyses create new information, spot patterns, and forecast outcomes and their corresponding probability using mathematical and statistical formulas and algorithms.
The goal of predictive analytics, a branch of advanced analytics, is to identify potential future values and events together with their associated probabilities.  
Enhancement of incumbent processes
Advanced and predictive analytics can be used for a variety of tasks, including traditional ones like predicting customer success and value, preventing contract termination, or predicting prices, sales, and demand, as well as more contemporary ones like anticipating machine failures, monitoring, and evaluating social media, and predictive policing.
Both "optimization" and "innovation" are made possible by advanced analytics. It can help in the enhancement of current procedures, for instance, through more accurate sales planning (and consequently, production and purchase planning).
Additionally, fresh perceptions from advanced analysis can reveal prospective new enterprises or even enable the development of new goods and services.
2. Augmented Analytics  
With the help of automated processes, machine learning (ML), and natural language generation (NLG), predictive analytics is no longer just a domain of data scientists.
Automation is the most popular trend of the BI. Be it 2023 or the forthcoming time, automation will thrive as it assists in speeding up huge processes. With the advent of ML algorithms, work is smoother and faster than ever. ML consists of the capacity to scale large data.
The development and integration of no-code apps is a market disruptor for interoperability and lowers the demand for additional capabilities. Instead, you can connect your business systems to software that offers those features for a fraction of the cost of a new platform.
Web page views, comments on social media posts, connected networks, and other systems all contribute to business intelligence. Application integration unifies it, depending on APIs to shape insights as we stably link to other BI, ERP, and CRM applications.  
Also, read: How to Pick the Right Technology Stack for your Data Science Projects?
3. Data Governance and Privacy
The term "data governance" refers to a collection of procedures, rules, and job descriptions that guarantee accurate assessment, production, consumption, and management of business data at the tactical, strategic, and operational levels.
To provide a secure and effective data management process, it specifies roles and responsibilities regarding who can change the data, under what circumstances, and with what tools and methods.
Data governance has become a required practice in today's fiercely competitive business world, as the amount of data being collected keeps increasing every second.
In addition to helping organizations stay compliant, a well-implemented governance structure also helps them to save expenses, increase internal and external communication, and achieve their strategic objectives.  
Businesses are aware of this lengthy list of advantages. Many businesses struggle to put effective governance programs in place because of perceived complexity or a lack of understanding.
Data governance is one of the most profitable trends in the business intelligence sector due to these factors. It is recognized as a top priority for the upcoming year by industry experts and businesses of all sizes.
4. Real-time Data and Streaming Analytics
Real-time data gives decision-makers a consistent, up-to-date perspective of what is occurring within an organization, enabling them to act quickly in response to shifting conditions and make well-informed decisions.
The idea of streaming analytics, a potent tool that allows businesses to process and analyze data as it is generated, has emerged in response to this requirement for immediacy. This technology unlocks a new level of useful insights.  
Streaming analytics involves the real-time processing and analysis of data as it flows in from various sources such as sensors, devices, social media feeds, and more.
Traditional batch processing methods often involve collecting data over a period and then analyzing it, but streaming analytics shifts the paradigm by providing insights instantaneously.
This capability is particularly valuable for time-sensitive scenarios where waiting for batch processing might lead to missed opportunities or delayed actions.
In the finance sector, real-time data and streaming analytics are crucial for detecting anomalies, fraud, and market trends.
High-frequency trading platforms rely on real-time data to make split-second decisions, optimizing investment strategies and risk management.
E-commerce platforms utilize real-time insights to personalize user experiences, optimize product recommendations, and manage inventory levels.
Tracking customer behavior in real-time allows for immediate adjustments in pricing, promotions, and marketing strategies.  
Real-time data and streaming analytics enhance patient care by monitoring vital signs, alerting medical team to critical changes, and predicting patient needs.
For instance, wearable devices connected to streaming analytics platforms can detect irregularities and send alerts to healthcare providers in real-time.
Real-time monitoring of manufacturing processes ensures quality control and minimizes downtime. Streaming analytics can detect anomalies in production lines and trigger immediate responses to prevent costly disruptions.  
Also, read: The 17 most important Data Visualization Techniques for Professionals
5. Cloud-based BI Solutions
In the post-pandemic era, there is a huge shift towards cloud-based BI solutions. During the hardships of COVID, businesses struggled immensely to manage in every way possible. It was tough to manage the shift in the way the work mechanism shifted to a remote setting.
A huge amount of information must be present and accessible from each corner of the globe. There was a quick change and acceptance of cloud-based solutions. It proved great assistance to organizations to function.
In the upcoming time, there will be modifications for much better feasibility. Cloud BI consists of many trends to be anticipated in the future. The big business giants already possess ready to amplify cloud-based solutions for businesses. So, automation will be more inclusive and readier for users.
6. Mobile Analytics
Mobile intelligence stands as a pivotal Business Intelligence trend seamlessly integrated into your data pipeline, holding significant importance from a business perspective.
Audio, video, image, text, and streaming data are all included in mobile insight, which offers invaluable information. Product managers gain useful knowledge about creating mobile applications from it.
Web designers draw inspiration from usage trends to create user-friendly workflows and intuitive interfaces, while technical teams use it to optimize app performance.
Mobile BI is used by marketing teams to generate more leads, grow their user base, and enhance the customer experience.  
The consumers' constant switching between devices makes it difficult to get distinctive, precise insight. Multiple user touchpoints raise the possibility of duplicating data, which could inflate sales figures and give you an inaccurate image. Further complicating matters for mobile BI companies is assuring compliance.  
However, because of how valuable mobile intelligence is, businesses will still look for BI software that has this feature.
Mobile data gathering capability, SDKs, privacy compliance, and integrations are likely to be on an enterprise's requirements list when looking at BI software.
Also, read: Databases vs. Data Warehouses vs. Data Lakes: Understanding the Differences
7. Embedded Analytics
Embedded analytics is the term used to describe data analytics that takes place as part of a user's normal workflow.
Businesses have realized the possibility of integrating different BI elements, like dashboards or reports, into their own applications to enhance decision-making and boost productivity.
Companies have recognized how using embedded dashboards allows them to give better value within their own applications after being previously choked by spreadsheets.   
Embedded analytics is standardizing business operations, and in 2023, we will see an increase in the number of businesses using it, whether you need to build a sales report or provide clients with several dashboards.
Instead of developing their own software, departments and business owners are searching for expert solutions to present their data.
Organizations can produce a polished presentation and reporting that they can provide to customers by simply white labeling the application they have chosen.
Analytics embedded in an application allow for collaboration by involving every stakeholder, going beyond simply adding a dashboard or BI functionality.
Giving customers and staff the option to alter the data in a recognizable environment makes it easier to derive insights from every aspect of your organization. This makes it one of the business intelligence trends on this list with the fastest rate of growth.
Healthcare organizations "switch from paying for service volume towards service value" due to the enormous amounts of data that hospitals gather, which have increased due to COVID-19 and telemedicine exchanges.
Hospital management can extract significant insights that will help them in streamlining procedures from a clinical, operational, and financial perspective by employing robust healthcare analytics software that can be incorporated.
8. Data Democratization
Businesses are aware that timely BI knowledge is essential for making lucrative business choices. From the beginning to the end of the project, they want data to guide every decision they make. They also recognize the importance of giving their staff members the ability to query and analyze data.  
Self-service – The demand for data literacy is being driven by the industry phrase "business intelligence," as businesses recognize the advantages of giving staff access to BI activities.  
Incorporating autonomous duties like on-the-fly querying and ad hoc reporting, certain BI trends like interactivity and augmented analytics also add to the mix.  
A shift in perspective and sustained organization-wide effort are required to advance a data-first culture. Future business intelligence trends include a stronger corporate drive for data literacy with considerable investments in staff training, self-service tools, and approaches.
9. Sustainability Analytics
As the global focus on environmental and social responsibility intensifies, a new trend has emerged within the realm of business intelligence: sustainability analytics.
This innovative approach combines data analysis and business intelligence tools to quantify and assess an organization's environmental and social impact, promoting a more sustainable and responsible business approach.   
Companies are increasingly leveraging Business Intelligence (BI) to delve into the intricate web of environmental and social data.
Sustainability analytics involves the collection, measurement, and analysis of various metrics related to carbon emissions, energy consumption, waste reduction, diversity and inclusion efforts, supply chain ethics, and more.
By harnessing the power of BI, organizations can gain granular insights into their operations, allowing them to pinpoint areas for improvement and innovation.   
Sustainability analytics furthermore empowers decision-makers with accurate, data-driven insights, enabling them to make more informed choices that align with the organization's commitment to sustainability.
By analyzing and addressing environmental and social risks, companies can anticipate potential challenges, reducing reputational risks and regulatory liabilities.   
Sustainability metrics often highlight areas of inefficiency, prompting process optimizations that reduce waste, resource consumption, and associated costs.
Transparent reporting of sustainability efforts promotes trust and engagement among stakeholders, including customers, investors, employees, and regulatory bodies.
As sustainability becomes a key criterion for consumer decisions and investment strategies, organizations that integrate sustainability into their core strategies always gain a competitive edge.   
Also, read: 5 Ways how data visualization has helped our clients make more money
Conclusion
In the dynamic landscape of business intelligence, the trends of 2023 are steering organizations toward unprecedented growth and efficiency. From binding the power of advanced data analytics and augmented intelligence to embracing real-time insights through streaming analytics, businesses are poised to make more informed decisions than ever before.   
The collaboration between cloud-based solutions, embedded analytics, and data democratization is reshaping the way data is leveraged, creating a harmonious relationship between technology and user experience. As sustainability analytics emerges as a responsible imperative, organizations are primed to integrate environmental and social considerations into their core strategies.  
These trends collectively reflect a forward-looking industry, where data-driven innovations are propelling businesses toward a promising future of agility, competitiveness, and sustainable success.  
Also, read: Maximizing Digital Transformation Impact: Cloud Platform Strategies for CIOs and CTOs
Frequently Asked Questions:  
Q. What is Business Intelligence (BI)?
Business Intelligence (BI) refers to the technologies, processes, and tools used to collect, analyze, and present business data to support informed decision-making and strategic planning.   
Q. How is AI impacting Business Intelligence?
AI is revolutionizing BI by enhancing data analysis with predictive insights, automating tasks through augmented analytics, and enabling smarter decision-making through machine learning algorithms.   
Q. Why is data governance crucial in BI?
Data governance ensures data accuracy, security, and compliance. It establishes rules for data usage, maintains quality, and builds trust among stakeholders.   
Q. What are the benefits of cloud-based BI solutions?
Cloud BI offers scalability, accessibility from anywhere, reduced infrastructure costs, and easy collaboration, making it a preferred choice for businesses seeking agile data solutions.   
Q. How does embedded analytics improve user experience?
Embedded analytics integrates data insights directly into applications users already use, eliminating the need to switch between tools. This real-time data access enhances user efficiency and helps businesses make informed decisions.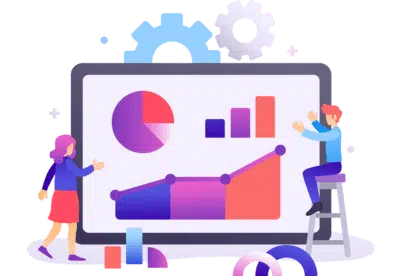 Harness the power of Data Science
Unlock hidden opportunities, optimize processes, and make smarter decisions. Contact us today to discover how our Data Science services can propel your organization forward. Don't let your data go untapped. Take action now and revolutionize your business with Data Science.