Modern customer relationship management (CRM) platforms serve as your business's command center. Every area of an organization can be impacted by customer relationship management (CRM) solutions, from operational effectiveness and transparency to customer insights and analytics that produce deeper customer insights. In these, teams from multiple departments (typically sales, marketing, service, and operations) get together to track data, address issues, and steer a business securely toward its objectives. For this reason, your CRM platform must be reliable, user-friendly, and offer the proper features to satisfy your business requirements.     
Finding the appropriate CRM takes a lot of time and work for businesses of all sizes. The success of your organization depends on choosing the appropriate sales and CRM platform. The two well-known CRM products on the market, HubSpot vs Salesforce, both provide all-in-one CRM platforms that can support both small- and enterprise-scale business operations.
Both offer a wide range of comparable solutions for customer service, sales analytics, and marketing automation, but the perfect option will depend on your business requirements. You can choose the best CRM software for your business by being aware of the features, advantages, and limitations of each.     
This article compares HubSpot and Salesforce, two of the top-rated CRM platforms, to help you in choosing the one that is best for your business.     
Salesforce vs. HubSpot – Comparison of features
Your objectives, spending limit, and intended use will all affect which CRM software is best for your business. This HubSpot vs. Salesforce comparison will help you decide which platform is most suitable for your business's requirements.
Both HubSpot and Salesforce are potent CRM systems that can boost revenue margins, enhance customer experiences, and simplify workflows.
To help you make the best option, below are some comparisons between HubSpot CRM and Salesforce CRM.     
| Criteria | Salesforce | HubSpot |
| --- | --- | --- |
| Ease of use | Requires platform-specific training, less user-friendly | More user-friendly |
| Implementation | Requires outside assistance, short trial period | Can be up and running in a few minutes, no need for a consultant |
| Capabilities | Offers powerful all-in-one CRM capabilities, advanced lead scoring and analytics features, advanced marketing features require additional purchase | Offers powerful all-in-one CRM capabilities, more advanced marketing features in base packages |
| Customization | Most customizable CRM, access to platform code for extensive customization | In-platform customizations available, access to source code not provided |
| Integrations | Offers numerous integrations with international support | Provides an integration library with 270 out-of-the-box integrations, further integrations created by third parties |
| Reports and Analytics | Includes strong analytics and reports, Einstein Analytics dashboard tracks important business indicators | Offers dashboards, reports, and analytics, analytics are constrained due to restricted data storage |
| Sales and Pipeline Management | Provides customization of transaction stages, customized reports, and an AI platform called Einstein | Offers limited-scope sales tools, limitless email scheduling, and one pipeline per organization and product |
| Pricing | Monthly fee and annual membership required, multiple possibilities for customizing with additional cost | Free to download, HubSpot Sales tool is free with an infinite number of users |
| Features | Provides marketing, sales, service, and CMS support | Provides marketing, sales, service, and CMS support |
Salesforce Vs HubSpot
1) Ease of use
The term "ease of use" is exceptionally individualized and highly subjective. A sales professional who dislikes technology is unlikely to give a product the same assessment that a software engineer would call "intuitive."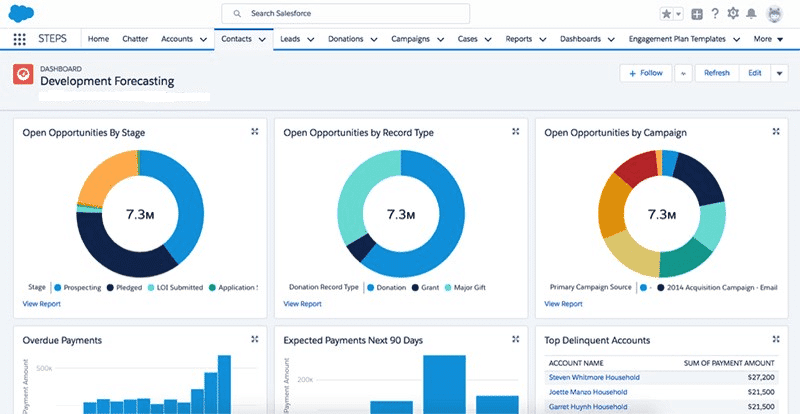 Dashboards are a feature of both user interfaces that make it easier to navigate and manage sales and marketing campaigns.
Both offer help with setup.
Salesforce is less user-friendly than HubSpot.
Salesforce users need platform-specific training, and its implementation can be time-consuming and expensive.
Salesforce scores highly for usability.
Based on both common and unique elements, it generates custom tabs. HubSpot, though, manages better.     
Also, read: Common Salesforce Integration Challenges And How To Overcome Them
2) Implementation
Not all software or CRM are created equal in terms of ease of setup and operation. Installation, configuration, customization, integrations, testing, user training, and modifications are all included in the word "implementation," which is a catch-all for everything required to prepare the product and train users.
Salesforce provides a premium plan but only follows a 14-day trial. Salesforce needs outside assistance, such as an in-house expert or another professional.
Free CRM HubSpot can be up and running in a few minutes. Unless you are a huge organization in need of expert change management support, it is quite unlikely that you will need a consultant to get started with HubSpot.
3) Capabilities
Powerful all-in-one CRM capabilities that can serve small-, medium-, and large-scale organizations are offered by both HubSpot and Salesforce.
HubSpot has more advanced marketing features in its base packages than Salesforce, but Salesforce has more advanced lead scoring and analytics features.
The advanced marketing features of Salesforce need to be purchased separately.     
4) Customization 
Users of Salesforce have access to the platform code, allowing highly skilled individuals to customize it extensively. In-platform customizations are available from HubSpot, however, access to the source code is not provided.     
Salesforce markets its system as the "most customizable CRM" and offers extensive customization options.
Although HubSpot offers an Open API and can be tailored to your business's processes and organizational structure, it is not as flexible as Salesforce.
Without help from IT, Salesforce administrators can furthermore modify users, workflows, and procedures. It is undoubtedly more difficult than HubSpot, but this is because there are so many features available.     
Also, read: Salesforce Integration Best Practices: Avoiding Common Mistakes
5) Integrations
Multiple products and integrations make up the Salesforce ecosystem, which can be explored through their App Exchange. As a result, there are numerous Salesforce CRM integrations available.
Salesforce offers integrations with systems like SAP, Google Cloud, Intuit QuickBooks, etc. that are supported internationally.
With 270 out-of-the-box integrations, HubSpot provides an integration library. It integrates with programs like Jira, MailChimp, Slack, and others. There are further integrations created by third parties.     
6) Reports and Analytics
For more intelligent data-driven marketing, HubSpot has dashboards, reports, and analytics already built in. HubSpot analytics are constrained because of the restricted data storage, though.     
Salesforce, on the other hand, includes strong analytics and reports. Salesforce's Einstein Analytics dashboard keeps track of important business indicators depending on variables like products, geographies, and timespan.     
7) Sales and Pipeline Management
According to the sales process, Salesforce provides customization of the transaction stages. Additionally, it allows customized reports. It has a platform of its own for artificial intelligence called Einstein.     
HubSpot offers limited-scope sales tools, and as an exception, limitless email scheduling. One pipeline can only be used by one organization and one sales process can be used by one product.     
Also, read: Get Started with Asana and Salesforce Integration for Enhanced Efficiency
8) Pricing
Direct price comparison between these two CRMs is difficult because Salesforce and HubSpot have different pricing models.
For Salesforce, a monthly fee and annual membership are both required.
And, on the other hand, it is free to download HubSpot. Users can access the HubSpot Sales tool for free, which includes an infinite number of users.
Salesforce provides multiple possibilities for customizing what you need but comes with a cost for everything.      
Salesforce, however, is the more expensive choice for most enterprises. The breakdown is as follows: 
Starter: $25 per month  
Professional: $75 per month     
| Pricing Plan | Salesforce | HubSpot |
| --- | --- | --- |
| Free Plan | Not Available | Yes |
| Starter Plan | $25/user/month | $45/month |
| Professional Plan | $75/user/month | $450/month |
| Enterprise Plan | $150/user/month | $1,200/month |
| Unlimited Plan | $300/user/month | Not Available |
9) Features     
The features HubSpot and Salesforce get are comparable. Both CRMs provide marketing, sales, service, and CMS (Content Management System) support. What counts is how well those features work.     
You gain access to a platform that was created entirely on one system when you use HubSpot. The ability of HubSpot to combine data from your marketing, sales, support, and operations teams and present it in a single, simple-to-understand format is widely known.     
Salesforce all provide the same functionality. This means that Salesforce bought Pardot and added such functions to its current platform rather than creating marketing solutions from scratch.     
Also, read: Jira And Salesforce Integration: Step-by-Step Guide
10) Support     
If you are prepared to spend it, you can get excellent customer service from both HubSpot and Salesforce.     
HubSpot leads customers looking for support to its database of documents, articles, and resources to locate answers first, similar to how other software solutions do.
But it also provides help on the phone, email, and even Twitter. To get assistance, you can also click the Help option within the app.
The drawback is that their CRM software's free users are not eligible for support; as a result, you must be a paying customer to receive assistance. Also, a vibrant HubSpot community enables you to get assistance from other HubSpot users.     
Salesforce even limits its one-on-one customer service to paying clients, however, everyone will receive help in the event of "severity one" problems.
Their help is amazing if you are prepared to pay for it. To learn how to use the program, they have a sizable self-help library, and you can also register at Salesforce University, but that costs extra.     
Also, read: Zoom Salesforce Integration: Benefits, Types, and Steps
Salesforce is more difficult to use than HubSpot
While Salesforce has a lot to gain from having a large feature set, it also comes with a lot of extra work that can restrict ease of use, especially for new users. Even if you are unfamiliar with CRM software, HubSpot offers a comprehensive, user-friendly design that is simple to use.     
The awesome user interface, which allows you to access all the information associated with a contact, is the main benefit of using HubSpot to manage business connections.
A simple method of providing a comprehensive view of who your contact is, what interactions you have had with them, and where they work has been developed by HubSpot.     
Salesforce offers superior customer service and support
Salesforce can be difficult to use, but it can be worth the trouble because of its extensive customer support features. Salesforce not only provides a sizable library of online articles and instructional videos that will help you in resolving any problems, but you will also join the huge Salesforce user community.     
Even for its subscriptions that cost hundreds of dollars a month, HubSpot does not provide 24/7 live support. On the other hand, Salesforce offers it for an extra fee and includes it for all Unlimited plans.        
Also, read: Salesforce Task Management to help Operations – Best Tips
How to Choose the best CRM between HubSpot and Salesforce?
The comparison of HubSpot and Salesforce shows that the two CRM systems vary more in terms of capabilities than execution. A CRM system can be challenging to choose from.
Such a decision will have a significant effect on how you manage customer interactions and analytics over the long run, which will involve the expansion of your business.     
Salesforce has a wider range of offerings than HubSpot and has been around longer. Nevertheless, in some aspects, HubSpot only beats Salesforce because of the added functionality provided by HubSpot app integrations. Salesforce might be a more financially smart choice, although HubSpot is free to start.     
Salesforce is appropriate for businesses that want to take a customer-focused, data-intensive strategy.
With a more approachable touch and a modest turn to content curation as a business strategy, HubSpot can offer many of the same advantages. Your choice will depend on what you think will work best for you and your business.        
Also, read: Using Salesforce with the Subscription Revenue Model
Bottom Line
CRM platforms created by HubSpot and Salesforce both continue to lead their respective industries. Both have feature-rich software with user-friendly interfaces, effective marketing and sales tools, third-party connectors, helpful communities, knowledge bases, and strong technical support services. Salesforce and HubSpot are two competent CRM tools that can improve, amplify, and streamline the way you communicate with and study your client base.     
With a complete all-in-one sales and marketing suite available at a very affordable price, HubSpot is a potent platform that offers entrepreneurs, start-ups, and small business owners the technology and intelligence of a major organization.
The HubSpot CRM is a great option because of how simple it is to use, how adaptable the connectors are, and how dynamic the community is. Comparatively, Salesforce has a better reputation as an enterprise CRM because it has dominated the industry for more than 2 decades.     
The ideal CRM of the two needs more of a personal investigation of your business's requirements and the skills of your internal team structure than it does an objective analysis. Salesforce is a leading CRM because of its comprehensive feature set. Large sales teams will value Salesforce's features for opportunity assessment and collaboration. HubSpot is an easy-to-use CRM that provides a free plan with a few features, making it accessible to even start-ups.     
Our Salesforce-certified developers at Cynoteck are aware of the platform's ability to take your business model to new heights.     
Integrating Salesforce and Hubspot
"Your business will gain from enhanced business management by limiting the gap between sales and marketing by integrating the strengths of Salesforce and HubSpot. Furthermore, a successful integration would enable you to track leads more efficiently, from straightforward inquiries to actual sales."    
Also, read: How to create Salesforce Dashboards that take your Operations to the next level?
FAQs (Frequently Asked Questions)    
1) Why may you need a CRM for a business?
A customer-relationship management (CRM) platform is a tool that enables organizations to track their interactions with customers for a variety of purposes, including sales, customer support, market research, and other activities. You need a CRM if managing sales and prospects is part of your operation. You can track sales prospects using a CRM, establish a personal connection with your clients, and gain data-driven insights that you would not get otherwise.     
2) Which is better, HubSpot or Salesforce?
Both HubSpot and Salesforce are excellent CRMs, but each has advantages and disadvantages. Salesforce and HubSpot both provide robust customer relationship management (CRM) capabilities, but Salesforce is better suited for large organizations with more advanced requirements while HubSpot is better suited for small enterprises that require an all-in-one solution.
What features you require, and which platform best satisfies those requirements will determine which CRM system is ideal for your business.
For example, HubSpot is easier to use than Salesforce, which has a much larger collection of advanced features and in-depth sales forecasting and analyzing capabilities. Although HubSpot is user-friendly, Salesforce offers more comprehensive information.     
3) Is Salesforce an excellent CRM?
The greatest CRM on the market right now for customization and integration is Salesforce. It will be challenging for many businesses to find a better solution if they need those two capabilities.     
4) What limitations apply to HubSpot Free?
HubSpot allows an infinite number of users per account. Yet insufficient customization is one of HubSpot free main drawbacks; Salesforce excels in this aspect.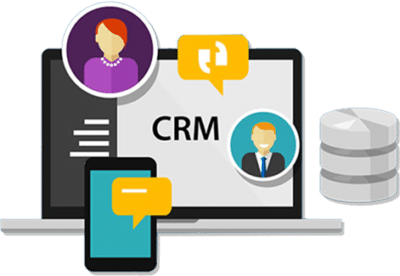 If you are new to automation and confused about Workflow or Process Builder. Need not to worry, we have got you all covered. Talk to our experts and clear all the cloudy thoughts about automation.