Today, sales and marketing technologies are constantly transforming and adapting, with the growing investments in both. Around 75% of clients that use marketing automation have seen an increase in conversions and the number of leads.
It can be challenging to select when it comes to adopting the best CRM software for business. There are two giants – Salesforce and HubSpot in the CRM industry, and they provide different advantages and functionalities. But instead of choosing between them, many organizations opt to utilize both and implement the HubSpot Salesforce integration, so that the two can work as a team.
Integrating Salesforce and HubSpot unlocks powerful CRM, analytics capabilities, automation, as the two systems share data back and forth across all your marketing and sales activities. This integration works as a bridge between your sales database and marketing database, permitting activity and information to transfer seamlessly between the two.
You can easily complete the integration setup which is fairly straightforward and needs minor technical knowledge. Your sales team will consistently have the most updated leads from your marketing team with the HubSpot Salesforce integration.
HubSpot Salesforce integration equips businesses with different customizing and configuration options. It also helps improve the effectiveness of the team and you can also get the upgraded HubSpot analytical data for your CRM tool.
This integration furthermore allows your sales team to track the behaviour of the lead in real-time. The customization of HubSpot with Salesforce integration is also beneficial for helping with the Sync logic as per different objects as per your need.
Also, read: Salesforce pricing for e-Commerce: know what to expect 
What is Salesforce?
Salesforce is at the #1 place for Customer Relationship Management (CRM) because it is the most refined CRM that delivers a versatile, adaptable solution for businesses, with faster implementation, while ensuring improved ROI.
It is the leading cloud-based sales platform with a wide range of applications and rich CRM features. It helps you in managing client data, analysing consumer preferences, and keeping customer data. Salesforce brings the client and the corporations together with an integrated platform. It contributes towards the development of your organization with a unified view of all of your groups.
Salesforce CRM along with its automation tools helps increase sales and productivity, enhance internal communication, and track marketing efforts and results in real-time. It offers a scalable, versatile answer for corporations, with quicker implementation and serves as one source of truth across departments – sales, services, marketing with personalized expertise.
What is HubSpot?
HubSpot is a cloud-based CRM platform that comes with Service Hub, Sales Hub, and CMS Hub applications. It develops your scaling business in an improved way, with a combination of tools and integrations. It helps you to collaborate on sales, marketing, and customer service in one place.
It's a platform where businesses can manage their contacts and maintain track of every conversation they have with each contact. Some of their popular features are social media administration, meeting scheduler, email sales automation, marketing, ads, and pipeline management.
Also, read: Top Salesforce Products that can transform your business
Why choose integrating Salesforce and HubSpot?
Businesses choose to integrate the features of the two platforms depending on what they require from each. For instance, the HubSpot CRM is excellent for smaller enterprises with a smaller budget, however, Salesforce is for bigger businesses.
So, it's most suitable for such smaller businesses to pick lightning-fast, Salesforce, and HubSpot integrations to access useful information from each of the CRMs. You can create your website utilizing the HubSpot content management and marketing features and connect Salesforce to deal with sales and management. 
By merging the forces of Salesforce and HubSpot, your business will benefit from enhanced business management by restricting the gap between sales and marketing. Plus, with a successful integration, you'll be capable to track leads more effectively, from simple questions to fix sales. This helps build up consistency between the sales and advertising functions.
What are common HubSpot Salesforce integration issues?
HubSpot Salesforce integration can help you save time, improve productivity, and enhance your bottom line. But you need to be careful, as these integrations can cause issues too. We will now discuss some common problems that come up when integrating Salesforce with HubSpot, and how to resolve them.
Copy Infographic
1) Misconfigured sync rules
This is a very common problem that the data is not syncing appropriately between Salesforce and HubSpot because of the misconfiguration in sync rules.
To avoid this issue, you need to ensure that in your Salesforce-HubSpot integration settings, select which data update corresponds to which field within Salesforce:
If the Salesforce field is blank then only the data will sync from HubSpot, otherwise, changes in Salesforce will overwrite HubSpot values.
HubSpot will always be updated with the current values from Salesforce. Always use Salesforce, in this case.
Both HubSpot and Salesforce will always use the most recent value available.
Don't sync; Changes to these fields in either Salesforce or HubSpot will be done manually, and no data passes between the platforms.
Also, read: Salesforce SharePoint Integration – How does it help to maximize value from both systems?
2) Property mapping problems
When you build a new integration, you have to map the properties of your contacts to sync with fields in Salesforce. For data to sync correctly between Salesforce and HubSpot, the object properties are required to be identical.
For instance, a one-line text field will not sync well with a drop-down menu. Sync errors also occur if the Salesforce field types and HubSpot property are not compatible or when the properties are deleted in either platform.
3) Too many leads in Salesforce or too many Salesforce contacts in HubSpot
Many users prefer to sync sales-qualified leads based on the HubSpot lifecycle. Thus, it is best to make workflows in HubSpot to automatically assign sales-qualified leads lifecycle phases to any contact that passes your business sales qualifications.
The native Salesforce HubSpot integration will sync all your Salesforce contacts to HubSpot. So, if you don't want to do this, you can solve this by using selective SF to HubSpot sync.
4) Multi-currency sync problems
Both HubSpot and Salesforce support multi-currency, but the issue is that when Salesforce opportunity syncs with HubSpot deal, the opportunity amount gets synced utilizing the default currency in each system. To resolve this problem, all you have to do is ensure that the default currency is identical in both systems and sync the deal amount in the base currency.
Also, read: Salesforce Mailchimp Integration- Leveraging the most Power
5) Some accounts and contacts are not synced
The HubSpot Salesforce integration may experience sync errors that prevent data from syncing. If contacts you expect to see aren't syncing with Salesforce, you need to check your list to ensure that it is active, and its rules are properly described.
And if you explore for companies, contacts, or deals in your HubSpot and can't discover them check the Sync errors, you'll notice cards for each type of error, with the number of existing errors and affected records for each. 
6) Failing to tag contacts on campaigns on both platforms
A campaign means two considerably different things within the platforms. Campaigns in Salesforce and HubSpot are completely different things. A campaign in HubSpot is a set of assets such as landing pages, blogs, workflows, emails, etc., while a campaign in Salesforce is a list of contacts.
Salesforce campaigns are not automatically added to HubSpot, instead, they need to be added manually beforehand.
Also, read: Salesforce vs NetSuite: Pick the right CRM for you
How to complete a seamless HubSpot Salesforce integration
You can configure the HubSpot Salesforce integrations, with little or no technical expertise required. With appropriate integration between these two, your business can get all-in-one software, with inbound sales segments, marketing segments, and more features that will streamline the way the different teams within your organization communicate.
There are also some of the best practices that you can follow to leverage HubSpot Salesforce Integration, such as:
Copy Infographic
1) Understanding your Sales Process
Understanding your sales process is extremely important. You should understand the ins and outs of your sales process. Learning about your sales process will help you know what you are required to capture in your HubSpot, or what kind of information needs to be passed over to Salesforce.
2) Not Synchronizing too frequently
If you are constantly syncing and saving every little piece of information on your CRM, this can make your CRM cluttered and filled with unarranged/unprocessed data. You can learn a better way to do this i.e. you can choose a lead score via which you can include the extremely beneficial leads. 
HubSpot has certain hidden fields in forms that you can set to use. You can efficiently extract your prospects' information via Salesforce by implementing these hidden fields, without them knowing that they provided you the information.
Conclusion
Salesforce is for larger enterprises while the HubSpot CRM works best for smaller enterprises with confined budgets. So, smaller businesses choose lightning-fast, Salesforce, and HubSpot Integrations to get beneficial information from each CRM.
HubSpot Salesforce integration proves valuable in many ways, by doing so, your business makes substantial improvements, particularly the communication between the sales and marketing teams. So, this integration of HubSpot and Salesforce can bring your business some tremendous benefits with great results.
Also, read: 7 Reports in Salesforce that will help you boost revenue
Frequently Asked Questions (FAQs)
1) How is Salesforce different from HubSpot? 
Although both are CRM platforms, the primary difference between HubSpot and Salesforce is in the customization's levels and scales of operation. While Salesforce can be employed at a considerably more extensive scale for lead management, and other relevant activities and HubSpot is preferable for smaller businesses with finite customization.
2) Does HubSpot prevent the uploading of duplicate email addresses?
Yes, HubSpot will de-duplicate contact records based on the email address and will not make two records.
3) Why should we integrate Salesforce with HubSpot?   
your sales and marketing processes to provide your customers with a more personalized buying experience. It helps you in handling your customer database better. 
4) Which of the two platforms is better?
Both HubSpot and Salesforce have their advantages. It is, thus, advisable to get the two integrated and obtain an excellent combination of CRM offerings.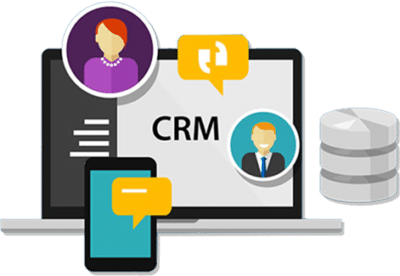 If you are new to automation and confused about Workflow or Process Builder. Need not to worry, we have got you all covered. Talk to our experts and clear all the cloudy thoughts about automation.