In the growing digital world of today, businesses need CRM software to manage their leads, sales, contacts, and marketing. This CRM software is widely utilized by businesses to handle their data work more quickly and accurately. 
Zoho and Salesforce CRM are the two well-known customer relationship management platforms that are renowned for their superior lead management capabilities. Both have industry-standard CRM functionality.
This includes methods for capturing leads, tools for managing contacts and deals, workflow automation, and insights reporting. Overall, it has been seen that most Zoho CRM's features are of superior quality and suitable for SMBs and individuals.
These CRMs provide extensive SaaS product suites. Zoho vs Salesforce – for this CRM platform comparison, we will look at the larger ecosystems that includes both these CRMs.  
Two of the most popular customer relationship management (CRM) software platforms Zoho and Salesforce offer top-notch lead management functionality to sales teams of all sizes.
The leader in the CRM sector is Salesforce: It is regarded as the market leader overall and is one of the innovators of contemporary CRM solutions.
Zoho is the new, affordable platform in the market: Although it is not as well-known (or strong) as Salesforce yet, its affordable price makes it an attractive option for SMBs.
On the other hand, Salesforce excels in terms of customer service, innovative analytical tools, and its user-friendly mobile app. Salesforce can work as your best option if you want to scale your business to the enterprise level. It is also perfect for those who want to add customized features to their CRM and have unique workflows. 
In this post, we will discuss each platform's characteristics in more detail to decide which CRM platform is ideal for your business. Then, we will evaluate how they perform in terms of usability, customization, support, and more.
Finally, we will make a judgment regarding which platform is appropriate for different types of businesses. 
Salesforce vs Zoho CRM – An In-depth Comparison 
You need to first evaluate your unique business CRM requirements before deciding between Salesforce and Zoho.
For businesses with larger sales teams and a need for sophisticated reporting and analytics functions, Salesforce CRM is the most suitable option. Zoho, on the other hand, can be utilized by small organizations that are primarily looking for affordable yet effective solutions that sufficiently manage sales opportunities. 
Both Zoho CRM and Salesforce have advantages and disadvantages. Let us compare the two platforms now based on different factors to see how they compare and to help you in picking the best platform for your business:
Copy Infographic
1) User-Friendly
Both Zoho and Salesforce provide options for customizing the user interface and selecting features that you want. They feature a variety of options for filtering information in large contact lists and sales pipeline views.
Although the Zoho setup procedure is simple to use, new users will find its UI to be clear. Anyone can find the number of features available to be overwhelming. Zoho also has an easier learning curve, making it simple to pick up the CRM quickly.
Salesforce, on the other hand, can be a little more challenging to use and difficult due to its abundance of features and capabilities. Using the tools, especially the advanced version, requires proper training. You must ensure that your Reps acquire complete training on CRM usage. 
Winner– In terms of ease of use for this phase, Zoho CRM is clearly a winner. Zoho CRM tools and modules are user-friendly, which sets it apart from Salesforce CRM. 
Also, read: Salesforce for Small Business: How it can be helpful
2) Features
Both Salesforce and Zoho are reliable CRM platforms that have multiple incredible features. Although their fundamental CRM tools, such as Account Management, Lead Management, etc., are comparable, but now we will discover what different sets of features they bring to the table. 
The Einstein AI technology from Salesforce, which is significantly superior to Zoho's, is the unique feature of Salesforce. In addition to recommending contacts in their network and scoring leads and opportunities to help users prioritize, this advanced assistant enables users to automatically gather data based on communications.
High levels of predictive analytics and sales forecasting are also available, providing insights based on millions of data points to identify trends and gaps and improve sales. 
Workflow automation features are included in Zoho CRM's free plan, which is uncommon for CRMs to offer.
With the help of this feature, teams can automate tasks like establishing tasks following events, emailing new customers once a deal has been closed, or adding contact information for leads produced by web forms.
The Zia AI tool from Zoho even offers insights on additional tasks that you can automate. 
Winner: Depending on the goals and preferences of the user, both CRMs have excellent characteristics that they might claim are unique and important. As a result, there is a tie in this category for Zoho vs Salesforce. 
Also, read: Salesforce Features that will Increase User Productivity and Adoption
3) Support
CRM software is one of the most important organizational tools and plays a critical role in every business. It will offer you the top level of customer care. 
Salesforce provides 24/7 customer care through a combination of online self-help resources. It furthermore offers training and certification through Salesforce University. Additionally, Salesforce has a vast network of third-party consultants.
Although Zoho does provide a customer service number, it is only available during business hours to customers and enterprises. You could be stuck attempting to figure things out on your own if you are a free customer or subscribe to the lower tiers. Thankfully, Zoho aims to be user-friendly, but occasionally you still need a helping hand. 
Winner: In this context, the Salesforce has the upper hand over Zoho mostly because of two factors. First, it offers customers certification programs in CRM and sales-related disciplines as well as user-friendly online resources. In addition, it offers a round-the-clock customer help system.
4) Mobile Application
Although both CRMs offer mobile applications, they have additional features.
Through its mobile app, Salesforce allows users to edit documents, presentations, and spreadsheets. It enables you to easily manage assignments and documents, examine and update all kinds of deals and records, and organize your customer cases.
However, to help you stay on track, the Zoho CRM mobile app also offers time management tools like maps and daily planners. Users can view the current state of their sales pipeline and funnel utilizing mobile analytics functionality. 
Winner: Salesforce Mobile App is a winner in this category over Zoho because it provides more advanced functionality and features. 
Also, read: Pipedrive vs Salesforce: Which CRM Is Best for Your Business?
5) Integration
Customers can benefit from both CRM programs. CRM platforms Zoho and Salesforce support a wide range of other third-party applications. 
Other business applications like G Suite, QuickBooks, and Mailchimp are integrated with Salesforce. As a result, businesses using these technologies can switch over to Salesforce quickly and without experiencing any disruption to their regular business activities.
You have the option to use more than 3,000 pre-integrated apps from the Salesforce App Exchange to enhance your performance in a variety of areas, from document management to sales automation.
Because of its simple platform integration and exceptional integration capabilities, Salesforce is used in a variety of industries, including IT management, mortgage sales, healthcare, and others. 
Along with its other software offerings, Zoho integrates with Google. The ease with which it integrates with social media is one of its key selling features. There are other third-party connectors for applications like Mailchimp and QuickBooks.
There are almost 1,000 business apps, document storage, marketing tools, and other integrations in the Zoho App Marketplace. Most integrations include those with Dropbox, Office 360, G Suite, and other services. However, its app plugins come at an additional cost, and some of the free versions have limited functionality. 
Winner– Salesforce wins in this category because of the variety of apps it supports and the simplicity of its integration processes. 
Also, read: Zoho and Outlook Integration – The Best Practices List
6) Automation and AI
Any business can benefit from workflow automation. This is one of the main advantages of employing expert CRM software. 
Users can create processes to standardize and automate their CRM operations with the help of the Lightning Flow Automation tools available in Salesforce. Users can also create workflows to guide their sales team on each stage as they move through a deal.  
Salesforce also includes Einstein AI, which offers forecasts and suggestions in accordance with the data stored in the CRM. In addition to anticipating sales data, Einstein provides the capability to evaluate the chances of effectively converting leads and opportunities. 
Sales automation in Zoho CRM prioritizes reaching customers and following up with leads. It can be configured to add new contacts whenever an email from an unknown email address is received. .
Zia AI, which Zoho also offers, can be used as a chatbot to reveal important data, such as dashboards, record data, and reports, as required. Zia can also predict the probability that leads and deals will succeed based on previous results. 
Winner: Salesforce dominates Zoho because of its superior capacity to automate numerous business and CRM activities, which helps your sales team by freeing up time spent on repetitive tasks. 
Also, read: CRM and Marketing Automation for Small Businesses: Benefits and Implementation
7) Pricing
Both CRM options—Zoho vs. Salesforce—are charged per user, per month, and provide different tiers depending on the capabilities you need. 
The following options are offered in the Salesforce pricing: 
Essentials: $25 per user each month.
Professional: $75 per user per month.
Enterprise: $150 per user per month.
Unlimited: $300 per user each month. 
The following options are part of the Zoho pricing: 
Standard: $12/month/user.
Professional: $20/month/user.
Enterprise: $35 per month per user.
Ultimate Edition: $45 per month per user.
Winner: Zoho CRM. As Zoho offers a completely free version of the software and has prices that are lower than those of Salesforce, it is the clear victor in this category. 
Bottom Line
When it comes to Zoho vs. Salesforce, both CRMs offer incredible capabilities that help your business plan, follow up on, and close sales deals. Small businesses seek affordable and simple choices, which is why they prefer Zoho. However, larger teams look for advanced features, and Salesforce is an excellent choice in this case. 
Salesforce costs more, but in exchange, you get a highly advanced system that has lots of ability to grow with your business and manage almost any complex operation you want to accomplish.
For medium to large businesses who need thousands of tools and products, and integrations, and are expecting quick business expansion, Salesforce is a great option. 
Are you looking for Salesforce Integration Services to gain from its outstanding benefits? If so, speak with one of our Salesforce professionals today.
Also, read: Choosing Between SuperOffice and Salesforce: Which CRM is Better?
FAQs (Frequently Asked Questions)
1) Is Zoho CRM open source?
Zoho CRM is not an open-source CRM solution, however, it still offers its APIs for interaction with third-party applications. 
2) Is Salesforce a suitable CRM for large businesses?
One of the best CRMs available today for customization and integration is Salesforce. Large and small businesses alike will have a challenging time finding a more all-encompassing and inclusive solution that provides the above two features. However, Salesforce is more expensive, particularly for larger businesses that are unable to bundle add-ons the way a CRM software like Microsoft Dynamics 365 does. 
3) Which CRM software is most suitable for marketing?
Salesforce is one of the most suitable options available when it comes to email marketing. However, there are a lot of CRM programs available today that come with a variety of marketing options.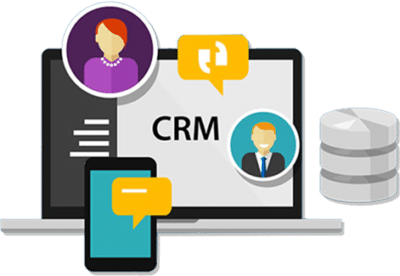 If you are new to automation and confused about Workflow or Process Builder. Need not to worry, we have got you all covered. Talk to our experts and clear all the cloudy thoughts about automation.