Nowadays, most brands and businesses have a presence on various digital communication platforms, which allow them to communicate with their customers. A CRM helps these businesses in managing user interactions, making them easier to govern and administer systematically.
Many digital marketing experts (including us) see it to directly manage customer relationships. Knowing what people are saying about the company helps to rearrange data and better assess involvement and even commitment.   
Because the strategy produced with the inbound methodology is customer-oriented, and the activities that offer individualized attention can be done with a CRM, the usage of a CRM is suggested in the practice of inbound marketing.
CRMs also provide firms structured campaign outcomes and allow tangible results to be measured to offer the greatest customer experience. 
If you are searching for the finest CRM to automate your marketing activities, we will help you by providing insightful information on the benefits and determining factors that can effectively help you choose a CRM marketing automation tool. 
What is a CRM? 
Customer Relationship Management or a CRM is an automated program that focuses on a certain database and, as a result, allows a firm to engage with its clients or potential prospects. However, it also includes the methods, tactics, and systems required to effectively assess data collected, such as acquiring leads.   
In this way, the focus is also on facilitating the search processes for a complete tool, which measures how the client interacts with your brand.
This also tells you what your ideal client is looking for so that after each purchase, you can significantly boost customer loyalty and you will be able to see the positive impact that your brand has on them.
A CRM can also support you in cross-selling by providing more information.    
Also, read: 8 CRM Software and tools that take your marketing to the next level
Why do small businesses need CRM? 
Technological advancements provide increased business agility while also supporting the development of a dynamic work rhythm focused on the customer connection.
In an increasingly competitive market with more demanding customers, many small and medium-sized firms strive to expand by establishing their strategy on CRM.  
Businesses must prioritize their customers and treat them as individuals rather than profit-generating numbers. Customer relationship management (CRM) allows you to partition your interaction with your users into stages, with procedures and tactics aimed at generating greater outcomes.  
CRM and Cross-selling
In marketing, cross-selling refers to upselling customers after they have purchased a product.
For example – if a customer buys shoes, you can sell him socks or any other product that would go well with his/her purchase if the sale is logged in a CRM. This cross-selling not only helps you to sell more but also allows you to provide a comprehensive customer experience.   
Cross-selling is something that many businesses do, and a CRM allows you to save all those customers and develop a list with which you can provide customized services.
In this way, the collection of this data helps in the construction of marketing strategies, which you can use to provide unique discounts, customized programs, and a variety of other activities to help you establish customer loyalty.   
CRM and Increased Sales Opportunities 
CRMs allow you to arrange each customer's purchasing information. Brands and businesses that utilize CRM are more likely to deliver solutions to their consumers, such as the production of valuable content, retargeting promotional efforts, and service or product enhancements.
A CRM provides the possibility to optimize any budget in real-time by providing updated data.   
Furthermore, a CRM can help you streamline management, budgeting, and sales operations. Business owners can gain a deeper understanding of typical consumer purchase patterns through this process.
Knowing your buyer persona helps you to segment your audience more effectively while advertising your content.   
Also, read: CRM For Professional Services: Best Practices and Cost-effective Support
What is Marketing Automation? 
Companies go through several stages, each with their own set of objectives and marketing strategies. Normally, these acts result in the formation of several communication channels.
They create a Twitter or Facebook account, join LinkedIn groups, send out email marketing campaigns using cloud technologies, and communicate via WhatsApp.
Companies can also use marketing automation to execute campaigns, automated operations, and track results.
Modern marketing automation solutions enable you to communicate with your customers in a more customized way, ensuring that each interaction is unique and natural. You may automate the sending of emails, messages, and online marketing campaigns.   
Automation may help you in the generation of new leads, the development of client trust, and the advancement of your company.
It also helps in the creation of reports, allowing you to see patterns over time and optimize your business operations.  
Also, read: 5 Signs that you need a CRM Implementation Consultant
Why do small businesses need marketing automation?   
Marketing automation helps in the improvement and efficiency of the process. This will help you grow your company more swiftly and expediently.
Businesses can develop campaigns or perform any other specified operation, and the tool will continue to operate for them without the need for any intervention.
Small businesses can design an email autoresponder system, a clever chatbot for their website, or a CRM (Customer Relationship Manager) to keep track of all their leads.   
Marketing automation, often known as automated marketing, is the use of software to automate marketing actions or processes such as workflows, lead nurturing, and campaigns on certain days.
This procedure was formed out of an overabundance of work in businesses, and it allowed them to operate more quickly and efficiently, reaching their goals more quickly.   
If you operate an online business, marketing automation can help you streamline your product sales operations. This helps you understand customers in-depth, anticipate their requirements, and serve them with customized actions using automated processes. Small businesses can offer customers exactly what they desire!  
Looking for Salesforce Development and Implementation Services
Send us your requirements, we will get back to you with a quote
Benefits of Marketing Automation for Small Businesses 
One of the primary benefits of automated marketing is that it allows enterprises to see what actions the user has made, allowing them to enhance the tactics they have designed.
Marketing automation provides a broad list of advantages to small businesses:   
Copy Infographic
1) Optimize your resources and sell wisely
There is a significant decrease in the time required to do tasks that would otherwise take more time or be impossible to complete manually. Furthermore, it lowers expenses and increases efficiency.   
2) Boost your monthly income 
Marketing automation enables you to follow prospects through the sales funnel, understand how they behave, and develop meaningful content for them. As a result, it will provide customized services based on the kind of customer, boosting the likelihood of a purchase.   
3) Increase the average ticket size for customers 
Increasing customers' average ticket size can be accomplished by delivering tailored emails or enticing them to buy items with greater features.
This can cause customers to purchase more frequently from the company or to purchase higher-priced items.   
4) Increase the number of users affected 
Marketing automation is omnichannel, which is one of its advantages. That is, it can have the same effect on two separate people, even though they are on different channels.   
5) In a tailored approach, connect and produce value.
Manually contacting each person who visits your website is hectic and time-consuming. You can address each visitor in a tailored way using marketing automation, such as sending them a personalized welcome email once they subscribe to the newsletter.   
Also, read: Top CRM Models that Take Your Customer Relations to the Next Level
Aspects of Marketing Automation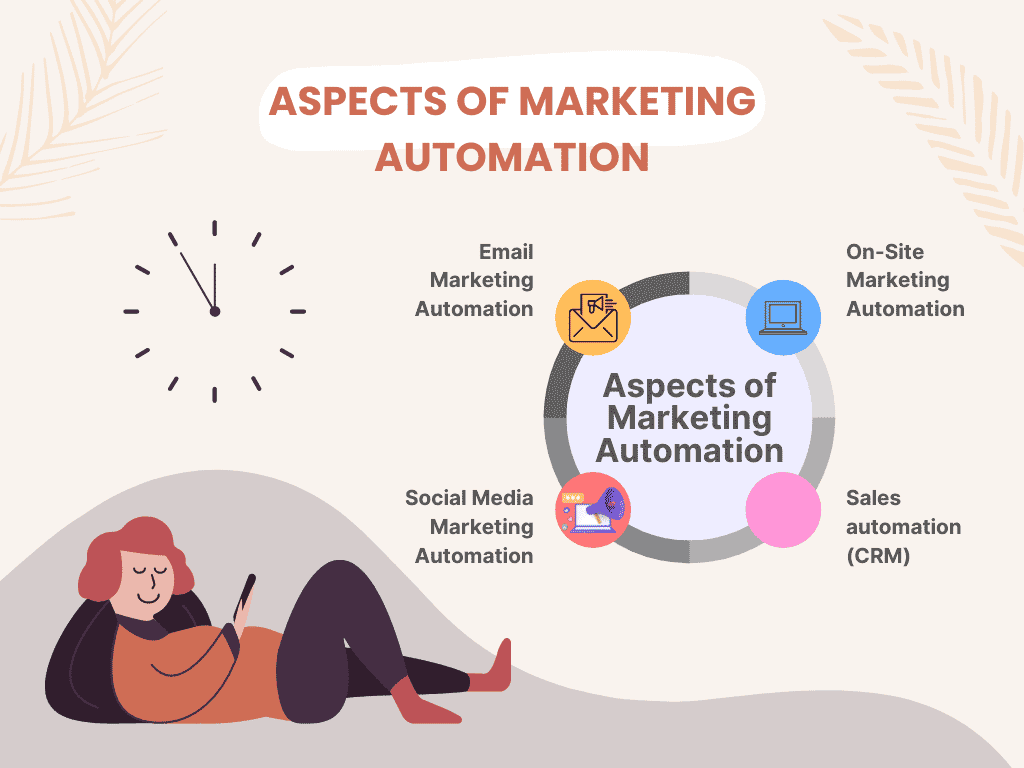 Copy Infographic
1) Email Marketing Automation: Email marketing automation technologies enable businesses to set up autoresponders to sell to each new potential consumer that joins your email list.   
2) On-Site Marketing Automation: These solutions enable businesses to maintain a commercial connection automatically and successfully with visitors to their website.   
3) Social Media Marketing Automation: Social media marketing is effective, but it takes a long time to implement. To make the most of these changes and track what works best, you will need automated processes.   
4) Sales automation (CRM): There are several sophisticated sales automation technologies, such as Salesforce, available to assist you in helping you manage sales processes and keeping track of everything.   
Also, read: Benefits of Salesforce Sales Cloud: Implementation and Integration
Salesforce Marketing Automation 
Salesforce Marketing Cloud (SFMC) is Salesforce's marketing automation platform. Considered to be a CRM leader, Salesforce Marketing Cloud's numerous capabilities assist in providing a distinct customer experience through completely customized omnichannel customer journeys.
If you want to improve your marketing operations by boosting efficiency, automation, and personalization, the Salesforce platform is the answer.  
Salesforce Marketing Cloud Features: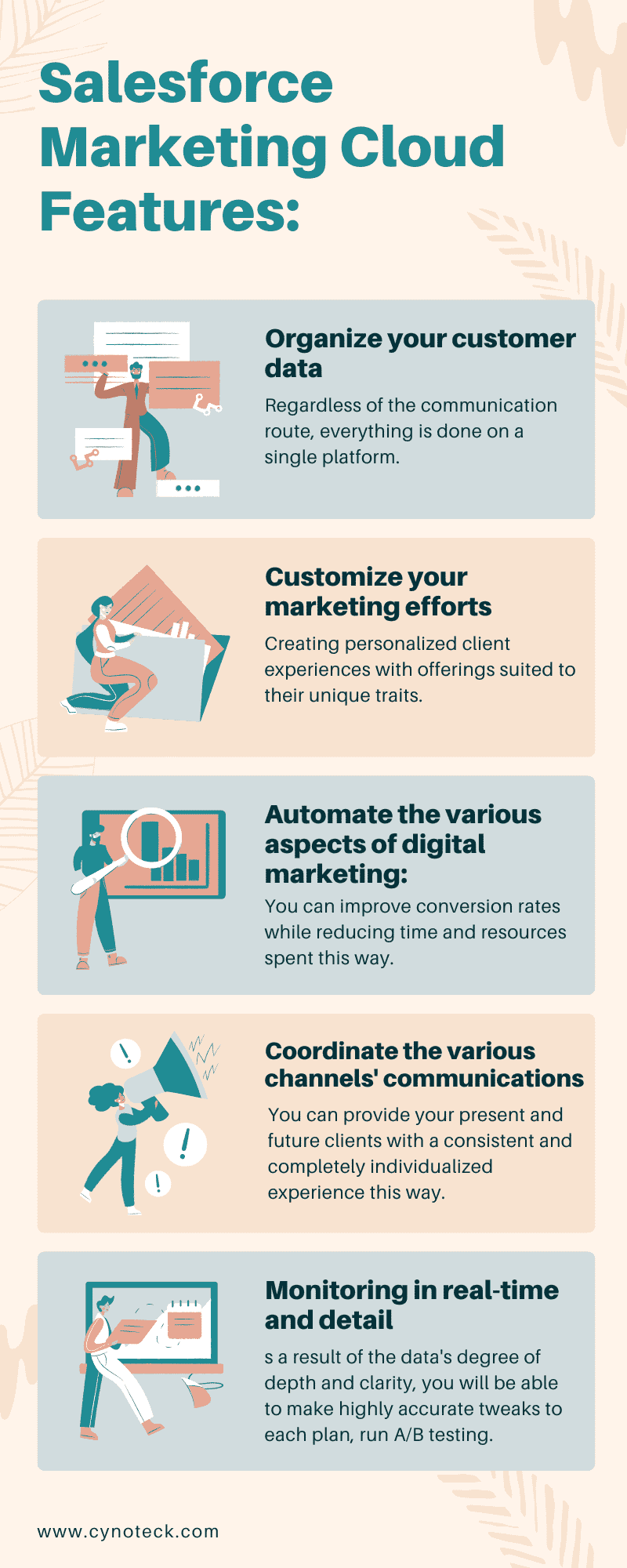 Copy Infographic
1) Organize your customer data: Regardless of the communication route, everything is done on a single platform.   
2) Customize your marketing efforts: Creating personalized client experiences with offerings suited to their unique traits. 
3) Automate the various aspects of digital marketing: You can improve conversion rates while reducing time and resources spent this way.   
4) Coordinate the various channels' communications: Email, SMS, social media, and other channels are all part of an omnichannel approach. You can provide your present and future clients with a consistent and completely individualized experience this way.  
5) Monitoring in real-time and detail: As a result of the data's degree of depth and clarity, you will be able to make highly accurate tweaks to each plan, run A/B testing, and, in general, make more agile and well-founded judgments to maximize the effect of your campaigns. 
Furthermore, the platform's versatility, because of Salesforce Marketing Cloud installation, allows it to develop alongside you. In this way, the software's features are appropriate for both small businesses and huge corporations, gradually adding the capabilities you always require.  
Also, read: Salesforce Connect: integration, benefits, and limitations
Conclusion 
Marketing automation was born out of the necessity for businesses to execute their digital plans with speed and agility. New communication platforms, such as social media, necessitate immediate, personal, and direct engagement with people.
The goal of so-called "marketing automation" is to achieve that goal in the quickest time possible.
Marketing automation is a strategy that involves mixing numerous marketing campaigns across all accessible channels, such as email, social media, and SMS, and combining them with a CRM, lead management, and site analytics to build a system that is more than the sum of its parts, individually.
Marketing automation technology is centered on the use of software to handle some aspects of a business's digital strategy, such as target audience segmentation and email marketing campaigns. This work system improves conversion rates by allowing for non-intrusive user follow-up, resulting in cost savings and increased efficiency.   
Also, read: What are Salesforce Governor Limits? 
Frequently Asked Questions 
1) Why do small businesses need marketing automation? 
Using software and marketing automation techniques, small businesses can determine which customers are further along in the purchase process or customer journey, and thus bring them closer to purchasing their product or services.
In this way, they can automatically provide relevant information based on where the customers stand in the process, allowing them to create far more effective campaigns that convert into orders with a higher probability, increasing revenue and thus return on investment.
SMEs will be able to measure all the major indices of the campaigns, allowing them to optimize their next efforts, making them even more effective and lucrative, using marketing automation technologies.   
2) Why should SMEs adopt CRM and Marketing Automation? 
Marketing automation saves businesses a lot of time and helps them to tailor their marketing campaigns and make them more effective. On the other hand, CRM helps businesses manage several business processes more conveniently by organizing and unifying all the customer interaction data. Other benefits include:   
> Boosting online sales.    
> Increase the number of fresh leads generated. 
> To better understand our audience, we need to segment our database. 
> Reduce recruitment and sales expenditure. 
> Bring business and digital initiatives together on one platform. 
3) Does Salesforce CRM offer marketing automation? 
Salesforce is one of the most widely used business applications. This software is used to handle clients by both major corporations and small businesses.
Pardot is a powerful marketing automation solution offered by Salesforce. Salesforce includes it as a feature.
It is an intriguing marketing automation system that stands out due to its Salesforce CRM connectivity. Pardot is particularly effective for campaigns in which organizations operate in the lower half of the funnel, i.e., in sales-oriented actions.
Furthermore, it is highly effective for initiatives that require a large quantity of data analysis, such as cross-selling.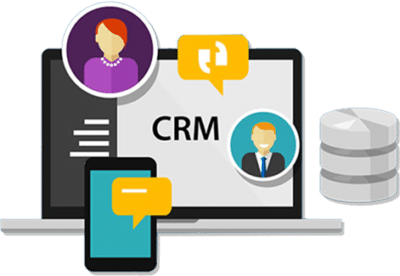 If you are new to automation and confused about Workflow or Process Builder. Need not to worry, we have got you all covered. Talk to our experts and clear all the cloudy thoughts about automation.