Your business relies on people, processes, and platforms to function efficiently. And for those elements to work together, all of them must be aligned with the same goal – generating revenue. The methods used to search for desired products have changed dramatically in recent years. This change in trend is due to e-commerce, which allows customers to access more product information with the touch of a button. In this fully digitized world, how can your internet business compete? Investing in Revenue Operations (RevOps) could be the solution. 
Revenue Operations (or RevOps) refers to the integration of marketing, sales, and customer service into a single suitable strategy. It is gaining traction in B2B organizations as management sees it as a solution to segregated inefficiencies and a method to enhance productivity and growth. You cannot expect to contribute every minute you spend working back to income, yet revenue is the primary outcome that businesses use to measure performance. 
And, if you are creating a sustainable business, the goal is to incorporate predictability and optimization into the revenue generation process.
Businesses that implemented revenue operations (RevOps) grew three times quicker, demonstrating once again that scaling only revenue is never a profitable idea. So, businesses are changing their income approach.
Forward-thinking businesses consider it as a pipeline for business growth and success, rather than a favorable outcome of a high-quality product or service. 
"Sales, marketing, and customer service aligned toward end-to-end customer connections result in streamlined operations and higher revenue."  
What revenue operations is all about, that is exactly what we are going to talk about in this post. You will learn everything you need to know about RevOps by the end of this post.  
What is Revenue Operations (RevOps)?
Every business in the world exists to achieve two fundamental goals: to service its clients and to generate revenue. As the cost of acquiring customers rises and conversion rates fall, it is more vital than ever to understand how to earn, keep, and grow customers.
This necessity has given rise to a significant movement in the last few years known as Revenue Operations. Both objectives are mutually exclusive—you cannot achieve one without the other. 
Revenue operations (RevOps) is the process of streamlining a company's revenue-generating teams – marketing, sales, and customer success – to optimize revenue. This innovative sales and marketing strategy make use of technology and collects customer data to increase revenue and business performance.
This is accomplished by ensuring that the organization has an agreement on metrics, lead process, and technology stack. A RevOps team will work behind the scenes to ensure that each operational team is aligned and highly effective in its roles. 
With the introduction of online shopping, the retail environment is undergoing a deep transformation. Businesses are heading to adapt to these new changes, which include increasing competition, more options to interact with prospective clients, and better ways to capture the interest of purchasers. 
Also, read: How to Create a Customer-Centric Strategy for Your Business
What is the importance of RevOps?
The most widespread misconception about RevOps is that it serves as a binding agent between sales and marketing. While this is correct, it does not encompass the full RevOps.
Instead of focusing solely on product features, smart businesses should promote a superior user experience fueled by innovative technologies such as automation, artificial intelligence, and machine learning. 
Sales and marketing are not the only teams that contribute to a company's revenue. If your other functions, such as customer success and customer service, are not working together to increase revenue, your RevOps is far from being functioning flawless.
As a result, businesses engage in Revenue Operations training for their employees, allowing them to provide the best customer experience that sets them apart from their competitors. 
By focusing sales and marketing efforts around the customer, RevOps strives to improve the user experience. RevOps' major responsibilities include the following: 
Business and marketing optimization and innovation. 
Technology implementation and integration into projects. 
Strategy management for marketing and sales department planning and alignment. 
Data analysis and reporting. 
Also, read: CRM Artificial Intelligence – What is it and how can it benefit your business?
How Revenue Operations Can Help Your Business?
Investing in RevOps can dramatically revolutionize the way your business operates. Building effective processes that help your team and allow them to access essential data when they need it is critical for your organization's long-term success.
A few things must occur for this goal to be realized: 
You must develop uniform targets aimed at stimulating growth to improve your company's revenue. 
All processes put in place must be in line with the goals you want to achieve. 
To make informed decisions based on a comprehensive perspective of corporate performance, company data must be examined across all departments. 
The consistency of firm data accessibility should be prioritized so that anyone in any relevant department can access consumer data with a single click of a button. 
RevOps has a compounding effect on every aspect of your organization; once adopted, you will notice various improvements. Here are a few of the advantages you might anticipate: 

Copy Infographic
1) Improve your company's operational efficiency 
When employees do what they are good at, a business succeeds. Like, your marketing team should be brainstorming innovative marketing initiatives, and your salespeople should be selling.
When you invest in RevOps, you encourage your team to do the same. If you see that your sales department is having difficulty projecting next month's sales.
A revenue operations team can help in determining which marketing activities result in the most conversions. This allows a company to fine-tune its operations and expand its bottom line.  
2) Align the revenue goals and efforts of your team 
Creating a shared vision for your organization can be difficult. It all boils down to a lack of sales and marketing alignment, which could wind up costing the organization a lot of money. 
A company that implements RevOps can enjoy smooth data flows and intelligence throughout the company. By removing IT silos inside your organization, your teams will be able to communicate with one voice to your prospects and consumers.
If effectively executed, RevOps can align multiple teams regardless of location by getting everyone on the same page. 
Organizations perform better when they collaborate. This reduces friction and ensures that a business runs smoothly. RevOps makes data sharing easier.
It guarantees that data in systems are properly synchronized and allows cross-functional teams to collaborate to achieve a single organizational goal. Revenue Operations ensures that marketing, sales, and customer success work together more effectively. 
3) Improve forecasting accuracy for consistent and predictable pipeline growth 
When you have to pull information from several departments, forecasting becomes intuitive rather than data driven. This occurs in organizations that do not use the RevOps concept.
A unified architecture combined with common data improves the company's revenue forecasting accuracy. Finance and leadership teams will no longer make decisions that benefit only one department.
Investing in revenue operations has various advantages. It can not only help you grow your revenue over time, but it can also help you increase work satisfaction within your team. 
4) Reduce costs while eliminating confusion 
To make sense of procedures, data, and crucial information, businesses typically employ too many digital tools and software solutions.
When you compare the never-ending guessing game of determining which tools you can utilize to the simplicity of RevOps, you will realize that revenue operations allow you to choose which tools are most needed.
This will help you in deciding on solutions and tools that will function across many departments in your company. As a result, you save costs by reducing the number of tools you use, and your employees are less confused about which tools to utilize. 
Also, read: 10 reasons why B2B Apps are a Great Investment for Your Business
5) Improved customer experience 
It is critical to provide a wonderful experience to customers if you want them to stay with you in the long run. Furthermore, a satisfying customer experience will enhance overall revenue.
Implementing a RevOps strategy provides you with the processes and strategies you need to ensure that everything runs well.
RevOps can enable marketing, sales, and customer service teams to obtain precise customer analytics, resulting in a more seamless user experience.
Teams can then use these insights to fulfill the demands of customers at every point of their journey. 
6) Improved transparency and accountability  
The marketing, sales, and customer success departments all have different responsibilities, but the end purpose is the same: to increase revenue and profits.
Another rationale for having a RevOps architecture is to promote team transparency. It will make teamwork and information exchange much easier.
RevOps ensures team alignment and clear visibility into what the other team is doing. Furthermore, RevOps makes data available to all teams involved in revenue cycle operations. 
7) Decision-making based on data 
Data drives businesses. It is easy to become obsessed with comparing different data points and trying to identify the correlation. As a result, you are unable to determine the parameters that drive sales growth.
RevOps saves time spent looking at diverse datasets and piecing them together. It offers a comprehensive perspective of the data and how it affects revenue growth.
You may have the most thorough and accurate picture of revenue potential for your business by looking at past competitor data, revenue history, current market trends, and projections. 
Also, read: CRM and Marketing Automation for Small Businesses: Benefits and Implementation
What is the difference between RevOps and Sales Operations or Sales Ops?
Some people may be perplexed by the distinction between Revenue Operations and Sales Operations. Both attempts to increase an organization's revenue. However, there are some significant differences between the two roles. Let us examine the differences: 
Revenue Operations is a cross-functional group that focuses on Go-To-Market. RevOps knocks down organizational barriers that affect company revenue. RevOps is concerned with the business procedures and techniques used by revenue-generating teams. Sales Operations, on the other hand, is concerned with the management of operational issues across the sales organization and does not undertake into departments. Sales operations are concerned with sales rep-related activities, to increase efficiencies within sales and sales alone. This is restricted to the sales component of the overall revenue strategy. 
Territory planning, deal administration, sales forecasting, CRM, salesforce, training, and development are all aspects of sales operations. Whereas the whole buyer's journey, revenue funnels, customer experience, and go-to-market execution are all covered by RevOps. 
Sales operations teams are responsible for sales, onboarding, training, recruitment, contact management, team communications, and so on. Revenue operations teams, on the other hand, are focused on increasing revenue through operational efficiency. It provides a comprehensive perspective of the clients throughout their trip. 
Sales Operations develops a sales plan by using sales forecasting and data analysis. RevOps teams use analytics, artificial intelligence, and other tools to identify opportunities and trends that will drive revenue growth. 
The primary advantage of RevOps is the ability to identify bottlenecks in internal processes, prioritize them based on impact, and eliminate them. The benefit of Sales Ops includes driving strategic direction utilizing data, minimizing friction, applying best practices in training and technology, and supporting sales teams to close more deals efficiently. 
Also, read: Salesforce for Small Business: How it can be helpful
What are the Key Metrics for RevOps?
The RevOps method will cover a wide range of essential KPIs. To establish a successful revenue operations strategy, it is critical to measure these same value measures. Here are several metrics that appear in the RevOps process: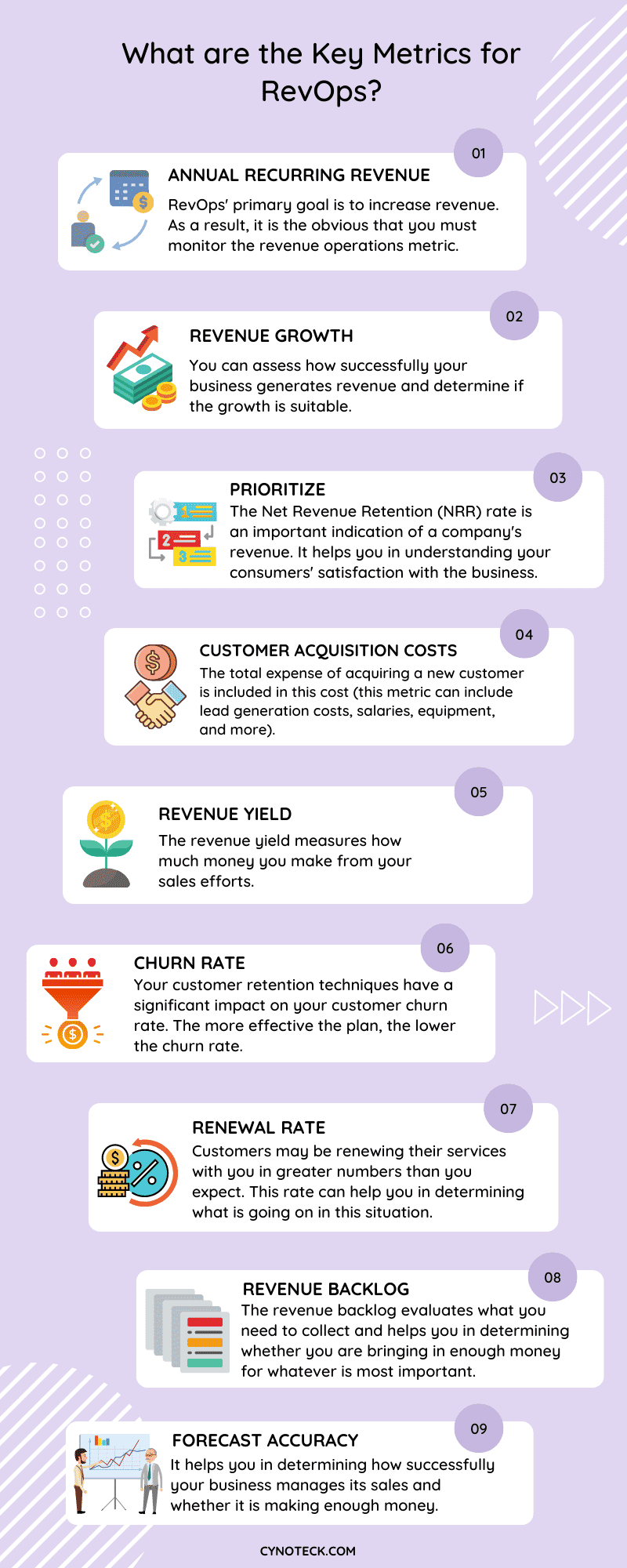 Copy Infographic
1) Annual recurring revenue
RevOps' primary goal is to increase revenue. As a result, it is the obvious that you must monitor the revenue operations metric. The ARR is the annual revenue generated by a recurrent transaction or contract. 
2) Revenue growth
When it comes to assessing revenue, what exactly should you be looking for? It is determined by industry and the period under consideration. You can assess how successfully your business generates revenue and determine if the growth is suitable. 
3) Revenue retention 
The Net Revenue Retention (NRR) rate is an important indication of a company's revenue and profit growth potential. It helps you in understanding your consumers' satisfaction with the business. 
4) Customer acquisition costs 
The total expense of acquiring a new customer is included in this cost (this metric can include lead generation costs, salaries, equipment, and more). This cost will include advertising costs, promotional projects, and other items used to draw new customers. 
5) Revenue yield 
The revenue yield measures how much money you make from your sales efforts. The yield is the entire income generated by a single customer or a group of customers who support the same product or service. 
6) Churn rate 
The churn rate is the percentage of customers who will no longer do business with you after a given period. Your customer retention techniques have a significant impact on your customer churn rate. The more effective the plan, the lower the churn rate. 
7) Renewal rate 
Customers may be renewing their services with you in greater numbers than you expect. This rate can help you in determining what is going on in this situation. 
8) Revenue backlog 
The revenue backlog evaluates what you need to collect and helps you in determining whether you are bringing in enough money for whatever is most important. 
9) Forecast accuracy 
The accuracy metric covers calculating how predictable your revenue is, which is commonly expressed as a percentage. The metric works for both short-term and long-term sales.
It helps you in determining how successfully your business manages its sales and whether it is making enough money.  
Also, read: Selecting Tech Stack to Use for Your Business Solutions – Top Selection Criteria
The 3 Pillars of RevOps
The three pillars of RevOps are Process, Platform, and People. This approach is collaborative, and customer focused. Each pillar serves as a foundational building piece for the next pillar. Only by clearly defining each pillar will you be able to create focus, clarity, and accountability throughout your organization. 
Copy Infographic
1) Process 
As your sales team strives to convert leads into clients, revenue operations in SaaS activate multiple consistent processes. You must ensure that you have the proper systems in place to foster a collaborative culture.
Reops implements consistent practices to promote responsibility and trust within your organization. As your teams collaborate to turn prospects into adoring fans, you will notice additional benefits, including faster sales cycles, increased retention, and a bigger volume of upsells. 
 2) Platform 
The ability to obtain reliable information at the right moment is crucial to success. RevOps connects you to a technology platform that tells a clear and accurate story about your sales pipeline. Individuals can identify how they, directly and indirectly, impact the pipeline by offering a single source of truth. 
3) People 
The people in charge of managing processes and platforms are the final pillar of RevOps. Depending on the size of your firm, RevOps will either form a dedicated RevOps team or split RevOps responsibilities among your existing team members.
A RevOps framework might differ depending on the company's goals, operating plan, business model, and other considerations.
However, the RevOps concept is comprised of a few important attributes. 
A process design that supports the buyer's lifecycle from start to finish. 
A clear picture of the implementation and outcomes of your revenue process. 
Seamless workflows that are interconnected across integrated data, systems, and functions. 
Also, read: Procurement Cloud and other Cloud-based Purchase Order System – The Business Overview
Best Practices for Revenue Operations Alignment
RevOps begins with aligning several departments across the customer lifecycle. More than just developing a RevOps model, a cultural shift is required to ensure that operations perform and collaborate with their stakeholders. Here are a few Revenue Operations alignment best practices you must know about:
1) Streamline departmental metrics 
Each department within a company has its metrics, which sometimes results in misalignment and diverse definitions of the same measurements.
The RevOps team oversees metrics from the beginning to the end of the customer cycle, ensuring that everyone is on the same page and understands the core metrics and KPIs. 
2) Credibility and trust in decision-making
Revenue operations help different teams make better-informed decisions by clarifying and improving their understanding of metrics. Analyzing revenue cycle activities and monitoring indicators allows data-driven and reliable decision-making. 
3) Defined ownership of the tech stack 
Revenue Operations manages an organization's technology stack, aligning it with marketing, sales, and customer success operations.
While doing so, RevOps works with IT teams to prioritize and manage data privacy and security requirements. 
4) Change management 
When the marketing, sales, and customer success operations departments are aligned, more individuals in your firm become reliant on this alignment. Because implementing the RevOps model causes change inside an organization, so the departments must be prepared to cope with and manage the changes. 
Also, read: Automated Purchasing System for Business Growth: The 2022 Guide
How can I deploy RevOps in my organization?
RevOps is already extremely popular. Organizations that accept and implement the approach will undoubtedly grow over the next three to five years. Here are a few essential steps to getting RevOps up and running in your organization. 
Step 1) Audit 
Examine your customer journey for gaps in communication between departments. To achieve an optimized client journey, you must examine these three major areas:
Content – Audit existing content, align it with the client lifecycle stage, and develop a plan to address the gaps. 
Technology – Examine the technology used in sales and marketing to ensure that it is functional and provides results, following every move that your prospective buyer makes. 
Website – Conduct a website audit to ensure that you have the best conversion strategies in place and that there are no barriers to entry for your potential buyers. 
Step 2) Define and Align
With the help of these three steps, define and align your team's lifecycle stage definitions: 
Review your analytics to ensure you have a clear picture of your revenue pipeline and business health. 
Evaluate the IT stack and discover any redundancies in tools and software. 
Provide your team with foolproof and optimized RevOps processes for inbound and outbound sales, content marketing, and customer satisfaction. 
Step 3) Develop 
Build or restructure the following aspects to accelerate your progress toward collecting more of your revenue potential: 
Create a Go-to-Market plan for customer acquisition and client delight. 
Create workflows to guarantee that leads are going through the system and that the data in the revenue engine is correct. 
Follow-up emails for inbound and outbound sales, outreach emails, and task queues. 
Create a RevOps dashboard that shows your existing bottlenecks. 
Step 4) Implement and Optimize 
Implement the framework while maintaining consistency with your revenue operations strategy. 
Conduct RevOps meetings regularly to maintain alignment by defining your growth goals with your heads of marketing, sales, and service to ensure they understand their contribution and position in the revenue-generating task. 
To continue the adoption and optimization of the revenue growth strategy, create and adhere to a rolling 12-month execution plan. 
Each month, use the RevOps Dashboard to identify which lifecycle stage has the most bottlenecks and attempt to improve them. 
Conclusion
Revenue Operations can make or break your company. A plan that focuses on these essential procedures will help you manage your business more effectively. You can get everyone in your organization on the same page while also streamlining each process to make it easier to follow. 
RevOps will continue to expand, especially when new RevOps job titles are developed in a variety of work situations. Businesses are attempting to develop departmental goals and incentives while focusing on overall revenue growth. This includes gathering all parties in one location to understand how well their initiatives can flourish and what they can expect from the time and work they put in. 
RevOps is more than just improving your sales procedures and closing rates. It is also about increasing renewal rates, recognizing upsell chances, and identifying cross-sell opportunities, among many other retention goals that help predict your revenue pipeline. RevOps can help you unify your organization and make more data-informed decisions. RevOps will continue to support your efforts, improving the customer experience and revenue generation as your business grows. 
Finally, once RevOps is implemented, you may notice an increase in good outcomes. You can immediately notice some direct ones like consistent tech stacks, explicit customer expectations, happier and satisfied customers, greater sales and revenue, and predictable growth. Implement RevOps today and see the difference it makes towards your business growth and sustainability. All the best!
Also, read: 7 Signs your business needs to upgrade to a new CRM
FAQs (Frequently Asked Questions)
1) What is the key difference between revenue operations and sales operations?
Revenue operations are responsible for a variety of responsibilities within the organization, including marketing, sales, and customer support, as well as financing. Sales operations, on the other hand, are primarily concerned with sales enablement.  
2) What exactly is the role of RevOps?
RevOps' role is to help B2B enterprises maximize their income potential. A well-established RevOps workflow assists in breaking down departmental silos to synchronize all departments – customer support, marketing, and salespeople. Revenue operations involve optimizing the customer journey in a way to ensure that potential leads progress through the funnel and become long-term clients.  
3) What are revenue operations managers responsible for?
A revenue operations manager, sometimes known as a VP of Business Operations, is in charge of overseeing the team that is responsible for implementing business strategy and meeting specified objectives and key results.  
4) What are the advantages of RevOps?
Some of the most significant advantages of revenue operations include forecasting business growth, driving revenue, and adjusting to market changes as your business drives growth. 
5) How does RevOps improve the customer experience?
At several points, your revenue cycle merges with your prospects' journey. Satisfied customers are 70% more likely to stay. The only path to achieving long-term revenue growth is to connect all your revenue-generating operations to provide an exceptional client experience so that every revenue opportunity is ready to be cashed.

6) When is the best time to implement RevOps within your organization?
There is no ideal timing to implement a RevOps function. If you are experiencing similar issues to those described below, you should consider RevOps: 
* During each quarter, your predicted revenue target and actual revenue earned are not synchronized.  
* Your revenue-generating teams' aims are not aligned, and your figures begin to slip through the cracks.  
* Disconnected information flow between teams, resulting in incorrect messaging and execution delays across functions.  
If your business is facing any of the challenges listed above, you may use RevOps in your organization to eliminate them all while growing your business at the same time.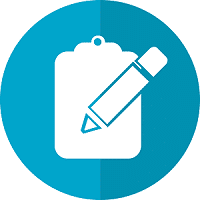 Do you want to implement a CRM system within your organization? Connect with our CRM Experts today!