The nature of B2B business does not refrain from only being a desk-bound' type. Some may be on the job site, at a field site, or commuting, while others need offline access to product information, account information, order tracking, or manuals. 
Global investors are supporting the development of this business module, which is causing the B2B eCommerce sector to grow at a more rapid pace. Thousands of organizations have turned to B2B eCommerce over the past several years to maintain and grow their businesses. 
Most mobile applications are designed for customer use. Owners of B2B businesses can use mobile apps to interact with clients and run their businesses from anywhere. 
B2B apps provide individuals with the flexibility to expand their business, providing multiple benefits. Furthermore, with the predominance of tech-savvy decision-makers in this sector, B2B eCommerce mobile apps have grown significantly. 
Mobile B2B eCommerce mobile apps allow users the control and flexibility to manage their businesses while on the go. To engage more with their audience and control their business processes conveniently, B2B businesses need to utilize the power of mobile apps to get the most out of their marketing budgets.
It is important to understand the distinctions along with the benefits and drawbacks of B2B mobile app development. Without understanding all of this, you can never pick the best option for your business. 
This article will specifically help you with that. You will learn everything you need to know about B2B mobile apps in this article, along with their advantages, features, and more. 
What are B2B Applications?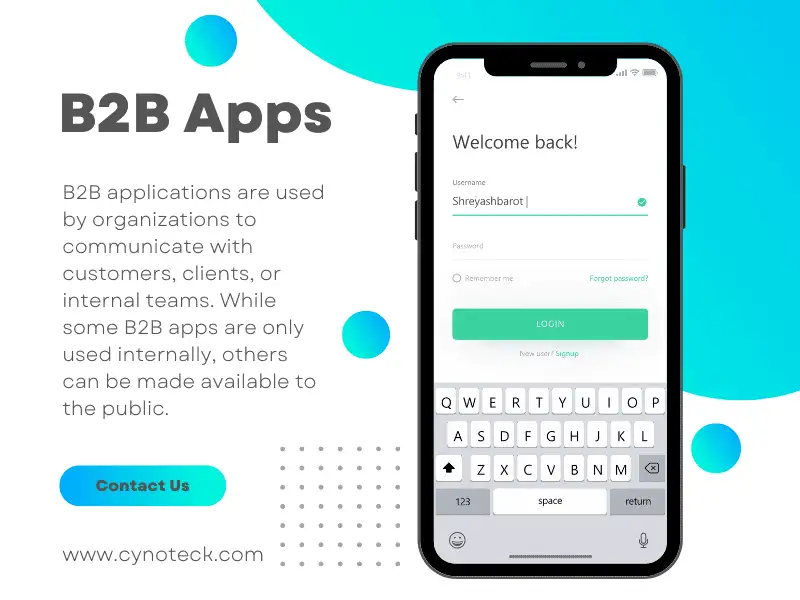 Business-to-Business apps are designed to simplify complicated business operations, streamline business processes, or meet industry-specific requirements. B2B applications are used by organizations to communicate with customers, clients, or internal teams. While some B2B apps are only used internally, others can be made available to the public.
Businesses that market or sell their products and services to other businesses rather than the public directly by using these applications.
They are used by businesses to communicate with one another, customers, team members, and other stakeholders.
Many of the applications that fall under this category are enterprise apps developed to address a particular requirement, such as internal inventory management or a project management portal.

Also, read: Top tips to Build Secure Mobile Apps
What are the differences between B2C and B2B apps?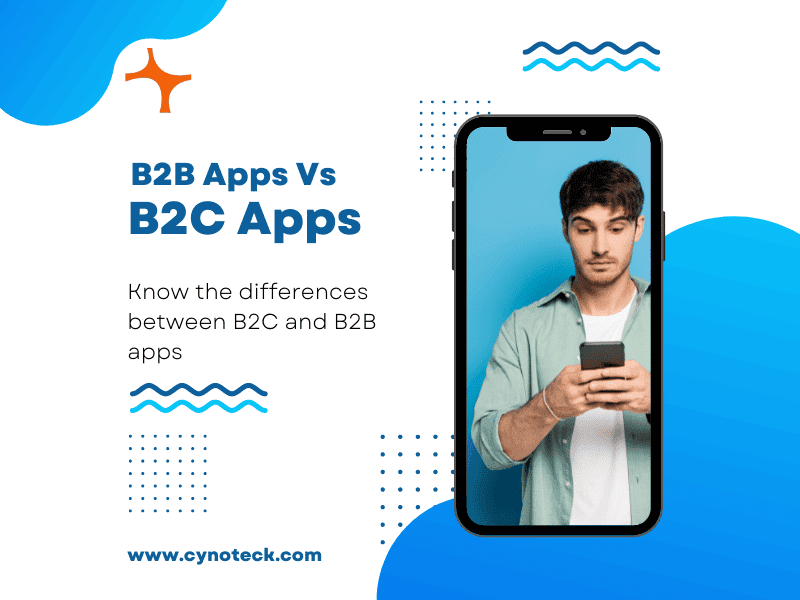 Business-to-business apps, often known as B2B apps, are mobile application platforms constructed in the interest of businesses to streamline and simplify complicated operations.
By handling business data, inventory, data mining, processing, and storage, compliance, performance evaluation, report production, and other tasks, B2B apps act as productivity tools.
Employees, clients (primarily businesses), and various stakeholders like wholesalers, merchants, etc. who interact with the company through downloading the applications or visiting the websites may use these apps.
The B2B apps can be used with login information or the appropriate IDs, or they can be restricted to only being used by employees for daily tasks.
On the other hand, B2C apps are more focused on improving aesthetics, regular updates, routine maintenance, and the addition of features that improve customer-centricity.
This puts ongoing pressure on most B2C applications to outperform rivals in terms of performance, responsiveness, loading speed, content production, content sharing, and social media marketing.
In contrast to B2B apps, B2C apps are accessible to anyone outside of the company who wants to participate in online purchasing and can be downloaded from Google Play or the iOS store.
B2B apps do not necessarily need the aggressive digital marketing strategies that B2C apps use to attract users, such as collecting likes, shares, posts, comments, and feedback.
Also, read: 8 Reasons Why your Website Needs a Mobile Application
Top Advantages of B2B Mobile Apps
With the help of B2B mobile apps, your brand can grow through engagement and app analytics. By continuously tracking user behavior, a B2B mobile app can send customized offers and upgrades.
There are numerous other benefits to developing, utilizing, and selling B2B apps. However, we have gathered the top ten advantages for most businesses.
Copy Infographic
1) Enables Scalability
A B2B eCommerce mobile app enables the multichannel sales approach for the sales team of an organization, helping in the business's faster and more effective growth. You can grow your business more quickly if you develop a B2B app.
Consider a situation where an individual wants to hire many people in the upcoming months. This process will run much more smoothly if there is an employee app for onboarding, internal training, and other HR related tasks.
Without even having to look at the storefront or real store, retailers can make their customers browse for products, see, and compare them, place an order, and even finish the payment process via mobile apps!
2) Improved Loyalty and Customer Engagement
Having a B2B app can help you create long-term relationships with your customers. The best-known feature of a B2B mobile commerce app is its capacity to engage and improve additional users.
In today's technologically advanced world, it is more practical to be available to your clients over the phone, therefore a rise in mobile engagement and revenue is inevitable.
A mobile app can be extremely helpful to those business users of a SaaS product that is created to address a specific need in the business world. They will depend on the app for specific tasks, so they will have to use it for a while.
An increase in client engagement is guaranteed by a B2B commerce mobile app because of its expertise in customer data collection, split testing, UX analytics, and B2B marketing techniques.
Also, read: Factors to Consider in Determining Mobile App Development Cost
3) Provides a Source of Earning
Merchants can use B2B mobile eCommerce applications as their business's primary or secondary source of revenue by implementing them.
Additionally, clients can also conveniently make purchases through the company's mobile app without visiting the store or website.
These apps can be used to fulfill orders, which results in increased sales. By processing a portion of orders through the app, additional business is driven.
4) Proper Analytics
B2B apps allow easy access to real-time data. With the help of this information, it will be simple for you to make decisions and improvements for your business.
You will gain additional knowledge about the user behavior and app usage trends of your users. To optimize the app for conversions, you can make changes in response to this data.
It is necessary to understand the similarities and differences between different types of users. This information is essential for accomplishing your overall business objectives and making sure that every one of your techniques is targeted at the right clientele.
Also, read: 11 Reasons to create a mobile app for your online shop – and how to get started?
5) Facilitate Communication and Business Operations
Effective communication is essential to every business. B2B apps can also make it easier to share files among team members and enhance internal communication.
Teams can work together on projects from any location. By creating a business app, you can also interact with your customers more directly.
B2B apps enable collaboration, efficiency, analytics, and communication, all of which help in optimizing the operations of your business.
With mobile apps, you can complete any task, providing you with a more modern way to conduct business.
6) Marketing
Business buyers usually spend a lot of time researching the products and services before making a purchase. As a result, if you offer them what they want, they will compare your brand to that of your competitors to evaluate which one stands out.
And today everyone wants to conduct business using a mobile phone. As a result, you will immediately stand out from the competition if you have an app while your competitors do not.
This can a competitive edge that can help you lead the market in the B2B sector.
Also, read: Top mobile app marketing ideas to get your business to the next level
7) Technical Support
Technical support business users can quickly contact the support team with the help of B2B mobile apps. Rather than sending an email or calling a service number, they may submit a problem right away from the app.
Additionally, this streamlines the management of issues and the collection of client feedback for your support personnel. Overall, it is more affordable to provide technical support to your customers through mobile apps.
8) Omnichannel Capabilities
B2B eCommerce mobile apps provide users access to the power of omnichannel sales and marketing.
Businesses that use B2B mobile commerce apps can stay in touch with their customers regardless of the device they are using, encouraging them to make a purchase.
Omnichannel sales enable businesses to stay in close digital contact with their customers and help them whenever needed. This makes it easier for the business to scale up quickly and effectively.
9) Better Customer Service
The sales team spends less time engaging customers and taking orders, all with the help of these mobile B2B apps.
Mobile B2B eCommerce apps are useful and help wholesalers in delivering superior customer service. A B2B mobile app also decreases the cost of customer retention and enables ordering from a specific location.
These apps also help with customer acquisition, client retention, and business planning based on client behavior.
10) Increased Revenue
As we all know, with a B2B mobile commerce app, the purchase history is easily available. This makes the process of buying and rebuying goods in bulk quite simple. This promotes both the business's overall revenue and sales.
B2B mobile commerce applications enable the expansive growth of the business and generate more money because they are simple to use and provide a convenient way to place orders.
B2B apps can be made to analyze data, build strategies and reports, and allow team members to work on product marketing.
A smartphone app is also easier to spread the word, which makes it simpler for businesses to draw customers and investors.
Increased client retention, sales, and revenue are the direct results of using digital marketing efforts to increase brand awareness.
Transform your ideas into cutting-edge mobile apps!
Unlock the full potential of your business with our expert Mobile App Development Services. Let's build something amazing together –
The Top 10 B2B Apps for your business growth:
1.  Google Analytics App
Google has consistently been a pioneer in the realm of app development, with Google Analytics serving as a prime example.
One of the standout aspects of Google Analytics is its accessibility, being free for anyone with just a Gmail account. This tool stands as the go-to choice for businesses with an online presence.
What sets it apart is its seamless integration with other services such as Google Adsense, Salesforce Marketing Cloud, and Google Search Console. 
Google Analytics empowers users to decipher the browsing patterns of their website visitors, providing valuable insights. It also offers a visual representation of both retention rates and bounce rates, giving businesses a comprehensive view of website engagement.
Through the lens of Google Analytics, enterprises can gain the ability to discern how many visitors are converting into customers, enriching their understanding of website performance. 
Google Analytics helps all businesses perform marketing campaigns and increases website traffic. Additionally, independent firms can customize their Google Analytics dashboards to suit their requirements.  
Google Analytics uses page tags based on JavaScript. These tags gather information from each visitor to your website. However, because Google Analytics relies on cookies to function, it is unable to gather data from users who choose to disable cookies.  
2.  LinkedIn Pulse
LinkedIn Pulse stands as the ultimate digital marketing tool for B2B lead generation. It empowers companies to gather vital information and content. With abundant features and services, it ranks among the most sought-after apps for business promotion. 
LinkedIn Pulse offers several noteworthy features. It facilitates industry connections, allowing you to engage with others' posts and potentially collaborate on substantial projects. Furthermore, it serves as an invaluable source of relevant business information.
By leveraging this platform, businesses can bolster their brand visibility across social media channels, enhancing credibility and recognition. With a focus on inbound marketing, LinkedIn Pulse propels business growth.
It also provides a platform for publishing blog-like articles to keep stakeholders engaged and informed. Technologically, LinkedIn Pulse is built on HTML5, ensuring a seamless user experience.  
3.  Asana
One of the most attractive features of Asana is that it is a very user–friendly app. There are many intuitive features available for users such as easy task organization.
Users can easily add their tasks in the task description. The interface functions of the apps are smooth, you can see your tasks without even opening the app.  
Asana is cloud-based and works on SaaS (Software as a Solution) technology. Asana works on the Luna framework. The front end uses React and Typescript.
Asana is simple to combine with other widely used project management tools like Microsoft Teams and Google Drive.
Additionally, this app makes it simple for team members to collaborate, as one user can invite others to share their digital workspace and leave comments on other users' projects.  
4.  HootSuite
HootSuite is the go-to tool for streamlined social media channel management. With HootSuite, businesses can effortlessly monitor multiple channels in one dashboard. Whether you are eyeing a mobile app for your business, HootSuite is the choice. 
HootSuite's standout features include seamless integration – no more separate logins for Twitter, Facebook, or WordPress; scheduling posts with ease using a convenient calendar; accessing in-depth analytics data for performance insights; and staying informed about social media conversations and keywords.
Moreover, it fosters collaboration by enabling multiple team members to manage accounts and posts. 
Behind the scenes, HootSuite leverages innovative technology services like Google Analytics, HTML 5, jQuery, Viewport Meta, and Google Font API to enhance its capabilities further. 
5.  WebEx
WebEx offers a streamlined user interface that simplifies interaction during meetings. It facilitates seamless desktop and mouse control sharing, delivering an exceptional online meeting experience with intuitive whiteboard and presentation features. Renowned as one of the top B2B mobile apps, WebEx boasts incredible capabilities. 
Among its standout features, WebEx enables unlimited video conferencing, accommodating many monthly video meetings. Screen sharing is effortless, allowing for dynamic presentations within your team.
WebEx serves as a dependable platform for hosting webinars, and a valuable tool for nurturing cold leads in B2B businesses.  
Collaborative document editing helps enable team members to work on documents using their preferred applications without exiting the WebEx meeting. Additionally, WebEx facilitates real-time whiteboard sharing for enhanced collaboration. 
6.  DocuSign 
DocuSign, an e-signature software, simplifies the process of e-signing, making digitally signed documents legally binding. Recognized for its ease of use, DocuSign ranks among the top B2B mobile apps. 
Key features of DocuSign include streamlined cost and time savings through simultaneous document distribution to multiple clients.
The software offers customizable branding and templates, allowing businesses to tailor documents to individual clients or incorporate their branding.
DocuSign supports various document formats, including PDF, *.docx, *.xlsx, and *.txt. It enables easy tagging for signature placement and operates on a cloud-based platform, facilitating the exchange of contracts and legal materials with efficiency and security. 
7.  Google Drive 
Google Drive, a widely favored cloud-based solution, serves both organizations and individual users seamlessly. Its user-friendly interface and free access make it an invaluable tool for fostering collaboration among employees, establishing its status as a top B2B mobile app. 
Key features of Google Drive encompass a generous 15 GB of complimentary storage, offering ample room for experimentation before considering additional memory purchases. The platform allows easy file sharing via custom links, affording users control over file accessibility.
Google Drive accommodates diverse file types, including photos, videos, PDFs, and email attachments, all securely SSL encrypted.
Furthermore, it provides a wealth of ready-to-use templates across Google Docs, Sheets, and other file formats, simplifying customization according to specific requirements. 
Technologically, Google Drive facilitates cloud computing and operates as a cloud storage platform, enhancing accessibility and data security. 
8.  Salesforce Mobile 
The Salesforce mobile app, a favorite among enterprises, is not only free but also a crucial asset for business growth. It seamlessly integrates with the needs of sales-driven enterprises, providing up-to-the-minute CRM information to your sales team's mobile devices.  
This empowers your sales team to streamline their efforts, eliminate redundant processes, and engage customers directly. Moreover, the app's easy integration with third-party applications and offline functionality ensures continuous productivity.  
Its organized task management keeps meetings, assignments, and account details readily accessible. Under the hood, Salesforce is built on the Apex programming language, resembling Java and C++, and operates as a Software as a Service (SaaS) product with a robust lighting framework for the front end.  
9.  EverNote 
Evernote, the leading note-taking app, excels in note organization and productivity enhancement, offering features like habit tracking and stress logs. With a superb platform and user-friendly interface, it is the go-to online business app for effective note management.  
Noteworthy features include seamless organization of meeting notes, Optical Character Recognition (OCR) for handwritten notes, audio recording capabilities, and the convenience of note links for businesses with extensive note-taking needs.
Evernote ensures seamless synchronization across various devices. Technologically, it utilizes the Google Cloud Platform to deliver its services.  
10.  Flipboard 
Flipboard is a versatile platform that enables the creation of magazines featuring content from Flipboard and external websites, including tweets and social media posts. As a highly popular B2B app cherished by both businesses and consumers, Flipboard offers several valuable features.  
It serves as an effective tool for content marketing, particularly for companies utilizing blogging as a digital marketing strategy.
Additionally, integrating a Flipboard button on your website can increase user engagement. Flipboard excels in news sharing and offers Flipboard TV channels for relevant business videos.
Moreover, it provides timely alerts to keep you constantly updated on urgent news and notifications. 
Final Thoughts
Mobile apps are potentially driving operational elements and aspects of almost every business. Even if managing a business and team can be difficult, everything is straightforward today all because of these mobile apps.
Apps can help you increase brand exposure, customer loyalty, and the pace at which business messages are sent and received. B2B mobile apps are the best marketing tool. You can engage with potential customers through these apps, captivate them with unique offers, and influence their purchasing decisions.
Additionally, you can keep an eye on their behavior and modify your marketing strategies to suit their needs. This means that mobile applications are helping businesses and customers through their technological offerings.
Contact us today, if you are looking for a Mobile app development service, we can work as per your business requirements to meet your unique operations and goals. For every process, our team can create custom and specialized features.
Also, read: Native Mobile App Development: Pros, Cons, Alternatives, and cost optimization
FAQs (Frequently Asked Questions)
1) What are B2B apps, and why should my business invest in them?
B2B apps are business-to-business applications designed to streamline operations, enhance communication, and boost productivity between businesses. Investing in them can lead to improved efficiency, cost savings, and better collaboration with your partners or clients.  
2) What are the benefits of B2B apps for your business?
Using B2B apps means happier customers. As these apps are amazingly simple and convenient, your consumers will not ever have to be concerned about bothersome issues like store closing times or not being informed on shortage of inventory.
These apps ensure that your business operations are smooth and that you are constantly aware of crucial information that could make or break your success. 
3) Why is your business model important while developing apps?
Knowing what kind of app, you require is essential since it will affect the specs of the application you plan to create and, consequently, the choice of your development partner. You must choose whether to make the app available to the public or a limited audience. 
4) Why are B2B eCommerce mobile apps crucial for businesses in this modern era?
Users of mobile B2B eCommerce apps have the power and freedom to manage their business. Additionally, if B2B business owners want to boost audience engagement and have remote access to their business processes, they must make use of mobile applications' capabilities. 
5) What security measures are in place to protect sensitive data in B2B apps?
B2B apps prioritize data security. They often employ encryption, access controls, authentication protocols, and regular updates to safeguard sensitive information. It is crucial to choose reputable providers and implement best practices for data protection.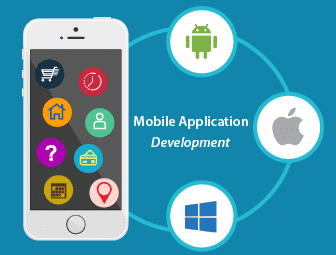 Do you want to leverage mobile technology for your business? Cynoteck is a one-stop Mobile app Development Services provider. We provide iOS and Android application development services so that you can reach your target audience on any device.