Managing communication, process management, and networking become increasingly difficult as a business grows. Everyday team reports are needed along with quick communication among the team when working on projects for clients. This importance of excellent communication increases when your workers operate remotely.
This is where Slack helps, the most well-liked business communication platform in the world. Slack makes it possible for you to instantly connect to the tools you use frequently and collaborate with your co-workers.    
Salesforce is yet another top piece of CRM software that is available to businesses. It is a top CRM solution that helps organizations in retaining current clients and gaining new ones.
Slack, as mentioned above, works as a viable substitute for messengers. It allows for immediate contact between team members and enhances the productivity of any business. And integrating the two of these can be very beneficial for businesses.
You can send notifications about event registrations and attendance to a particular channel in your Slack workspace using Slack Salesforce Integration. To notify lead owners each time a lead registers for an event, it can also be integrated with Salesforce accounts.    
Organizations can send or receive notifications and carry out any operations with no restrictions with the help of Salesforce Slack integration services. Continue reading this blog to find out how to integrate Slack with Salesforce. Now, let us first examine the characteristics of Slack and Salesforce separately.       
Salesforce Overview
Salesforce CRM is a cloud-based customer relationship management (CRM) software system. It is used for managing customer relationships and helping businesses in moving customers through the sales funnel to a sale.
The platform provides customer service and automation-focused business solutions, intending to unify marketing, sales, commerce, and service into one platform.
This helps organizations that are using it to get a comprehensive view of their customers and how to approach them.
The primary goal of Salesforce is to maintain a close relationship between the customer and the business. It enables customers to run eCommerce businesses, create reports, manage contacts, and take part in social engagement.     
Salesforce provides Software as a Service (SaaS), Infrastructure as a Service (IaaS), and Platform as a Service (PaaS) solutions in addition to Cloud services for hosting applications. Salesforce Cloud is well-known for its scalability and ability to help enterprises with both external and internal interactions.
It further enables the planning and tracking of sales and marketing campaigns and the management of services, using analytical and relevant data.
Salesforce also helps organizations automate operations and improve customer interactions with the help of personalized emails and phone calls.       
Also, read: Salesforce Outlook Integration: A Step-by-Step Guide
Key Features of Salesforce:
Salesforce is one of the most popular CRM platforms on the market, offering a series of useful features for addressing a variety of CRM-related problems.
It is now widely used in all aspects of business development, not just sales, and marketing. Salesforce offers a variety of benefits that persuade organizations to use it. Some of Salesforce's most key features are as follows: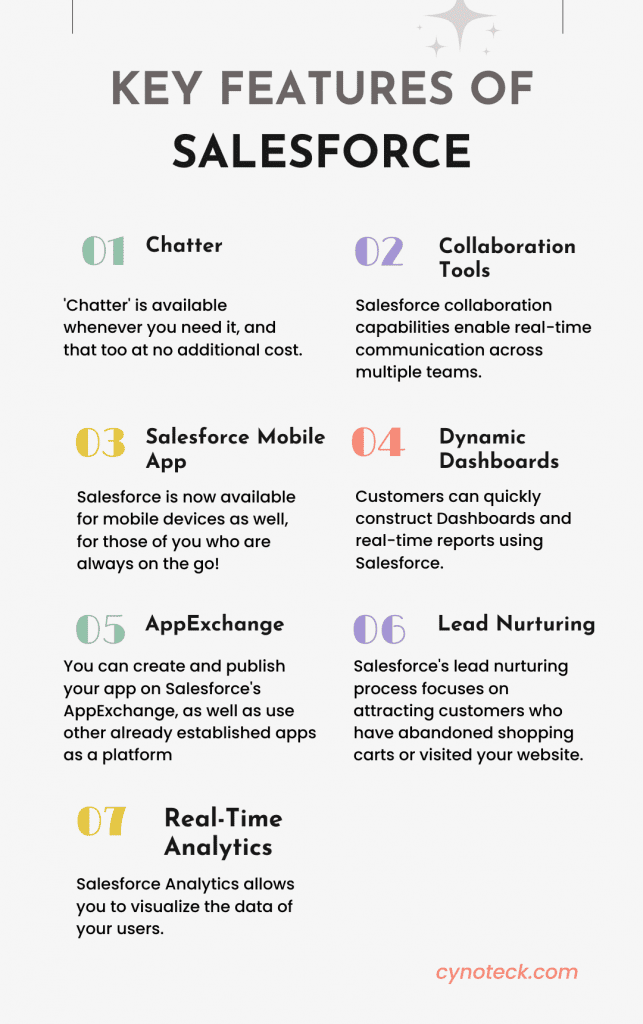 Copy Infographic
1) Chatter
'Chatter' is available whenever you need it, and that too at no additional cost. You can join an existing discussion or start a new one with 'Chatter.'        
2) Collaboration Tools
Salesforce collaboration capabilities enable real-time communication across multiple teams. These regular communications keep each team informed about the progress of its partner teams.       
3) Salesforce Mobile App
Salesforce is now available for mobile devices as well, for those of you who are always on the go! Users can keep an eye on the workflow, assign tasks, change roles, and assess reports even while traveling.       
4) Dynamic Dashboards 
Customers can quickly construct Dashboards and real-time reports using Salesforce. The most significant benefit of the dashboard's feature is that you will be able to see all essential data without having to spend too much time looking for it.
5) AppExchange 
You can create and publish your app on Salesforce's AppExchange, as well as use other already established apps as a platform and install apps to modify your Salesforce page.
6) Lead Nurturing 
Salesforce's lead nurturing process focuses on attracting customers who have abandoned shopping carts or visited your website. It increases revenue by automatically sending customers newsletters and e-mails.       
7) Real-Time Analytics 
Salesforce Analytics allows you to visualize the data of your users. Salesforce Analytics can help in the organization of complicated data in a meaningful and understandable way.       
Looking for Salesforce consulting & Implementation Services
Send us your requirements, we will get back to you with a quote
Slack Overview
Slack is a team collaboration tool that improves real-time communication between team members. It facilitates access to the information people need.
It improves businesses' communication and brings employees together to work as a team.
Slack is an instant messaging service that offers chat rooms, direct messaging capabilities, and private messaging.
Due to its high-performance API, it is quite compatible with a wide range of programs. It also helps managing many emails at once, this is quite helpful for businesses.    
Slack is preferable to bulk emails and SMS. In many organizations today, Slack communications are gradually taking the place of emails. A team member or team leader only needs to send a message once on Slack.
Then this message can be read by everyone on the team. It provides a large number of capabilities, including add-ons that facilitate easy project execution, audio and video calling, file & media sharing, and project management & integration tools.    
Also, read: RingCentral Salesforce Integration: Stepwise Guide
Key Features of Slack:
No matter where your team is located – in the field office, at home, or knocking on doors. Slack allows them to communicate and coordinate their work from anywhere.
Managing Slack carefully (like you would with any other tech tool), can give your team a strong sense of community. Regardless of when or where they work.   
The key features of Slack are: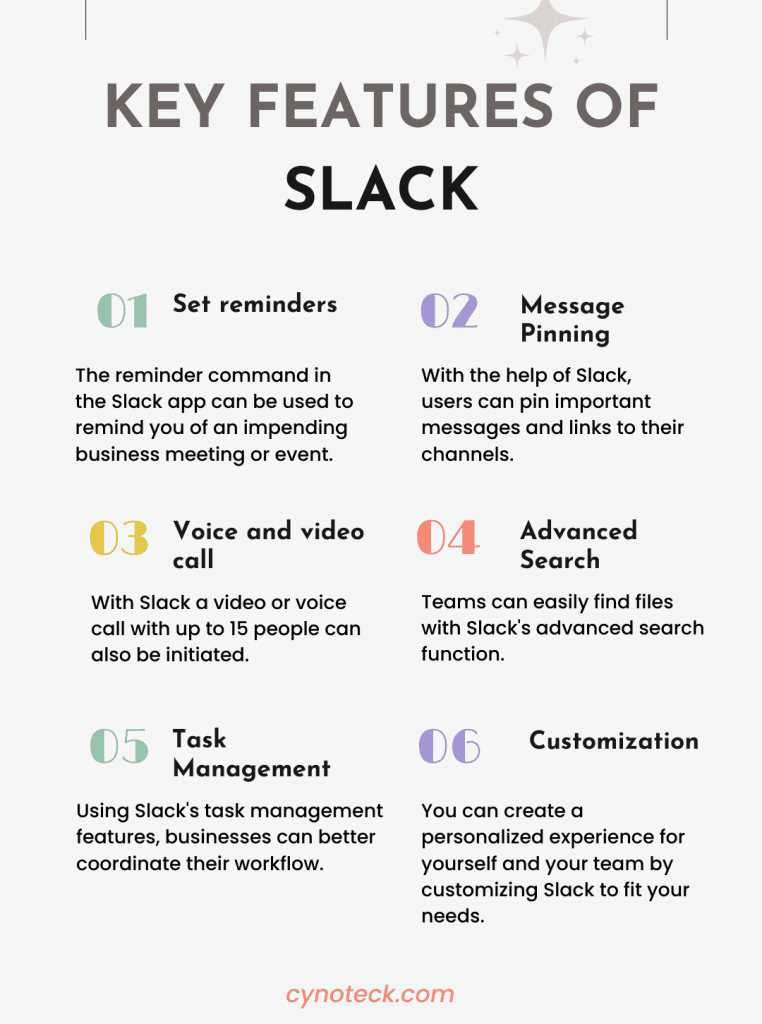 Copy Infographic
1) Set reminders
Slack also offers the feature of setting reminders. The reminder command in the Slack app can be used to remind you of an impending business meeting or event.
You can set reminders to get notifications on any message from any channel (Client or in-house) or for any direct message.    
2) Message Pinning
With the help of Slack, users can pin important messages and links to their channels. This will enable teams to easily access information whenever they require it.    
3) Voice and video call
Nowadays, a lot of people work from home, making it challenging to interact with everyone. A video or voice call with up to 15 people can also be initiated.
As a result, you will not have to leave Slack to use Skype or Google Hangouts to make a business call. Moreover, you will not need to pay for this service.    
4) Advanced Search
Teams can easily find files with Slack's advanced search function. You can put quotes around a search term to show an exact match if it produces a lot of results.    
5) Task Management
Using Slack's task management features, businesses can better coordinate their workflow.    
6) Customization 
You can create a personalized experience for yourself and your team by customizing Slack to fit your needs. Slack lets you customize the app as per your preferences.       
Also, read: Zoom Salesforce Integration: Benefits, Types, and Steps
Salesforce Slack Integration Process
The Salesforce Slack Integration slightly differs from any other application. If you want to send/receive notifications and issue commands without any limits or restrictions.
Then you must first install the Salesforce App on your Slack account. This needs to be done before you can install the Slack App on your Salesforce account.    
After installing both Apps, you will need to link your Salesforce and Slack accounts and grant the required permissions.
Slack can only be used with the Professional, Enterprise, Unlimited, or Developer Editions of Salesforce after you provide access to the Salesforce API.    
Step 1. Installing Slack Package from AppExchange
After logging in, select Settings from the menu in the upper right corner of the screen.
Choose the AppExchange Marketplace from the submenu for apps in the menu. Look for Salesforce for Slack here.
Enter your Salesforce login credentials to access the platform, if you are currently logged out.
Additionally, you can set up Salesforce Slack in a Sandbox or production environment.
You can choose to install with Admins only after installing Sandbox. The installation of the application may take a few minutes.
You will receive an email instead informing you when the installation of the app is complete if it takes longer than 60 seconds. 
Step 2) Grant users' permission
The ability to connect to Slack should be made available to all users who will be changing recorded data in Salesforce.
Slack receives notifications whenever a user modifies a Salesforce record.
Search for Permission Sets in Salesforce by selecting the Settings cog once more.
Choose Slack Standard User by clicking on it in the list of permission sets.
Click Manage Assignments to continue.
Users who can change Salesforce records must have their checkboxes checked.
All these tasks and ad assignments can be done for you by the Salesforce integration firm.
To provide users access to Slack, click Manage Assignments under the Slack Standard User Permission Set.  
Step 3) Run the Slack Setup Wizard
The setup process for the Salesforce for Slack app must be used at least once to configure some settings and connect the two applications.
Most of the options can be kept at their default values.
If you want to change any fields later, you can run the Slack Setup Assistant again.
The App Launcher, a nine-dot icon on the upper left of the Salesforce interface, must first be selected to launch the Slack Setup Assistant.
Look for Slack Setup and choose this option.
Step 4) Connect to Slack
The Slack Setup Assistant's initial step is connecting Slack and Salesforce.
You must click Authorize and then provide your Salesforce login information.
These login details are only used to link the two apps.
Slack can log in to Salesforce by entering your Salesforce login credentials.    
Step 5) Adding custom objects
Standard Salesforce objects like Accounts and Leads are already supported by the Slack to Salesforce app, but if you have built any custom objects in Salesforce, you can include them in the wizard's second step.
Use Slack if you want to share something special.
Select Add Custom object after which you must confirm the object's name.
Once you have located the custom item, click Add.
At this stage, you can add any customized objects you might have in Salesforce. Then, using this method, these special objects can be shared with Slack.    
Step 6) Setting Custom Alerts
When a team member is assigned an account, for example, the Slack to Salesforce app will automatically send Slack some alerts.
Slack makes it simpler to establish alerts and change them whenever you want.
Additionally, you can look up a customer's or lead's status.
Click New Alert and give your Alert a name to set up personalized alerts.
Choose the Salesforce item for which you want a notification.
You have the option of receiving an alert whenever any record of the selected kind matches your criteria. Or just in case when a particular record does.
You can select the conditions for the alert to be sent by clicking Next.       
Also, read: A guide to DocuSign Salesforce Integration and its Benefits
Steps for Integrating Slack with Salesforce
Follow the steps below for a successful Salesforce Slack integration:    
Step 1) Install the Salesforce App to Slack
The first step in integrating Salesforce and Slack is to install the Salesforce App on your Slack account. The app is listed in the Slack App directory.    
Here is how to install the Salesforce App:    
Log in to Slack and access your workplace.    
Choose "Add Apps" in the apps area of the left menu on your screen.     
You'll be directed to a page where you may look for Slack Tools and Apps.    
Try typing "Salesforce" into the search bar. Choose Salesforce and then click the Add button. You will then be directed to the directory page for the Salesforce Slack App. By clicking "Add to Slack," the installation process will start. You will be directed to a page with information about the Salesforce Slack App.    
As you scroll down this page, you will see the Salesforce App installation button under Step 1.     
You can finish installing your app by granting the necessary rights by selecting Allow. The Salesforce App is now available in the Apps section of your workspace on your Slack account.    
Step 2) Install the Slack App in Salesforce    
Installing the Slack App for Salesforce is the second step. There will be specific permissions you need that can only be granted by system administrators.    
Look up Slack in the Salesforce App Exchange. You will find "Salesforce for Slack".  
A Salesforce account can be created by clicking "Get Now" and then "Open Login Screen". 
In the testing sandbox, first install the Slack app (as is typically recommended).  
Install the Slack app in production after that to prevent any integration problems with the production organization.  
Select "Install Here."  
Next, agree to the terms and conditions in the pop-up window.  
Click "Confirm and Install" to continue.  
Choose "Install for all users."  
Select "Install" from the menu.   
Step 3) Connect your Salesforce and Slack accounts.
This completes the process of integrating Salesforce with Slack. You must connect your Salesforce Slack accounts after successfully installing the Salesforce Slack Apps to complete the integration process.    
In the Apps section of your Slack workspace, click the Salesforce icon. On the Salesforce chat window, click "Connect Account" under the heading "Connect your Salesforce account."    
Click Allow to agree to any permission requests made by Slack.    
Additionally, Slack will request your permission to access your Salesforce account.    
Once you allow the necessary permissions, your Salesforce and Slack accounts will be connected.    
If you do not install the Slack App on your Salesforce account, you can still synchronize the two Apps, but your permissions and functions will be restricted to just searching Salesforce data.    
Now that Slack and Salesforce are integrated, you can complete your tasks more quickly.       
Also, read: Salesforce WordPress Integration: How to perform
Benefits of Integrating Slack with Salesforce
Businesses require new strategies to ensure greater team collaboration and communication as the remote working model is prevalent; the Slack Salesforce integration will do exactly that.    
Copy Infographic
1) Provides reliable updates
With hundreds or thousands of leads and clients, it is simple to overlook important developments in huge businesses.
Your teammates will not lose any changes you make to the Salesforce data with Slack Salesforce integration.
Using Slack, all sales and customer service representatives will have immediate access to customized updates. Employees would not have to leave their current position to log into another system, saving time.    
2) Eases coordination and communication    
Employees can optimize company processes by using Slack channel permissions with Salesforce Slack integration.
Additionally, users can engage with different teammates outside of the Slack conversation with customers.
This makes sure that they have the appropriate response for anyone who contacts your business or corporation.
By connecting to Salesforce Slack, you can make sure that all applicable team members are always aware of the status of each lead.
This provides a clear image to all stakeholders involved and significantly reduces uncertainty and confusion.    
3) Prioritize tasks and improve productivity
Your team members can access task-updating functionalities and make Salesforce tasks in Slack with Slack Salesforce integration.
Without requiring you to leave your Slack workspace, Slack will participate in the usual operations and provide you with useful information about impending tasks.
With a few clicks in Slack, you can prioritize tasks and assign them to co-workers.
Routine tasks can also be easily updated and automated, which will lessen workload and increase productivity.    
4) Improves customer engagement and experience     
With the help of Salesforce and Slack integration, you can get all necessary customer data in Slack. Employees can quickly fix clients' problems with the help of this integration, raising brand awareness.
Without logging into Salesforce, the sales team can edit or add a customer's name, contact information, and corporate information from within Slack.
Customers can also ask questions and can get their issues quickly addressed by the team.    
5) Improves business growth and boosts revenue    
The ability to discover prospects, examine leads, manage timelines, and keep an eye on sales operations in real-time is the most significant benefit of Slack-Salesforce integration.
Since there is no need for your team to log into Salesforce or exchange emails to track these facts, this seamlessness saves a ton of time.
This integration keeps everyone up to date and enables your business's expansion. Also, profitability will increase because of all these improvements.    
Also, read: Salesforce Connect: integration, benefits, and limitations
Common Issues with Slack Salesforce Integration
Here are some common problems that users have faced while integrating Slack and Salesforce.     
1) Multiple apps lead to complex process
To properly integrate Salesforce Slack, you must install both the Slack app for Salesforce and the Salesforce app for Slack.
As other Slack apps for Salesforce have been released before, this complicates the procedure.
Users are confused because even though none of them are currently in use, the Salesforce app exchange documentation still connects to them.    
2) Bugs and technical issues 
Users have frequently encountered issues in the Slack app's Salesforce App exchange.
When deployed, this program causes problems with data recovery, unexpected failures, and permissions.
Given that Slack is a free tool for Salesforce users, the poor app support for Salesforce is understandable.
The user experience may be negatively impacted by these factors, which will also extend the integration process.    
3) An issue with bulk alerts for Salesforce essentials users 
You will not be able to fully integrate Salesforce Slack if you are using Salesforce Essentials. The Slack app for Salesforce requires API access, which Salesforce Essentials does not have.
Users of Salesforce Essentials are unable to send/receive messages through Slack or set up bulk alerts.
Although they can set up channel alerts and "My Alerts" from Salesforce, they can also search for Salesforce records in Slack. 
Also, read: Benefits of Magento Salesforce Integration for your E-commerce Business
Conclusion
This detailed guide provided insights on Salesforce Slack Integration. We have shown you how to integrate Salesforce and Slack using the new Salesforce for Slack app. In summary, you must install the Salesforce for Slack app in Salesforce and configure it using the Slack Setup Assistant.
Following these steps, you can send records and automated alerts from Salesforce to Slack. Your employees can use Slack to query Salesforce about records and use Salesforce data to communicate effectively as a team.    
Organizations must have both platform accounts to authorize permission to set up the integration process. If you do not have all these things, it is better to go for a reliable firm that deals with Salesforce integration with other platforms. Deliver your business for better customer experiences, invest in Salesforce integration services, and avail yourself of the best returns.    
Also, read: HubSpot Salesforce integration for maximum CRM power
FAQs (Frequently asked questions)   
1) What kinds of teams are a good fit for Salesforce and Slack?
Regardless of size or sector, Salesforce and Slack can adapt to the demands of every firm. While they may provide support for a single team or department, the real magic emerges when your entire company uses the same technology.
As a result, your employees can collaborate across departments to find the best prospects for a project, share data and information, transform conversation into opportunities, and move the business forward.  
2) What advantages do Salesforce and Slack have for your business?
Both Slack and Salesforce are powerful business tools on their own. But by combining the world's top CRM, integration, and analytics platform with the most innovative communications platform available, new business-driving possibilities are made possible. Slack offers a level of participation, furthering organizational alignment and enhancing productivity. Imagine your sales representatives updating opportunities directly in Slack, or your customer support representatives accessing and resolving tickets in one location.  
3) What differentiates Slack from other project management tools?
Because it does not try to be a stand-alone product, Slack differs from other project management systems. Although it is a great tool, integrations are necessary for it to work. You have a straightforward, central portal where your entire team can observe new advancements. This happens when you set up integrations with project management systems like Asana or Trello.   
4) Do any Slack add-ons for agile project management work well?
Multiple top project management applications, like Trello, Hubstaff, etc. are integrated with Slack. Agile sprint planning can be simplified with specialized add-ons like the Poker Planning app. Some teams go beyond using Slack by utilizing its multiple integrations. By doing so, they may keep track of their initiatives, and develop a working relationship while keeping high team morale.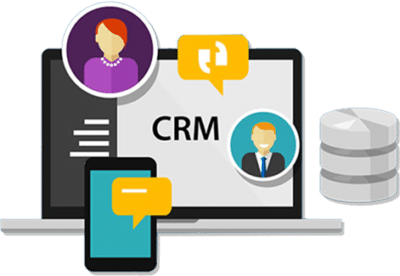 If you are new to automation and confused about Workflow or Process Builder. Need not to worry, we have got you all covered. Talk to our experts and clear all the cloudy thoughts about automation.