In this customer-centric marketing environment, the most basic requirement for attempting to achieve a positive experience across all touchpoints in the customer journey is quick and accurate communication. The lack of integrated systems frequently obstructs your ability to provide a seamless customer experience via voice and video communication. 
You have probably heard of terms like "Salesforce" and "RingCentral" or even understand how these two platforms work or what services they offer. But have you thought of combining these two leading platforms? If not, you will soon discover how you can benefit from RingCentral Salesforce Integration. 
RingCentral is a Cloud-based enterprise communication platform that allows a company to easily connect its office, remote, and mobile employees, regardless of where they live.
Salesforce on the other hand is the world's most popular Customer Relationship Management (CRM) platform. It offers seamless interaction between your company and customers, as well as a variety of Sales and Marketing services. The integration of these two allows you to increase customer retention, agent productivity, and streamline your business processes. 
In this article, we will look at the benefits of RingCentral and Salesforce integration, as well as a step-by-step guide on how to implement this integration. 
Salesforce and RingCentral Integration Benefits
The RingCentral communication solution includes channels such as voice, fax, text, web conferencing, and conferencing. By integrating Salesforce with RingCentral, you can enhance your customer relationship experience by automating workflows, increasing call efficiency, and improving the quality of customer interactions. Notable features include making and receiving calls directly from your org, performance reporting, and call logs.
RingCentral is an all-in-one communication solution that includes voice, fax, text, conferencing, and web meetings. By combining Salesforce with RingCentral, you can improve your customer relationship experience, automating workflows, increasing call productivity, and improving the quality of client interactions.  
The RingCentral Salesforce Integration allows Sales professionals to make, control, and transfer phone calls within Salesforce, increasing efficiency and productivity while allowing Sales personnel to cultivate stronger client engagement.
You can access RingCentral calling features such as call controls, and incoming and outbound calls without leaving the Salesforce window.  
Other notable capabilities include making and receiving calls straight from your organization, performance reporting, and call records. You can also manually log your call history or set up auto-logging from anywhere within Salesforce.
The fact that RingCentral is a single platform and cloud-based is a significant advantage. All your channels are centralized in one location if you use a single platform. The integration includes a component that you can add to your utility bar and access regardless of the page you are on in Salesforce. 
If you are working with a client and need to view their lead, contact, or account records, you may go through each one while keeping the component open. When combined with Salesforce's cloud technologies, you can further access your RingCentral integration from any phone, tablet, or computer that has an internet connection. 
Also, read: Zoom Salesforce Integration: Benefits, Types, and Steps
Salesforce Integration with RingCentral
Salesforce RingCentral Integration helps the sales team in succeeding by giving them the ability to quickly contact inbound leads, the delivery of important insights that can help in understanding the needs of customers, and the flexibility to take official calls anywhere on any device with all details logged, and so on.
Aside from the advantages of seamless customer experiences and increased sales team efficiency, this robust integration provides increased security by controlling data exchange.
Providing the establishment of a productive work environment while accessing it remotely, with reduced maintenance and operational costs, and simple onboarding of contract workers and new hires.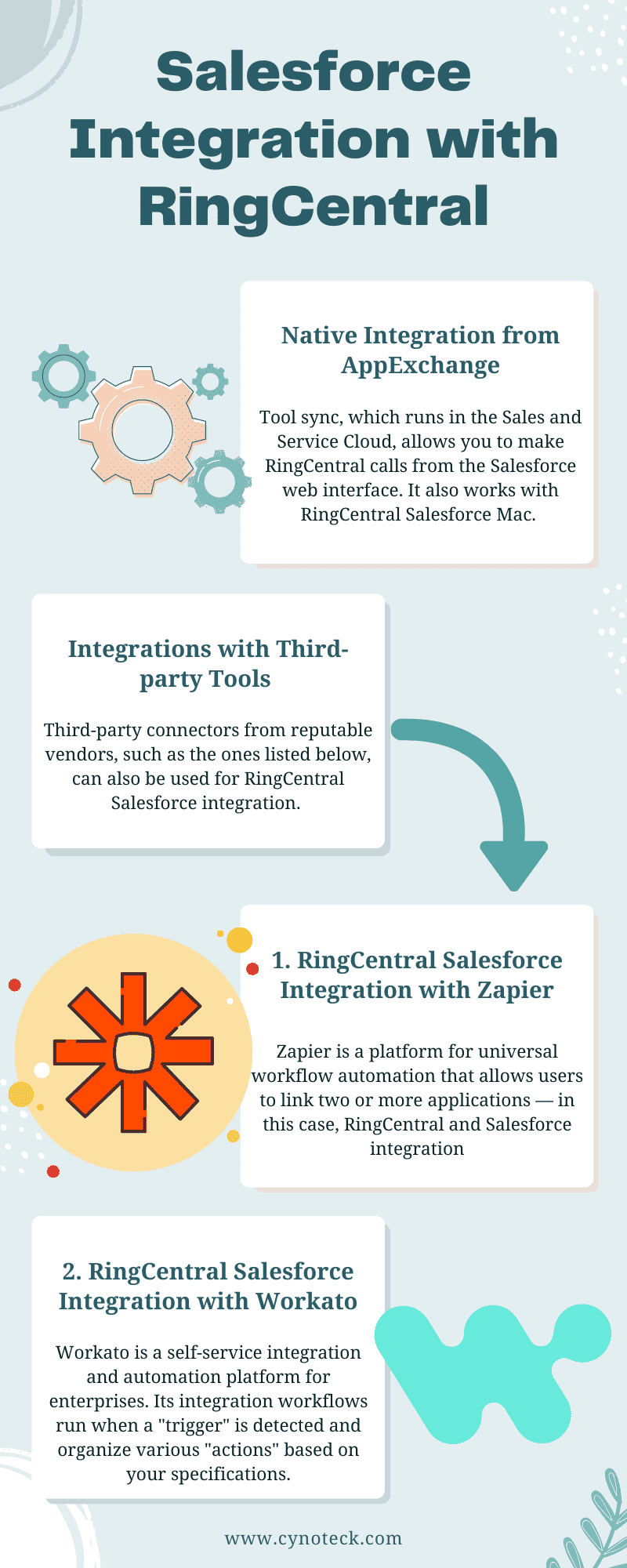 Copy Infographic
Native Integration from AppExchange
Multiple connectors for the SDFC ecosystem are available from partners or vendors. They not only help businesses in integrating RingCentral Salesforce, but they also meet the demand for other integrations.
Tool sync, which runs in the Sales and Service Cloud, allows you to make RingCentral calls from the Salesforce web interface. It also works with RingCentral Salesforce Mac. 
Also, read: Zendesk vs Salesforce: Which CRM is Better for Your Business?
Integrations with Third-party Tools
Third-party connectors from reputable vendors, such as the ones listed below, can also be used for RingCentral Salesforce integration. 
(1) RingCentral Salesforce Integration with Zapier 
Zapier is a platform for universal workflow automation that allows users to link two or more applications — in this case, RingCentral and Salesforce integration. The connector works on a quite simple principle. 
Step 1: Authenticate and Log in to Salesforce and RingCentral. 
Step 2: Choose a trigger:
Call ended;
Missed call;
New call recording;
New SMS sent;
New SMS received;
New SMS (deprecated);
New voicemail.
Step 3: Choose an action. An example of this can be – add a contact to the campaign.
Step 4: Select the data to be transferred from one app to another.
(2) RingCentral Salesforce Integration with Workato 
Workato is a self-service integration and automation platform for enterprises. Its integration workflows run when a "trigger" is detected and organize various "actions" based on your specifications. No coding is required to create workflows, which are created using an intuitive drag-and-drop wizard. 
Triggers that are supported:
When a new conversation recording is created, the recording process begins.
When a new call arrives, a new call event is triggered.
When sending or receiving a text message, a new SMS is triggered.
Call ended – fired when a previously established call ended.
Supported actions include:
Send a fax with your preferred document.
Send an SMS message with the text you specified.
Call generation without ringing – initiate a call by ringing out. 
To connect two phone numbers of your preference.
Also, read: Zoho vs Salesforce: Which CRM is Better for Your Business?
RingCentral Salesforce Integration – Steps to Set Up
Having gained an understanding of RingCentral Salesforce Integration, let us now look at the steps to set up this integration. So, follow the steps below to connect RingCentral to Salesforce:
Step 1: Download and install RingCentral Salesforce Integration from AppExchange.
To begin setting up your RingCentral Salesforce Integration, you must first install the RingCentral for Salesforce packages from AppExchange. So, proceed as follows:
Navigate to the Salesforce AppExchange and click the Get It Now button. 
Then, log in to Salesforce and install the packages in either Production or Sandbox. 
After completing the preceding steps, click Install for All Users, followed by Install.
Step 2: Set Up RingCentral's Salesforce Integration
Before you can add call centers or other services, you must first configure the RingCentral Salesforce Integration. Set up and configure your RingCentral Salesforce integration by following the instructions below. 
Navigate to your Salesforce App Launcher –> RingCentral Admin for Classic. 
Then, click RingCentral to access the Install Wizard.  
Follow the Install Wizard step by step. You can configure the following: 
Set up a Call Center: In this phase, you can construct a Call Center for your company by clicking the Create button. 
Assign Users to Call Center and Reporting: Using the RingCentral CTI application, you can assign Salesforce users by searching for and adding them, then clicking Save. 
Add Phone to Apps: In this phase, you will learn how to add RingCentral to your Lightning Apps and Utility Bar. 
Step 3: Configure the Call Center
You have already set up the Call Center in the previous phase. You will now learn how to configure it. Take the following steps: 
Go to Visualforce Pages Setup and click the preview icon in the Action column. 
A new window/tab will now open. Close the window/tab after copying the URL.  
Then, go to Setup Home –> Call Centers and press the Continue button. 
Select CloudPhoneApp v2 and click Edit under Setup Home –> Call Centers. Then, in the CTI Adapter URL field, paste the copied URL and click Save. 
Step 4: Add Call Center Users
This step will guide you on how to add Users to the Call Center. Take the following steps: 
On the Call Center Detail page, click Manage Call Center Users. 
Now, to Add Users, click on Add More Users. You can also remove users by selecting the "Remove Users" button. In the contact information, you can provide the user's Full Name, Alias, Username, and Role. 
Congratulations, your RingCentral Salesforce Integration has been set up now and users have been added. 
Also, read: Salesforce WordPress Integration: How to perform
Why integrate the two platforms?
RingCentral and Salesforce integration helps businesses optimize their communication network by enabling fax sending with a single click via Salesforce. Businesses can simply track the status and progress of documents delivered from Salesforce CRM to RingCentral Fax. 
The integration makes the following possible- 
Easy previewing of the fax before being sent.
Automatic assignment of documents sent to the users by mapping them to their fax numbers.
Ability to track historical data of documents, faxes, and attachments, both incoming and outgoing as per user.
Shortening of the communication cycle and ease of sending crucial documents on time.
And more:
Work from Anywhere
Calls from the App
Sensible Reporting
Instant Screen Pop-up
High-Velocity Sales
Call Logs
Integration with Salesforce App
Flexibility Interface
Conclusion
In this post, you have learned about the essential features of RingCentral and Salesforce. Furthermore, you understood the importance of RingCentral Salesforce Integration. You also learned how to configure this Integration and explored some of the RingCentral Salesforce Integration benefits.  
RingCentral for Salesforce connects seamlessly with RingCentral's services, enabling increased client retention, agent efficiency, and sophisticated business processes.
Salesforce integration with RingCentral will not only help your sales and service teams automate workflow and improve internal productivity but will also provide a seamless experience and engagement for your customers.
You can take advantage of these business benefits today by integrating these two ultimate solutions. All the best!
Also, read: A guide to DocuSign Salesforce Integration and its Benefits
FAQs (Frequently Asked Questions)
1) What does RingCentral do in Salesforce?
RingCentral for Salesforce allows you to make and receive calls from your Salesforce account. You can furthermore arrange RingCentral video meetings without switching between applications, in addition to rapidly allocating call dispositions, logging calls, taking notes, and more. 
2) What do we need to do as a Salesforce Administrator to migrate a user from the current Windows-based to the RingCentral for Salesforce app?
You must first delete the User from the Salesforce call center definition for the Windows application, and then add the User to the new call center created as part of the RingCentral for Salesforce app installation. 
3) What is the RingCentral for Salesforce App's advantages and features?
The RingCentral for Salesforce App offers the following benefits and features that improve call efficiency, organizational collaboration, and customer interaction. 
* It works in any browser and on both PC and Mac computers. 
* The RingCentral for Salesforce app is compatible with any RingCentral endpoint, such as a desk phone, the RingCentral Mobile app, or the RingCentral Desk phone app. 
* Click-to-dial directly from any Salesforce contact phone number, reducing time and enhancing efficiency. 
* While on a call, you can effortlessly create new records such as accounts, contacts, and leads. 
* It is compatible with Salesforce Sales Cloud, Service Cloud, and Desk.com. 
* Integration between your phone system and Salesforce CRM improves workflow and productivity. 
* Within the app, you can easily send and receive text messages to your Contacts/Leads/Opportunities.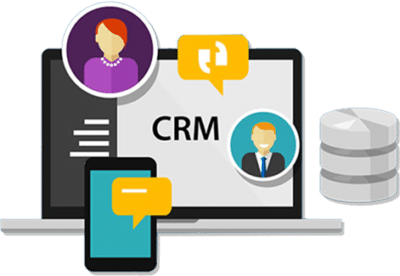 If you are new to automation and confused about Workflow or Process Builder. Need not to worry, we have got you all covered. Talk to our experts and clear all the cloudy thoughts about automation.