Since the global impact of COVID-19, businesses across various sectors have faced unprecedented challenges. While many businesses have successfully adopted digital transformation, some industries continue to struggle with recovery. The real estate sector is among those facing distinct hardships, attributed to factors such as intensifying competition, evolving regulations, quarantine measures, and more.
Agents, brokers, realtors, and the real estate industry must make a critical choice: either exit the market and yield to more determined players or adapt, harness the market's potential, and turn current realities into advantages. If your business aligns with the latter path, Salesforce for real estate offers a compelling solution.    
Every business, including those in the Real Estate sector, has different CRM software requirements. The diversity in workflows, current software systems, team competencies, automation needs, existing infrastructure, and other variables adds complexity to the task of choosing the most appropriate CRM software.
The correct property management CRM software can have a transformative impact, streamlining operations, enhancing efficiency, and promoting successful relationships with tenants, property owners, and vendors within the rental business.    
While numerous CRM platforms can be tailored to accommodate the requirements of real estate agents, some CRMs are inherently more effective for this industry.
Here in this blog, we have curated a selection of our preferred CRM software solutions designed explicitly to meet the distinct requirements of real estate agents. 
What is a property management CRM system?
A property management CRM system is a dedicated customer relationship management software tailored exclusively for property owners and managers, empowering them to develop enduring relationships with current and potential residents.
This CRM offers property owners a centralized database to store customer data, along with tools for viewing, updating, and analyzing this information, facilitating the design of targeted customer engagement strategies.
The best property management CRMs provide prospective residents with different advantages, such as timely client follow-ups, systematic organization of leads by their sales funnel stage, automated email and text message capabilities, personalized communications with prospects, and enhanced marketing and sales management.
Also, read: How Salesforce Manufacturing Cloud Is Revolutionizing the Industry
What is Salesforce for Property Management?
Salesforce for Property Management is a cloud-based CRM solution that empowers different real estate agents and businesses to efficiently manage a wide array of information related to residential and commercial properties.
Tailored specifically to meet the unique requirements of the real estate industry, Salesforce seamlessly integrates with a range of services, providing a wealth of valuable tools and opportunities for users to improve sales and optimize their marketing campaigns.   
Salesforce's real estate CRM enables you to seamlessly update databases for available properties and customer requests, packing this vital information into a single, streamlined system. Provided with robust features, it ensures ongoing engagement with clients and tenants, enabling lasting connections.
With the ability to monitor critical data on both commercial and residential properties, including occupancy rates, key tenants, and revenue, this tool is designed to boost your productivity and catalyze business growth to new heights, ultimately contributing to improved efficiency and productivity. 
Also, read: The Top Mobile CRM Apps for Streamlining Your Business
Do you need Salesforce for Real Estate – Challenges it Solves?
In today's fast-paced real estate landscape, customer expectations have evolved. Personalized services and rapid solutions are now the standard. Failing to meet these expectations can lead to losing customers to more agile competitors. To overcome these challenges, investing in the finest CRM for real estate is important.
A centralized data management system is the foundation of success in the real estate industry. It packs essential information for agents, facilitates seamless information sharing, and ensures consistent updates throughout the organization.
Moreover, a superior centralized system offers accessibility from any location, at any time. Cloud-based platforms like Salesforce for real estate agents deliver these key features.    
Here are some of the challenges that a well-designed CRM is tailored to address: 
Inefficient Marketing 
Billing and Invoicing Challenges 
Inaccurate Forecasting 
Booking Errors 
Inadequate Client-Relationship Management 
Disorganized Property Management 
Transparent team activities 
Avoid wrong communication 
 The Advantages of Integrating Salesforce with Property Management Systems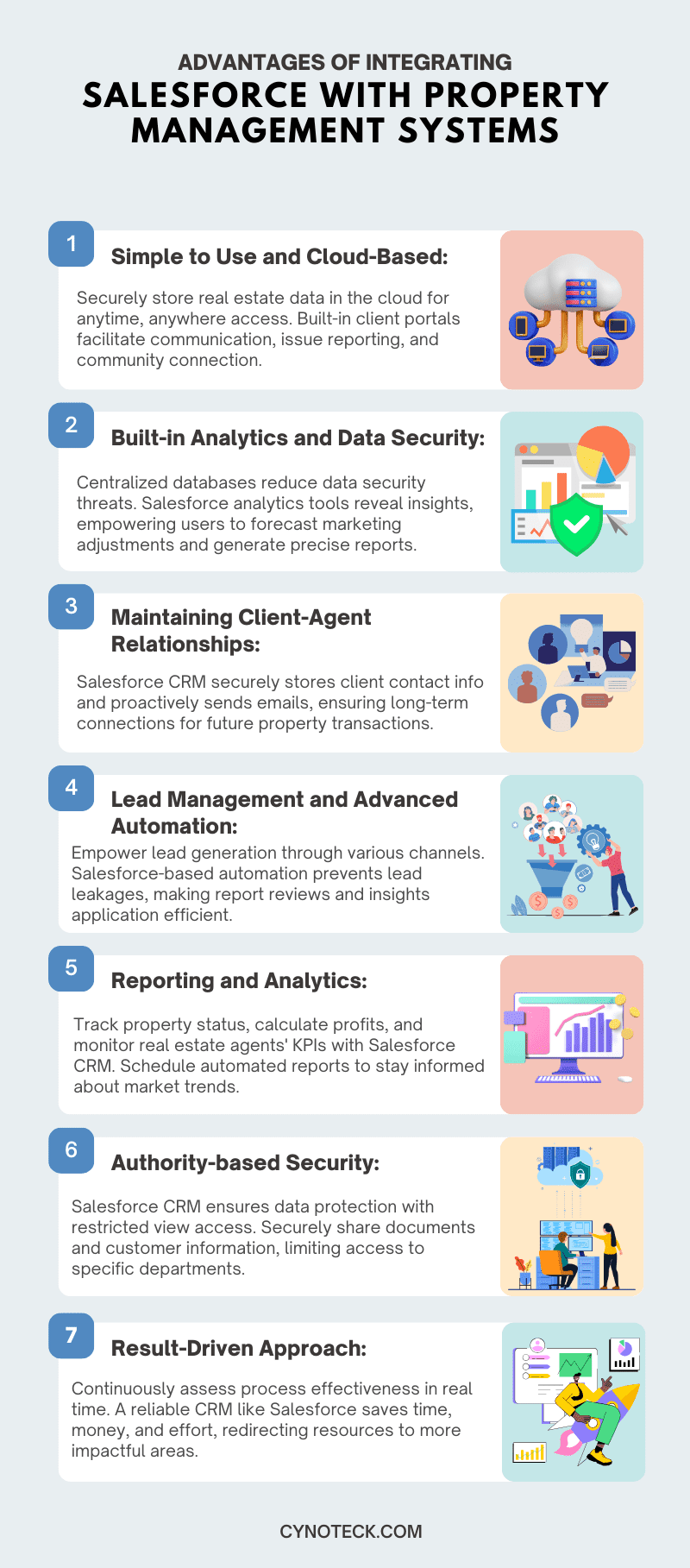 1) Simple to Use and Cloud-Based
Your real estate data is securely stored offsite using cloud-based management tools, ensuring authorized users can access it anytime without location constraints.
Leading real estate management software includes built-in client portals, enabling occupants to access vital information, report issues, connect with their community, and seek support.
Salesforce offers diverse communication channels and support options to accommodate different tenant preferences.    
2) Built-in Analytics and Data Security 
Cloud-based real estate management significantly reduces data security threats for you and your clients. It eliminates the risk of lost or misplaced files through a centralized, professionally managed database.
Salesforce data analytics tools independently filter through vast data to reveal connections, insights, and trends users might have overlooked.
Built-in real estate analytics empowers users with the ability to forecast marketing adjustments, monitor tenant behavior, and generate precise reports at their convenience.    
3) Maintaining Client-Agent Relationships
Whether it is a commercial or residential investment, property purchases are often one-time experiences. After the transaction, clients and agents may lose touch.
Years later, when clients consider another property, they may struggle to reconnect with the same agent. Salesforce CRM offers a solution for maintaining long-term client relationships.
The system securely stores client contact information and can proactively send friendly and informative emails to stay connected. 
4) Lead Management and Advanced Automation
Salesforce for Real Estate empowers lead generation through different channels, utilizing Salesforce-based automation tools and streamlined lead-to-deal workflows to prevent lead leakages.
Access to relevant data enables users to grow their businesses and engage occupants more effectively. With Salesforce, reviewing reports and applying insights becomes efficient and timesaving.    
5) Reporting and Analytics 
Salesforce CRM includes a reporting solution module that allows you to track and monitor property status, calculate profits, measure real estate agents' KPIs, register real estate market fluctuations, and identify global and local trends.
Sales Reports, Property availability monitoring, KPI dashboards, scheduling automated reports, and Predictions based on client history.    
6) Authority based Security
Data protection is a prominent feature of Salesforce CRM. With the Salesforce for real estate, your team and other agents can securely share documents and customer information both within and outside the company.
Salesforce CRM offers restricted view access to specific departments, ensuring the protection of essential data with highly secure and limited access.    
7) Result-Driven Approach
In the high-stakes world of real estate, a business cannot afford to waste time and resources on ineffective practices. A CRM system is designed to continuously assess and evaluate process effectiveness in real time.
This agility enables the business to abandon methods that are not yielding results and concentrate resources where they will have the most impact. A reliable CRM such as Salesforce can help save time, money, and effort, redirecting them to more beneficial areas.
Also, read: A Deep Dive into Collaborative CRM: Examples and Software Tools
Salesforce for Real Estate: Best Practices
Here are some recommended best practices for real estate professionals using Salesforce to manage their property data: 
1) Customizing the Platform 
Customize the Salesforce platform to align with your business requirements by creating relevant custom fields and objects for tracking leads, transactions, and listings.    
2) Utilizing Automation 
Employ automation, including workflows, to streamline business operations, improving efficiency and productivity, particularly in lead management and marketing tasks.    
3) Training the Team 
Effective training for employees of the Salesforce is crucial. Ensure your team can efficiently update lead information, manage transactions, and create successful marketing campaigns.    
4) Tracking Performance 
Regularly monitor key performance metrics like lead conversion rates, sales productivity, and customer satisfaction. Use this data to make informed decisions that drive business growth.    
Also, read: Analytical CRM: Benefits with the 10 Best Analytical CRM Tools for 2023
10 Best CRM Software for Real Estate
In a highly competitive real estate sector, having the right tools is essential for standing out. Top Customer Relationship Management (CRM) systems can improve your agency's efficiency, streamline operations, and boost customer interactions.
While many CRM platforms can be customized to meet the needs of real estate agents, some are purpose-built for the industry. We have curated a list of our top CRM software tailored to real estate agents, designed to address their specific requirements.   

1) Salesforce  
Salesforce stands out as one of the most comprehensive CRM solutions in the market. It excels in managing relationships with existing customers, prospective clients, and partners. This versatile software offers contact management, analytics, marketing automation, and customer support.
With multilingual support and a vast array of plugins, including those for advanced business analytics, email management, and marketing, Salesforce is a top choice. Its scalability and customization options make it an ideal fit for real estate agencies of all sizes. 
Transform your Real Estate business with expert Salesforce Consulting. Let us boost your sales and efficiency. Get started today!
2) Microsoft Dynamics 365
Microsoft Dynamics 365 for Real Estate offers an all-inclusive package featuring project calculations, feasibility assessments, budgeting, quota management, progress report tracking, and invoicing.
Tailored to the real estate industry, it incorporates lead and opportunity management, property and listing oversight, contract and closing management, and customer service and support.
Furthermore, it seamlessly integrates with other Microsoft applications like Office 365, Power BI, and SharePoint, delivering a comprehensive and scalable solution suitable for real estate companies of all sizes.    
Elevate your Real estate business with Dynamics 365 CRM. Streamline operations and drive growth. Contact us for a tailored solution today!
3) Zoho CRM
Zoho CRM, a cloud-based solution, empowers your real estate business with its extensive feature set and affordability. It offers contact management, social media integration, and in-depth analytics to track your sales cycle effectively.
With features such as process management, sales enablement, forecasting, marketing automation, customization, and team collaboration, Zoho CRM caters to professionals at all experience levels, ensuring efficient business management.    
4) HubSpot
HubSpot is a versatile solution ideal for any industry. It offers a free plan with a comprehensive set of tools for enhancing customer experiences. For those seeking advanced features, paid plans are available, but the basic platform is impressive.
HubSpot has an intuitive interface and features for email marketing, social media, content management, and analytics. Its standout feature is the 360-degree view of customer interactions, providing real estate businesses with a comprehensive understanding of client relationships, improving customer service. 
5) Active Campaign
Active Campaign is a unified platform that revolutionizes real estate agency operations. Combining email marketing, CRM, marketing automation, and seamless integrations, it empowers agencies to manage contacts, segment audiences, and automate follow-up tasks.
By formulating precise email campaigns, businesses nurture leads and maintain continuous communication with clients throughout their real estate journey.
Furthermore, Active Campaign's capabilities include tracking clients' property preferences and delivering tailored property suggestions, aligning perfectly with their needs and preferences.    
6) Insightly
Insightly differentiates itself with its powerful project management feature, streamlining property sales and marketing campaigns into a unified platform. It serves as an asset for real estate businesses.
This CRM is ideal for realtors seeking efficiency gains, it offers versatile tools like task management, appointment scheduling, and email tracking, seamlessly enhancing productivity levels in the Spanish real estate sector.    
7) Agile CRM
Agile CRM is a versatile tool that seamlessly combines sales, marketing, and service functions. It offers key features such as contact management, appointment scheduling, and social media integration.
What sets Agile CRM apart is its innovative sales gamification feature, turning your sales process into an engaging game.
With gamified leaderboards, it adds a competitive edge to real estate sales, motivating agents while promoting collaboration and lead conversion.    
8) Pipedrive 
Pipedrive serves as the best CRM software suitable for businesses of any size. It offers an involuntary interface with a clear dashboard and user-friendly features.
Pipedrive's extensive library of integrations with different apps makes it ideal for those aiming to boost productivity in their business strategies.
Real estate agencies, in particular, benefit from their ability to seamlessly integrate with multiple real estate platforms. It is all about driving sales and efficiently managing prospects and deals.    
9) Bitrix24 
Bitrix24 offers a versatile real estate CRM that is free for individuals and businesses. It covers essential client management tasks, from lead generation to evaluating won deals through analytics.
What sets it apart is the ability to customize its interface to meet specific business needs. Users enjoy a suite of robust CRM tools along with publishing and collaboration features for both personal and business applications.
With built-in social media and email marketing capabilities, Bitrix24 facilitates trust-building and seamless interaction tracking.    
10) Apptivo  
Apptivo CRM is a versatile cloud-based collaboration and project management tool accessible on different devices and platforms.
Designed for Property Administrators aiming to automate, modernize, and grow their business, it facilitates data collection and storage related to property transactions.
Apptivo CRM empowers you to keep clients informed about new properties on the market, ensuring effective and engaging communication.    
Also, read: AI for Real Estate Agents: 5 Tools to Keep Up with the Evolving Market
Conclusion – Which CRM is Best for Real Estate?
The real estate industry thrives on relationships. From automating repetitive tasks to offering valuable data insights, the above defined tools are your key to efficiency and a standout customer experience.
Explore their potential to streamline operations and elevate your business. In a market filled with excellent CRM options, we strongly recommend YOU TRY Salesforce.
Its product suite allows you to tailor your CRM solution to your exact requirements. Beyond its unmatched flexibility and customization, Salesforce shines with lead activity tracking, user-friendly sales automation, and efficient scheduling tools, making it the top choice for real estate professionals. 
Also, read: Top 10 Real Estate ERP Software for Enhanced Efficiency
FAQs (Frequently Asked Questions)  
1) Which CRM software is utilized for real estate, and which is the best for real estate?
The choice of the best CRM for a realtor is a personalized one, dependent on individual needs and preferences. After careful analysis, Salesforce CRM emerges as a top recommendation due to its comprehensive feature set and cost-effectiveness. When making a CRM selection, realtors should consider factors like business size, budget, and specific feature requirements. While each CRM has its unique advantages suited to different real estate business models, additional options to consider include Microsoft Dynamics 365, HubSpot, Zendesk, and Pipedrive.  
2) Can real estate businesses become more proactive with the use of a CRM?
Real estate CRM software serves as a crucial tool for engaging with customers and prospects effectively. By centralizing customer information, it streamlines customer profile management, enhancing the appeal of your products and services. To stay ahead, it is essential to invest in real estate CRM software packed with features like call recording, conversation tracking, and seamless lead capture from diverse sources. These capabilities empower you to provide personalized services, fostering enduring customer relationships. 
3) Which pain points does a CRM for real estate try to solve?
We have identified the actual problems faced by real estate agents based on our analysis and observations. The most well-known ones are as follows: 
   
Time Management   
Real estate agents often struggle with time management and efficient execution due to the demands of their work. They are required to be available round the clock to close deals. However, a Real Estate CRM can significantly alleviate this challenge. By automatically adding tasks to their schedule and sending timely reminders, it ensures that agents never miss any valuable opportunities.  
   
Getting Sales Out of Leads  
A Real Estate CRM is valuable for facilitating engaging conversations with potential buyers. Tracking sales conversations and providing insights into the interests of the buyer provides agents with the knowledge needed to create meaningful connections and resonate with the buyer's needs and preferences.  
   
Handling Customer Queries  
Real Estate CRM provides intelligent lead segmentation. It categorizes leads based on buyers' interests and location, then assigns each lead to agents who specialize in those specific areas. This ensures that leads are distributed effectively, increasing the chances of successful conversions.  
   
Adding Benefits to Sales Proposals  
Real Estate CRM enhances the value of your conversations by leveraging buyer information and their interests. It allows you to compose meaningful sales dialogues based on these insights. Additionally, it automates engagement emails, enabling you to connect with buyers more strategically and efficiently, which contributes to building stronger relationships and driving sales success.  
4) In what ways can Salesforce help your real estate business?
Salesforce offers a comprehensive platform designed to streamline sales, manage customer relationships, and improve marketing efforts. It facilitates efficient lead management, centralized data storage, automated workflows, and personalized customer interactions. These capabilities contribute to increased productivity, improved customer satisfaction, and overall business growth. Moreover, you can create custom objects within Salesforce to store property details, track property availability and status, manage property inquiries, schedule appointments, and automate property-related workflows. This ensures that property management processes are streamlined, providing timely and accurate information for your team and customers.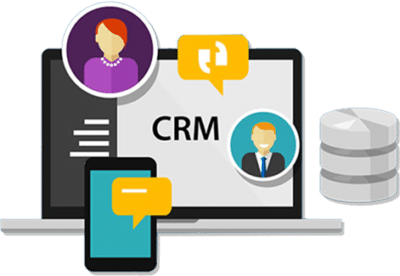 If you are new to automation and confused about Workflow or Process Builder. Need not to worry, we have got you all covered. Talk to our experts and clear all the cloudy thoughts about automation.