The real estate and property management sector is a dynamic and highly competitive industry. With the integration of cutting-edge digital technology, the real estate market has undergone significant transformation in recent years. To effectively handle the vast amounts of data involved, the adoption of efficient tools like real estate ERP software has become essential.
Today, the real estate ERP software plays a pivotal role in various economic domains, including rental accommodations, hotels, and businesses involved in property management.    
Real estate software serves as a valuable asset for real estate agents, allowing them to efficiently handle interactions with customers, suppliers, and colleagues.
If you are in search of the ideal ERP solution tailored to the real estate industry, continue reading to uncover vital details about real estate ERP, its benefits, and a curated list of the best software options currently available in the market.    
What is Real Estate ERP Software?    
ERP software, also known as Enterprise Resource Planning software, plays a pivotal role in connecting and streamlining essential core processes within a business.
Specifically designed for the real estate industry, this software effectively manages and monitors various aspects, such as project planning, stakeholder management, budgeting, and more.
By providing comprehensive control over finances, prospects, sales, purchases, projects, and engineering, it ensures efficient operations and decision-making in the real estate sector.
"In order to maximize profitability in real estate operations, property management software functions as an incredibly effective virtual assistant, expertly handling a broad range of duties and vast amounts of data." 
Real Estate ERP Software: How Can It Help Your Business?
Managing leases and tenants can be an arduous task for property owners with multiple rental properties, including multi-family houses, apartment complexes, or numerous single-family homes.
The complexities arise when dealing with hundreds or even thousands of renters, making it challenging to keep track of renewal dates, complaints, maintenance requests, and more.
Implementing an ERP system in the real estate sector streamlines operations by consolidating all tasks into a single system, eliminating manual tracking. With ERP software, economic management becomes effortless, providing comprehensive insights into your company's financials.
Access cash flow, balance sheets, and profit/loss statements conveniently to get a detailed overview of your business's financial status.
Moreover, the ERP system enables you to efficiently track rent payments and outstanding balances, identify contractors with pending payments, and take appropriate actions. Furthermore, it simplifies routine tasks such as project management, shipment tracking, and procurement processes.
Also, read: Business Central Cloud vs. On-Premise: A Comprehensive Comparison of Features and Pricing
Top 10 ERP Software for the Real Estate Industry  
Mentioned below is a curated selection of the top 10 ERP software companies for the real estate industry. Each software offers premium solutions aimed at optimizing business operations and management in the real estate sector.    

Copy Infographic
1) Microsoft Dynamics 365 Business Central   
For SMEs, Business Central is a complete cloud-based business management system. It automates and streamlines various business processes, offering features such as reporting, analytics, manufacturing management, and sales management.
With Business Central, users gain convenient access to business information from any device, anytime, and anywhere.
As a Microsoft ERP product, it provides a user-friendly interface, seamless integration with other Microsoft products like Power BI and Project Server, ensuring a familiar and efficient user experience.    
Industry experts rank Microsoft Dynamics 365 as the best option for enterprise resource planning. Microsoft Dynamics provides a variety of ERP products, some of which are listed below:    
Utilizing AI technology, speed up your sales activities.  
Marketing that uses artificial intelligence to tailor the customer experience. 
Customer service, field service, and remote assistance services are all streamlined. 
Better management, analytics and insights powered by AI, intelligent order management, etc. are all benefits of the supply chain. 
Solutions for project management that integrate key business procedures into a single application. 
2) Acumatica
Acumatica stands as a prominent cloud-based ERP solution, offering comprehensive accessibility via mobile devices, offering real-time visibility of your business from any location.
Particularly advantageous for real estate organizations, Acumatica prioritizes billing and people-centric business processes.
With its financial management, billing, and human resources capabilities, it provides a cost-effective solution for small and mid-sized enterprises, featuring online and cloud-based company administration software. 
3) Oracle NetSuite   
NetSuite ERP, acquired by Oracle Corporation and now marketed by them, is a robust software solution specifically tailored for real estate operations.
It offers comprehensive capabilities to streamline and optimize various processes, including property creation, tenant management, contract creation, rent collection, and revenue recognition.
With its scalability, NetSuite ERP efficiently addresses the specific needs of real estate businesses, enhancing their operational efficiency and effectiveness.    
4) ERPNEXT    
ERPNext is a versatile open-source real estate ERP software platform empowering developer to create highly customizable solutions to cater to diverse business needs.
With its cost-effective nature, as there are no additional license fees, ERPNext is particularly well-suited for start-ups and small-to-medium enterprises. Its user-friendly design ensures simplicity and efficiency, enabling businesses to accomplish their objectives seamlessly.
This comprehensive ERP system integrates all essential functionalities while offering trouble-free application, integration for enhanced productivity. 
Also, read: Supercharge Your Business with Drop Shipment in Business Central: A Step-by-Step Guide
5) BrokerMint 
Brokermint is a user-friendly real estate ERP software that offers seamless integration with MLS and CRM systems. By consolidating listings, transactions, and contacts into a single system, it streamlines business operations.
This ERP software provides the ability to categorize contacts into groups, facilitating efficient communication management.
With advanced features like administrative account control, financial compliance assessment, calendar-based activity scheduling, and automatic email alerts, Brokermint empowers real estate professionals with enhanced control and productivity. 
6) RealSpace 
RealSpace is a comprehensive real estate platform that empowers agents, brokers, property managers, and developers with enhanced control and growth opportunities.
Its intuitive web-based interface seamlessly integrates customer communications, sales, marketing, transactions, and accounting functionalities.
With simplified property listing management, RealSpace enables the creation of visually appealing brochures that align with your brand.
Customizable workflows ensure efficient lead tracking and control, facilitating smooth client management from initial contact to successful sales.
Automated timelines optimize returns, delivering a professional and seamless experience for real estate professionals. 
7) Buildium 
Buildium software revolutionizes property management companies by enhancing their effectiveness and efficiency. It serves as a comprehensive solution that enables property managers to expand revenue by connecting with local property owners.
With real-time data and advanced features, this tool optimizes day-to-day operations for real estate professionals. It simplifies accounting tasks and seamlessly integrates with other digital tools in the real estate sector.
Accessible through a limited demo, Buildium offers complementary features to streamline and elevate property management processes. 
8) Deskera 
Deskera empowers real estate organizations of all sizes to automate processes and meet customer demands efficiently.
Built on a robust Cloud infrastructure, this software enables comprehensive management of finances, sales tracking, and human resources from a single intuitive dashboard.
With its advanced capabilities, Deskera facilitates the creation of financial reports, purchase orders, inventory management, and online billing.
Its scalability allows it to handle a large consumer base while delivering prompt and reliable service. Streamline operations and meet business requirements seamlessly with Deskera's comprehensive suite of real estate management tools. 
9) StrategicERP 
StrategicERP is a highly adaptable cloud-based real estate ERP software, specifically designed for the real estate, construction, and infrastructure sectors.
With its comprehensive start-to-end process automation and advanced information management system, StrategicERP helps in informed decision-making.
Tailored to meet the unique requirements of the real estate and infrastructure industries, this innovative solution offers modularized technology and end-to-end business solutions.
Experience improved efficiency and effectiveness in managing your real estate and infrastructure projects with StrategicERP. 
10) TYASuite 
TYASuite is a cloud-based enterprise resource planning system specially designed for the real estate market. It offers a centralized platform for managing sales orders, suppliers, projects, and stocks.
With its robust features, TYASuite enables businesses to automate the entire procurement process, from optimizing purchase requests to processing invoices and payments.
This software is customizable to meet specific company requirements, reducing time and minimizing errors while ensuring process automation and regulatory compliance.  
Also, read: Guide on Migrating Your Legacy Data to Dynamics 365 Business Central 
Advantages of ERP software in real estate
Real estate ERP software implementation ensures success and growth by providing numerous benefits that give you a competitive edge. The advantages of utilizing ERP software in the real estate industry are various, including: 
1) Compliant management 
Strict adherence to rigorous standards and legal compliance is important in the real estate industry to maintain your professional license and establish unwavering credibility. 
2) Better Efficiency 
Implementing ERP software in businesses brings operational streamlining through the automation of repetitive tasks and the establishment of a centralized data hub. This leads to improved efficiency, minimizing manual errors and boosting accuracy. 
3) Real-time Insights 
Enterprise Resource Planning (ERP) software empowers businesses with real-time analytics including financial performance, project advancement, and customer behavior.
Leveraging this data-driven decision-making capability, businesses can gain a distinct competitive advantage in the market. 
4) Scalability 
ERP software offers scalability, ensuring seamless growth alongside the business. It can be tailored to adapt to evolving requirements as the business expands, ensuring a customized solution. 
5) Collaboration 
Centralizing information through ERP software enables a shift towards collaborative management over top-down approaches. By enabling access to information, teams become autonomous, efficient, and driven toward excellence. 
6) Better Customer Service 
By leveraging ERP software, businesses can boost customer service through a detailed understanding of customer interactions. This empowers the delivery of personalized experiences that effectively meet different customer needs. 
Also, read: How can Business Central help you build your Business?
Conclusion
Every real estate business strives to deliver high-quality services and meet customer demands promptly. Utilizing ERP software can streamline operations and enhance efficiency. Among the top real estate ERP software available in the market today are Oracle NetSuite and Microsoft Dynamics 365 Business Central, which offer comprehensive solutions that meet various business management requirements without extensive customization.
These real estate tools can be stand-alone applications or all-in-one platforms, providing effective means to enhance lead generation, conversion, and closing rates. When picking the right solution, consider your team's preferences, team size, and existing technology to ensure a well-informed decision. 
For those seeking to optimize their real estate business, Cynoteck offers tailored solutions that streamline operations. We have a team ready to answer any inquiries you may have. Schedule a demo or speak with our experts today to explore how we can help you. 
Also, read: Conquer Security and Disaster Recovery Challenges with Microsoft Dynamics 365 Business Central SaaS
FAQs (Frequently Asked Questions)
1) What does an ERP mean in the real estate sector?
ERP Software for the real estate industry is a comprehensive management solution that improves planning, cost management, and risk assessment during project execution. Its primary purpose is to simplify real estate project management and monitor business growth effectively.  
2) What are the most widely used ERP systems?
Among ERP vendors, Microsoft Dynamics 365 and Oracle NetSuite stand out as highly popular enterprise resource planning tools. These platforms effectively manage different business functions, including human resources, finances, project accounting, and services.  
3) How is an ERP different from CRM?
In the domain of business management, the significance of enterprise resource planning (ERP) software cannot be overstated. It serves as a pivotal tool by seamlessly integrating operational and financial aspects into a unified, centralized database. Conversely, a customer relationship management (CRM) system takes a distinct role by specializing in the careful management and cultivation of customer interactions and relationships, contributing to sustained business growth.  
4) How can you choose a good Real Estate ERP system?
Choosing the optimal real estate ERP system is a straightforward process. It involves opting for software that offers a comprehensive range of features to effectively manage your business operations. Cynoteck's Real Estate ERP Software – Microsoft Dynamics 365 Business Central stands out as a top-notch solution in the industry. It boasts numerous advantages, including unlimited user access, streamlined real estate project management from a single dashboard, efficient financial account management, and a host of other beneficial features.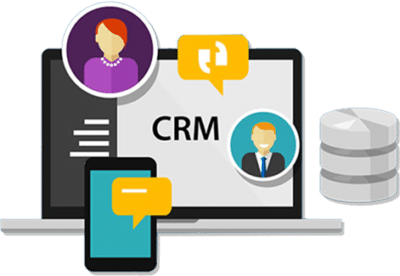 Microsoft Dynamics 365 Business Central is an all-in-one ERP business management solution that helps you connect your financials, sales, service, and operations to streamline business processes. Connect our team if you are interested in implementing Dynamics 366 business central in your business.