The real estate sector has a history of adapting to evolving trends. To keep up with the advancement there have been numerous changes not just in real estate but all-over different industry domains. Over the years, real estate sector has witnessed significant transformations driven by technological advancements and shifting market dynamics.
In this fast-paced and ever-evolving landscape, real estate agents must adapt to stay competitive and serve their clients effectively. Artificial Intelligence (AI) stands as an asset in their toolkit, offering substantial power and potential.   
AI has rapidly become a notable change in the real estate sector, offering innovative solutions that can streamline operations, enhance customer experiences, and provide valuable insights into market trends. In this blog, we will explore different innovative AI tools that empower real estate agents to keep up with the evolving market and thrive in it.  
From predictive analytics to virtual property tours, these tools are making the way real estate professionals work, enabling them to make more informed decisions and deliver exceptional results for their clients.  
Let us start and dive into the world of AI for real estate agents and discover how these tools can shape the future of the industry. 
Artificial Intelligence vs. Machine Learning 
Artificial intelligence, which can think and learn like humans, is still a dream. We have smart computer programs that are good at analyzing lots of information to make educated guesses about the future, especially in real estate. 
These computer programs help real estate agents answer questions from clients quickly and help real estate companies advertise properties more accurately. They are like super-smart assistants that make things run smoother in the real estate business.  
AI Transforming Real Estate 
AI is revolutionizing the real estate industry by optimizing operations and enhancing customer experiences.
Machine learning algorithms analyze vast data sets to predict market trends and property values, empowering agents, and brokers with valuable insights.
Chatbots and virtual assistants also streamline customer interactions, offering quick responses and personalized recommendations.
AI is fundamentally reshaping how real estate professionals operate and serve clients. 
Also, read: Top 10 Real Estate ERP Software for Enhanced Efficiency
Generative AI for Real Estate Agents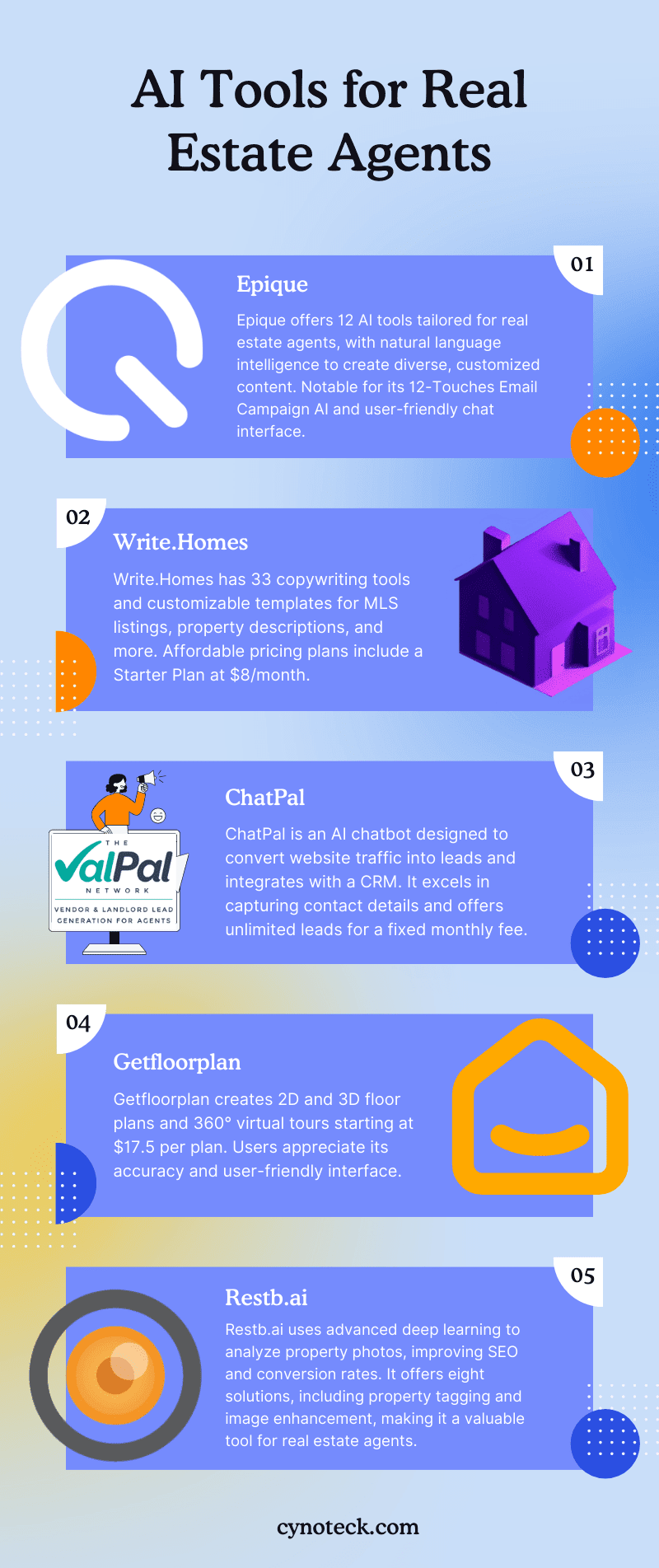 1.  Epique
Our top recommendation for AI tools tailored to real estate agents is Epique, which describes itself as an "artificial intelligence-powered platform for modern brokers." It offers a suite of at least 12 AI tools designed to lighten the load of real estate agents when it comes to various copywriting tasks.  
What truly sets Epique apart is its natural language intelligence, which allows it to create diverse content customized to specific objectives.
Epique content-generation capabilities are well worth exploring. For instance, the 12-Touches Email Campaign AI, not only understands directives related to word limits, email frequency, and tone of communication but also ensures that agents' messaging aligns with their unique style and branding. 
Furthermore, Epique's user-friendly chat interface provides valuable guidance throughout the process, posing pertinent questions about email sequence frequency, making it especially beneficial for newcomers to generative real estate AI. 
Prompts can be challenging:
It is worth noting that the chatbot within Epique may occasionally struggle to fully grasp complex prompts, so it is imperative to provide clear and direct instructions to overcome this minor hurdle.
Although the user interface could benefit from some enhancements to match the intuitive experience of ChatGPT, we remain optimistic that these concerns will diminish as more users join the platform. 
Also, read: 14 Best CRM for Real Estate Agents to Improve Their Productivity and Sales
2.  Write.Homes
Write.Homes is a comprehensive content creation platform tailored specifically for real estate professionals. This platform offers an impressive array of 33 natural language copywriting tools, thoughtfully categorized into seven distinct sections. 
When selecting an AI writer tool, such as the Video Script Writer, users begin by specifying their requirements.
This involves providing details like the video concept, preferred language, desired level of creativity, the number of generated results, and maximum result length.
Initially, Write.Homes allows for the generation of up to 1,000 words at no cost, and beyond that,  
Price plans:  
It offers affordable pricing plans: 
Starter Plan: Priced at just $8 per month, it provides access to 18,000 words. 
Pro Plan: An economical option at $18 per month, offering 50,000 words. 
Agency Plan: Tailored for larger-scale needs, the Agency Plan grants access to 1 million words per month at a reasonable price of $85. 
Write.Homes stands out from other real estate AI tools like Epique thanks to its supplementary features aimed at enhancing the content creation process for real estate professionals.
These features include customizable templates for MLS listings, property descriptions, social media posts, and blog articles.  
AI-powered content optimization:  
The platform also incorporates AI-powered content optimization tools to enhance clarity, coherence, grammar, and spelling. Additionally, Write.Homes support text translation into multiple languages and provide strategic assistance with the generation of negotiation strategies, contract analysis, and action plans. 
Write.Homes lacks a chatbot interface, which has gained popularity recently. While this means you may miss interactive AI dialogue and real-time feedback, Write.Homes compensates for this with an array of predefined criteria that you can set before inputting information (e.g., property type, text length, tone of communication, etc.). 
Write.Homes offers an extensive range of features designed to cater to the specific needs of real estate writing, making it a valuable investment. However, if you prioritize a chatbot interface, platforms like Epique, ChatGPT, or our next tool, ChatPal, may be better suited to your requirements. 
3.  ChatPal
ChatPal introduces AI for real estate leads, designed to convert website traffic into valuable leads and instructions for real estate agents.
This chatbot can be seamlessly integrated into a brokerage's website to address common scenarios involving landlords and vendors. Notably, ChatPal is not designed for tenant-related interactions. 
ChatPal's brilliance lies in its meticulously crafted scripts, strategically designed to capture essential contact details, equipping agents with a wealth of potential leads to nurture and follow up with.
Furthermore, the chatbot's intelligence can extract information from conversations and seamlessly integrate it into a CRM, facilitating further human interactions. 
For a modest fixed monthly fee, agents gain access to an unlimited number of leads, and the option to integrate ChatPal with Facebook provides additional exposure and reach.
ChatPal's straightforward artificial intelligence and intelligent algorithms for capturing potential client data, integrated into a commercial real estate CRM, make it a promising tool for agents looking to enhance their lead generation efforts.
Also, read: Generative AI in E-commerce: All you Need to Know
4.  Getfloorplan 
Price: Starting at $17.5 per floor plan (Paid) 
Type: AI-driven tool for converting 2D to 3D space plans 
The platform Getfloorplan.com introduces a cutting-edge AI tool tailored for real estate professionals, offering capabilities that transcend conventional floor planning.
This innovative solution empowers agents to effortlessly generate both impressive 2D and 3D floor plans while also creating immersive 360° virtual tours to enrich their sales strategies.
The process is straightforward: simply upload a floor plan sketch or photo, and within one business day, receive a fully realized 3D floor plan and a captivating virtual tour. 
Users widely appreciate Getfloorplan for its accuracy and easy-to-use interface. Many have found it helpful to sell their homes faster through the virtual tours it creates.
Nonetheless, a few users have pointed out occasional delays in the process, which may not consistently reflect real-time estimates.
Another common user request is the option to personalize the floor plans by adding their own furniture.
It is worth noting that these concerns become less significant when you consider the challenge of creating a detailed, furnished 2D floor plan or a captivating 3D tour in just one day independently. 
5.  Restb.ai
Restb.ai is a helpful AI tool designed for real estate agents. It can analyze information in property photos to address tricky real estate issues.
Using advanced deep learning technology, the AI algorithm tags describe, and categorize property photos to improve SEO and increase conversion rates. 
Restb.ai provides eight solutions to improve your business. These solutions include: 
Property Tagging 
Image Enhancement 
Floor Plan Generation 
Room Detection 
Watermark Detection 
Object Detection 
Image Similarity 
What sets this platform apart is its remarkable ability to 'comprehend' images, discerning intricate details in a manner akin to humans.
A prime illustration of this is its property tagging functionality, which can extract specific property details from a photo and present them in a meticulously crafted description.
This AI tool is useful for property managers and agents who deal with property listings regularly. 
Restb.ai has a unique feature for assessing property conditions using photos. It can rate a home's condition, quality, and potential based on property photos, using an Automated Valuation Model developed in collaboration with real estate experts in valuation, insurance, and appraisal fields. 
Regarding pricing, we did not find any details on their website. You can reach out to them directly through their website for pricing information. 
The platform's functionality and the advancement of its image analysis intelligence really exceeded expectations. This tool handles all image-related responsibilities essential for a real estate agent, spanning from creating property listings to enhancing photos and conducting property assessments.  
Also, read: Generative AI for Sales: How Can Sales GPT Transform your Sales Strategy?
Will AI Replace Real Estate Agents?
While AI is innovatively reshaping the property industry, the notion of AI completely replacing real estate agents seems unlikely. It will require too many augmentations until the tool can replace any job at all. 
Nonetheless, given the rapid growth and groundbreaking collaborations undertaken by OpenAI, the organization behind the renowned chatbot, these advancements may materialize sooner than expected. 
Integrating natural-language AI capabilities is poised to become a standard practice in most enterprise software, and the real estate technology sector is no exception.
While the true potential of AI in real estate is still unfolding in its introductory and testing phases, the market will experience substantial transformations within the next five years.
Those who do not adapt to these changes may encounter adverse consequences in a fiercely competitive landscape. 
Certain professions and their roles will need to be redefined to align with the emerging industry norms.
For instance, real estate content managers, responsible for maintaining listing websites and a company's social media accounts, may shift toward content management and potentially require proficiency in AI-based content generation methods.
This transition could potentially impact their remuneration as it reduces the level of human effort required. 
It is evident that the trend toward natural-language AI capabilities is a lasting one, poised to exert a significant influence on the real estate technology sector and beyond.
As businesses and professionals adjust to the evolving landscape, we anticipate the emergence of fresh opportunities alongside novel challenges to confront. 
Also, read: Generative AI in Healthcare: Enhancing Patient Engagement and Beyond
Essential Insights for Real Estate Brokers and Agents
The rise of artificial intelligence (AI) has cast a spotlight on its transformative potential within the real estate industry. This technology promises to reshape the way agents, brokers, and clients navigate the intricate landscape of property transactions.
The capacity to gather, process, and derive insights from massive datasets heralds a future where real estate professionals become more efficient, brokers adopt strategic approaches, and clients experience the buying and selling process with significantly reduced uncertainty. 
1.  Enhancing the Home Search for Clients 
Ever since property listings found their home on the internet, homebuyers have enjoyed the convenience of refining their searches by specifying attributes like location, price, square footage, and the number of bedrooms.
However, this digital convenience often presents house hunters with a sea of options, leaving them overwhelmed or filtering out suitable properties that do not neatly fit their preconceived criteria.
Machine learning has emerged as a solution to this conundrum, as it adeptly analyzes an individual's search behavior to paint a more accurate picture of their actual desires. 
Several forward-thinking firms have developed AI applications capable of serving as conversational interfaces, assisting customers with a wide array of questions, both simple and complex. 
2.  Identifying Valuable Client Leads for Agents 
AI technology offers a potent tool to aid agents in identifying their ideal clients. Some systems harness Natural Language Processing (NLP) to distinguish high-value, human-to-human interactions from those of lower importance.
This precision-focused approach empowers specialty agents, such as hyper-local experts, to narrow down the field of potential clients who align with their niche or specific area of expertise.
Machine learning has elevated the process, allowing programs to accurately pinpoint clients actively seeking an agent. In fact, agents may only pay for leads that culminate in a successful deal, thanks to the high precision of these prequalified leads. 
3.  Eliminating Bias in Agent Recruitment 
AI and machine learning provide brokers with a competitive edge in the recruitment process.
These technologies conduct deep market analysis, revealing areas with the most robust demand, identifying underserved markets, and predicting where future growth is expected.
Consequently, brokers and team leaders can confidently make informed decisions about expansion and new hires. 
One notable advantage of AI in recruitment is its ability to eliminate emotional bias from the agent selection process.
By relying on data and objective analysis, AI facilitates the recruitment of agents who are best suited to thrive in their designated niches. 
4.  Refining the Transaction Process
While platforms like dot loop presently employ sophisticated algorithms to power their comprehensive end-to-end solutions, data scientists are pushing the envelope by incorporating machine learning into transaction processes.
The overarching objective is to facilitate seamless, surprise-free experiences for clients. Machine learning contributes to faster closing times, more intelligent mobile applications, robust compliance checks, detailed reporting, and the automation of data entry, reducing the risk of errors. 
These advances enable brokers and teams to gain a deeper understanding of their performance through smart, comprehensive reports. 
5.  Predicting Property Appraisals and Market Values 
AI technology, drawing upon Customer Relationship Management (CRM) and marketplace data, shows promise in enhancing the accuracy of property value predictions within specific markets.
By synthesizing data from various sources, such as transportation, crime rates, school quality, and marketplace trends, AI empowers agents and brokers to provide more reliable forecasts for potential buyers.
This increased predictability instills confidence in buyers, especially those who view a new home as a significant investment. 
The advent of artificial intelligence within the real estate industry empowers agents to focus on their human skills—nurturing relationships, employing intuition, and leveraging creativity—all of which lie beyond the purview of machines.
AI, rather than replacing human agents, serves as a valuable partner in navigating the complexities of real estate transactions. It optimizes efficiency, accuracy, and strategic decision-making, creating a brighter, more certain future for all stakeholders in the real estate ecosystem. 
Also, read: Salesforce for Real Estate: Possible uses and scenarios
Why Machine Learning Matters for Real Estate?
In the real estate realm, competitiveness hinges on embracing innovative technology. This data-rich field necessitates technological prowess for quick lead generation and expedited transactions. 
Enterprises with foresight are capitalizing on machine learning to their advantage, yielding top tier leads, streamlining transactions, and optimizing hiring practices. While real estate maintains its conventional facets, AI innovations are reshaping industry operations.
Concerns over technology depersonalizing interactions exist, yet experts contend otherwise. Technology allows agents to concentrate on their human-centric roles: cultivating relationships, unleashing creativity, and leveraging intuition—domains beyond the reach of computers. 
No matter how sophisticated AI grows, computers remain incapable of replicating the indispensable qualities clients seek in agents: empathy, negotiation finesse, storytelling, and adaptability.
Deploying machine learning tools demands resources, but our objective is to ensure accessibility to as many brokerages and teams as possible. Their triumph equates to our success. 
Conclusion
The utilization of Artificial Intelligence (AI) can provide real estate agents with the tools and insights they need to streamline their operations, improve customer experiences, and drive higher sales. 
By partnering with Cynoteck, you can harness the power of AI to supercharge your real estate business, increase efficiency, and provide exceptional service to your clients. Stay ahead of the competition and unlock new opportunities with Cynoteck's AI solutions. Contact us today to learn more about how we can transform your real estate business for the better. 
Also, read: Hospital Inventory Management Software: Best Practices, Features, and Platforms
Frequently Asked Questions: 
Q. How can AI help real estate agents in their day-to-day operations?
AI can automate tasks like responding to client inquiries, analyzing market data for trends, assisting in lead management, saving agents time, and improving efficiency.  
Q. Are AI-powered tools suitable for both residential and commercial real estate agents?
Yes, AI tools can benefit both residential and commercial agents. They offer solutions for property valuation, lead generation, and customer engagement, which are relevant across various real estate sectors.  
Q. Do I need specialized technical knowledge to use AI tools in real estate?
No, many AI tools are user-friendly and designed for real estate professionals. Training and onboarding are typically provided by the tool providers to ensure smooth adoption.  
Q. Are AI tools expensive to implement for individual agents or small real estate firms?
The cost of AI tools varies, but many affordable options cater to individual agents and small firms. The long-term benefits, such as increased productivity and improved client satisfaction, often outweigh the initial investment.  
Q. How can I stay updated on the latest AI developments in the real estate industry?
You can stay informed by following industry news, attending real estate technology conferences, and joining online forums and communities dedicated to AI in real estate. Additionally, consult with AI solution providers for updates and insights.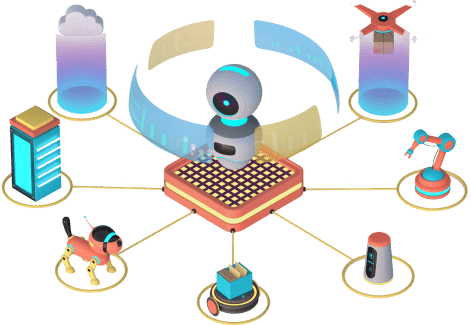 Planning to Leverage AI for your business? We provide AI Consulting to help organization implement this technology. Connect with our team to learn more.