"Achieve seamless flow of multiple business processes while utilizing Salesforce's full functionality by leveraging robust Salesforce integration options. Discover the best Salesforce integration options outlined in this comprehensive article, empowering you to make informed decisions and optimize your operations for maximum efficiency."
In the era of digital transformation, the exponential growth of data across multiple sources such as CRMs, ERPs, IT systems, mobile apps, and custom applications cannot be ignored. Effectively utilizing this vast amount of data to gain insights, drive productivity, and optimize operations poses a significant challenge.
In this context, establishing secure and seamless integration between internal and external business systems becomes important. It enables the resolution of data inconsistencies, irregularities, duplication, and other issues that arise across departments and with customers.
Across various industries, numerous firms rely on diverse technologies to enhance their operations and extend their reach. Some of the best Salesforce integrations, in particular, have emerged as among the top solutions for businesses seeking optimized outcomes.
As an industry-leading CRM solution, Salesforce offers unparalleled capabilities for effective customer relationship management and improvement. Salesforce facilitates collaboration, document sharing, and email campaign creation by seamlessly integrating with different applications.
Leveraging Salesforce integrations can help you to effortlessly connect internal and business tools, delivering connected experiences to users, employees, and stakeholders.
These integrations unlock plenty of benefits, including increased productivity, improved customer experiences, and a comprehensive view of customer interactions. Harness the power of Salesforce CRM integrations to drive your business forward with agility and scalability.
In this blog post, we will discuss the top 15 Salesforce integrations in 2023, carefully curated to provide your business with a competitive edge. Furthermore, we will explore how Salesforce's best integrations can revolutionize your perspective on information sharing, accessibility, and collaboration across different systems and channels.
Salesforce CRM: Basic Overview
Salesforce CRM is a leading customer relationship management platform that empowers businesses with a comprehensive suite of features and tools to optimize sales processes and effectively manage customer data.
With Salesforce, organizations can seamlessly capture, evaluate, and organize leads, efficiently close deals and manage customer experiences. This powerful platform simplifies and standardizes business operations, offering a seamless and intuitive interface for sales and marketing teams to improve productivity and drive business growth.
Salesforce is a powerful CRM platform, but its integrations can further expand its functionality. By enabling seamless automation of important activities, these integrations increase Salesforce's functionality.
Businesses can fully utilize Salesforce's capabilities and benefits by integrating it with other business-critical systems and platforms.
These integrations allow for seamless data transfer and extensive automation, which improves operational effectiveness and decision-making.
Explore the different integration options for other programs and systems to integrate with Salesforce and improve your business processes and promote success.
Also, read: Salesforce Integration Best Practices: Avoiding Common Mistakes
What are Salesforce Integration Services?
Salesforce integration services are defined as the processes and technologies used to connect Salesforce with various third-party applications and systems. This may include tools such as marketing automation software, customer service platforms, accounting programs, etc.
These integrations allow for smooth data transfer and synchronization. By utilizing these services, businesses can streamline workflows, automate processes, and ensure smooth data transfer across multiple platforms.
The integration of Salesforce with other systems furthermore improves productivity, improves operational efficiency, and empowers enterprises to make informed decisions based on consolidated data.
Boost your business efficiency with our expert Salesforce Integration Services.
Streamline your operations, enhance collaboration, and unlock the full potential of Salesforce.
How Does Salesforce Integration Work?
Salesforce integration empowers businesses to automate a wide range of manual tasks and procedures, unlocking improved efficiency and productivity. With over 2,500 integrations and applications available, Salesforce offers a robust ecosystem that allows you to further extend its already impressive functionalities.
You can explore and access over 4,000 apps and add-ons on AppExchange, a trusted marketplace. All these apps seamlessly integrate with your Salesforce organization. This vast array of options enables you to tailor your Salesforce to meet your specific business needs and optimize your operations.
Businesses may encounter a wide array of tools that necessitate expert Salesforce integration services or the development of custom middleware solutions. These tools could encompass various systems and add-ons, demanding specialized expertise to establish seamless connections and optimize functionality.
With the vast ecosystem of Salesforce and the diverse range of business requirements, partnering with integration experts becomes crucial to ensure successful integration across all necessary platforms.
Here are a few of the most popular methods for integrating Salesforce with other systems:
API Integration: This works by establishing a connection through code between different applications.
Native Integration: Integrations of this type are supported by the application or software you are using and are planning to integrate with Salesforce.
Third-Party Integrations: These integrations are accessible through external platforms but are not built into the software or program that you are currently using.
Bi-Directional Integrations: Helps in connecting different data sets to function as a single entity.
Also, read: Common Salesforce Integration Challenges And How To Overcome Them
Types of Approaches Used for Salesforce Integration
The Salesforce integration process can be completed using one of two ways:
1) App-based Salesforce Integration
App-based Salesforce integration includes the usage of pre-built integrations or applications to connect Salesforce with other systems or services. Referred to as "apps," these integrations can be easily installed and configured within the Salesforce platform, providing seamless connectivity and improved functionality.
This approach simplifies the integration process and allows businesses to leverage the capabilities of different systems and services through the extensive library of Salesforce apps available.
App-based integrations offer a convenient method for connecting Salesforce to other systems due to their ease of setup and usability.
However, it's important to note that these integrations may not fulfill all of your specific integration requirements. This limitation is because of their lack of flexibility compared to custom integrations.
Salesforce offers a wide variety of app-based integrations that cover a broad range of systems and services. A few examples of this type of integration include Marketing automation tools, Project management platforms, E-commerce platforms, Social media networks, HR systems, etc.
2) Code-based Salesforce Integration
To establish a code-based integration, you will need the expertise of a developer well-versed in both Salesforce and the target system for integration.
Unlike app-based integrations, code-based integrations offer greater flexibility and customization options. They allow you to create customized integrations tailored precisely to your business requirements.
However, it is important to note that code-based integrations necessitate additional development resources, expertise, and ongoing maintenance compared to app-based integrations. Therefore, their setup and maintenance may involve more time and effort.
The following are some of the primary advantages of a code-based Salesforce integration with the help of Apex:
An easy-to-understand and simple-to-use language.
Provides built-in lightning support.
Appropriate for various API versions.
Top 15 Salesforce Integrations for Sales and Marketing Businesses
Today, Salesforce is trusted by over 100,000 organizations globally to drive their sales, marketing, and customer service endeavors. While Salesforce itself offers robust functionality, integrating it with other platforms can enhance its effectiveness even further.
With an abundance of integration options available, we have precisely picked the 15 best Salesforce integrations that cater specifically to the sales objectives and operational streamlining requirements of small and medium-sized businesses.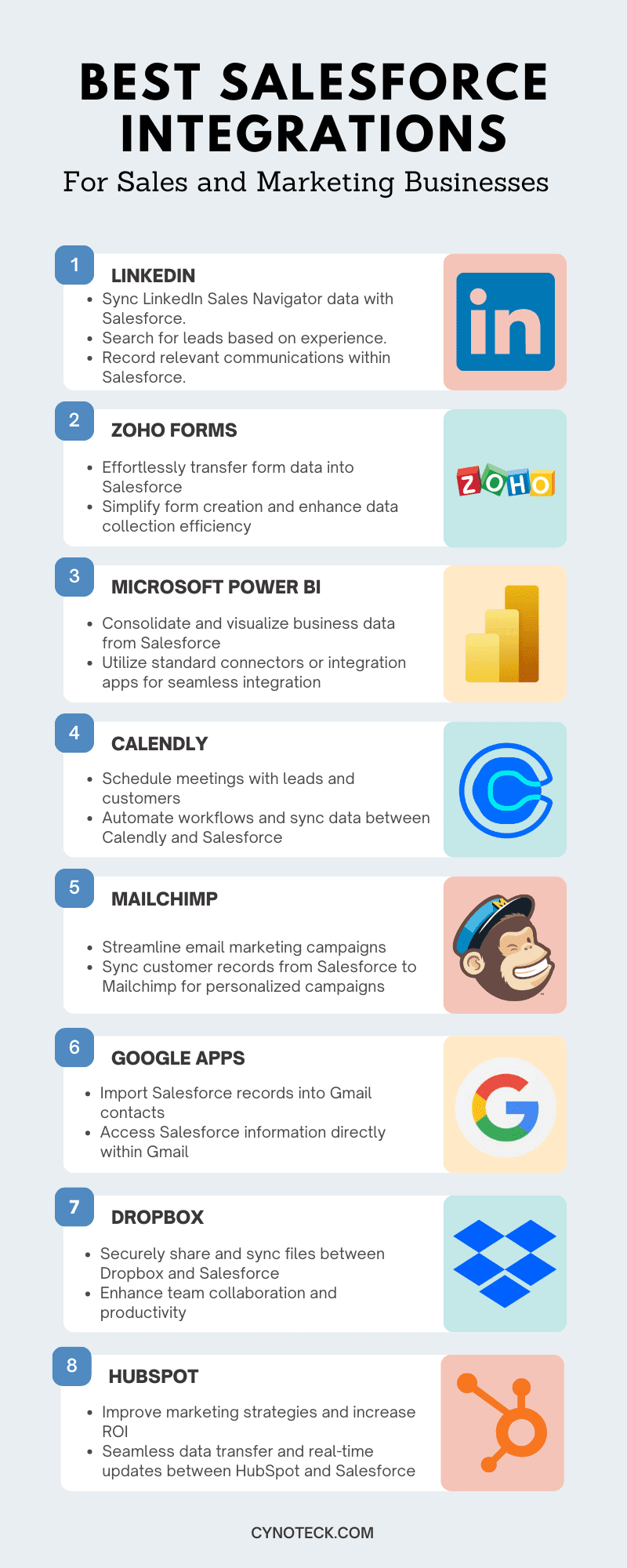 Copy Infographic
1) LinkedIn
LinkedIn, a highly popular social networking platform for promoting professional connections, offers numerous integration options to improve its functionality.
Whether through native integration, third-party integration, or API integration, LinkedIn seamlessly integrates with various programs like Salesforce, enabling a synergistic approach that yields greater benefits.
By integrating LinkedIn with Salesforce, your sales team can leverage the power of synchronized data, ensuring that LinkedIn Sales Navigator data and Salesforce data are always aligned.
This integration empowers your team to search for leads based on experience and effortlessly record relevant communications within Salesforce, facilitating more effective and targeted engagement.
AppExchange integration provides a seamless connection between Sales Navigator and Salesforce, allowing users to effortlessly incorporate all Sales Navigator data into their Salesforce platform.
This integration furthermore enables essential functionalities such as logging InMail messages and importing contacts directly into Salesforce. By leveraging the power of this integration, Sales Navigator can leverage customer data available within the software to suggest leads, enhance sales processes and drive better results.
The Salesforce LinkedIn Integration offers robust filtering capabilities and the capability to create account personas, providing users with a comprehensive and efficient overview of their accounts. By leveraging these features, businesses can effectively capture more leads, track opportunities, and enhance sales management.
Price: $99 a month at first, however, you can use Sales Navigator for free first.
2) Zoho Forms
Zoho Forms is a very intuitive platform that offers an easy-to-use interface and a vast library of customizable templates. It provides a hassle-free solution for creating forms that can be easily shared online or offline using scannable QR codes.
With its user-friendly features and flexibility, Zoho Forms simplifies the process of form creation and enhances data collection efficiency.
This integration with Salesforce enables professionals to seamlessly sync their data for various content creation purposes. By using this integration, you can effortlessly formulate surveys, forms, and data-driven notes within Salesforce, eliminating unnecessary steps and ensuring a streamlined workflow.
By leveraging the powerful Zoho Forms-Salesforce integration, you can effortlessly transfer form data into corresponding Salesforce objects whenever a form is submitted. To make use of this integration, it is important to have API access enabled by your Salesforce administrator.
The multiple Zoho Forms submissions that can be sent directly to Salesforce include Accounts, Leads, Contacts, Opportunities, and Customized Items.
Also, read: Zoho vs Salesforce: Which CRM is Better for Your Business?
3) Microsoft Power BI
Power BI, a robust business intelligence tool, offers a comprehensive solution for consolidating and visualizing business data. Integrating Power BI with Salesforce improves reporting and analytics capabilities while providing valuable insights in a centralized platform.
There are multiple methods to achieve this integration. One approach involves leveraging the two standard connectors available in Power BI, specifically designed to establish connections with diverse data categories.
By integrating Salesforce Objects and Salesforce Reports with Power BI, you can seamlessly transfer data from your Salesforce account to Power BI for analysis and visualization. These connectors facilitate the movement of data from Salesforce to Power BI, enabling you to leverage the power of Power BI's robust reporting capabilities.
Furthermore, you can also use the Power BI dashboard within the Salesforce app, accessible through Salesforce AppExchange, to conveniently view your Power BI reports directly within the Salesforce platform.
In addition to the standard connectors, there are alternative methods available for connecting Power BI to Salesforce.
One option is to utilize integration apps specifically designed to facilitate the integration between Power BI and Salesforce.
Another approach is to leverage Microsoft Power BI apps, which are pre-built solutions available in the Power BI AppSource marketplace.
Before establishing the connection between Salesforce and Power BI, it is essential to ensure that you possess the required Salesforce access rights. Verify that you have appropriate user rights to install external applications and make necessary configurations.
4) Calendly
Calendly is an automated tool for scheduling meetings that is designed for business people. Calendly makes it easier and more efficient for your sales staff to schedule meetings with leads, thus integrating Calendly with Salesforce is a no-brainer.
It works by allowing users to specify their preferred availability settings within the solution and share them for simple scheduling with customers, clients, or even family members. It works well for setting appointments and meetings.
To confirm seamless integration between Calendly and Salesforce, simply access the dedicated Calendly integration page and get the Salesforce integration package.
After authenticating your Salesforce account, you can immediately commence automating workflows and synchronizing data between the two applications.
This integration empowers users with automated updates within their Salesforce account whenever meetings are scheduled or canceled through Calendly.
Furthermore, you can conveniently track Salesforce activities directly from your Calendly account by leveraging various search fields such as campaign, period, meeting type, and more.
Pricing: There is a free plan and paid plans start at INR 651.94 per seat per month.
5) Mailchimp
MailChimp is a comprehensive email marketing and automation tool that streamlines marketing tasks. Accessible engagement metrics on Mailchimp facilitate campaign performance evaluation. Moreover, Mailchimp offers robust data analytical tools for studying sales and market data. Enhance marketing automation and gain valuable insights with Mailchimp Salesforce integration.
The Mailchimp Salesforce integration enables personalized campaigns by extracting customer records from Salesforce. The Data Sync feature ensures real-time updates of Salesforce customer data in Mailchimp.
This integration furthermore allows businesses to seamlessly sync and manage their marketing email lists, contact information, and more.
By integrating the two platforms, users can easily segment email lists in MailChimp using synchronized lead data from Salesforce.
Additionally, this provides access to campaign reports and enables the creation of custom queries for enhanced analytics and data insights. Improve your email marketing effectiveness and streamline your marketing efforts with MailChimp-Salesforce integration.
Connecting your MailChimp and Salesforce accounts can be done in three ways: through the AppExchange, third-party integrations like Workato, Zapier, or Segment, or utilizing native integrations or APIs provided by MailChimp and Salesforce.
Pricing: There is a free plan and a paid plan that costs INR 770 per month for 500 contacts.
6) Google Apps
Google Workspace is a powerful suite of business applications and collaboration tools, including Gmail, Drive, Meet, Calendar, and Chat.
For example – with Gmail Salesforce integration, you can import Salesforce records into your Gmail contacts, eliminating the need to switch between platforms.
Additionally, you can access Salesforce information directly within Gmail and effortlessly associate emails with customer records. This integration enhances team collaboration and streamlines workflows.
To seamlessly integrate your G Suite with Salesforce, you have the option to use the native integration features or leverage third-party tools like Zapier, Workato, or Automate.io.
This integration allows for the direct import of contacts and leads data into Salesforce, eliminating the need to switch between multiple applications.
It furthermore enables easy record updates across different software platforms. Also, you can conveniently attach data files from your Gmail directly to Salesforce records for enhanced collaboration and data management.
Pricing: A free plan is also available, while a paid plan for a small business can be purchased for INR 125 per user per month.
7) Dropbox
Dropbox is a secure file-hosting platform designed for efficient collaboration and document storage within organizations. It provides a centralized storage solution for photos and documents, ensuring secure access and easy sharing through private links. With its professional plan, users can securely share files up to 100GB in size.
The Dropbox and Salesforce integration enables secure file sharing and synchronization between the two platforms. Users can import files from Dropbox to Salesforce and vice versa, with two-way integration ensuring file visibility under the relevant contact.
It supports creating files and folders in either application, with automatic syncing across both platforms. This integration enhances team productivity and is ideal for efficient file hosting and sharing.
You can integrate Dropbox with Salesforce using Salesforce AppExchange or third-party tools like Workato or Zapier. This integration allows seamless sharing of Dropbox content with customers directly from Salesforce and enables collaboration with team members within the Salesforce platform.
Pricing: You can choose a free plan, while a paid subscription for a single user starts at INR 978.94 a month.
8) HubSpot
The HubSpot Salesforce integration offers seamless data transfer and coordination between marketing and sales teams. By connecting HubSpot Marketing with Salesforce, businesses can improve their marketing strategies, increase ROI, and achieve better alignment between sales and marketing efforts.
This integration enhances collaboration and ensures the two arms of the business work in unison. This can be best for customer relationship management.
The Salesforce bi-directional integration with HubSpot enables seamless data transfer and real-time updates between the two platforms.
Users can effortlessly send lead information and scores from HubSpot to Salesforce, improving lead management and sales processes.
This integration offers valuable insights by capturing email open rates, website activity, form submissions, and more.
9) DocuSign
Accelerate closing deals with DocuSign for Salesforce! Integrating DocuSign with Salesforce streamlines sales cycles improves close rates, and minimizes paper consumption.
DocuSign Salesforce Integration offers a secure and fully digital eSignature solution within Salesforce. With this integration, you can experience simplified workflows, safe document transmission, and seamless agreement tracking across devices. Now, you can sign agreements and approvals anywhere and anytime.
Streamline document authorization and signing with DocuSign Salesforce integration. This helps you simplify workflow management in Salesforce and enable the sales team to generate Salesforce agreements using DocuSign templates.
Furthermore, it enhances efficiency and productivity in document handling within Salesforce.
10) ZoomInfo
ZoomInfo offers valuable data about businesses to improve sales and marketing efforts. It provides actionable insights to target decision-makers and optimize campaigns.
With features like a native phone dialer and conversation intelligence, ZoomInfo allows analysis of customer interactions, including calls, meetings, and emails. You can maximize sales effectiveness and drive meaningful business outcomes with ZoomInfo.
Integrating ZoomInfo with Salesforce ensures accurate and updated lead records. You can gain comprehensive contact information directly within Salesforce for effective lead generation.
This integration furthermore streamlines search processes by highlighting relevant records based on your criteria, saving time and increasing efficiency.
It allows you to access ZoomInfo data and insights seamlessly within Salesforce, eliminating the need to switch between platforms. Improve your sales and lead management with the ZoomInfo-Salesforce integration. ‍
11) SalesLoft
SalesLoft stands out as the top Salesforce integration for sales engagement. As a robust sales engagement platform, it seamlessly integrates with your CRM to empower your sales team throughout the entire sales cycle.
With bidirectional data syncing, critical information regarding Leads, Contacts, Accounts, and Opportunities remains synchronized and up-to-date across both platforms, providing accuracy and efficiency in your sales processes.
Integrating Salesforce with SalesLoft brings enhanced communication and access to reliable information. The seamless data sync from Salesforce guarantees accuracy, and real-time updates, and eliminates human error for SalesLoft sales teams.
The CRM Sync feature provides a consolidated view of sales activity by automatically recording calls and emails as activities in Salesforce. Streamlining sales engagement, you can create an A/B test call and email sequences to optimize messaging effectiveness.
Pricing: Depending on the package, a single Sales loft license per user, per year starts at $2,000 on an annual contract or $125 to $165 per user, every month.
‍
12) Slack
The Slack and Salesforce integration improves team collaboration and productivity by providing a seamless communication solution. This integration can be achieved through native integration or third-party tools like Zapier and Workato. It optimizes team communication and is ideal for promoting effective collaboration within organizations.
Integrating Slack and Salesforce offers multiple options, including native integration and third-party tools such as Zapier, Workato, and Automate.io. Regardless of the chosen integration strategy, syncing Slack and Salesforce can be accomplished easily.
Pricing: A free plan is offered, and monthly subscriptions begin at INR 218.
13) Zendesk
Zendesk is a cloud-based customer service platform that enables efficient management of customer interactions across multiple channels. Integrating Salesforce and Zendesk can be achieved through pre-built integration or third-party tools, improving customer service capabilities.
The integration between Salesforce and Zendesk enables efficient communication and data visibility between sales and support teams. It streamlines ticket management by automatically reflecting Zendesk tickets in Salesforce, allowing real-time updates on ticket status.
This integration enhances customer relationship management for improved customer satisfaction. Furthermore, Salesforce Zendesk integration streamlines workflows, improving productivity for sales and support teams.
It unifies sales and customer support, providing a holistic view for efficient problem-solving. Support agents can leverage this integrated view to deliver timely and relevant solutions.
14) ActiveCampaign
The ActiveCampaign Salesforce integration improves marketing campaigns by leveraging customer data from Salesforce. It enables targeted automation in ActiveCampaign using Salesforce contacts and automatically adds new leads to Salesforce. This integration optimizes marketing efforts and improves lead management.
Integrating ActiveCampaign with Salesforce streamlines digital marketing campaigns and lead management. It simplifies tracking the sales funnel and automates contact data updates in Salesforce.
This seamless integration improves team efficiency and ensures accurate and up-to-date information for effective campaign management.
15) QuickBooks
The QuickBooks Salesforce integration enables seamless data sharing and synchronization between sales and accounting teams, leading to enhanced efficiency and productivity. By eliminating duplicate data entry and automating data sharing, businesses can focus on driving sales and achieving growth.
By connecting these two applications, businesses can streamline processes, eliminate duplicate entries, and enhance productivity.
This integration offers full transparency into business operations, enabling informed decision-making and identifying areas for improvement. By leveraging the integration, teams can drive better performance, achieve greater efficiency, and maximize their productivity.
This integration furthermore streamlines processes and promotes collaboration between sales and finance departments, resulting in improved operational efficiency and business outcomes.
Boost your business efficiency with our expert Salesforce Integration Services.
Streamline your operations, enhance collaboration, and unlock the full potential of Salesforce.
Why do businesses need to consider the Best Salesforce Integration?
Salesforce is one of the most popular CRM solutions. It is a cutting-edge cloud-based service used by businesses all over the world.
Integrating Salesforce with other systems offers numerous benefits for businesses, enabling streamlined operations and increased efficiency. Some key advantages of best Salesforce integrations include:
1) Easy Access to Data with Centralized Data Management
Integrating Salesforce with other systems centralizes data, improving accessibility for stakeholders and boosting team productivity. You can streamline operations and drive overall business efficiency with this integration.
2) Improved Productivity
Integrating Salesforce with other systems minimizes manual data entry and eliminates duplication, saving time and increasing productivity. This enables businesses to prioritize higher-value tasks and efficiently manage data influx during growth and scaling.
3) Delightful Customer Experiences
Salesforce integration empowers businesses to deliver a seamless customer experience by synchronizing data across systems. Accurate and up-to-date customer information enables meaningful conversations, leading to enhanced customer satisfaction.
By prioritizing customer experience, businesses can drive revenue growth and maximize their earning potential.
4) Improved Communication
Salesforce integration services enable seamless access to business data across on-premise and cloud-hosted software systems, promoting effective communication among cross-functional teams.
By improving collaboration, businesses can improve customer service delivery and achieve higher levels of customer satisfaction.
5) Automated Workflows
Salesforce offers effortless automation capabilities, allowing businesses to streamline workflows and boost productivity.
Through seamless integration with different systems, sales and marketing tasks can be automated efficiently and cost-effectively, reducing the need for manual intervention.
6) Enhanced Reporting
Salesforce integration services empower teams to efficiently gather insights from diverse reports and dashboards.
This enables stakeholders and leaders to make informed decisions quickly, driving effective execution throughout the organization.
7) Cost Savings
Integrating Salesforce with other systems eliminates manual data entry, reduces errors, and drives cost savings, leading to increased ROI.
Also, read: Salesforce SharePoint Integration – How does it help to maximize value from both systems?
Summary
Integrating Salesforce with a wide range of apps improves sales and marketing outcomes, driving business performance and ROI. You can customize campaigns, improve sales processes, and enhance customer communication. This ultimately results in increased revenues and business expansion. You can maximize valuable experiences with leads and customers through the best Salesforce integrations mentioned above.
Contact our Salesforce integration specialists at Cynoteck to optimize your business efficiency. Our Salesforce-certified experts offer comprehensive solutions for native and third-party integrations, ensuring seamless synchronization and overcoming integration challenges. Unleash the full power of Salesforce integrations with our expertise. Get in touch today.
FAQs
1) How many different forms of integration are available in Salesforce and what is API integration?
Salesforce offers a range of integration options, including data integration, business logic integration, user interface integration, point-to-point integration, and more. Additionally, you can benefit from hub-and-spoke integration and enterprise service bus integration (ESB) within the Salesforce ecosystem. Choose the integration method that best suits your business needs for seamless connectivity and enhanced functionality.
Salesforce provides various API integrations, including REST API, SOAP API, Metadata API, Apex REST API, Chatter REST API, and more. These API integrations enable seamless connectivity and data sharing between multiple applications, allowing you to automate tasks and streamline processes. 
2) What systems can we integrate Salesforce CRM with?
Salesforce CRM seamlessly integrates with other applications through AppExchange, providing a streamlined back-end experience for your organization. Experience the benefits of seamless integration and boost your operational efficiency with Salesforce. Easily install apps from AppExchange to improve your Salesforce product and empower your team to start using them right away.
Also, Salesforce offers four data integration patterns: Remote Process Invocation – Request and Reply, UI Update based on Data Changes, Remote Call-In, and Batch Data Synchronization. 
3) How can we check integrations in Salesforce?
You can check a wide range of integrations in Salesforce by navigating to the "All Apps" section. Explore numerous integration options categorized by industry type or specific features to find the ideal solutions that align with your unique business requirements. Streamline your operations and improve productivity by integrating Salesforce with the applications that best fit your needs.
4) Is a Salesforce administrator required to set up the integration?
Salesforce integration is a user-centric process that can be achieved seamlessly with just a single click. Administrators are required for certain tasks like setting up campaigns and editing campaign member statuses, depending on user permissions. Overall, integrating Salesforce is a straightforward and hassle-free process, ensuring a smooth and efficient experience for businesses and users as well.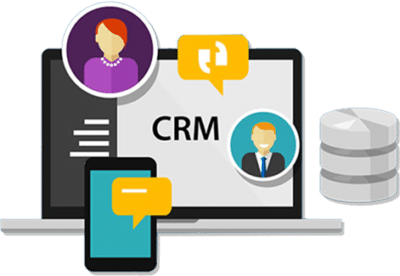 If you are new to automation and confused about Workflow or Process Builder. Need not to worry, we have got you all covered. Talk to our experts and clear all the cloudy thoughts about automation.