Today millions of people use MailChimp to create, track, and send email marketing campaigns – it has now become the primary preference of small businesses. And let us not forgot about the another widely used platform – Salesforce, it is a cloud-based CRM system that allows you to efficiently track and manage the preferences of leads and contacts.
Successfully utilized by several customers from across the world, Salesforce's CRM creates your sales funnel, generates opportunities to bring leads, and also enables you to interact with them on a single 360-degree platform, it serves as an incredible marketing automation tool.
Apps syncing and integration have empowered businesses to maximize productivity while decreasing costs, for example – Salesforce vs MailChimp. Salesforce Mailchimp integration are amongst the modern innovative ways that businesses are now employing to provide a seamless experience for themselves and their customers.
Integrating Salesforce with MailChimp allows you to view and maintain activities of MailChimp campaigns and subscriber lists from Salesforce, plus import Salesforce contacts to MailChimp. You can use Mailchimp subscribers as Salesforce leads, create segments in your Mailchimp list, and simply share data while streamlining communications, all to perfectly engage your consumer base.
This integration of Salesforce to Mailchimp can be analysed as two different concepts utilized to fuel the growth of a company. It empowers you to begin generating email campaigns from the contacts and leads in your Salesforce CRM. With this integration, it's fairly simple to build list segmentation in MailChimp with synchronized Salesforce lead and contact records.
Also, read: 7 Reports in Salesforce that will help you boost revenue
Now let us look at each of these platforms in detail and see how the integration of these platforms can provide your business the potential to grow and succeed.
What is Mailchimp?
MailChimp is considered the world's largest marketing automation platform serving millions of small businesses in sending multiple email campaigns and generating brand-new leads. It helps you to manage and interact with your customers and clients at the right time.
Plus, you can also design stunning email templates, social media posts, digital ads, postcards, run A/B tests, and much more, all of this without a single line of code. This can be accomplished with the help of Chamaeleon's Mailchimp Integration that comes with a built-in email interface that satisfies the requirements of both marketers and designers.
You can read full about Mailchimp here- Getting Started with Mailchimp – Overview and Integration
Copy Infographic
Advantages of using Mailchimp:
1) User-Friendly
Mailchimp is simpler to use as here campaigns are built within minutes including user-friendly elements.
2) Pricing
Pricing is considered a very important factor by business owners/marketers and is often looked at before buying the product. Mailchimp has versatile pricing options that fit the requirements of every business. Mailchimp provides a free account to start marketing campaigns without any trouble, for small-scale businesses and start-ups.
3) Effective Reporting
Mailchimp offers effective reporting by providing real-time insights to instantly identify what is working and take intelligent decisions regarding where to place your marketing budget. Mailchimp provides reports and analytics features to track performance, monitor trends, and build better campaigns.
4) Feature-Rich Components
Mailchimp provides feature-rich components to create personalized emails through unique integrations. You can create attractive and excellent emails and connect them to your Mailchimp account with only a few simple clicks.
5) Segmentation
You can segment data using Segmentation in Mailchimp, based on insights, user behaviour, and interest to add a personalized touch for targeting the right group of audiences.
Also, read: How to create Campaign in Salesforce for Sales Departments: 5 Best Practices
What is Salesforce?
Salesforce unquestionably is the #1 CRM for all your customer interactions, it is ideal for small to mid-sized businesses and large businesses too. Salesforce unites your marketing, sales, commerce, service, and IT teams from everywhere with Customer 360 — one centralized CRM platform that powers the whole suite of connected apps.
Salesforce has much more to provide for businesses that aim at personalized consumer interactions for email marketing. It keeps a record of all consumer and client data and interactions, assuring that nothing is left. The pricing of Salesforce depends on the service that you are using.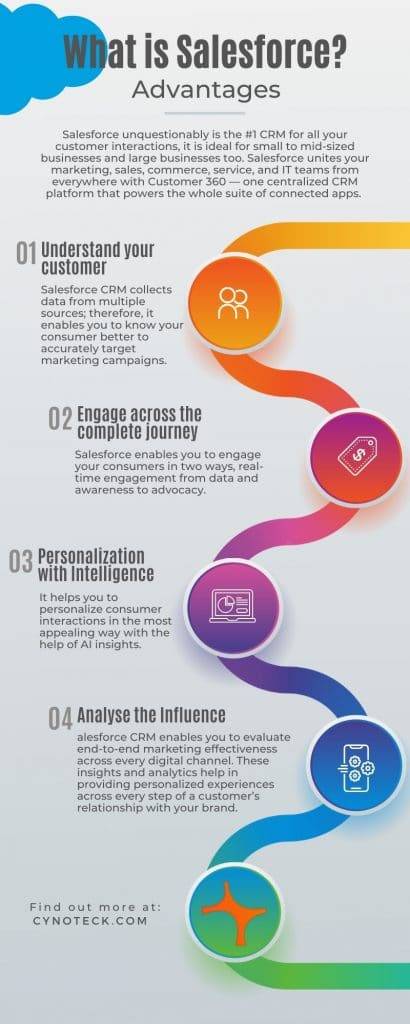 Copy Infographic
Advantages of using Salesforce:
1) Understand your customer
Salesforce CRM collects data from multiple sources; therefore, it enables you to know your consumer better to accurately target marketing campaigns.
2) Engage across the complete journey
Salesforce enables you to engage your consumers in two ways, real-time engagement from data and awareness to advocacy. And email marketing is all about conversions and consumer engagement. 
3) Personalization with Intelligence
Salesforce CRM enables you to leverage data with the potential of AI. It helps you to personalize consumer interactions in the most appealing way with the help of AI insights.
4) Analyse the Influence
Salesforce CRM enables you to evaluate end-to-end marketing effectiveness across every digital channel. These insights and analytics help in providing personalized experiences across every step of a customer's relationship with your brand.
Also, read: Salesforce security: the guide to keeping your business and customer data safe
Mailchimp Salesforce Integration: Leveraging the power of marketing campaigns
Salesforce and Mailchimp are two of the most compelling tools in their categories. Salesforce and Mailchimp Integration work as a one-stop solution for rich and smart email marketing campaigns.
Mailchimp Integration with Salesforce is done using one of two methods – the API route or the app route.
The first method requires a simple installation and configuration of an app in Salesforce.
The second method needs custom code to interlink Mailchimp and Salesforce APIs. The app route method is not as flexible as the custom API-based integration however it can help accommodate most use cases.
How does Salesforce Mailchimp Integration Work?
Mailchimp helps organizations design, track, and send email marketing campaigns. On the other hand, Salesforce's reliability as a cloud-based consumer success platform holds essentially on its usage by businesses for managing contacts and sales leads.
This integration of Salesforce with Mailchimp helps in managing the activities of subscribers, this makes it simple to synchronize tags, campaigns, and more. Here is how it works:
Copy Infographic
1) Customer Retention and Lead Creation
Integrating Salesforce with Mailchimp enables sales reps to trace a customer's buying history and intent. This integration helps in carrying out marketing automation campaigns so that the sales team can acquire customized information that draws and retains consumers. It additionally helps marketers re-strategize to generate more leads.
2) Integration and Data Synchronization
This integration of Salesforce with Mailchimp provides scheduled synchronization so that you can update your leads in the existing contact list efficiently. This integration also enables you to sync and send data from Salesforce and Mailchimp and vice-versa to update subscribers, contacts, mailing lists, etc, in real-time without any setbacks or delays.
Synchronization further unlocks the opportunities to field mapping to link and share data from email campaigns with inside teams meaningfully. 
3) Less Slow Updates 
Integrations are only efficient when they allow quicker turnarounds and higher throughputs. Salesforce-Mailchimp integrations provide subscribers a fast update over all platforms. This is very helpful for teams as they don't need to work over contacts separately, which will enhance productivity while reducing human data errors.
4) Creation of Client-database Segments
Segmentation enables you to arrange and tag customer information as per the specific criteria. Mailchimp integration lets easier segmentation of the client database by particular interests or criteria. Mailchimp can next push custom messages to customers in Salesforce via messages depending on the selected audience.
5) Better Tracking
As Mailchimp and Salesforce are integrated, it becomes simpler for marketers to track leads, subscribers and manage campaign activity from both Mailchimp and Salesforce end. This allows deep and meaningful insights from data synchronization which shows how consumers are reacting to emails and based on these insights' emailers can be optimized for additional targeting.
6) Effective Data Management
This integration enables you to manage data in a single synchronized platform to efficiently govern campaign data for optimization.
7) Automation of Tasks and Customization
Now with the help of this integration, you can automate repetitive tasks to save time and undesired human errors. You can use this saved time to efficiently optimize marketing campaigns. Salesforce and MailChimp Integration enable you to customize your email data with layouts, templates, and themes, providing personalized email targeting.
Also, read: 16 Salesforce tips and tricks for Improving your Sales Process and Boosting Revenue
Why consider Integrating Mailchimp and Salesforce?
1) Measurable Outcomes
Integration of Mailchimp and Salesforce helps you measure your campaign performance and execution with enhanced click-through and open rates.
2) Personalized Email 
With the help of this integration, you can have easy email personalization, without any requirement to drill deep into audience interests. You can personalize your messages to connect with your audience in a more customized way. 
3) Insightful Email Reporting
This integration enables you to have insightful and actionable insights to have real-time reporting. You should also be aware of the latest trends to optimize your campaigns constantly.
4) Cross-Selling and Upselling Opportunities
You can observe consumer browsing and buying behaviour to understand suitable opportunities for cross-selling and upselling.
Also, read: Salesforce ROI calculator – know when upgrades are right for your business
Conclusion
MailChimp users send around 10,000 emails every second through their platforms, and all these emails are of high quality. And when it comes to Salesforce, all different types of requirements of the organizations can be easily accomplished using Salesforce, by integrating multiple support services and consumer services along with the CRM applications to enhance customer satisfaction. Now simply think about the advantages of linking MailChimp email marketing with the powerful functionalities and analytics of Salesforce.
With MailChimp Salesforce integration, you can sync campaign data for real-time analytics and updates. This helps you to turn ad hoc interactions into continuous conversations and transform faithful followers and visitors into leads. This integration not only helps in email targeting, but you can also track campaign reports and build interactive dashboards to manage clicks, subscriber activity in Salesforce, open rates, and more. With this flawless and easy integration of Salesforce and Mailchimp, you are perfectly ready to take on optimization for your email marketing campaigns and several other tasks.
Also, read: The Guide to Salesforce Deployment checklist
Frequently Asked Questions (FAQs)
1) How does Salesforce compare with MailChimp?
Salesforce is a global business software best known for customer relationship management (CRM). On the other hand, more than 3 million people utilize MailChimp to generate, send, and track email newsletters. MailChimp has features and integrations that suit your email-marketing requirements. 
2) Who's more expensive? MailChimp or Salesforce Marketing Cloud?
Salesforce Marketing Cloud is more expensive than MailChimp. Salesforce Marketing Cloud's price starts at $1,250 per month, when Salesforce Marketing Cloud is compared to its competitors, the software is rated 10 – which is much higher than the normal Email Marketing software cost. On the other hand, MailChimp's cost starts at $20 per month, MailChimp is rated 4 on a scale between 1 to 10, which is more economical than the ordinary cost of Email Marketing software.  
3) Which software has more/better features?
For any business software, it's essential to understand the features and functionality. We have compared Salesforce vs. MailChimp based on some of the most powerful and needed email marketing features:  
Salesforce Marketing Cloud: Email Marketing, Data Analysis Tools, Image Library, social media, Social Media Integration, and more. 
MailChimp: Email Marketing API, Email Campaigns, Email Setup Wizard, Email list management, Social Media Integration, Event-Triggered Email, and more.  
4) Which data takes priority when Salesforce and Mailchimp are synced?
When data sync is enabled, Salesforce data constantly takes priority over Mailchimp data. When a Mailchimp subscriber profile is edited, these changes will not overwrite the data in Salesforce. If any Salesforce Contact or Lead Record is edited, these changes will overwrite Mailchimp subscriber data throughout the next sync.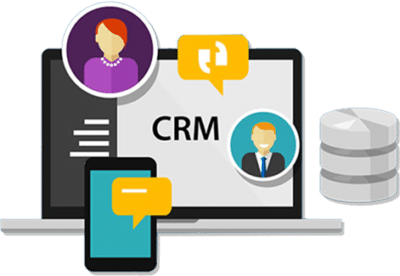 If you are new to automation and confused about Workflow or Process Builder. Need not to worry, we have got you all covered. Talk to our experts and clear all the cloudy thoughts about automation.