In this dynamic and rapidly evolving business landscape of today, a robust Customer Relationship Management system (CRM) is crucial for businesses to sustain and expand their customer base. Moreover, with advancing technology, the integration of AI in CRM has become increasingly vital and sought after by consumers. Integrating AI into CRM unlocks significant potential and becomes increasingly essential to stay competitive in today's market.
Integrating Artificial Intelligence (AI) into a business's CRM (Customer Relationship Management) system offers numerous benefits, including improved customer insights, enhanced sales and marketing strategies, and increased operational efficiency.
However, implementing AI in a CRM system requires careful planning due to its complexity. AI's remarkable capabilities in data analysis, prediction, and task automation have revolutionized traditional workflows.
Additionally, AI streamlines navigation within the CRM system, saving time, providing faster access to data, and reducing onboarding and training requirements. Businesses can now analyze customer interactions with unprecedented depth and speed.
In this blog post, we will go through the present and future potential of AI-powered CRM systems and their profound influence on customer experience.
We highlight the significance of AI investment for driving business growth and success, showcasing different use cases and top platforms in the industry.
Key features to look for in CRM integration systems driven by AI
When choosing an AI-powered CRM integration systems, several key features are worth consideration. These features can vary based on your business requirements, but some essential ones to prioritize in your selection process are:
1) Automation
Automation features play a crucial role in streamlining processes and saving time. As a standard practice in multiple organizations, automation outperforms humans in performing certain tasks with greater speed and accuracy.
Advancements in AI allow the automation of highly complex workflows. When choosing tools, prioritize those capable of automating routine tasks, such as data entry, lead scoring, and follow-ups.
2) Machine learning
Machine Learning (ML) stands at the forefront of modern AI applications in the commercial landscape.
Its core principle revolves around imparting automated systems with the ability to adapt productively and efficiently in dynamic environments, relying on pattern recognition and inference rather than rigid programming or explicit rules.
This approach enables the integration of diverse customer data points, allowing businesses to gain valuable insights into customer decision-making processes.
3) Predictive analytics
Explore innovative CRM systems equipped with predictive analytics capabilities, enabling data-driven predictions on customer behavior and market trends.
Leverage predictive analytics to optimize decisions and resource allocation, enabling effective actions at all organizational levels, including personalized customer interactions.
Stay competitive with informed strategies and exceptional customer experiences with the power of predictive analytics.
4) Scalability
You need to prioritize scalability when evaluating the system's suitability. Ensure it can seamlessly accommodate your expanding customer base and handle growing data volumes.
The selected AI solution should demonstrate speed, efficiency, and reliability in tasks like preventing transaction fraud, assessing credit risk, or detecting fraud, all while being capable of meeting future needs and growth.
5) Sentiment analysis
AI sentiment analysis plays a vital role for businesses in evaluating customer sentiment towards their products and services.
This functionality enables customer service and sales agents to identify emotions like frustration and satisfaction across different communication channels such as phone, live chat, email, and social media.
By providing valuable insights into customer perceptions of products and brands, AI sentiment analysis helps in improving overall customer experience and decision-making processes.
Also, read: Unlocking the Power of AI in Digital Transformation: A Roadmap to Success
Top use cases of AI in CRM Systems
The integration of Artificial Intelligence (AI) with Customer Relationship Management (CRM) Systems has become a key aspect of modern business operations, transforming the management of customer interactions.
Let us now explore multiple key use cases for AI in CRM and leverage the associated benefits across different scales.
Copy Infographic
1) Lead Qualification
Effectively qualifying leads across multiple marketing channels can be a time-consuming process. AI-powered CRM systems offer a solution by automating lead qualification, saving time, and optimizing the sales cycle.
One key advantage is automating lead scoring, this enables businesses to identify high-converting leads quickly and focus on sales efforts more efficiently. This maximizes marketing investments and improves overall lead nurturing.
2) Efficiently Parsing Email Content into CRM
Leveraging AI to parse email content into CRM proves invaluable for automating sales and marketing processes. This process involves extracting pertinent information from incoming emails to update the CRM system accurately.
To accomplish this, a blend of NLP, machine learning, and data integration technologies is essential. The resulting system becomes precise, up-to-date, and readily accessible to sales and marketing teams, streamlining operations effectively.
3) Evaluating the emotional status of callers
The profound impact of Artificial Intelligence on customer service interactions results in improved efficiency, productivity, and overall customer relationship management.
Understanding customers' emotional state through sentiment analysis during calls, extended by AI-integrated CRM systems, promotes trust and strengthens relationships.
4) Chatbots and virtual assistants
The seamless integration of chatbots and virtual assistants into existing business processes and technologies is crucial. These AI-driven applications bring forth heightened precision, security, and connectivity, fundamentally transforming interactions with business systems.
By adeptly handling customer inquiries and delivering round-the-clock support, they empower human agents to concentrate on more intricate matters, leading to improved overall customer service efficiency.
5) Personalized experience
Personalization works as a critical driver of business success. CRM systems play a vital role in collecting customer data for better understanding.
AI-enabled CRMs analyze this data to identify customer behaviors, leading to highly personalized experiences.
The advantages of AI-powered personalization include enhanced customer experiences, revenue growth, decreased churn, and data-driven insights.
6) Predictive lead scoring and Sales forecasting
AI-integrated CRM improves forecasting accuracy by analyzing data and providing valuable sales insights. Sales teams can leverage these predictions to optimize their processes effectively.
Moreover, AI-powered CRM offers in-depth customer insights, enabling targeted lead identification and saving time while boosting revenue.
Customers express satisfaction with AI-powered systems and platforms for lead scoring, highlighting benefits such as improved lead qualification, boosted sales productivity, and improved marketing ROI.
Also, read: Salesforce for Retail: How Can Salesforce Strengthen E-commerce?
Best AI CRM Software for 2023
AI-powered CRM platforms leverage machine learning, predictive analytics, automation, and sentiment analysis to improve customer experiences.
Choosing the right CRM Systems from the various options can be a difficult task. Our thorough evaluation and comparison have identified the most effective list of AI-powered CRM platforms that deliver personalized experiences, cost reductions, and increased employee and customer satisfaction.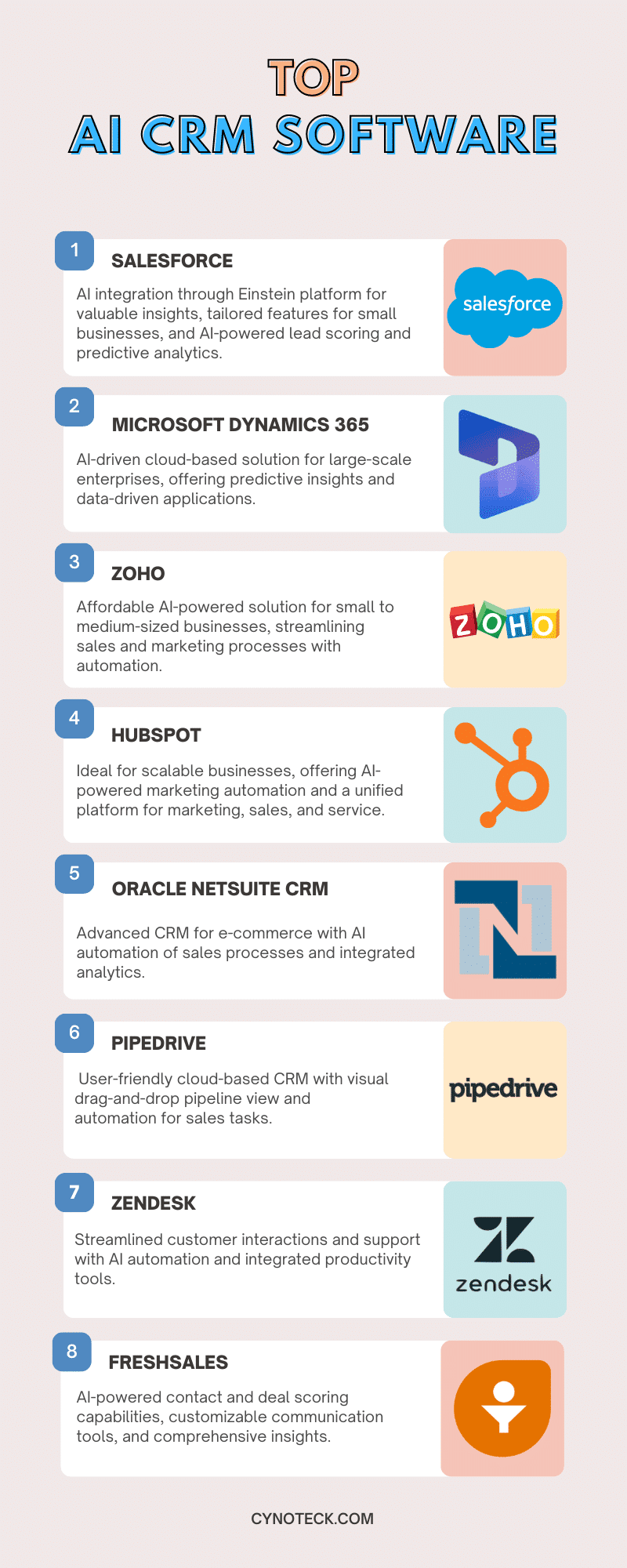 Copy Infographic
1) Salesforce
Salesforce, a robust CRM software, provides small businesses with AI integration to boost customer relationship management.
Driven by the Einstein platform, its AI capabilities utilize machine learning algorithms to analyze customer data, providing valuable insights for intelligent decision-making.
Salesforce caters to small businesses with tailored features, encompassing customizable dashboards, mobile apps, and seamless email integration.
Its AI-powered lead scoring prioritizes high-converting leads, while predictive analytics forecasts sales and revenue trends.
The platform also offers automated workflows to enhance efficiency by streamlining repetitive tasks and other valuable functionalities.
Get the Discover the cutting-edge possibilities with Salesforce's AI-powered CRM.
2) Microsoft Dynamics 365 
Microsoft Dynamics 365 serves as an AI-driven, intelligent cloud-based business solution designed to meet the requirements of large-scale enterprises. It helps you build customer loyalty and gain an end-to-end view of your business.
Microsoft Dynamics 365 is a smart CRM solution that leverages machine learning to provide predictive insights and help you develop your business more quickly.
This includes A/B testing, client lifetime value estimations, segmentation, and other features.
It furthermore offers cloud-based services along with a set of data-driven applications that can be used to transform your business operations. Make the benefits of AI a reality for your business. 
Unlock the power of AI-driven CRM with Dynamics 365 Services.
3) Zoho
Zoho CRM stands as an AI-powered solution tailored for small to medium-sized businesses. Its affordability coupled with a range of AI capabilities improves customer experiences and boosts operational efficiency.
With Zoho CRM, automation streamlines sales and marketing processes like lead generation and email campaigns, saving time and elevating productivity.
Collaboration tools, including chat, social media integration, and team calendars, facilitate seamless communication. The platform ensures effective lead and contact management, simplifying engagement and deal closures.
4) HubSpot
HubSpot is an ideal AI-powered CRM software for scalable businesses. Its advanced AI capabilities enable effortless automation of marketing, sales, and service processes through a unified platform that seamlessly integrates with other business tools.
This streamlines operations and improves overall efficiency. With HubSpot's AI-powered marketing automation, businesses can create targeted campaigns, engaging leads and customers throughout the buyer's journey.
It is affordable for businesses of all sizes because of its flexible price options.
5) Oracle NetSuite CRM
Oracle NetSuite CRM is an advanced enterprise-level customer relationship management (CRM) tool designed to streamline interactions with potential customers, suppliers, and other stakeholders.
As a cloud-based solution, it offers exceptional flexibility and scalability, ideal for succeeding in competitive e-commerce landscapes.
Leveraging the power of AI, Oracle NetSuite CRM automates critical sales processes, while its integrated analytics capabilities provide invaluable customer behavior insights.
Furthermore, it provides a centralized customer database, enabling efficient management of customer information, purchase history, and brand interactions.
6) Pipedrive
Pipedrive stands out as a top-tier AI-powered CRM software solution, delivering a seamless and intuitive platform to elevate sales and customer relationship management.
This cloud-based tool optimizes sales processes for businesses, offering a user-friendly interface with a visual drag-and-drop pipeline view.
By automating sales tasks like email communication, appointment scheduling, and contact updates, Pipedrive's AI CRM software streamlines operations, saving valuable time and resources for businesses.
Additionally, Pipedrive offers customizable reports that empower businesses to monitor sales performance effectively and identify areas that can be improved.
7) Zendesk
Zendesk is an innovative AI-powered CRM software designed to streamline customer interactions and support throughout the entire customer lifecycle.
With integrated productivity tools, advanced analytics, and a comprehensive customer view, it serves as a centralized solution for all sales team needs.
Leveraging AI, Zendesk automates support tasks like ticket routing and customer categorization, enhancing efficiency and saving valuable time.
Businesses can provide seamless customer support across various channels, including email, chat, phone, and social media.
It furthermore empowers businesses with the flexibility to tailor their workflows according to their unique requirements.
8) Freshsales
Freshsales is a cloud-based CRM tool designed specifically for sales teams. With AI-powered contact and deal scoring capabilities, as well as exceptional customization and built-in phone features, Freshsales differentiates itself from its competitors.
Notably, its multi-functional communication tools allow lead engagement through various channels like phone, email, live chat, text, and third-party messenger apps.
Additionally, Freshsales offers custom dashboards and reports for comprehensive insights and analysis.
9) ActiveCampaign CRM
ActiveCampaign CRM is the ultimate solution for streamlining processes, enhancing efficiency, and delivering exceptional customer experiences.
As a powerful sales and marketing automation tool, its primary focus is to optimize every touchpoint on the customer value journey, ensuring unparalleled customer satisfaction.
With features like automated email follow-ups, one-click segmentation, visual automation builder, and robust CRM capabilities, ActiveCampaign CRM empowers businesses to close deals faster and accelerate their sales cycles.
Furthermore, its scalability makes it the perfect fit for growing businesses, offering comprehensive lead tracking and management.
10) OneHash
OneHash is an innovative CRM and AI-driven ERP software, offering a highly efficient solution for streamlined business management.
This cloud-based CRM ensures sales enablement by aligning tasks, capturing leads, and optimizing communication with customers.
Leveraging advanced machine learning algorithms, it provides insightful predictions and recommendations.
Moreover, OneHash extends beyond sales, incorporating smart ERP for production process tracking, accounting software for financial management, seamless communication with employees and customers, and an intuitive drag-and-drop website builder for creating professional websites in minutes.
Also, read: Salesforce Robotic Process Automation, AI Capabilities to Einstein Automate
Challenges of AI CRM software
Integrating AI CRM software can deliver significant advantages for your business, yet it is crucial to recognize and address potential challenges that may occur.
Data privacy is a major concern when implementing AI CRM software. Businesses must prioritize proactive measures to safeguard and restrict unauthorized access to this data.
The dependency on customer information in AI-driven CRM systems highlights the importance of adhering to data protection regulations, ensuring security, compliance, and maintaining customer trust while averting potential legal ramifications.
Another challenge of adopting AI CRM software is the risk of security breaches due to rising cyber threats. To safeguard data and systems, businesses must establish robust security protocols and provide comprehensive employee training to identify and mitigate potential security risks effectively.
The integration of data poses a challenge during the implementation of AI CRM software. Businesses often utilize diverse systems and tools for managing operations, making integration with the AI CRM software complex. This may result in siloed data and limited organizational visibility.
Addressing this challenge requires effective data integration strategies to ensure seamless and unified data flow across the organization.
Small and medium-sized businesses may face significant initial costs when implementing AI technologies. Nevertheless, adopting cost-effective, no-code platforms like AppMaster offers practical solutions to address this challenge.
To make the most of AI-powered capabilities integrated into your CRM system, staff training may be required. Addressing potential resistance to change from employees is essential during the implementation of AI CRM software.
Providing adequate training, support, and resources will make the transition easier and maximize the benefits of an AI-driven CRM system.
Also, read: How is AI in Agriculture revolutionizing the Agriculture Industry
Key Benefits of AI in CRM
Incorporating AI into CRM brings multiple benefits, such as personalized recommendations, tailored marketing messages, and improved data processing capabilities. Let's explore these advantages in detail:
1) Identify and prevent potential issues
AI plays a pivotal role in enhancing customer relationships by proactively preventing issues.
Through its effectiveness in processing and analyzing vast customer interaction data, AI empowers brands to address potential complaints and product defects quickly.
This proactive approach enables organizations to improve their offerings while enabling improved customer interactions.
2) Efficient handling of large data
A CRM tool serves as a centralized hub, collecting data from various platforms to provide businesses with comprehensive customer information. As data volumes grow, extracting relevant insights becomes challenging.
Integrating AI with CRM enables efficient management of large datasets. AI-powered tools now allow organizations to gather valuable information from the massive data generated in the e-commerce sales funnel.
Leveraging data-driven statistics, brands deliver personalized and efficient customer experiences, promoting heightened satisfaction and loyalty.
3) Serve customers through a variety of communication channels
AI improves brand availability by providing timely assistance to consumers whenever and wherever needed. AI-powered chatbots and virtual assistants, capable of processing multiple languages, facilitate global expansion, enabling businesses to serve customers worldwide.
The enduring nature of AI-powered technology ensures continuous support, granting businesses a competitive edge over traditional customer service representatives.
4) Reducing complaint resolution time
Reducing customer service response time is a vital goal for brands seeking to improve customer relations. AI-powered solutions empower customer service representatives, with automated chatbots and NLP-backed programs handling most complaints efficiently.
Brands benefit from improved data management, KPI tracking, and customer issue insights, resulting in significantly reduced complaint resolution time, even when combining employees and AI.
5) Efficient customer service
AI's ability to manage numerous customer inquiries concurrently enables a smaller customer service team to interfere when required, resulting in quicker resolutions and heightened customer satisfaction.
Leveraging AI-powered technology, organizations can provide personalized support to a larger customer base, transcending time and geographical constraints.
6) Improved client confidence and satisfaction
Delivering exceptional customer service and reliable information increases trust in a brand. AI-enabled CRM ensures complete security of customer data, enhancing customer confidence.
By integrating AI into CRM, daily tasks are streamlined, resulting in more effective customer service. The system also offers valuable recommendations to improve customer interactions, leading to increased deal closures.
Also, read: How is AI in Healthcare revolutionizing the Healthcare Industry?
Summary: AI Will Continue to Shape the Future
The influence of machine learning and AI on the business landscape is unquestionable. AI is a prominent trend, increasingly integrated into different business software, including CRM platforms.
AI-powered CRMs automate everyday tasks and provide intelligent data insights without manual intervention. While Salesforce, Dynamic 365, and HubSpot rank as top AI CRMs, choosing the best fit depends on specific use-case requirements, budget, and user experience standards.
These technologies are expected to have a significant impact on CRM software in the future as they evolve.
Also, read: How is AI in Education revolutionizing the Education Industry?
FAQs
1) What advantages can AI CRMs offer?
AI CRMs offers sales teams a competitive advantage in two significant ways. Firstly, by automating tasks like email composition, website visitor engagement, and data record management, AI boosts overall efficiency.
Secondly, AI empowers data intelligence, analyzing deal, lead, and user information to identify patterns, make predictions, and deliver valuable insights for informed decision-making.
Some more benefits of AI in CRM include personalization, automation, predictive analytics, customer insights, optimized customer service, improved sales and marketing strategies, as well as improved efficiency and cost savings.
2) How is AI used in CRM?
Integrating AI in CRM offers numerous benefits, including customer data analysis, automated sales processes, personalized recommendations, and improved customer service with chatbots and virtual assistants. Generative AI in CRM further automates and customizes processes, providing valuable customer support. The outcome is improved customer experiences, promoting loyalty and brand advocacy through efficient and engaging interactions.
3) How can artificial intelligence improve customer experience?
AI algorithms analyze customer data, including browsing history and purchase behavior, to generate personalized recommendations and offers. AI-powered chatbots and virtual assistants quickly help customers, efficiently addressing common queries and resolving issues. Moreover, AI-driven sentiment analysis examines customer feedback from different channels to identify prevalent themes and sentiments.
4) What is the role of machine learning in CRM?
Machine learning is essential in CRM, empowering businesses to utilize data for understanding customer preferences and needs. ML algorithms analyze historical customer data, identifying patterns and predicting potential paying customers. Voice-enabled CRM systems, driven by ML technology, promote customer-business interactions through voice commands. Additionally, ML automates marketing campaigns and tailors messaging based on customer behavior and preferences.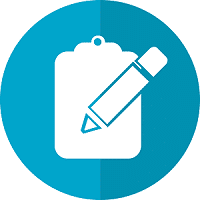 Do you want to implement a CRM system within your organization? Connect with our CRM Experts today!