Artificial Intelligence can be defined as an advanced form of an algorithm that empowers machines to simulate human behavior in real-life circumstances. In the modern era of technological progression, there is hardly any field left that is untouched by Artificial Intelligence in some form or another.
Artificial Intelligence is now a part of our normal lives and is no longer the realm of science fiction. Today, we are encompassed by this technology everywhere, from automated parking systems, intelligent sensors for capturing magnificent photos, and personal help & assistance. AI has become a powerful modern technology and is projected to disrupt any field that deals with huge volumes of data, and education is no different.
The educational world is still considered as one of the most human sectors, but that does not mean that there are no ways with the help of which school workers and teachers can profit from implementing artificial intelligence. There is a huge scope of AI in this educational sector, and it can help make it more convenient and personalized with the help of its numerous applications for education. So, the use of Artificial Intelligence in education can bring in excellent outcomes, also improving the traditional methods drastically.
AI has improved the way people learn because educational materials have now become easily available to all with the help of computers and smart devices. Now, students do not require to attend physical classes for studying as long as they have computers and internet connections.
AI also allows the automation of administrative responsibilities, enabling institutions to reduce the time needed to accomplish complex tasks so that the educators can give more time to students. On one side, AI is changing the way institutions and educators perform their tasks, and on the other side, it is also revolutionizing the way how students learn. So, it can bring huge overall improvements in the education sector.
Also, read: Artificial Intelligence in Healthcare: The best way to beat the competition in 2021
How is AI changing the Education Industry?
Over the past few years, machine learning applications have entered almost every aspect of life: retail to radiology, coding to customer service, speech recognition to social media, route optimization to robotics, and more. Another major advancement that needs to be mentioned is the role of AI in education and learning.
After the pandemic outbreak, online education has got a lot of momentum. The distribution of content through online platforms has evolved immensely. There are lots of courses available now, with digital content being introduced to students for their further learning experience. Teaching and learning in institutions and universities have also shifted to online classes.
There are numerous choices available for the student to pick from, encouraging them to get the best course/stream/university. Moreover, AI also helps students get an educational roadmap for their career goals which is a vital step towards their career.
Different AI-based platforms help these students pick the right set of programs, universities, and analysis modules, based on customized recommendations. This enables them to pursue their educational goal in a way that is customized in every way. 
So, it is clear that AI in Education is making revolutionary changes with digital learning solutions that provide a new approach in presenting education to students with different capabilities and benefits.
Now, it is time to discuss the transformations brought by AI in education. Here are a few ways in which AI is revolutionizing the education industry:
Also, read: 10 Powerful AI Chatbot Development Frameworks
Copy Infographic
1) Personalize Learning and Education
AI helps teachers to deliver customized learning to help students learn as per their capability. It helps determine what a student does and does not understand, creating a personalized study program for every learner analyzing the knowledge gaps. Some of the famous education platforms, like Carnegie Learning, are now utilizing artificial intelligence to offer personalized courses. This technology can further help in presenting specific instructions designed particularly for an individual.
2) Provides Smart Content
An AI-based program can analyze and efficiently handle big data, as there are several learning materials available on the web, to get the appropriate information for students. AI in education can help students with the personalized cloud platforms that offer virtual training, conferences, and other additional educational services like:
i) Digital lessons
AI can help provide digital textbooks, digital learning interfaces with customization choices, study guides, and much more.
ii) Content updates
AI helps create and refresh the content of the lessons, keeping them up to date and customizing them for different learning curves.
iii) Information visualization
AI powers different ways of perceiving information, such as simulation, visualization, web-based study environments, and more.
3) Contribute to Automation of Administrative Tasks
AI has a magnificent potential in automating and facilitating administrative tasks for both professors and organizations. Administrative tasks like evaluating essays, grading homework, and offering value to student responses, these are some time-consuming activities where educators spend the most time.
AI can also help teachers to create room for something more important: focusing on self-education, grading the assignments difficult to delegate to Artificial Intelligence, improving the quality of the lessons. AI also helps automate the processing and classification of paperwork where it can benefit the admission process.
4) Do Tutoring
Continuously developing personal study programs get into account student's gaps to fulfil through individualized lessons. Support and personal tutoring for the learners outside of the classroom help students keep up with the course and also helps their parents from striving to teach algebra to their children.
AI tutors are excellent time-savers for the mentors, as they don't need to pay extra time teaching challenging topics to students. With the help of AI powered chatbots or virtual private assistants, now students can avoid feeling embarrassed by asking for additional help in front of their companions.
5) Assure Access to Education for Students with Special Needs
Choosing innovative AI technologies presents different new ways for interacting with students having learning disabilities. AI provides access to learning and education for students with special needs: deaf and difficulty in hearing, people with ASD, visually impaired, etc. So, AI tools can be successfully equipped to support any group of students with specific requirements.
6) 24/7 Availability of Digital Assistants
Every student gets knowledge at a varied pace. The regular classroom, though, has a single schedule for all. With the help of AI, extensive connectivity, and launch of various software solutions, students are eventually able to experiment with top productivity hours and identify the most efficient learning rate.
AI assistants are taking this to a completely different level. Chatbots allow digital mentorship available 24/7, whenever students require expert guidance. They reply to issues and discuss their doubts in real time. These AI assistants can be reached through chat platforms and produce a conversation that appears very close to speaking to a human being. They are convenient, fast, and always accurate.
Also, Read: 4 steps guide to Machine Learning Model Deployment
Final Words
It is undoubtedly clear that artificial intelligence has changed the conventional way of teaching and getting an education. That is the reason why today all schools, colleges, and universities are constantly advancing to make AI as an essential part of their education system. The technology of AI in education can automate different activities like updating the education software, grading, assistant in improvisation of several courses, teach students, and various other additional advantages.
So, we can expect Artificial Intelligence to hold an integral position in every educational activity. Use of AI in education has started to show its beneficial circumstances and power, and this innovation will facilitate and improve the overall learning for all.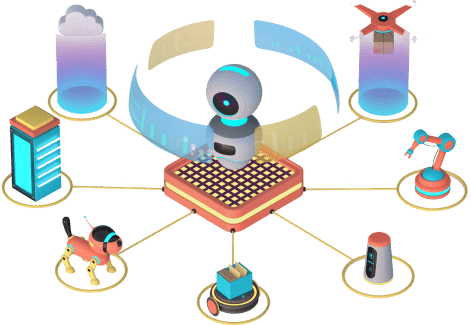 Planning to Leverage AI for your business? We provide AI Consulting to help organization implement this technology. Connect with our team to learn more.