Farming or Agriculture has always been the most primitive and vital business globally. These demands for food grains have always increased ever since humans discovered farming and moved from a wandering hunting-gathering-type lifestyle to that one of farmers.
In the agriculture sector today, several food producers are struggling to handle threats and risks to their crops against pests and other diseases, which are made more severe by climate change, monocropping, and prevalent pesticide use. All of these elements add up and emerge as a new challenge for the farmers. As farming relies on the forces of nature for most of its products and with the uncertainty of rain, shortage of available workers, and the increasing need for a better yield every year has put farms and farmers under extreme pressure. This signifies that the agricultural industry requires to massively scale up in the upcoming years, and farm efficiency needs to be almost doubled for us to meet our targets.
Keeping all these challenges in mind the main emerging subject and concern across the world today is automation in the agriculture industry. The population is rising tremendously and with this increase, the need for food and employment is also growing. The conventional methods used by our farmers today are not sufficient enough to meet these requirements. Therefore, modern automated methods were added up to make things more simple and fruitful.
Artificial Intelligence in the agriculture sector can be implemented for many technological advancements. These cover things like Artificial Intelligence consulting services, data analytics, the internet of things, and use of cameras and other sensors, etc. By examining the different data sources such as weather, soil, crop performance, and temperature, AI in agriculture will become competent enough to produce better predictive insights.
These AI-powered technologies can help the agriculture sector to produce better crops and improve a wide range of agriculture-related tasks in the complete food supply chain. These new methods help served to increase the food requirements and also provided employment opportunities to billions of people throughout the system. The use of AI in agriculture has made an agriculture revolution and has defended the crop yield from several factors like population growth, climate changes, employment issues, and food safety problems.
Also, read: How is AI in Marketing revolutionizing the Marketing Industry
Challenges faced by the Agriculture Industry
Defined below are some of the major challenges that exist in the agricultural domain:
With each passing day, it is becoming difficult for farmers to take decisions to prepare the soil, sow seeds, and harvest. As various climatic factors such as temperature, rainfall, and humidity perform a vital role in agriculture. Growing pollution and deforestation also results in climatic changes, which becomes a big challenge for farmers.
Each crop needs accurate nutrition in the soil. The three main types of nutrients required in soil are phosphorous, potassium, and nitrogen. The deficiency of any of these nutrients can lead to poor quality of crops.
Plant or weed protection also plays a significant role. It can lead to an increase in production cost and additionally absorb nutrients from the soil which leads to nutrition deficiency in the soil, if not controlled at the right time.
Despite a large number of opportunities for applications in agriculture, there is still a loss of familiarity with the most modern technologies across most of the world.
Also, read: How is AI in Healthcare revolutionizing the Healthcare Industry?
How can the Agriculture Industry benefit from AI-Powered Solutions?
Now, let us first understand the concept of precision farming and how it helps to revolutionize applications in the agricultural sector:
Copy Infographic
1) Managing Environmental Challenges with the use of Weather Forecasting
Weather information plays a very necessary role in the evolving field of precision agriculture, which is a farming practice that maintains control and accuracy while growing crops. Various environmental challenges such as climate change and others are the greatest threats to farm productivity, however, AI-powered systems and data-driven farming uses smarter resource management that helps farmers to navigate shifts as per the changing environmental conditions.
2) Soil and Crop Health Monitoring System
With the help of emerging solutions and by installing IoT sensors within the agricultural soil, farmers can instantly identify the soil's moisture content and know its chemical composition and structure. These implanted devices can be configured to automatically inform the farmers when the level of elements like potassium, nitrogen, phosphorous, or moisture content in the soil reaches inadequate values.
Remote sensing supplemented by the 3D laser scanning is also helpful in providing crop metrics of farming land which ensures that the crops grow in the perfect soil conditions. Drones also play a very important role with professional multispectral sensors and cameras to detect and quantify crop health problems earlier, by providing valuable insights that help in boosting yield and reducing input costs.
Also, read: How is AI in Education revolutionizing the Education Industry?
3) Predictive Analytics and Precision Farming
Predictive Analytics with the use of technologies collects the information and data required to make decisions about how to boost production and take every corrective action to accomplish the goal.
On the other hand, precision farming involves a range of strategies and devices that enable farmers to optimize and improve productivity and soil quality. With the use of these tools, you can perform the proper intervention, in the right place, at the appropriate time, responding to the particular requirements of different crops and different areas of land with excellent levels of precision.
4) AI-enabled system to assess farm data and detect pests
For each crop that humans grow, there is at least one bug or pest that desires to eat it! And farms produce thousands of numbers of data points every day. But farmers can now analyse a variety of things in real-time, by incorporating AI in agriculture. They can put sensors in their fields to monitor when the insects emerge, and the sensors can understand what kind of insect it is. If it is a useful or neutral insect, it leaves and does nothing. But, if it is a serious bug or harmful pest, it conveys the information to the cloud.
So, AI-driven technologies help farmers to optimize planning to produce more generous yields by proper resource utilization, managing crop choices, and more.
5) Sustainable Farming with adequate Irrigation
The increasing demand for food has led farmers to increase yield by different means which leads to soil abuse. Increased yields over time diminishes the quality of land, which produces too low yield to even pay for the price of seeds. There are several services provided by AI such as FarmShots which are focused on examining farm data with the help of drones and satellites using AI to identify pests, diseases, and reduced plant nutrition. The use of this AI software can observe and restrict the use of fertilizer by up to 40 percent.
Irrigation is a human-intensive process, which needs around about 70% of available freshwater. Various automation systems can now leverage AI and machine learning to analyse soil quality, historical weather patterns, and crop type to assist farmers in properly managing their water resources. Utilizing Cognitive IoT solutions can help in better water management by planting the right crop at the appropriate time, reducing water wastage, and improving yields.
Also, read: 4 steps guide to Machine Learning Model Deployment
What is the Scope of AI in Agriculture?
Agriculture has witnessed an accelerated adoption of Machine Learning and Artificial Intelligence algorithms both in terms of field farming techniques and agricultural products. Today cognitive computing has become innovative Artificial Intelligence technology in agriculture, which can experience, learn, and react to various situations to improve efficiency. AI can also help farmers in predicting the demand by analysing information like historical demand patterns of food commodities, rate of population growth, region-wise staple food patterns, including other data and information.
The scope of AI in agriculture is broad and helps to spray with the help of sensors, weeding, and other means installed in drones and robots. These technologies help save excess usage of pesticides, water, herbicides, preserves the fertility of the soil, and likewise helps in the effective use of manpower and raise productivity while enhancing the quality.
Concluding Thoughts
These AI-powered technologies today are utilized for solving various industries' purposes such as transport, finance, healthcare, and now in agriculture. The implementation of this AI technology has transformed the complete journey of food, with some huge benefits. Artificial Intelligence in agriculture not just supports farmers to automate their cultivation and farming but also leads to precise farming for a better crop yield and more excellent quality while utilizing fewer resources.
AI uses modern techniques that help the farmers to observe their crops without the need to personally invigilate inside the farm. Several enterprises and start-ups today are looking forward to AI development in agriculture. AI in agriculture is redefining the conventional pattern of agriculture. The future of AI in agriculture is becoming progressive in developing comprehensive transformation with different advanced strategies.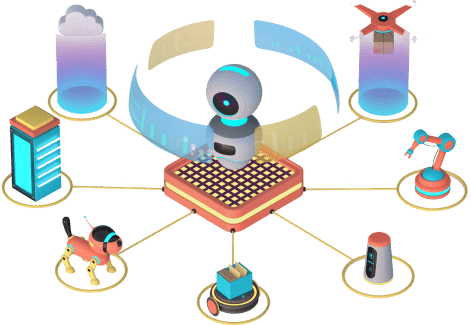 Planning to Leverage AI for your business? We provide AI Consulting to help organization implement this technology. Connect with our team to learn more.