Artificial intelligence demonstrated by machines is heavily influencing various industries. The growing expectations from healthcare and different health requirements have contributed to a technological transformation within the industry, and medical AI is its foundation. What is the use of AI in healthcare, and how does it improve the industry? Let us explore the main AI applications in healthcare, so that everyone can easily understand what AI in healthcare means.
AI in healthcare is the use of intelligent machines and emulation of human perception to scale, automate, and improve processing, interpretation, analysis, and comprehension of healthcare data and expand human activity. Various AI applications in healthcare can improve patients' lives, enhancing diagnostics and treatment plus helping healthcare providers and patients make informed decisions immediately.
The introduction of several smart digital technologies such as wearable sensors, home monitoring devices, robotic implants, and mobile apps in the healthcare industry has not only enhanced the effectiveness of care for patients but has furthermore reduced readmission rates and enhanced the overall quality of life for people all across the globe. By relying profoundly on deep learning and machine learning, AI instantly and accurately manages large amounts of data, gives contextual relevance, decreases human error, and helps you reach reliable decisions.
Also, read: Internet of Medical Things – Top Opportunities to Grow your Healthcare Business
How AI Is Revolutionizing Healthcare Industry?
Let us understand the scope of AI in healthcare and review some of the most advantageous applications of AI that are revolutionizing healthcare:
Copy Infographic
1) Robot Doctors
AI cannot get more interesting than robots. Nowadays a lot of top-line hospitals have these intelligent machines. Surgical robots work with an accuracy matching that of the best-skilled surgeons. For example – A Chinese robot dentist implemented with AI skills can autonomously execute delicate and complex dental procedures. Smart robots are further employed for transporting units, recovery, and consulting assistance. These robots are not fully automated; however, they show great potential in transforming the way medical procedures are executed.
2) Clinical Diagnosis and Treatment
AI algorithms diagnose conditions quicker and more precisely than doctors. They are especially successful in identifying diseases from image-based test outcomes. Unlike humans, AI can process huge volumes of data in a small-time, providing great reliability and a rate of diagnosing plus analyzing secondary conditions, such as lifestyle, genetics, and environment. The contemporary examination of various factors allows AI to recognize early symptoms that humans can miss, which enhances the quality of diagnosing and increases the number of early detection cases.
You can consider the case of cancer; effective therapy of cancer heavily depends on initial detection and actions. Several kinds of cancer, like different types of melanoma, are particularly difficult to identify during the initial stages. AI algorithms can scan and analyze MRI scans and biopsy images, thousand times faster than doctors. These algorithms can diagnose with an 87% accuracy rate, making delays and diagnosis errors a thing of the past.
Also, read: What is BERT? BERT for Text Classification
3) High-Precision Medication
Precision medication refers to giving the exact treatment depending on the patient's symptoms, behavior, and characteristics. Precision medicine depends on the analysis of large volumes of data. The patient's data such as restrictions, treatment history, hereditary traits, and lifestyle are used in preparing the most effective medication. As correct diagnosis is essential so is the provision of the proper treatment. This often means the correct prescription and improvement routines for the best results.
Hospitals and other health care departments store a lot of data from their patients. This information ends up staying on a hard drive or in any folder or cabinet. AI medication systems then browse through these archives to help doctors in formulating exact medication for different patients.
4) Time- and Cost-Effective Research and Drug Discovery
Recently, Research and Development labs have executed AI and machine learning to automate several processes that are necessary for the research and development of any drug or medicine. It empowers labs to preserve a substantial amount of time, money, and effort.
Drug development is a huge venture that may take years and thousands of failed attempts. It can cost medical research companies billions of dollars in that process. Hardly five in 5,000 drugs that start pre-clinical trials ever make it to human experimentation. And just one of those five may discover its way to pharmacies. Smart simulations of better remedies are possible by the analysis of the present medicine, patients, and pathogens. This is a method that now takes days instead of months or years, a big thankyou to all AI research platforms.
Also, read: 10 Powerful AI Chatbot Development Frameworks
5) Personal Health Assistants
A common example of artificial intelligence towards health care is personal health monitoring. Thanks to the advanced AI and internet of medical things (IoMT), there are several consumer-oriented products prepared to promote good health. Over the last few years, we have noticed mobile apps, discrete monitors, and wearables, that constantly gather data and monitor the vitals. These gadgets utilize the data to obtain recommendations. This is a great effort to correct any irregularities and most of these devices save data online or locally.
6) Streamlined Medical Insurance
The use of AI in healthcare helps caregivers and patients, the medical insurance business can also profit from it. In this industry, most of the things depend on the efficiency of patient clinical record analytics, which is the reason why data processing should be committed to intelligent algorithms.
AI-based systems examine data more efficiently than humans, machines can handle more cases in a provided time while reaching more dimensions in behavior and lifestyles. This may significantly affect proposed insurance rates. Furthermore, machine learning algorithms also help insurers to verify claims for their accuracy, which is a task that saves a lot of effort for caregivers and insurers.
Also, read: How is AI in Education revolutionizing the Education Industry?
Conclusion
The bottom line is pretty simple. AI in healthcare is a gold mine and is here to stay. It may not replace humans any time soon but will work alongside them. However, for now, AI is helping both healthcare organizations and pharma make better decisions, quicker. Everyone serving in healthcare should give some close attention to AI – and even choose this technology. The purpose here is to achieve more affordable and more efficient health care services. Being a relatively modern technology in health care, AI has a large way to go, and the progress here is quite impressive.
So, the use of artificial intelligence in healthcare is just gaining momentum, a growing number of caregivers are getting the understanding that the role of AI in healthcare will shortly become crucial. Also, we can expect improvements and new applications as this amazing technology continues to advance with time.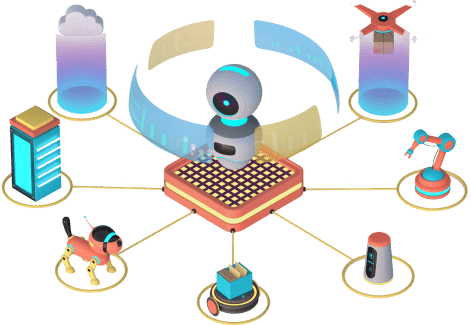 Planning to Leverage AI for your business? We provide AI Consulting to help organization implement this technology. Connect with our team to learn more.