Choosing between different Microsoft Dynamics 365 applications can be a difficult task. As they have some overlapping features, so it becomes difficult to understand which is best for your business. An example of one common area of confusion includes the sales management capabilities of Microsoft Dynamics 365 CRM vs. Dynamics 365 Business Central.
The latest division of the Microsoft Dynamics 365 family is named Dynamics 365 Business Central, which is an enterprise resource planning (ERP) program created for small to mid-sized businesses. Microsoft Dynamics Business Central is the successor of Dynamics NAV. Let us jump into a deep discussion of what these applications are and what they can accomplish.
What are Dynamics 365 Business Central and Dynamics 365 CRM?
Dynamics 365 Business Central is Microsoft's cloud-based ERP solution for small and mid-sized corporations that automates and streamlines business processes and helps you manage your business. Business Central enables companies to manage their manufacturing, financials, services, shipping, projects, and more.
Business Central is fast to implement and easy to configure. It also includes Relationship Management functionality in it to further support sales efforts. Business Central is highly adaptable and rich with features. Businesses can simply add functionality that is related to the area of operation, and that is customized to support even highly specialized industries.
Dynamics 365 CRM is Microsoft's cloud-based customer relationship management solution developed by Microsoft focused. It is made up of five applications and enhances the customer relationship for any organization.
This Dynamics 365 Sales app enables businesses to qualify leads, handle sales opportunities, strengthen customer relationships, optimize email marketing campaigns, and a lot of other out-of-the-box features and functionalities. Microsoft Dynamics CRM provides full mobile support for managing CRM apps on mobiles and tablets.
Dynamics 365 CRM and Dynamics 365 Business Central are two distinct products that need to be purchased individually. They may appear to have related capabilities in some areas, but each shines in the particular purpose or plan for which it was designed.
Let's Get Familiar with Microsoft Dynamics 365 Business Central and Dynamics 365 CRM – How to choose between them?
Why Should You Consider Microsoft Dynamics 365 Business Central?
Business Central is an excellent business solution, integrated with smart functionalities, delivering relevant business information that businesses need to know new trends, ensuring great customer engagements, and preventing recurring issues.
By using Microsoft Dynamics 365 Business Central online, you can get complete access to scenarios based on "Cloud Insight". It can examine your organization's key performance indicators by Machine Learning and data resulting from Power BI.
If you need to extend Microsoft Dynamics 356 Business Central's capabilities, you can easily do so by using well-known development tools such as extensions development or by downloading the applications offered for Microsoft Dynamics 356 Business Central that are available on the Microsoft app store
Business Central leverages the intelligence of Microsoft Power BI (Business Intelligence) to ensure in-depth organizational reporting, allowing businesses to:
Assure smart forecasts for Sales, Budgets, and Cash Flows
Produce real-time inventory levels
Deliver payment due to reminders to avoid overdue penalties
Facilitate vendor discounts and payment recommendations
Also, read: Top Benefits of Using Dynamics 365 Business Central for the Finance Industry 
Why Should You Consider Microsoft Dynamics CRM?
Right from the beginning, the range of new features in Microsoft CRM 2011 like its enhanced familiarity, dashboards, and role-tailored client support everyone that uses the system work even more efficiently.
You can instantly and accurately access the precise information that you need and start to work more effectively and make better decisions by using features such as Microsoft Dynamics CRM's search filters, 'advanced find', and reporting tools.
Microsoft Dynamics CRM makes it easy to set up, manage, run, analyze, and refine campaigns that improve marketing. This in turn helps marketing staff get the best from their marketing spend, and improve campaign results.
Microsoft Dynamics CRM keeps all information in one place, there are no more pits of information – everyone has access to all the information they need and they work together more effectively.
Microsoft Dynamics CRM allows better pipeline management, which means that you can more precisely predict manufacturing and product requirements. Also, marketing and sales produce more orders as Microsoft Dynamics CRM allows them to keep an open and clear view of the market and recognize more potential sales opportunities.
Also, read: Conquer Security and Disaster Recovery Challenges with Microsoft Dynamics 365 Business Central SaaS
Which Product Will Best Serve Your Business?
Dynamics 365 Business Central and Dynamics 365 CRM have a pre-built integration, so Business Central customers can get the ERP functionality that they need, and the full spectrum of sales and customer management features in Dynamics 365 CRM.
You should prefer Dynamics 365 Business Central if you need to manage financials, inventory, and production, and only require basic sales management features.
Dynamics 365 Business Central satisfies companies' lead management needs. Its basic sales management specialties involve:
Manage opportunities.
Manage contacts
Manage quotes
Campaigns and segments
Dynamics 365 CRM will best serve you if you want to track leads, find prospects, and maintain contact with customers with the help of email marketing.
Dynamics 365 CRM offers a better choice for sales and customer management when businesses need:
Have complex business processes that require workflows beyond what is available in Business Central
Need a more extensive Outlook integration
Require enhanced marketing automation, field service
customer service, and more.
Want mobile access to all CRM features
Dynamics 365 Business Central along with Dynamics 365 CRM Integration will help you in case if you want to optimize operations, manage financials, and need a complete set of marketing and sales management capabilities to streamline business processes across the entire organization.
Why Use Business Central Sales Opportunities?
Minimum automation of business processes required
Great when selling to the existing customers as full account history available
Business Growth – Connecting Dynamic 365 CRM and Business Central using Flow for Advanced sales and service.
Also, read: Outgrown of QuickBooks? Business Central Could be the Right Choice for You
Final Verdict – Microsoft Dynamics 365 CRM and Microsoft Dynamics 365 Business Central
Each of these applications produces some form of CRM functionality, but there is a chance of confusion when the different solutions might make the most sense.
If you're a smaller organization, with simply 1 or 2 sales reps, or you are resource-constrained, then you may simply need the functionality found in Business Central.
Although you may decide you need to use both Business Central and CRM, you can provide your users with the best of both worlds by integrating the two applications. Microsoft
Presents some connectors that make integration fairly simple. Although, most organizations find what they need to customize the integration process to maintain the custom fields and tables that need to be visible in both applications.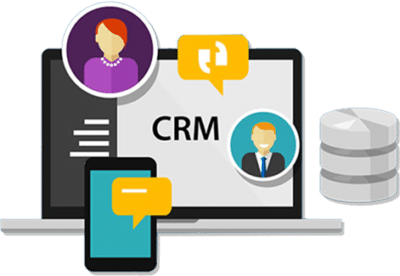 Microsoft Dynamics 365 Business Central is an all-in-one ERP business management solution that helps you connect your financials, sales, service, and operations to streamline business processes. Connect our team if you are interested in implementing Dynamics 366 business central in your business.