In this competitive era of today, having a powerful and robust system that supports your organization's goals is crucial. Most organizations today prefer and plan to move to a cloud-based ERP system to optimize and enhance their business processes. This is because a solution like this provides total visibility into fundamental business operations and optimizes systems through enhanced resource tracking and reporting, database administration, and data sharing.
Businesses today need to focus on more than just profits; they must also optimize company processes and improve the whole corporate experience. Adoption and implementation of the right CRM system can help your business stand out from the competition while improving overall experience and ROI (return on investment). 
What is Dynamics 365 Business Central?
You can choose Microsoft Dynamics 365 Business Central as one option for all your business needs.
It is a cloud-based, all-in-one business management solution that lets businesses go from entry-level accounting software or a legacy ERP system to a single, complete solution for managing finances, operations, sales, and customer care.
This system helps in streamlining operations, improving customer connections, and enabling growth for businesses.  
With Dynamics 365 Business Central, you can enhance your business operations by simplifying data, automating business processes, and improving customer interaction.
Aside from being highly adaptable, it can also be tailored to meet any business needs. Business Central provides a wide range of functions and can be used on-premises, in the cloud, or in a private cloud.  
What can Business Central do? 
Business Central, formerly known as Microsoft NAV, is a cloud-based version of this powerful ERP and CRM software that is more manageable to use, especially for small and mid-sized firms.
It is a reliable and well-established Enterprise Resource Planning (ERP) system. It is a part of Microsoft Dynamics 365 that offers CRM system characteristics.
Making it an adaptable and versatile platform that can help businesses achieve more by connecting their sales, finances, purchasing, projects, inventory, service, manufacturing, and operations.   
The Business Central software solution can be used on premises, in the cloud, or a combination of the two (hybrid).
This provides businesses the privilege to access it from anywhere and at any time to efficiently accelerate sales, manage their finances, improve their supply chain, and more.  
Also, read: Outgrown of QuickBooks? Business Central could be the right choice for you 
What modules are included in the Microsoft Dynamics 365 Business Central? 
The Microsoft Dynamics 365 Business Central platform allows you to manage your entire business with a single platform. It streamlines your processes, allows you to make smarter decisions, and accelerates your growth. Out-of-the-box functionality includes the following modules: 
Financial Management
Project Management
Sales & Service Management
Supply Chain Management
Operations Management
Warehouse/Inventory Management
Reporting & Analytics
Service Management
Production/Manufacturing
Functionalities and features of Microsoft Dynamics 365 Business Central
Dynamics 365 Business Central is a single end-to-end solution for efficiently handling all your business processes. It offers the following functionalities: 
Copy Infographic
1) It has a fresh and intuitive user interface 
Microsoft Dynamics 365 Business Central has a familiar, modern, and intuitive user interface. This user interface is highly customizable, which makes using the service much easier.
It includes personalized feeds, role-specific views, and smart notifications. Its extensive functionality provides users with a wonderful experience on Android desktops, Windows, iOS, tablets, and phones. 
2) Easy customization 
Every business has its own set of standards and requirements. Users can use Business Central to tailor the solution to better meet their needs.
You may create customized business apps and workflows with Microsoft Flow and Microsoft PowerApps by using the common data service for apps.  
3) Machine learning and native intelligence
Microsoft's tremendous efforts in machine learning and AI (Artificial Intelligence) are also at the core of Business Central.
AI capabilities in Business Central may be used to provide you with precise projections, superior next-step recommendations, and useful analytical insights.  
4) Provides seamless integration with other Microsoft services
Because Business Central is a cloud-based application, it integrates with other Dynamics 365 products as well as Microsoft apps including Microsoft Flow, Power BI, PowerApps, and Office 365.
Users can also access the Quote-to-cash functionality from within Outlook, which allows them to generate quotes based on emails and submit invoices.  
5) Order processing
D365 Business Central provides automated workflows and dynamically updated inventory levels that help you monitor and control your sales and purchase orders. This option will also help you in avoiding unnecessary purchases. 
6) Financial management 
Business Central organizes all your data from purchasing, inventory, sales, accounting, and customer support to provide you with a complete picture of your business.
It assists you in streamlining your financial administration and providing real-time insight into performance. Using this software, you can securely share information and keep track of your budget and cash flow.  
Also, read: Performing a bank reconciliation in Dynamics 365 Business Central
Who uses Business Central?
Multiple small and medium-sized organizations utilize this robust software solution. This platform offers integrated functionality that applies to businesses of all sizes and departments, including: 
Project and resource managers
Accountants or Financial Controller
Financial managers 
HR (Human Resource) managers 
Service order managers 
Supply chain managers 
Customer relationship managers 
Warehouse managers 
Manufacturing 
Why Choose Microsoft Dynamics 365 Business Central for your business? 
If you need an easy-to-use system that goes beyond what basic accounting software can achieve, Dynamics 365 Business Central can be the best choice for you. It includes a wide range of business functions as well as the added benefit of cloud computing.
Service, sales, and finance are all areas where Business Central can help. It is built to work with a variety of cloud services, including SharePoint, Power Apps, Outlook, Power BI, Office 365, and Flow. It lets businesses achieve the following: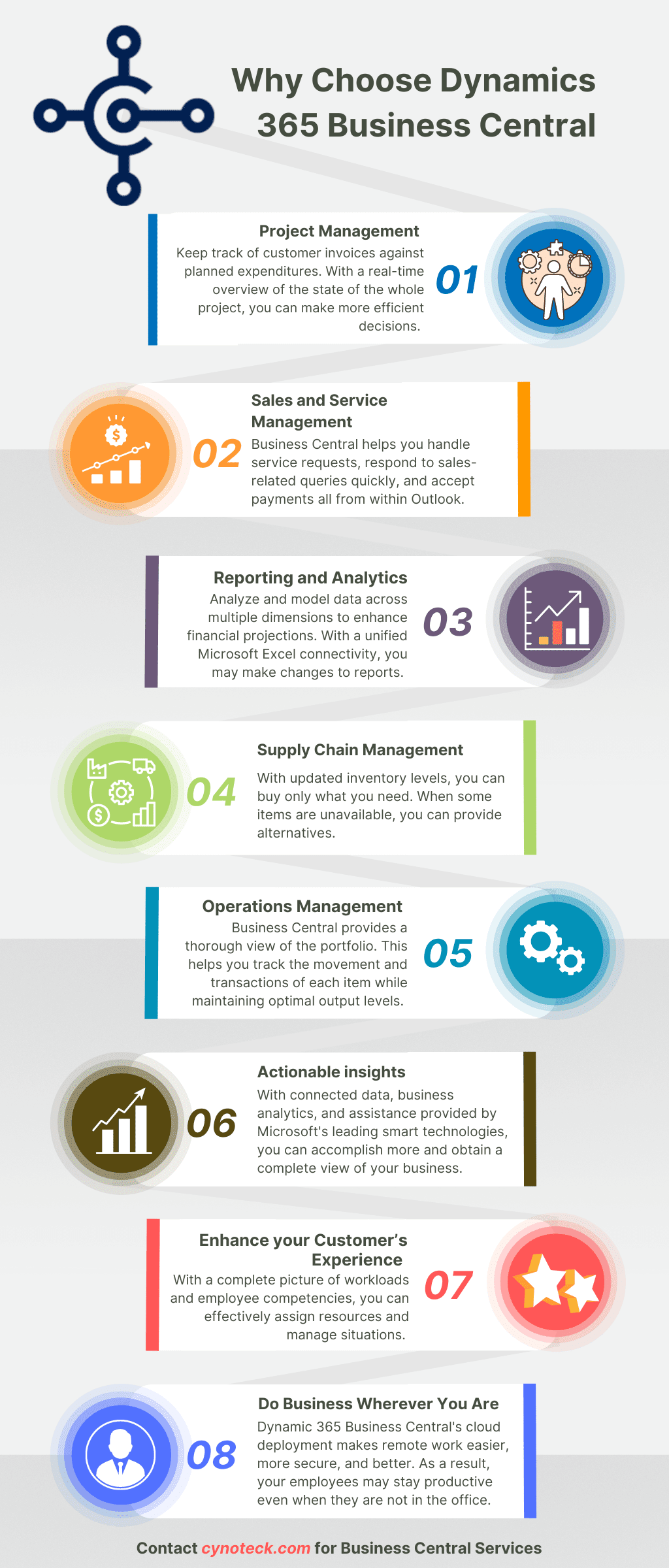 Copy Infographic
1) Project Management 
You can keep track of resource levels by monitoring sales and capacity using real-time data. Keep track of customer invoices against planned expenditures. With a real-time overview of the state of the whole project, you can make more efficient decisions. 
2) Sales and Service Management 
Business Central helps you handle service requests, respond to sales-related queries quickly, and accept payments all from within Outlook. To efficiently distribute resources, it provides a precise picture of your workloads, tasks, and team competencies. 
3) Reporting and Analytics
Analyze and model data across multiple dimensions to enhance financial projections. With a unified Microsoft Excel connectivity, you may make changes to reports. 
4) Supply Chain Management 
Make use of your D365 Business Central built-in intelligence to determine what needs to be replenished and when. With updated inventory levels, you can buy only what you need. When some items are unavailable, you can provide alternatives. 
5) Operations Management 
For efficient order fulfilment, Business Central provides a thorough view of the portfolio. This helps you track the movement and transactions of each item while maintaining optimal output levels. 
6) Actionable insights 
With connected data, business analytics, and assistance provided by Microsoft's leading smart technologies, you can accomplish more and obtain a complete view of your business. 
7) Enhance your Customer's Experience
With a complete picture of workloads and employee competencies, you can effectively assign resources and manage situations. Keep a close eye on customer interactions throughout the sales cycle to spot cross-selling opportunities. 
8) Do Business Wherever You Are
Dynamic 365 Business Central's cloud deployment makes remote work easier, more secure, and better. As a result, your employees may stay productive even when they are not in the office. 
Also, read: Business Central Integration with LeafLink Cannabis CRM
What makes Dynamic 365 Business Central different?
A good ERP system such as Microsoft Dynamics 365 Business Central includes the following features for different businesses: 
A well-thought-out roadmap
The right functionality
A proportional price
A fool-proof implementation plan
Capability to integrate with other applications
Anytime, anywhere accessibility
Ability to update itself regularly 
Capacity to extend the product through low code
Other than this, the following factors make D365 BC a suitable option: 
Dynamics 365 Business Central is a versatile solution that can be tailored to your company's requirements. 
Low-code development solutions allow you to add functionality without requiring years of programming experience. 
It allows you to choose and pick the modules you want, including the fundamental Finance module, as well as Warehousing, Manufacturing, Service Management, and others. 
Expand your solution using third-party solutions that can be simply added and removed. 
Also, read: 7 Signs your business needs to upgrade to a new CRM
Microsoft Dynamics 365 Business Central License types
The pricing of Microsoft Dynamics 365 Business Central usually depends on the subscription license you pick. Each subscription license corresponds to a specific user, and each user must possess their subscription license. An assigned license to one user can be accessed from multiple devices but cannot be shared with other users. 
Dynamics 365 Business Central includes rich features, tools, and capabilities that can help you transform your business. However, the type of license you choose will determine which features you have access to. 
Let us break the licensing for Dynamics 365 Business Central into three different types:  
Team Members' licence
---
Basic functionality such as the user interface, intelligence, and customization are available when you buy the team member license. 
Essential license
---
Most Business Central functions, like financial management, customer relationship management, human resources management, project management, and supply chain management, are available with the essential license.
Premium license
---
Premium licenses offer all the capabilities incorporated in regular essential licenses, as well as access to manufacturing features and service order management. 
The prices vary for each, and the total cost depends on the number of users.  
Final words
Every new technology appears to be highly appealing and intriguing with its all-new features. However, when upgrading to new technology, it is more crucial to ensure that new technology helps you stay profitable.
Business Central is a feature-rich ERP solution with a wide range of capabilities and functionalities; however, it is important to select the proper license to meet your specific business requirements. 
If you are thinking of deploying Business Central but are not sure when, how, or why, we can help. With our team of Microsoft Dynamics experts, you can discuss your business process, industry-specific business goals, and existing and future requirements. We are a reliable business partner, helping businesses to grow at their pace. 
Also, read: 5 Easy steps for sales return in Business Central
FAQs (Frequently Asked Questions)
1) How does Dynamics 365 Business Central work with Outlook?
In Microsoft Outlook, Dynamics 365 Business Central allows you to handle business contracts with customers and vendors directly. You can look at all important financial data, while creating and sending financial documents, like quotes and invoices. All this is possible without leaving Outlook with the help of Business Central Outlook add-ons. 
2) How is Dynamics NAV related to Dynamics 365 Business Central?
Dynamics NAV has been renamed Dynamics 365 Business Central. The product has a modern and clean appearance and feel, with vital information for each user displayed at the top of the role center. The essential functionality of this product is the same as it has always been, and it is just getting better with time.  
3) What businesses can Dynamics 365 Business Central support?
Dynamics 365 Business Central is a versatile and adaptable platform. As a result, it applies to any industry, including restaurateurs, retailers, food manufacturers, and financial services. There will be a solution for your organization's needs thanks to industry-specific add-ons available from Microsoft's AppSource or directly from Partners like us.  
4) Can we make changes to the way Dynamics 365 Business Central functions?
'Extensions' can be utilized to customize Business Central. There is nothing even close to this in the competing ERP market, such as SAP or Sage. Microsoft has created the ultimate 'Software as a Service Platform' (SaaS) with extensions that you can customize and alter to fit your requirements.  
5) Is Power BI compatible with Dynamics 365 Business Central?
Power BI is a ready-to-use data visualization tool, which means it comes with a pack of attractive graphics and dashboards to represent your data. Power BI provides you with access to a variety of standard reporting templates as well as the ability to develop reports and dashboards directly in Dynamics 365 Business Central.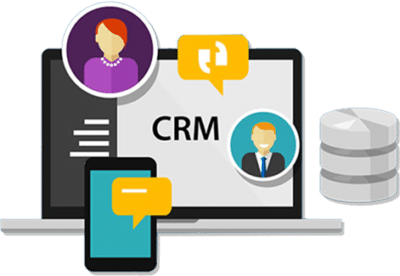 Microsoft Dynamics 365 Business Central is an all-in-one ERP business management solution that helps you connect your financials, sales, service, and operations to streamline business processes. Connect our team if you are interested in implementing Dynamics 366 business central in your business.