The growing importance of inventory management systems in hospitals can be attributed to their significant impact on the healthcare sector. Firstly, let us understand what healthcare inventory management is.
Healthcare inventory management includes the accurate control and administration of a healthcare facility's inventory, purchases, orders, payments, and related processes. This comprehensive system efficiently tracks essential items, from prescriptions to medical supplies, ensuring seamless operations within the healthcare facility.
The entire healthcare industry, including clinics, labs, family practices, and hospitals, relies on a diverse range of specialized equipment, materials, and medications to cater to patients' needs effectively. So, efficient inventory management practices play a crucial role in storing and organizing these medical supplies.
Implementing a hospital management strategy or utilizing top-tier hospital inventory management software and tools allows medical professionals to streamline hospital workflows and processes efficiently. Particularly in hospitals where patient care takes precedence, managing inventory becomes even more challenging.
Therefore, it becomes essential to implement an effective and precise inventory management system for hospitals to optimize inventory control and ensure seamless operations.    
This comprehensive blog digs down into the details of hospital inventory management software and solutions, exploring their best practices, essential features, compatible platforms, and a carefully organized list of the top Medical Inventory Management Software solutions.
Continue reading to gain valuable insights to optimize your healthcare facility's inventory control and streamline operations for improved efficiency and patient care. 
Healthcare Inventory Management Software: What is it and why is it important?    
Health care inventory management software streamlines a health system's order, purchase, inventory, payment, and prescription tracking processes. An effective workflow ensures organizations avoid supply and financial losses, maintaining an accurate and up-to-date product and supply log.
Empowered by medical inventory management software, healthcare companies can replace outdated and inefficient tracking methods, gaining full control of their inventory with ease.
Utilizing a secure, cloud-based system, care provider teams can accurately monitor their entire medical inventory, keeping essential information readily accessible, such as supply stock levels, medication expiration dates, and equipment maintenance details.    
Allocating software to manage inventory management tasks enables healthcare organizations to focus on business growth and delivering exceptional patient care.
With a robust inventory management system in place, you can ease the burden of manual inventory tracking and dedicate more time to critical aspects of your operations.
This transformative solution serves as a game changer, improving efficiency and optimizing workflows, leading to improved healthcare services and patient outcomes.    
Also, read: Best Healthcare ERP Solutions for Enhanced Efficiency
What is the main purpose of Inventory Management and what are the types?    
A robust inventory management system plays a pivotal role in efficiently managing material flow, optimizing resource utilization, coordinating internal activities, and enabling seamless customer communication. While not directly involved in operational management, this system provides essential information empowering managers to make accurate and timely decisions.     
Effective inventory management is important in all business operations, particularly within the healthcare industry where equipment and supply costs are crucial.
In healthcare inventory management, two primary methods are employed: perpetual and periodic. These approaches play a critical role in maintaining seamless operations and cost-efficiency, ensuring healthcare facilities can deliver high-quality patient care while managing their inventory with precision.    
1) Periodic inventory 
Periodic inventory management depends on manual data entry and updates performed by employees. As the name implies, inventory counts are taken periodically, typically on a weekly or similar basis.
While this approach may suit small healthcare facilities, it is less optimal for larger organizations such as hospitals. In this method, employees are tasked with manually updating supply and equipment inventory records.
For larger healthcare facilities, implementing more advanced and automated inventory management solutions is essential to ensure efficiency and accuracy in managing their inventory.    
Periodic inventory management has a major drawback due to the potential for errors resulting from manual data entry. This method demands more manual labor, diverting valuable time from critical tasks. That is the reason it is better suited for smaller facilities with fewer items to track.    
2) Perpetual inventory 
Perpetual inventory management is an advanced system that automatically updates inventory data, eliminating manual entry. Leveraging RFID technology and advanced software, it continuously tracks and records products and assets, streamlining inventory management for healthcare facilities.
While the cost of such software may be higher, the benefits of real-time and efficient inventory tracking make it a valuable investment for healthcare organizations.    
Perpetual inventory systems have the advantage of tracking purchases, deliveries, additions, and subtractions, allowing healthcare facilities to maintain accurate and up-to-date inventory records.
This automation relieves the burden on medical staff, allowing them to focus on patient care. Alerts and notifications prompt timely restocking, ensuring essential supplies are never overlooked.
Overall, these systems optimize inventory management, improving operational efficiency and patient care.    
Unlock Efficient Inventory Management with Business Central Services.
Streamline operations, optimize stock, and boost productivity. Get started now!
Must-have features of a Futuristic Healthcare Inventory Management Solution
When looking for an innovative Healthcare Inventory Management Solution, you must prioritize these essential features and functions to ensure its effectiveness. You need to look for must-have capabilities to streamline inventory management efficiently.    
Copy Infographic
1) Centralized inventory management 
A crucial aspect of the software is its ability to centralize business inventory management with interconnected modules, providing information in one centralized location.
This enables collaboration and ensures effective inventory management, guaranteeing timely access to the right inventory throughout the day.    
2) Real-time Prescription Data 
Innovative healthcare inventory management software offers real-time data generation and tracking, catering to end-to-end operational needs, especially in pharmacy inventory systems.
This automated solution efficiently processes and qualifies prescription data, providing real-time data analysis and ensuring compliance through integrated healthcare solutions.
3) Reporting of the business operations
Inventory management reports are integral to improving overall efficiency in inventory management. Modern inventory management software excels in generating insightful reports, offering a clear picture of your inventory status.
These reports play a pivotal role in decision-making, leading to cost reduction, increased productivity, and improved profits for your business.    
4) Automation 
Efficient hospital inventory management software should provide a crucial automation feature, allowing task delegation to the system.
This minimizes errors and frees you from the continuous oversight of inventory details. By improving productivity, automation streamlines inventory management, leaving you with more time for other responsibilities.    
5) Compliance 
Choosing hospital inventory management software that prioritizes compliance with comprehensive guidelines is crucial.
The solution should efficiently manage multiple inventory centers, assimilate dispersed inventories into the pharmacy workflow and database, and seamlessly integrate with other healthcare management systems.  
6) Flexible 
Flexibility is an important aspect of inventory management software, allowing customization to meet your unique business requirements.
The system must enable you to define and adjust parameters according to your specific requirements, ensuring seamless adaptability and efficient inventory management.    
7) Patient Identification 
Developers and engineers should create advanced pharmacy inventory management software that should be able to identify patient eligibility for programs seamlessly.
When an individual applies for medications, this software should precisely clarify their eligibility and highlight records that establish compliance with program requirements.     
8) Supply Chain Management 
Medical inventory management systems should leverage predictive analysis, utilizing patient and clinical data to forecast outcomes accurately.
Utilizing the power of cloud computing in healthcare should allow hospitals to improve competencies and predict inevitable consequences efficiently.     
9) The ability to manage user permissions and access 
A healthcare inventory management system should have customizable access permissions, you should have full control over employee privileges.
Tailor access to specific inventory sections, ensuring that only authorized personnel can view and make changes. This keeps your data safe and maintains integrity by providing access on a need-to-know basis.  
Also, read: Top 10 Real Estate ERP Software for Enhanced Efficiency
Healthcare Inventory Management System Benefits
Unlock the potential of efficient inventory management in healthcare organizations and discover the power of streamlined operations and enhanced performance.
You can experience benefits such as seamless implantable device tracking, safeguarding investments, and ensuring contract compliance.
Furthermore, hospital inventory management software improves different aspects of your medical facilities. Here are the benefits it offers:   
1) Efficient Management of Stocks  
Optimize pharmacy inventory management with real-time stock visibility. Seamlessly synchronize your PMR system with EPOS or other inventory software to automate updates as medications are dispensed.
Safely store medications, apparatuses, and equipment using our modular storage systems from PP Healthcare Solutions.
This efficient management ensures prompt delivery and utilization, streamlining your operations for enhanced performance.    
2) Streamline Prescription lOT Tracking and Highlight high-risk Medications 
Efficient pharmacy operations need accurate tracking of production and expiry dates. Compliance with regulations and customer satisfaction go hand in hand with an effective inventory management system.
Crucial elements include batch identification, location, and removal when necessary. Avoid holding excessive stock of low-demand, costly, or short-shelf-life medications.
Instead, monitor and order refills as needed to optimize inventory and maximize profits while benefiting your customers.    
3) Investment Protection 
You can maximize your healthcare organization's investment in surgical instruments through efficient hospital inventory management software. These valuable assets are not easily replaceable due to cost or availability, making effective management essential.
With a robust inventory system, you can track instrument usage and availability, minimizing the risk of loss and theft. Optimize your operations and safeguard your valuable resources with professional medical inventory management software. 
4) Monitoring and Tracking Medical Devices 
Streamline implantable device management in healthcare organizations with precision and efficiency. As each device used is equipped with a unique serial number, allowing seamless tracking from manufacturing to patient implantation.
Hospital inventory management software empowers healthcare providers to identify the specific device used for each patient's operation accurately. Improve patient care, traceability, and accountability with this professional and innovative solution.    
5) Use of analytics in corporate decision-making 
Optimize your medical supply inventory management with advanced software, unlocking valuable analytics for informed decision-making.
Seamlessly acquire and utilize medical resources for your patients, eliminating supply scarcity and potential delays.
Empower your organization with efficient hospital inventory management software, enabling seamless operations and sound business decisions.     
6) Contract Compliance 
Leverage group-buying contracts effectively with an efficient healthcare inventory management system. Avoid the pitfalls of an ineffective system that may lead to overstocking or stock-outs.
This solution ensures optimal inventory levels, reducing risks and keeping your organization compliant with group-buying contracts. This furthermore maximizes cost savings and streamlines operations. 
7) Save costs 
Get the cost-effective benefits of a medical inventory management system like real-time tracking which guarantees optimal stock levels while eliminating overstocking and wastage.
Automation reduces staffing requirements, leading to significant cost savings.  
8) Improve staff morale and patient experience  
Improve the patient experience with well-managed stock, providing reassurance and positivity. With this efficient solution, you can reduce strenuous tasks for staff, creating a better work environment and relieving pressure.
Now, you can upgrade your healthcare facility with a professional and unique inventory management system, focusing on patient care and staff well-being. 
Also, read: Business Central Cloud vs. On-Premise: A Comprehensive Comparison of Features and Pricing
Best Practices for Hospital Inventory Management
Upgrade your healthcare organization with optimized inventory management, improving productivity and equipment visibility. You should always implement a professional approach for optimal results.
Discover the best practices mentioned below for streamlined processes and real-time tracking to ensure efficiency and success.    
1) Start with a Database 
You can achieve efficient equipment and supplies tracking with a robust inventory database. Include essential details such as location, quantity, and expiry dates for informed procurement and utilization decisions. This well-organized database ensures accurate tracking, identifies potential issues, and optimizes inventory management.     
2) Get a Tracking System and Tag each item in the Inventory 
Improve healthcare facility inventory management with an innovative hospital tracking system. Enjoy real-time monitoring of inventory levels and seamless procurement.
Achieve precision by tagging each item with a unique identifier linked to the inventory database, ensuring utmost accuracy and efficiency.
You can optimize inventory management for pharmaceuticals and medical equipment with the power of barcodes and asset tags.
Experience streamlined operations and improved inventory control with this professional and unique solution. 
3) Assign Responsibilities Clearly 
Optimize inventory management by assigning clear roles to team members for accountability. Define responsibilities like inventory tracking, usage monitoring, and supply ordering.
Furthermore, you can empower your team with efficient training sessions for effective task execution.  
4) Gain Insights into Medical Equipment Usage Patterns 
Utilize the power of data to gain valuable insights into usage patterns. Tracking equipment and supplies usage empowers you to make necessary adjustments.
Optimize inventory levels, identify inefficiencies, and ensure effective utilization. A data-driven approach can help you make informed decisions and seamless collaboration with clinical leadership. 
5) Implementing Supply Management Systems 
Improve inventory management in healthcare facilities by implementing a supply management system. This helps you eliminate errors and ensure consistency, simplifying usage documentation, reporting, and compliance.
Establish clear protocols for ordering and replenishment to prevent stockouts and shortages. Safeguard equipment and effortlessly track its location, optimizing operations and efficiency.
This helps you streamline your hospital or medical facility, saving time and money.  
Also, read: Supercharge Your Business with Drop Shipment in Business Central: A Step-by-Step Guide
The Top 10 Medical Inventory Management Software Solutions
With rising costs and demands, the healthcare sector faces challenges in compliance, ROI, and workflow optimization.
Medical inventory management software emerges as the solution, enhancing overall efficiency and benefiting all stakeholders – custodial staff, administrators, doctors, and patients.
We have created a list of our handpicked selection of the top 10 medical inventory management software solutions to efficiently manage your medical inventory.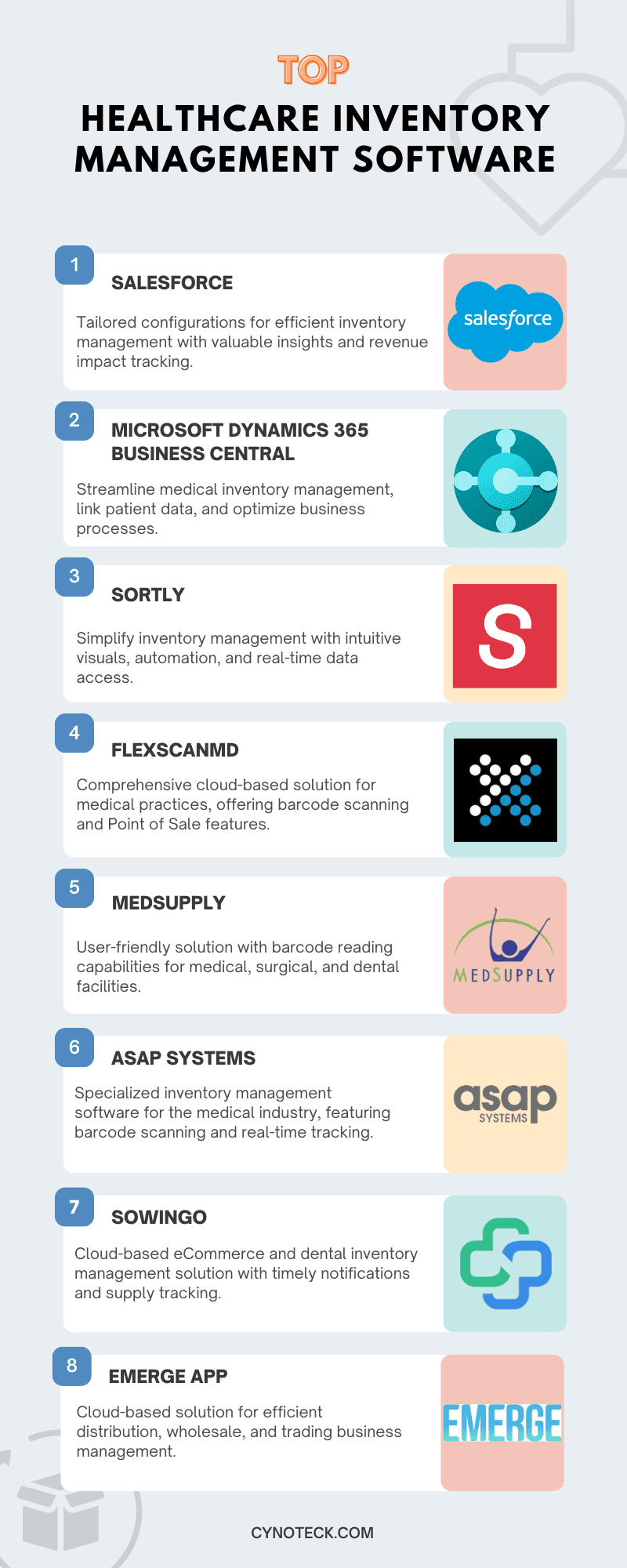 Copy Infographic
1) Salesforce  
You can leverage Salesforce for an efficient inventory management system with tailored configurations. Avoid unnecessary complexities and focus on valuable insights, including field inventory tracking and revenue impact.
You can benefit from visits-based product availability projections and seamless product transfers to address shortages.
This improves your inventory management with a professional and unique approach thereby maximizing efficiency and revenue. 
Get the Salesforce Inventory Management Services Here
2) Microsoft Dynamics 365 Business Central 
Streamline your medical inventory management with Microsoft Dynamics 365 Business Central. Improve productivity and eliminate clinical errors in the healthcare industry.
This helps you to seamlessly link patient, clinician, and employee data to optimize business processes and operations efficiently.
This professional and unique solution helps your healthcare organization with improved efficiency and accuracy. 
Get the Business Central Inventory Management Services Here
3) Sortly
Sortly is a prominent medical inventory management and asset tracking software. It helps you to simplify inventory management with intuitive visuals, tracking supplies, automating orders, and receiving, and accessing real-time data and analytics.
Streamline your medical processes effortlessly with Sortly, making your tasks in the modern medical industry easier and more efficient.
Experience the power of Sortly's unique features: visual inventory management, seamless item scanning, and efficient automation capabilities.  
4) FlexScanMD 
Discover FlexScanMD's comprehensive cloud-based medical inventory management system, designed to efficiently handle products and medications for medical practices of all sizes and specialties.
Access, manage, and dispense your medical inventory seamlessly from any web browser or device across multiple locations.
This all-in-one tool offers inventory management, barcode scanning, and Point of Sale (PoS) features, making it an excellent choice for medical inventory management across various specialties. 
5) MedSupply 
Utilize the power of MedSupply Software, a robust and user-friendly solution that effortlessly reads all UPC and 2-D package barcodes. Easily create barcode labels with this perfect fit for medical, surgical, and dental facilities.
MedSupply's simplicity ensures easy adoption while offering essential features like task automation, inventory tracking, and item scanning.  
6) ASAP Systems  
ASAP Systems is a specialized inventory management software tailored for the medical industry. Effortlessly track perishable items and ensure proper disposal of expired inventory.
With barcode scanning features, digitize and simplify your inventory management system.
Suitable for businesses of any size, this real-time tracking solution empowers your healthcare organization with powerful features to manage inventory and generate advanced reports.  
7) Sowingo 
Coming to Sowingo, it is an innovative cloud-based eCommerce and dental inventory management solution. Simplify your dental supplies procurement, seamlessly track inventory, and stay informed about supply levels.
Benefit from timely notifications, ensuring you optimize restocking, monitor expiry dates, and capitalize on product sales. This improves your dental practice management and efficiency. 
8) EMERGE App  
EMERGE is a comprehensive cloud-based solution for efficient distribution, wholesale, and trading business management.
Seamlessly handle customers, suppliers, products, inventory, imports, exports, sales, purchases, payments, and bills.
Tailored for different industries, it offers price lists, batch management, and manufacturing features to streamline inventory management.
Unlock the power of reports, inventory tracking, and supplier management, and help your business grow to new heights with this professional and unique software. 
9) VaxCare 
VaxCare is an end-to-end vaccine management solution. Seamlessly track every dose, from purchase to reimbursement.
Streamline vaccination management with patient, inventory, and EHR integration for medical professionals. Enjoy full visibility, automated replenishment, and daily immunization highlights, while efficiently tracking patients.
This enhances your vaccination process with VaxCare's professional and comprehensive solution for seamless management from start to finish. 
10) EZOfficeInventory 
Uncover the power of EZOfficeInventory – the industry-leading asset-tracking software. Effortlessly track, maintain, and report on your equipment from anywhere, at any time.
This empowers your team, streamline operations, and reduce costs with this versatile solution.
You can furthermore manage all types of items, from IT assets and AV equipment to construction tools and medical equipment, with ease.  
Also, read: Guide on Migrating Your Legacy Data to Dynamics 365 Business Central 
Conclusion
Uncover the substantial advantages of inventory management in healthcare. As summarized above, you will be able to take advantage of the following: asset tagging, efficient stock management, real-time monitoring, and data-driven analytics for well-informed decisions.
Adopt medical inventory management software from the above-defined list of top best solutions to streamline processes and maintain organized stockrooms for staff. This helps you maximize time allocation, allowing staff to prioritize optimal patient care.  
FAQs (Frequently Asked Questions)
1) What is a healthcare inventory management system?
Healthcare inventory management, also known as supply chain management, includes a range of processes enabling perpetual inventory tracking, purchases, orders, and payments for healthcare providers. The implementation of these systems in large and decentralized organizations aims to achieve centralized management through a single software, automating internal inventory processes to save human resources and prevent revenue losses.   
2) What are the features and benefits of a mobile inventory management app?
Ensuring optimal inventory management across various industries, as it is the backbone of their operations. Efficiently tracking and managing inventory is of utmost significance, encompassing factors like re-order levels, mitigating overstocking and out-of-stock challenges, and analyzing trends with real-time updates. Experience the perfect solution for your comprehensive inventory needs by choosing the ideal Inventory Management Mobile App.   
3) In what ways might hospital inventory management benefit the healthcare sector?
Initially reluctant, the healthcare industry now acknowledges the crucial role of Inventory Management. With growing trust in fully automated software, they understand its potential and seek further opportunities. Now is the suitable moment for any healthcare organization to implement an Inventory Management System, unlocking doors to enhance efficiency and productivity. Experience the benefits of this software and upgrade your healthcare environment with professional and innovative solutions.  
4) How does an automated system result in smooth practice management?
Providing your healthcare organization with medical inventory software and other hospital software enables seamless appointment reminders through email, messages, and phone calls. This allows effective communication with your clients, creating a strong bridge between your organization and patients. Gain comprehensive visibility into every aspect, allowing doctors to access patient history more efficiently.  
Additional benefits of inventory management in the medical sector include:   
– Reducing time  
– Have assets on hand for when they are needed  
– Excellent reliability  
– Accurate information  
– Cutting the cost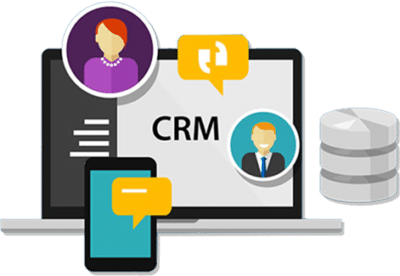 Microsoft Dynamics 365 Business Central is an all-in-one ERP business management solution that helps you connect your financials, sales, service, and operations to streamline business processes. Connect our team if you are interested in implementing Dynamics 366 business central in your business.