Looking for an all-in-one business app? Or do you already have CRM or ERP systems in place? You may be using both cloud-based and on-premises services. But Microsoft Dynamics 365 can be your comprehensive package of services that allows you to create all-in-one solutions rather than choosing from a variety of possibilities.
It lets you realize the true potential of your business by connecting customers, people, and processes. It makes your work easy by breaking down data silos between marketing, sales, and service teams.
Dynamics 365 and the cloud-based business application platform are suitable for various organizations, particularly those that require the ability to scale up and down as needed. 
What is Microsoft Dynamics 365 and what does it do?
Dynamics 365 is a collection of integrated, modular Software-as-a-Service (SaaS) apps and services designed to transform and enhance your core customers, employees, and business processes. It integrates your data, processes, and business logic by combining ERP and CRM features.
Instead of having different, segmented sales and marketing processes, Dynamics 365 provides automated, integrated, and intelligent sales and marketing tools. These tools help connect, prioritize, and convert leads into paying customers.
This application is built on Microsoft Azure, a platform that provides a secure environment along with a variety of software services. It is also linked with Microsoft 365's productivity apps that allow you to manage users and services in one place.
D365's fundamental concept is that all your business and customer data is maintained in one place for effective process planning and a complete understanding of your clients. This helps in making data-driven decisions.
This solution is also ideal for your company's dynamic nature and the possibility of unique situations. It is now becoming an increasingly significant solution with a variety of applications that adapt to changing business trends.
This technology provides more control over the sales process, improved customer happiness, and increased productivity thanks to its expertise in creating, deploying, and supporting innovative solutions.
Also, read: What is Microsoft Dynamics 365 Business Central?
Limitations of Microsoft Dynamics 365
Microsoft Dynamics CRM online can be an ideal choice for many businesses. Dynamics 365 can be up and running in a matter of minutes. A basic plan with no expansions may be set up in under five minutes! But data migration from an existing ERP, strategic planning, customizations, and training will all take time.
However, before you switch to Dynamic 365, you should be aware of several constraints or limitations that may or may not be important to your organization.
No backup/restore database feature is available (Microsoft creates backups with its policies—you can only request a restore if necessary).
There is no database backup/restore feature (Microsoft creates backups with its policies—you can just request a restore if needed).
You have no access to the database.
There is no PowerShell available. (We do not have import and export data functions like EXPORTDATA, NAVDATA, or IMPORTDATA since we do not have PowerShell cmdlets and database functions).
Data from pages cannot be exported or imported (these pages are not available).
When you make changes to the users' data in CRM, the changes are not immediately reflected. Changes must be made manually, then the cache must be cleared before the changes are reflected.
Also, read: Microsoft Dynamics 365 2021 release wave 2 plan
Benefits of Dynamics 365 CRM – Adapt and Scale your business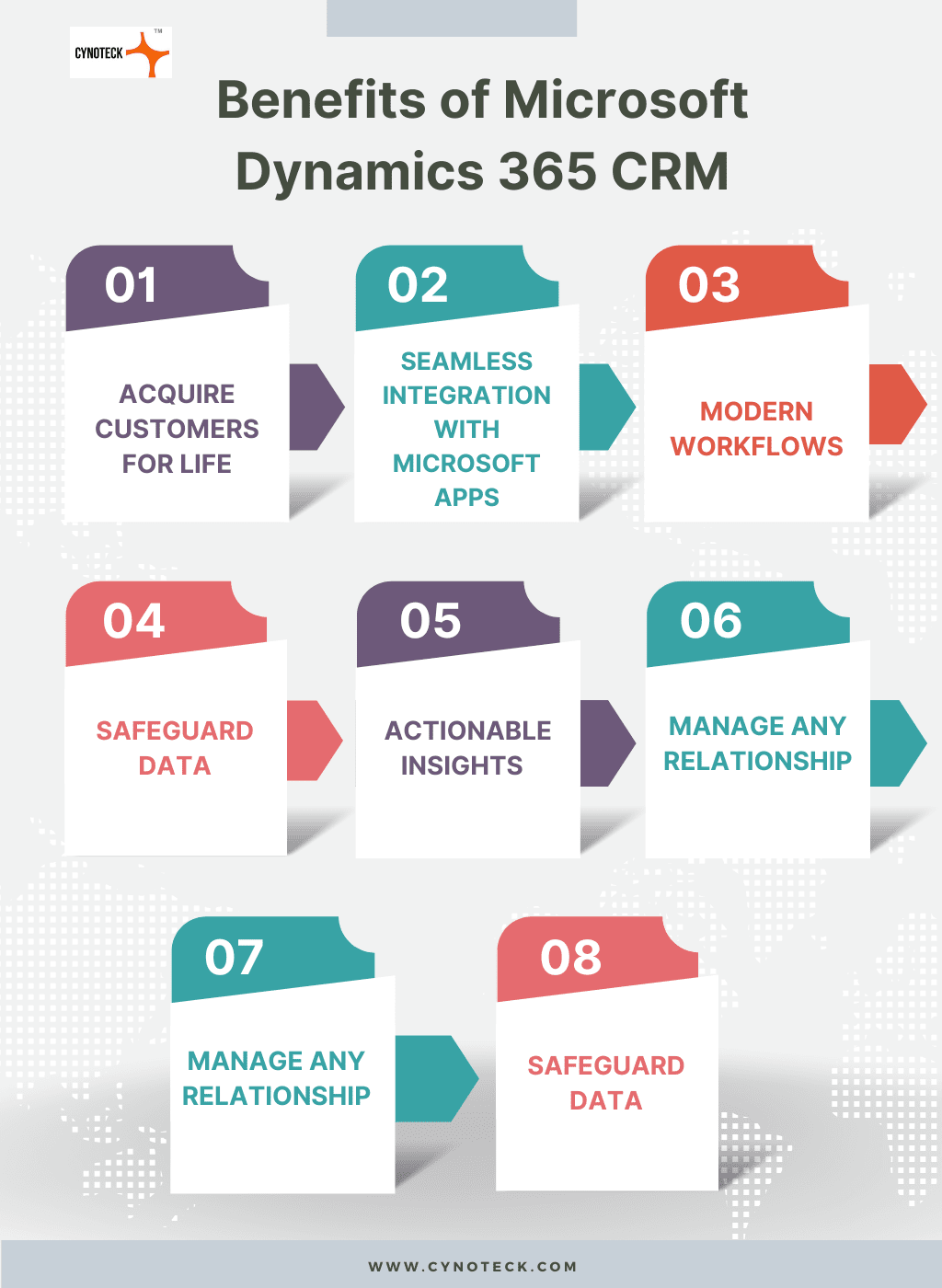 Copy Infographic
1) Acquire Customers for Life
With apps for sales, marketing, and customer care, you can connect everyone to only one source of information, so you can provide consistent service across all channels.
2) Seamless Integration with Microsoft Apps
For an unparalleled, connected experience, access CRM capabilities across MS Teams, Outlook, and other familiar tools.
3) Modern Workflows
Connected processes can be used to replace monotonous manual operations. To consistently achieve good outcomes, apply triggers to automate activities and guided procedures.
4) Safeguard Data
In the Microsoft Cloud, your data is secure. D365 and other cloud products are designed and housed on Azure secure data centers, which are guarded by multiple layers of protection. Control user access in Dynamics 365 using role, record, and field-based security restrictions.
5) Actionable Insights
With embedded AI (Artificial Intelligence) capabilities, native dashboards, and visualizations, you can transition to a data-driven culture and discover insights with real-time reporting across the needed metrics.
6) Manage Any Relationship
Dynamics 365 and the Power Platform provide you the flexibility to manage each relationship and process across connected apps, all while storing data in a scalable cloud platform.
7) Unifies Your Data
Integrate Dynamics 365 modules with third-party apps, cloud services, and external data sources such as websites, accounting databases, and marketing automation.
8) Regular Updates
Microsoft releases two major cloud updates each year, as well as weekly updates, to keep Dynamics 365 apps and the Power Platform up to date and extend its capabilities.
Looking for Dynamics 365 Implementation & Consulting Services
Send us your requirements, we will get back to you with a quote
How does Dynamics 365 CRM work?
Engaging and retaining customers are crucial to any successful business. However, it is not a miracle that can be accomplished in a matter of minutes. It needs to be earned by implementing several techniques.
Ranging from choosing the right CRM platform to finding the right CRM consulting services and customizing them to your company's specific requirements. Keeping all these factors in mind, Microsoft Dynamics CRM emerges as the best option. It offers a wide range of customization, mobility, flexibility, and other features to assist your business and provide excellent customer experience.  
Microsoft Dynamics 365 CRM is a powerful solution for managing business connections and transforming sales, marketing, and customer service activities for growing and mid-market organizations.
The practical functionality of Dynamics 365 CRM enables the team to be more productive and knowledgeable, while also providing executives with greater visibility into opportunities, performance, and customer relationships.
The sales and marketing functions let organizations communicate with clients, prospects, and team members in a more efficient manner.  
Updated MS Dynamics CRM features have helped firms become significantly more efficient and knowledgeable over the last few years. CRM's basic functionality has been improved to provide enhanced capabilities to modernize business initiatives.
These advantages will help your business become more efficient and aligned with partners, customers, and employees.  
Also, read: Microsoft Dynamics 365 Sales Insights & How to Configure
The Basics of Dynamics 365 – Dynamics 365 Modules
Dynamics 365 is a solution that combines CRM and ERP systems in a cloud service, allowing for a more flexible approach to purchasing and using business applications. Dynamics 365 helps businesses in achieving four digital transformation results. Optimizing operations, transforming products, empowering employees, and engaging customers are the outcomes.
Microsoft Dynamics 365 includes seven primary components to assist businesses to achieve these transformation results. Organizations can use Dynamics 365 modules to improve whatever specific outcome(s) they desire to achieve. When applied properly, the modules can have a near-magical effect on the desired output.  
You can choose these modules to tailor the software to your specific requirements. Other, more well-known business applications do not always let consumers pay simply for the features they require.
To begin, you must first grasp what is available and what each module performs. This will make you understand which modules your business requires. Mentioned below are the following seven modules:  
Business Central Service
Sales
Marketing
Talent
Field Service
Project Automation Service
Customer Service
These seven modules provide businesses with an end-to-end suite of apps, eliminating the need to switch between separate apps. Previously, this may have been accomplished by traveling in and out of CRM.
But now, finance software, stock, inventory software, and so on, all can be accomplished in a single unified experience. Even better, by employing a modular approach, each user may be granted access to only the modules that are relevant to them.
This ensures that the end-to-end customer journey is centralized to eliminate duplications, errors, and lost time.
Also, read: Adobe Sign for Microsoft Dynamics 365 CRM integration Guide
Examples of How a Dynamics 365 Platform Works
Microsoft Dynamics 365 connects processes, people, and data across a variety of apps, including LinkedIn, Office 365, and Azure, to help you run your organization more efficiently.
It has built-in AI, analytics, and guided action suggestions to help you make better decisions. With Microsoft Power Platform, you can also integrate most applications with existing systems and even customize them.
So, how does Dynamics 365 work? Here are some examples: 
Example 1:
Field service technicians work for a company that uses Microsoft Field Service, a planning system solution with a variety of features that helps to streamline the overall service operation. A service technician inspects a customer's equipment and determines that it should be replaced sooner rather than later.
He jots down a note and snaps a photo. The information is immediately available to the sales team in the CRM application, Dynamics 365 for Customer Engagement. 
As the Field Service system is connected to the ERP system, the invoice can be created and emailed immediately after the service call. There will also be an option to integrate inventory management.
Example 2:
A high-tech company needs a better way of scheduling and dispatching technicians. As they have buildings and security systems to repair and maintain. Due to the importance of security to their customers, they prioritize improving their dispatch system's speed.
A high-tech firm needs a more effective way to schedule and send technicians. They need to repair and maintain structures and security systems. Because security is so important to their consumers, their top priority is to strengthen their dispatch system.
With Microsoft Dynamics 365 Field Service's scheduling and dispatch tools, they can manage their resources and equipment, analyze, and plan onsite appointments, and optimize service routing and resource skill matching.
The length of the entire customer service process was cut in half thanks to mobile access to work orders and automatic input of finished work into the invoicing system. 
Also, read: Which Microsoft Dynamics 365 Solution will Best Serve Your Business?
Who Needs Dynamics 365?
Businesses today need to use scalable technology, which is integrated across disciplines and connected to other services. Microsoft Dynamics 365 can do the same, it has grown in popularity among businesses due to its ability to help them enhance their operations. Not only that, but the team may quickly set up and run the system to get all the benefits it offers.
Dynamics 365 provides a user-friendly interface that delivers your team with everything that they need to complete their jobs. When it comes to putting out your new solution, its familiar, Microsoft-like interface can also help promote user adoption.
Microsoft Dynamics 365 has something for every business, whether big or small. Businesses can choose between having Dynamics 365 installed in the cloud, on-premises, or as a combination of the two. An onsite installation may be preferable for large, multinational organizations. While the cost of installing the equipment would be prohibitively expensive for many small businesses. 
The size of an organization has an impact on financial decisions and technology requirements. When it comes to picking which enterprise resource planning (ERP) or customer relationship management (CRM) software to buy, small businesses face challenges.
While large corporations may afford the high licensing, fees associated with a custom integration. Small businesses need to weigh the cost and convenience of use, and often must choose one software over the other.  
Although all features of Microsoft D365 like flexibility, speed of implementation, convenience, and pricing structure are the same for both SMB and large organizations. You can benefit from the unique features and capabilities it provides regardless of the size of your company. 
Also, read: Performing a bank reconciliation in Dynamics 365 Business Central
How Does Dynamics 365 CRM Make Sales and Marketing Easier?
Microsoft Dynamics 365 helps you align your sales and marketing. This can result in a 37% increase in sales win rates and around 35 percent increase in client retention.
Dynamics 365 Marketing and Dynamics 365 Sales are two separate D365 modules used to make sales and marketing easier and more manageable. Because both tools are built on the same platform, they can easily be merged.
It becomes easier to track outcomes and execute changes successfully when marketing and sales work together in Dynamics 365 without data silos. As a result, leads are integrated into all activities. The number of leads generated gets increased, and existing leads are actively promoted. 
Both teams can share data and business processes because they have access to the same database. For example – Qualified leads from marketing can be given to the sales team, and lead evaluation models can assist sales in prioritizing opportunities.
D365 Sales and Marketing further allow users to: 
Copy Infographic
1) Get a 360° perspective of prospects and customers
Get all information regarding leads, contacts, and customers to ensure that you have everything to customize your marketing campaigns and activities, and to monitor them more effectively throughout the sales cycle.
2) Nurture leads with automated campaigns
To attract new consumers, you can create campaigns, emails, and landing pages with a simple and instinctive UI (User Interface). D365 also allows you to personalize and configure templates, manage events, and build online forms to gather data and keep prospects engaged throughout the sales cycle.
3) Smarter selling strategies
Dynamics 365 for Sales provides data and insight that allows you to make more educated and effective decisions. This will help you better understand the customer's behavior and needs. This results in maximizing sales opportunities and getting the most out of them.
4) Obtain better customer insights for better decisions
Create online forms and keep the information saved to better understand customer preferences and market trends, as well as to create scores based on your specific criteria. When a lead is hot during the sales cycle, the handoff to the sales team can be done quickly and seamlessly.
So, Dynamics 365 can be described as a true game changer. It reduces setup and license costs while speeding up the agile implementation of business processes by allowing you to use only the modules you require at the time you need them.
Furthermore, adopting the extensibility of the Microsoft Azure Cloud platform will allow you to drive your organization forward while also adding value to your customers. In other words, instead of wasting time on IT tasks, you will focus on positioning your IT investment to deliver value faster than ever.  
Also, read: How to connect WooCommerce with Dynamics 365 Business Central
How has the Dynamics CRM system grown to help companies?
The primary advantage of using Microsoft Dynamics 365 for your organization is that it integrates with all Microsoft products, including Skype for Business, Outlook, Office 365, Windows Server, SharePoint, Exchange Server, Power BI, and PowerApps, and provides significant assistance in smoothly carrying out tasks.
Other than that, its built-in tool and integration capabilities enhance the efficiency and productivity of an enterprise.  
Here are some other noteworthy Dynamics CRM features that can help you grow your business: 
D365, known for its intuitive and well-known user interface, has a high user acceptance rate.
Its compatibility with other Microsoft products makes it an excellent option.
You can work more efficiently and productively with its powerful built-in tools such as LinkedIn Sales Navigator and Assistant.
Its flexible design and deployment options can be tailored to fit a company's individual needs.
This system is distinguished by its durability and quality, which are best demonstrated by its cost competitiveness and commitment to customer and partner support.
Microsoft Dynamics 365/CRM is a highly scalable and adaptive CRM solution. It provides you with the technology you need to reach your objectives.
Customer intelligence and analytics are at the core of Microsoft Dynamics 365/CRM. It employs real-time dashboards, generates rich and interactive reports, and provides data access at any time and from any location.
Microsoft Dynamics 365 CRM creates reusable and robust models to ensure that your customer data is consistently reported, analyzed, and communicated.
Microsoft Dynamics 365/CRM is user-friendly as it is built on the Microsoft platform. Your team can communicate and share information seamlessly from any device, ensuring that customer data is always up to date.
The capabilities of Microsoft Dynamics 365/CRM are designed to help your marketing, sales, and customer service teams in doing their jobs more effectively. Shared meeting notes, events, and custom sales papers increase coordination and teamwork.
Looking for Dynamics 365 Development Services
Send us your requirements. We will get back to you with a quote.
How much does a Dynamics CRM cost?
The pricing of Microsoft Dynamics 365 Business Central usually depends on the subscription license you pick. These subscription licenses are allotted to separate users, and the individual user is mandated to have their user subscription license. The license assigned to one user can be accessed via multiple devices but cannot be shared with other users. 
Let us break the pricing and licensing for Dynamics 365 Business Central: 
For Team Members it costs
The prices vary for each, and the total cost depends on the number of users.
How do I Get Started with Dynamics CRM?
CRM can be the most powerful and valuable tool for your sales and marketing department if adopted correctly. To use it best, it is essential to keep the CRM system updated.
Before settling on a CRM, the organization will experience the careful errand of inquiring about different frameworks, their value, their distinctive elements, and if the CRM will do what they need it to do.
Now, the question is how to best utilize your CRM.
Boarding the users is the key component of a successful CRM adoption. This would be strange enough, as there may be employees who might not want to get on board the new CRM purchase. For example, your employees may not be interested in showing the management what they are working on. And even share their potential with other co-workers.
There should be as few reasons for objection as possible. The most ideal approach is to make your CRM simple to utilize. It may be the case that you have employees that think the Microsoft CRM system is difficult to use.
Ensure, your team is getting enough training & support in the initial stages to get them legitimately set up in the framework. A perfect CRM system only works well if everybody in the organization is utilizing it so ensure your senior administration is likewise using it.
Having your seniors use the CRM sets an example for everybody and makes staff aware of implementing it seriously. 
Integrating the CRM system with the other cloud or in-house system is essential. This saves a lot of time as the risk of errors in the data is reduced and is adopted easily by the users. With Dynamic 365, you can integrate various third-party systems, such as an accounting system and with the website to capture leads via the API (Application Programming Interface). 
Information gathered by the system can be used as a tool. Moreover, it is regarded as a goldmine for marketing. Even, some of the CRM systems like Microsoft Dynamics allow the creation of campaigns for marketing and emails, directly in the CRM. 
Keeping the system simple and easy helps employees to work at their best. So, do not make it too complicated. If implemented properly a well-adopted Microsoft CRM system has a positive impact on your sales and profit.
Also, read: Top 7 Custom Reports you Need to Set up in Your Dynamics 365 CRM
Need help with Microsoft Dynamics 365 System?
Cynoteck can help you modify Dynamics 365 applications and services for your organization if you need assistance migrating from old systems or increasing your onboarding success. Our comprehensive services, centralized project management, Microsoft Dynamics partners, and skilled consultants can help you transform your business.
We can assist you with making the best business decisions, developing the procedures that best support your objectives, and implementing them across your whole organization. Contact us now to learn more about how we can assist you with this.  
Conclusion
Microsoft Dynamics 365 has a range of award-winning, refined relationship management tools that are well-suited to any organization's needs. It comes with a lot of expected features and functionalities out of the box, but it is also very adaptable, so it can easily cater to more specific needs today and in the future. By applying intelligence to all forms of data, Dynamics 365 revolutionizes CRM and ERP. As a result, businesses can move away from reactive business decisions towards proactive insights that enable employees to produce better business results.
Due to Microsoft Cloud's flexible deployment and application scenarios, companies from all industries can benefit from these products. In Dynamics 365, Microsoft has put together ERP packages that provide innovative and perfectly customized software technology that is easy to implement. Furthermore, Dynamics 365 emphasizes the path down which ERP systems of the future are heading. This implies away from inflexible tools, businesses should make use of flexible, intelligent tools that actively support employees and open brilliant new opportunities to evolve and obtain the expected results.
Dynamics CRM is a simple and clear solution for managing all business problems and providing personalized service to your customers. With its flexible deployment and capabilities, the Microsoft Cloud product line can be a great asset to businesses of all sizes and sectors.
Looking for Dynamics 365 Development Services
Send us your requirements. We will get back to you with a quote.
FAQs (Frequently Asked Questions)
1) What are the benefits of Microsoft Dynamics 365? 
Microsoft Dynamics 365 helps with better management of your business operations and improved reporting using data-driven insights. These are some of the most common beneficial outcomes for our clients following the adoption of Dynamics 365. Also, many companies use Dynamics 365 to unify data, allowing operations to be integrated and completed more rapidly while preserving higher accuracy and consistency.
2) What is the latest version of Dynamics 365? 
In addition to weekly product updates, Microsoft releases two major waves of cloud releases for Dynamics 365 Online. These updates are applied automatically to guarantee that all customers get the most recent version. Dynamics 365 9.0.x is the most recent on-premises version.
3) Which Dynamics 365 apps do Cynoteck work with?  
Cynoteck specializes in CRM/Customer Engagement applications. Dynamics 365 Sales, Dynamics 365 Customer Service, Dynamics 365 Marketing, Dynamics 365 Project Service Automation, Dynamics 365 For Talent, and Dynamics Field Service are some of the applications available. We also create Power Platform-based products in addition to these first-party Dynamics 365 apps.  
4) What can we do if we only need one of the Microsoft Dynamics 365 apps? 
You can start with a single Dynamics 365 app for managing a specific workload, then expand as needed. Your data is safely housed in the same cloud tenant, allowing related workflows and reporting to move freely between them. 
5) How is Dynamics 365 beneficial for customers?
Dynamic 365 can provide excellent user experience for employees. Using it helps businesses target the right audience and ensure that they are communicating with the right customers.  
Here are some reasons why users love Dynamics 365:  
1) Start with what you need  
2) Productivity where you need it.  
3) Gain insights from built-in intelligence  
4) Be ready for growth.
6) Can we switch from the existing Dynamics CRM/ERP product to Dynamics 365? 
Yes, migration to Dynamics 365 is possible. All steps that are involved in the migration process are data mapping, picking simplified features, selecting migration tools, developing migration scripts, integrating, testing, resolving any data queries, and lastly deploying it to your environment. If you need assistance on this, Cynoteck can provide it right away.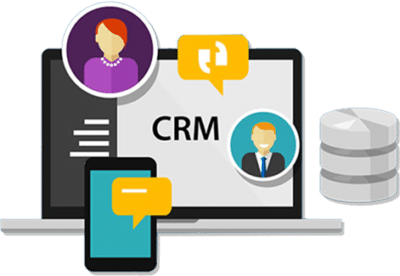 Cynoteck Technology is a leading expert on Microsoft Dynamics 365 and we provide an array of Dynamics 365 Consulting Services to all size of businesses. Get in touch with us for latest updates on Dynamics 365.