Introduction to Dynamics 365 Sales Insights
Dynamics 365 sales Insights is an add-on that allows the value of artificial intelligence to be readily used by the Sales Team. It uses Dynamics data stored in the database and provides proactive insights according to the results.
It allows you to understand your business relationships better, evaluate your operations about previous accomplishments, and choose the best way forward. It also helps you to develop good customer relationships, make better decisions more quickly based on observations, and close the opportunities.
How Can we get it?
For Dynamics 365 Sales, it is available as a pre-built add-on that is very easy to install and configure to have an immediate effect on sales results. You can get it for $50/user/month to use all the provided features from Microsoft. 
Dynamics 365 Sales Insights
With Dynamics 365 Sales insights, we get many features with which the sales team can improve their work efficiency and get more and more customers.
1. Premium Assistant
Premium assistant allows Administrators to create new Insight Cards. It provides many out-of-the-box templates for Insights cards too, but the admin user can also create a new one as per their requirement from Dynamics Back end.
The admin just has to go the backend settings and click Create new Card button from the top. You can get the OOB cards by going to the Global Settings menu within dynamics 365. 
It shows all the cards provided by Microsoft and you can see them by opening them how they look like. You will get a variety of Insight cards in the Global Setting Menu. 
You will find a "Templates Section" to browse OOB templates provided by Microsoft, and you can set them up using Microsoft Flow.
Otherwise, if you don't want to use any OOB Template you can click Create from Blank and create an insight card as per your requirement which means you can create and set up Insight Cards for almost anything.
Once the cards have been set up you will get to see it on the dashboards and Relationship assistant section on the entity form.
You will get notifications on Relationship Assistant regarding the cards which have been set up in the background. You will get a reminder for any upcoming meeting or appointment or if you have to send any mail to any customer you can send that mail straight away from the relationship assistant itself.
You do not have to go separately to the activities area for sending the mail. You can get all these notifications on relationship assistant once you set up insight cards on Sales insights.
Upcoming meetings will be alerted, Relationship assistant will inform us about the meeting details such as meeting timings, the person's name with whom the meeting is scheduled, and the location of the meeting.
Users can open that meeting directly from there and snooze it so it will appear again later and email the participants of the meeting. 
2. Premium Auto Capture
With the Auto Capture feature, it allows users to do is send emails to Dynamics via it. This implies that the contact record in Dynamics is then connected to those emails from individual contacts, which also includes calendar invitations. 
Users can see Activity Suggestions on the Timeline of the Contact Records from which the email is received, and users can then see, even if the emails have not previously been opened or monitored, it will inform users they have suggestions for activities. 
So, with the help of the Auto capture feature, you can display Individual records activities in one place together.
3. Notes Analysis
By default, notes analysis is disabled for Dynamics 365, you will need to enable it from the Sales Insights settings area. 
Notes analysis provides suggestions for upcoming actions based on the added Notes/Activities or any custom activity. Notes Analysis recommends one or more actions based on the text entered by highlighting the text considered to suggest the recommendation, and we can easily opt for the recommended actions and automatically build those records with a single click. 
Enabling Notes Analysis:
This is something Timeline notes will look like, once Notes Analysis is enabled for the Dynamics 365 Instance.
Also, Read: Adobe Sign for Microsoft Dynamics 365 CRM integration Guide
4. Relationship Analysis
This feature is also disabled by default you need to enable it from the Sales insights settings area if you wish to use it for your dynamics 365 with Relationship Analysis.
We can get all information on the overall health of your Dynamics instance and Business relationships. It gathers information for KPIs and operations histories and graphically represents all the information in Dynamics 365. 
Each health score is based on the analysis stored in Dynamics 365 of associated persons, events, businesses, appointments, and emails. Visualizations of bubble charts are used to show a simple summary of these metrics in greater detail.
Configuring Relationship Analysis: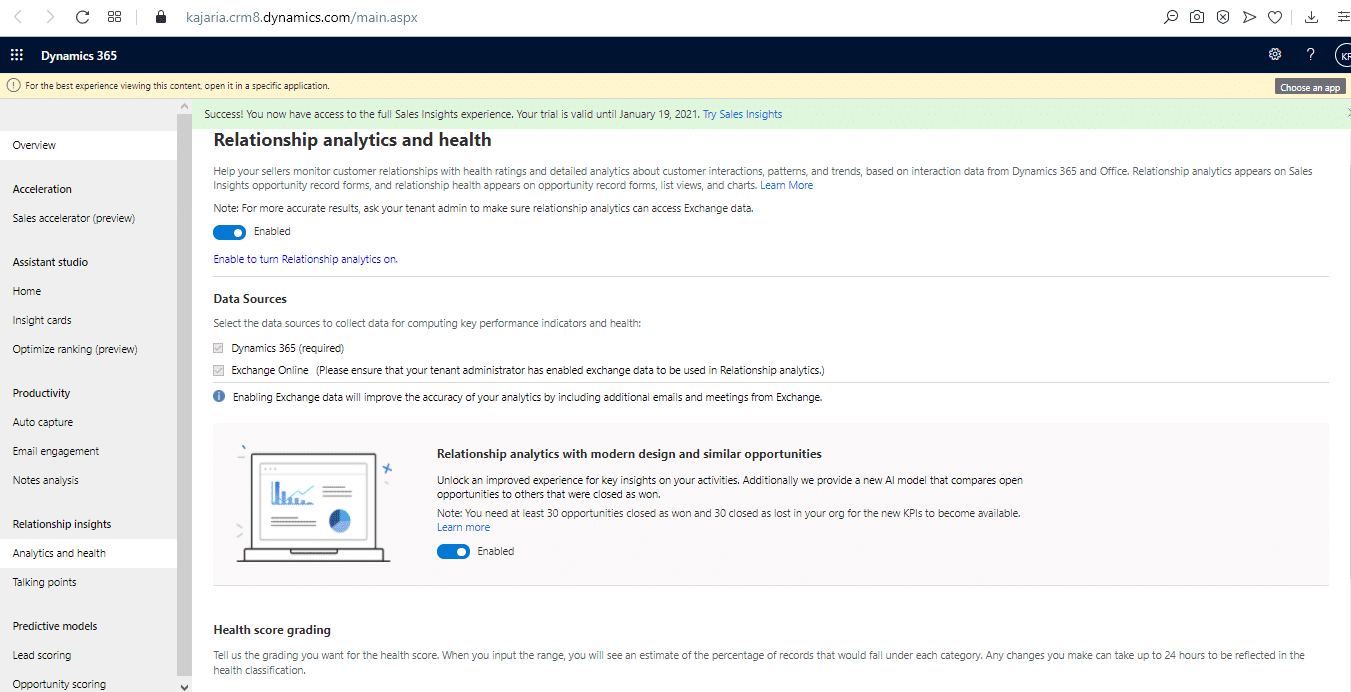 This is something an Opportunity view would look like once relationship Analysis is enabled for the Organization.
5. Predictive Lead and Opportunity Scoring
You can set up your Lead scoring model from the Sales insights settings area. It has a prerequisite which is you can only set up your Lead scoring model when you have min 40 qualified and disqualified Leads to create a Model. 
Lead scoring assists you to concentrate on the revenue generation efforts by presenting scores to prioritize efforts on the qualified leads. Leads and opportunities are scored on a scale of 1 – 100 based on how likely these are going to be converted.
Similarly, like the Lead scoring, we have an opportunity scoring model which works exactly like the lead scoring model. You can set up your Opportunity scoring model only when you have min.
40 Closed as Won and 40 closed as lost opportunity to score any opportunity to get the score calculated from the Opportunity scoring model. Opportunity scoring helps you in focusing on the revenue generation efforts by presenting scores to prioritize efforts on won opportunities. 
Configuring Lead Scoring Model:
Configuring Opportunity Scoring Model:
This is something a lead/opportunity view looks like if it is using the Lead scoring model and opportunity scoring model to score the leads and opportunities.
6. Premium Forecasting
For enabling Forecast for Dynamics 365 we need to open the Sales hub and change the sales area to App settings and go to Forecast configuration from there.
Predictive forecasting helps managers and sellers improve their forecast accuracy by making forecast predictions based on data. Predictive forecasting utilizes AI-driven models that look at the open sales pipeline and the historical details to predict potential revenue outcomes.
Based on the latest sales pipeline and past results, Sales Analytics offers reliable sales forecasts. The AI-driven design of the predictions means that they are less biased than human forecasting and report fewer errors.
Configuring Premium Forecasts:
Also, Read: Microsoft Dynamics Implementation, Methodology, and a Project plan
7. Talking points
This feature is also disabled by default for the organization. You can enable it to form the Settings area of Sales Insights.
This allows users to start interacting with their customers on a personal Note based on their previous email conversations. This offers topic-related conversations that can include sports, entertainment, or any other things in which they have common interests.
Sales Insights helps to create trust between you and your clients. once relationships are formed, by providing customized talking points and specialized recommendations for further action. This is especially useful if significant consumer quantities are handled by your sales staff.
Also, Read: Which Microsoft Dynamics 365 Solution will Best Serve Your Business?
8. Conversation Intelligence
There are prerequisites for enabling Conversation intelligence for the Dynamics 365 instance:
You must have an administrator
You need a Dynamics 365 Sales organization.
You must purchase a Dynamics 365 Sales Insights License.
Customer thoughts, feelings, conversational content, and speech style are automatically transcribed and analyzed. Conversation Insights enables sales leaders to learn and understand what makes customers respond positively and to duplicate their team's successful call strategies.
To collect data from call recordings and Dynamics 365 Transactions, analytics and data science are used. This is analyzed by conversation intelligence to include data and observations that will help them get more and more customers this way. 
How to Configure Dynamics 365 Sales Insights:
For configuring dynamics 365 sales insights you will have to go to the Power platform admin center, and you will find all the applications which are enabled for the dynamics instance you are working on, and you can install within your Dynamics 365.
You can install and configure the Sales insights form here. You just have to click on the Dynamics 365 Apps under the resources section in the left navigation panel.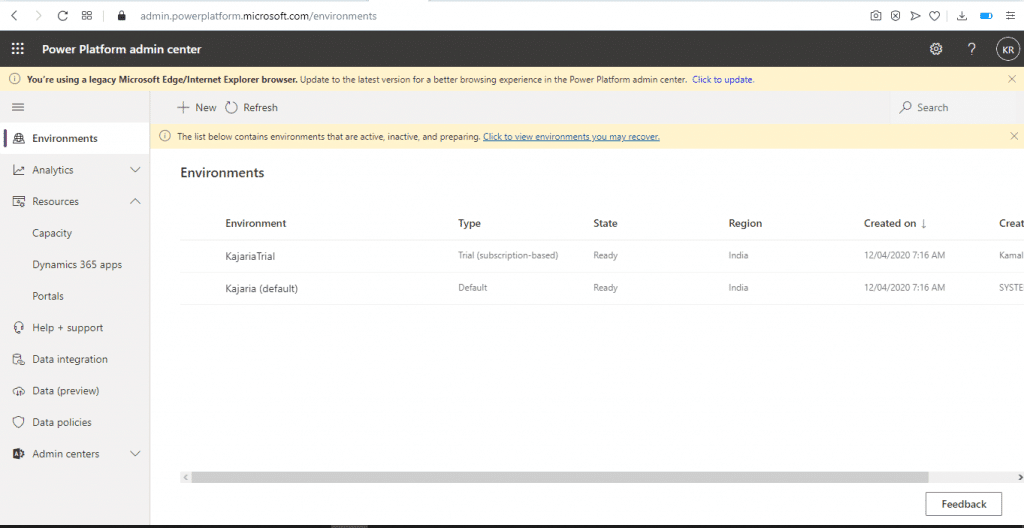 As mentioned earlier, you can see all the apps and solutions of the applications which are enabled for the Dynamics 365 instance and which you can enable.
Just select the dynamics 365 Sales insights app and you will see a manage button at the top of the screen. you will get a pop-up for confirmation that says manage Dynamics 365 Sales Insights. 
By clicking the ok button, you will be redirected to a new page in which we have to select the environment in which we want to configure the Sales Insights.
After Selecting the Environment just click on the check box for accepting the terms and conditions and click the continue button from the top right corner of the screen. Please see the below screen for reference.
After clicking the Continue button a new window will be opened in which you can see the Status for dynamics 365 for Sales insights as installing and you will also find a button called Go to Configuration on the same page at the top right corner.
Once the status is Installation Complete just click on the Go to Configuration button and a new window will be opened in which you can see all the sales insights settings.
You need to click on the I agree button to use all the features with the Dynamics 365 instance. 
You can see all the provided features by Sales insights from there and for using each of them just set up or configure them from here and then you are good to go. 
Benefits with Dynamics 365 Sales Insights: 
With Dynamics 365 Sales Insights, it provides competitors, and advice on how to stay at the top of the game and attract more customers from other companies and competitors businesses with artificial Intelligence of Sales Insights. 
The role of prediction and prioritization demonstrates the purpose a customer will likely buy, it allows us to work more effectively and not waste time chasing dead possibilities. The task of forecasting and prioritization shows the target a client wants to purchase.
It helps you to work more efficiently to get more customers and business. It also provides Mobile Assistant to work on the go whether you are anywhere. The virtual assistant ensures that customer relationships are stable and smooth.
You do not have to worry about pitching the correct response to your customers at the correct time with the assistant to help you with conversation starters and time prompts and other alerts. Sales Insights can help the sales team to perform better with the customers and upcoming leads and opportunities. 
Also, read: 7 Tips for setting up profitable customer journey using CRM integrations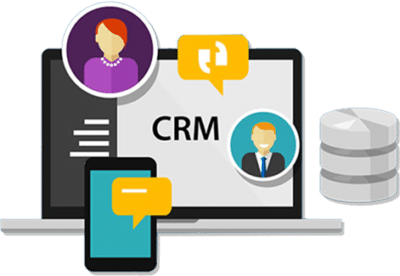 Cynoteck Technology is a leading expert on Microsoft Dynamics 365 and we provide an array of Dynamics 365 Consulting Services to all size of businesses. Get in touch with us for latest updates on Dynamics 365.