"Salesforce Marketing Cloud is a leading marketing automation software that enables businesses to improve the efficiency of their marketing activities. With its automation capabilities, Salesforce Marketing Cloud Implementation allows organizations to build and nurture relationships with customers in a highly personalized and automated manner. In addition to this, it provides: A 25% increase in the number of leads, Increased lead conversion by 35%, and Increased marketing ROI by 30%."
In the competitive business environment of today, organizations encounter difficulties in meeting customer expectations and efficiently managing customer relationships. Conventional marketing approaches often fall short of keeping pace with customer demands and the intricacies of multi-platform management.
This is where Salesforce Marketing Cloud implementation offers a cutting-edge solution that harmoniously streamlines and oversees online marketing tasks. Its diverse range of tools and capabilities empowers digital marketers to effectively capture user preferences, behaviors, and attention.
By implementing Salesforce Marketing Cloud, businesses acquire the ability to create personalized experiences, delivering timely and targeted offers through the appropriate channels. As a top-tier digital marketing platform, it empowers businesses to strategize, customize, and optimize individual customer journeys.
With its comprehensive suite of tools encompassing Journey Management, Email, Mobile, Social, Ads, Web, Predictive Intelligence, Content & Messaging, and Customer Data Platforms, businesses can engage customers effectively across multiple channels. This likewise results in improved brand visibility, heightened customer engagement, and the opportunity to develop meaningful connections.
In this blog, we will cover the important strategies for a successful Salesforce Marketing Cloud implementation. You will furthermore learn key insights and practical tips to ensure seamless integration of this powerful marketing platform into your organization.
Additionally, we will also provide a concise Salesforce Marketing Cloud implementation checklist to help you set a solid foundation for growth and success.
What is Salesforce Marketing Cloud?
Salesforce Marketing Cloud is a comprehensive suite of cloud-based marketing tools that seamlessly connect fragmented systems and interactions across channels. By enabling faster and highly personalized connections with customers, it empowers businesses to deliver exceptional 1:1 customer experience.
With its advanced analytics capabilities, it provides valuable insights into customer journeys, allowing businesses to optimize their marketing campaigns efficiently.
From lead generation to understanding customer behaviors, Salesforce Marketing Cloud leverages customer data from across your entire ecosystem. Its intuitive, no-code interfaces improve marketing visibility and enable a deep understanding of your customers, driving impactful marketing strategies.
For marketers aiming to drive substantial ROI and exceptional outcomes, Salesforce Marketing Cloud is an essential tool. It enables marketers to formulate strategies centered around customer requirements and interests, resulting in remarkable results.
The core elements of Marketing Cloud, Studios, and Builders, work harmoniously to achieve this objective. These components provide marketers with powerful capabilities to create engaging and personalized customer experiences, ultimately maximizing their marketing impact.
Studios serve as the central hub for managing and engaging with various communication channels. They empower marketers to effectively connect with their audience.
Email Studio, Interaction Studio (formerly known as Marketing Cloud Intelligence), and Mobile Studio are among the Studios offered by Marketing Cloud.
Builders in the Marketing Cloud play a pivotal role in managing customer data, creating compelling content, and orchestrating personalized customer journeys. These Builders provide essential functionalities for marketers to deliver exceptional experiences.
Within Marketing Cloud, the Builders include Contact Builder, Content Builder, Analytics Builder, and Journey Builder.
Watch the Video below to learn more about Salesforce Marketing Cloud
Salesforce Marketing Cloud – Key Tools
Salesforce Marketing Cloud offers a consolidated platform for businesses to streamline digital marketing activities. With its versatile toolkit, you can deliver personalized experiences to customers.
Exploring the distinctive features and assessing your team's utilization is vital to maximize tool benefits. Optimizing the usage of these tools helps you improve customer experiences and drives superior marketing outcomes.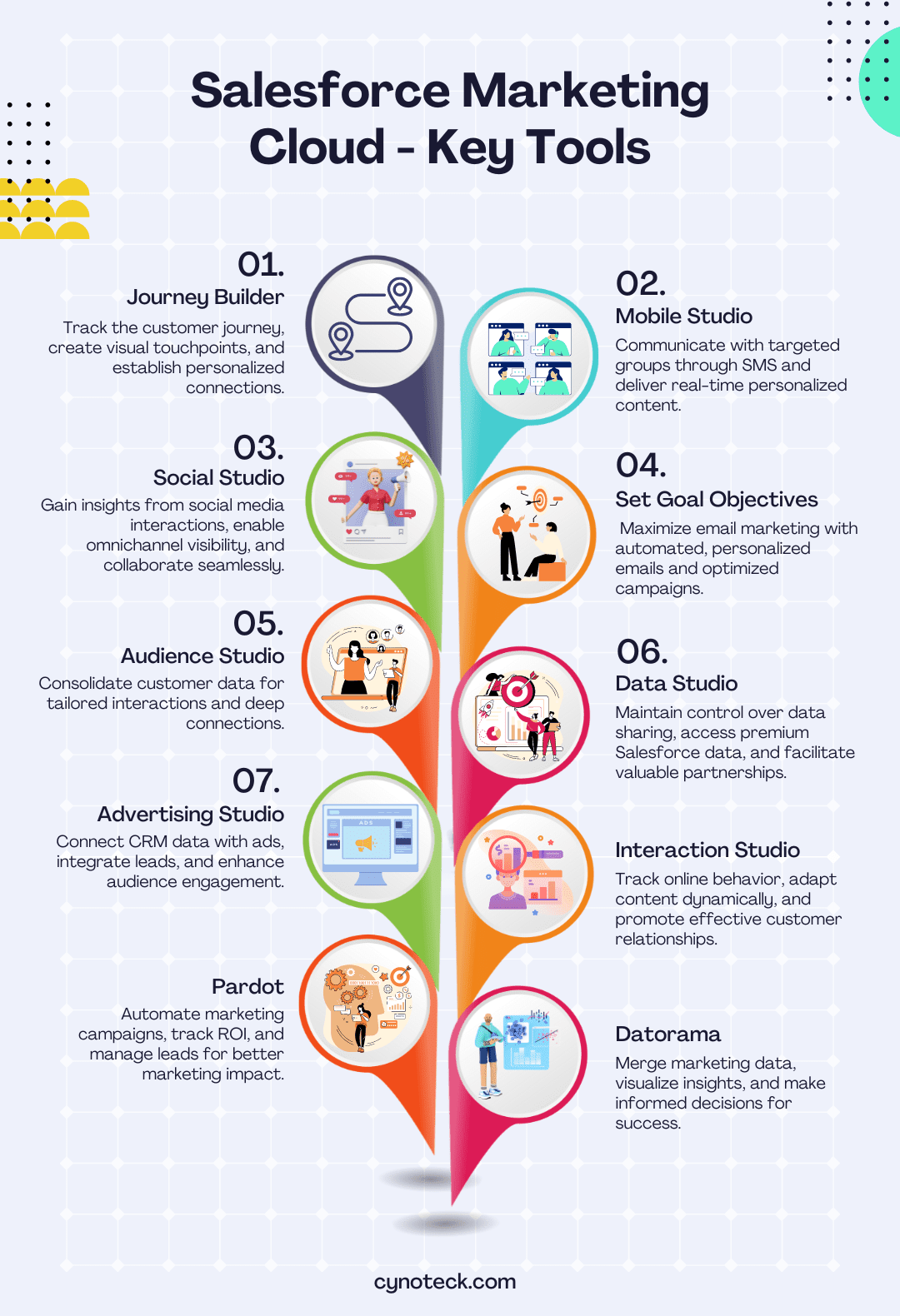 1) Journey Builder
Journey Builder, a key feature of Salesforce Marketing Cloud, enables comprehensive tracking of the customer journey. It allows businesses to create visual representations of customer touchpoints, guiding potential customers from initial contact to purchase.
By acquiring insights into customer journeys and leveraging data such as browsing behavior, preferences, and purchase history, businesses can establish personalized connections and facilitate one-on-one relationships.
2) Mobile Studio
Leverage the capabilities of Mobile Studio, which is an integral part of Salesforce Marketing Cloud that effectively communicates with targeted groups through SMS.
With its versatile templates for mobile campaigns, such as outbounds, email opt-ins, info capture, text-response, and multimedia messages, Mobile Studio empowers businesses to deliver personalized content in real time, catering to customers' preferred communication channels.
3) Social Studio
Harness the power of social media with this exceptional marketing tool offered by Salesforce. Gain valuable insights into customers' social interactions, tracking their engaged posts and searched topics.
By combining all social media data into a unified destination, the Salesforce platform enables omnichannel visibility and mobility.
Your marketing teams can seamlessly collaborate within this space, scheduling content delivery and analyzing emerging performance trends.
4) Email Studio
Maximize your email marketing efforts with this powerful tool offered by Salesforce. It helps you deliver automated, personalized emails to your customers with exceptional open rates.
You can streamline campaign-building tasks through the creation of reusable content blocks that can contain text, HTML, images, buttons, and dynamic content.
With this tool, you can furthermore optimize your email campaigns for maximum impact and drive better engagement with your audience.
5) Audience Studio
Improve your advertising and media experiences with Salesforce Audience Studio. This innovative solution utilizes a cloud-based data platform to consolidate customer data from diverse sources and screens, providing a real-time, comprehensive view of each individual.
By harnessing the capabilities of Salesforce Audience Studio, businesses can derive actionable insights and deliver tailored interactions that profoundly connect with their target audience.
6) Data Studio
Unlock the power of data with Salesforce's Data Studio. This intuitive suite of data provisioning tools empowers businesses to maintain complete control over data sharing and storage.
Access a vast repository of premium Salesforce data to discover new and high-quality audiences. With strong compliance controls and a trusted industry reputation, Data Studio facilitates seamless connections between organizations, enabling valuable data-sharing agreements with potential partners.
7) Advertising Studio
Use Audience Studio's capabilities and CRM data to engage with your audiences more personally. Salesforce Marketing Cloud's Advertising Studio comprises three different applications:
Journey Builder Advertising: Provides Journey Builder with access to data gathered in Advertising Audience.
Advertising Audience: The data management platform (DMP) connects the information from your customer relationship management (CRM) software with that of your partners.
Lead Capture: Integrates leads from Facebook and Google Ads with additional Marketing Cloud data extensions.
8) Interaction Studio
Interaction Studio, a powerful component of Salesforce Marketing Cloud, tracks customers' online behavior across various platforms.
By effectively monitoring and analyzing customer interactions in real-time, businesses can improve their engagement and foster more effective customer relationships.
With Interaction Studio, site landing pages, blog content, and email messaging dynamically adapt based on the data captured, ensuring personalized and relevant experiences for customers.
8) Pardot
Maximize your marketing and sales efforts with Pardot, the leading B2B Marketing Automation platform. Unleash its power to effortlessly execute targeted email campaigns, automate workflows, track ROI, and effectively manage leads.
Pardot empowers you to drive better results by delivering enhanced performance and synchronization, boosting your marketing impact. Supercharge your strategies and accomplish outstanding outcomes.
9) Datorama
Datorama, an integral part of Marketing Cloud's suite, harmoniously merges data from diverse marketing sources and equips marketers with robust visualization tools.
Through its dedicated dashboard, marketers gain the freedom to explore fresh concepts and extract invaluable insights.
Serving as a comprehensive platform for marketing data, investments, and KPIs, Datorama provides you with the knowledge required to make informed decisions, propelling your business toward success.
Also, read: Pardot vs Marketing Cloud: Learn what's right for your Business
Say Goodbye to Manual Data Entry and hello to Streamlined Workflows that Spark Joy.
Join us on a journey of automation, accuracy, and time-saving exhilaration. Try CTK Email Parser today and elevate your business to new heights!
Why Businesses Should Consider Getting Salesforce Marketing Cloud?
With Salesforce Marketing Cloud, offered by Salesforce, organizations gain the power to build customized customer journeys and ensure personalized engagement at every touchpoint. Enjoy a variety of advantages, including the capability to:
1) Understand Your Customer Better
Experience unparalleled customer interactions with Salesforce Marketing Cloud. Effortlessly unify data from various sources and devices, establishing a comprehensive customer view.
Watch as each customer journey evolves into a personalized, lifelong experience, deeply rooted in your brand.
2) Data Management
Gain insights into customer journey phases through Contact data and Journey data analysis. Uncover the nature of email interactions, enabling timely communication and exceptional service.
These measures drive customer engagement and foster valuable relationships. Leverage rich data for campaign performance analysis, unlocking opportunities for enhanced marketing effectiveness.
3) Using Artificial Intelligence
Leverage the power of Salesforce Marketing Cloud to seamlessly integrate data with Einstein, enabling AI-driven interaction management.
Customize customer communications based on their brand interactions, ensuring a personalized experience that prevents disengagement and promotes lasting engagement.
4) Create Interest Across the Customer Journey
Transform your organization into a customer-centric powerhouse with Salesforce Marketing Cloud.
This cutting-edge platform captures attention and cultivates awareness throughout the entire customer journey, offering invaluable insights to serve your customers with utmost excellence.
5) Powerful Integration Capabilities
Leverage the robust integration capabilities of Salesforce Marketing Cloud, supported by REST API and SOAP API.
This helps you seamlessly augment existing contact information within SFMC and effortlessly import relevant content, expanding the possibilities of data integration.
6) Performing an impact analysis
Leverage the capabilities of Marketing Cloud to effortlessly monitor customer journey metrics across multiple channels and devices, powered by AI and integrated with Google Analytics 360.
This empowers businesses to deliver targeted messages at the right moment to the most relevant users, boosting the level of personalized engagement.
7) Offering the best marketing campaigns
Unlock the complete capabilities of Marketing Cloud, empowering users to seamlessly integrate interactions across various channels based on customer preferences.
Engage in real-time, intelligent communication and interactions with customers, delivering smart and relevant content through their preferred channels.
This helps you maximize opportunities for personalized engagement and deliver exceptional customer experiences.
Also, read: Salesforce IoT Cloud: Challenges & Benefits for Business Operations
How To Implement Salesforce Marketing Cloud Successfully?
To achieve a strategic and successful implementation of Salesforce Marketing Cloud, it is important to adhere to the following recommended practices:
1) Choose a Starting Point
When leveraging Salesforce Marketing Cloud, it is important to align your business priorities, customer needs, and processes. Start by identifying a clear starting point and then select the appropriate tool within the suite to start your implementation journey.
2) Set a clear objective and make an appropriate team
After establishing the starting point and assembling the right team, it is crucial to define a clear goal for your initial project using Marketing Cloud. Set a measurable objective closely aligned with your business objectives to maximize return on investment and demonstrate tangible results.
Building a strong implementation team requires individuals who can effectively represent your business and possess robust technical expertise. Additionally, it is essential to identify sponsors and stakeholders who will actively participate in the implementation process.
3) Describe Your Audience
After setting your goals, it is important to define your target audience and resolve any discrepancies in your CRM once your plan is established. Identify and gather the necessary data to effectively run campaigns tailored to your specific target audience.
4) Create a Client Journey Map and Use Effective Communication
When leveraging the marketing cloud product, it is important to consider all channels and touchpoints to evaluate the present state of your customer's journey. Determine key challenges and reconfigure their journey to maximize the potential of the marketing cloud.
Ensure effective communication of your marketing cloud adoption to stakeholders and sponsors by developing a comprehensive plan. Continuously strive to improve performance, promote ongoing learning, and proactively manage any barriers that may hinder progress.
5) Move Forward and Take Some Time to Review
As you approach the launch date, allocate time for review, evaluating successes and areas for improvement from both team and client perspectives.
Honor achievements and gather feedback to continuously enhance your cloud practice. Promote a culture of flexibility within your team, enabling agility and promptness as you progress toward the launch.
Also, read: Salesforce Experience Cloud: The Ultimate Guide to Features and Capabilities
Salesforce Marketing Cloud Consideration Checklist
Leverage the strength of Salesforce Marketing Cloud, a cutting-edge digital marketing solution, to optimize your marketing potential. By using the checklist outlined below, you can guide implementation difficulties with the help of an expert like Cynoteck and explore the infinite possibilities of Salesforce Marketing Cloud. Bring your business closer to exceptional results and unrivaled marketing success.
1) Understand that it will take time and that you will require help
Achieve a successful Salesforce Marketing Cloud implementation that aligns with your business requirements by planning and executing a well-thought-out strategy. Avoid rushing, as it can result in errors and increased time investment. Set realistic timeline goals and strive to adhere to them, ensuring a smooth and efficient implementation process.
When evaluating your Marketing Cloud team, it's essential to identify any gaps in skills, experience, or capacity. Recognizing these gaps is crucial for setting your organization up for success.
If necessary, consider partnering with a qualified and experienced provider to fill these gaps and ensure a smooth implementation and ongoing support for Marketing Cloud.
2) Prioritize strategy before tactics
While many perceive Salesforce Marketing Cloud as a robust email tool, it is, in fact, a complete business-focused solution. To leverage its full potential, your organization requires a reputable Salesforce Marketing Cloud Implementation Partner.
They invest much time in understanding your business and adopt a strategic approach to integrations, migrations, campaign planning, and more, ensuring optimal utilization of this powerful platform.
3) Put data first
Data plays a crucial role in targeting and personalizing your digital marketing initiatives. It is important to begin early and establish a solid data model, understanding the data you require, the existing data you possess, and the data you aspire to acquire.
Avoid focusing solely on immediate requirements and instead plan for long-term flexibility, assuring your business remains adaptable for future demands.
4) Set attainable functional objectives
Salesforce Marketing Cloud, a comprehensive CRM platform for marketers, encompasses different products such as Advertising Studio, Email Studio, Social Studio, Journey Builder, and Mobile Studio.
Implementing all of these simultaneously can be difficult. It is advisable to prioritize the features that are most relevant and helpful to your organization. Additionally, keep in mind that Salesforce licensing can represent a significant investment.
5) Close Collaboration with Partner or Industry Expert
When launching a Salesforce project, it is advisable to engage professional Salesforce Developers and Consultants from a reputable Salesforce Implementation Company, like Cynoteck. Our certified and experienced teams of Salesforce Admins, Consultants, Developers, and Technicians are equipped to handle various aspects of Salesforce products, services, and capabilities. Trusting industry experts ensures a successful implementation. Additionally, involvement and collaboration with your Salesforce Implementation Partner are crucial for accomplishing desired outcomes.
Also, read: CRM and Marketing Automation for Small Businesses: Benefits and Implementation
Salesforce Marketing Cloud Pricing
Salesforce offers a diverse range of pricing options for its Marketing Cloud based on specific purposes and features:
1) Essentials – $25/user/month
2) Professional – $75/user/month
3) Enterprise – $150/user/month
4) Unlimited – $300/user/month
Also, read: Salesforce Service Cloud Use Cases with Examples
Final Thought
Salesforce Marketing Cloud implementation empowers teams to leverage comprehensive customer insights, enabling personalized experiences that develop deeper and more meaningful relationships. By acting on relevant customer data, teams can deliver targeted content and campaigns, driving improved engagement and customer satisfaction.
Salesforce Marketing Cloud has become the preferred choice for marketers due to its extensive range of services. It excels in delivering personalized customer journeys across multiple channels and devices. With integrated solutions like Email Studio and Journey Builder, businesses can leverage the full potential of Salesforce Marketing Cloud.
By adopting this customer-centric approach, organizations can accomplish their objectives, set new goals, and gain valuable insights into customer journeys. Transform your business into a customer-centric powerhouse by implementing Salesforce Marketing Cloud today.
Salesforce Marketing Cloud Implementation Partners
In today's rapidly evolving digital landscape, businesses seek expert guidance to leverage their data effectively across multiple communication and marketing channels. Salesforce Marketing Cloud provides a robust platform that enables enterprises to optimize their data, improving customer interactions and unlocking accelerated business opportunities.
At Cynoteck, our team of certified Salesforce experts possesses the knowledge and experience to optimize your marketing strategies and propel your business toward its goals. We collaborate closely with organizations across different industries, tailoring solutions to their specific requirements and delivering substantial outcomes.
With our deep expertise in Salesforce Marketing Cloud implementation, including Journey Builder, Personalization Builder, Audience Builder, Analytics Builder, Content Builder, and Marketing Cloud Connect, we empower businesses to improve the effectiveness of their marketing operations.
Looking for Salesforce Marketing Cloud Implementation & Consulting Services
Send us your requirements, we will get back to you with a quote
FAQs (Frequently Asked Questions)
1) What is the goal of the Salesforce Marketing Cloud?
Salesforce Marketing Cloud is a powerful CRM software designed specifically for marketers, helping organizations to improve their customer marketing efforts and foster strong connections. With features like audience building and email list segmentation, it empowers businesses to create impactful multichannel marketing campaigns. By seamlessly integrating with CRM systems, it furthermore enables personalized advertising and improves social media engagement, driving effective marketing strategies.
2) Who utilizes Salesforce Marketing Cloud?
Salesforce Marketing Cloud (SFMC) is a versatile platform used across various industries and business sizes. Although commonly associated with larger enterprises, SFMC offers different versions that cater to businesses of all scales. While SFMC is predominantly known as a B2C platform, it is also increasingly adopted by B2B organizations. Salesforce Marketing Cloud proves valuable in addressing challenges related to revenue growth, website performance, and similar problem-solving endeavors. Its robust computing capabilities empower businesses to derive significant value and meaning from their digital operations.
3) What differentiates Salesforce Sales Cloud and Salesforce Marketing Cloud from one another?
Salesforce Sales Cloud is identified as a CRM software solution, whereas Salesforce Marketing Cloud is renowned as a marketing automation platform. Sales Cloud serves as a centralized repository for customer data, while Marketing Cloud leverages this data to enhance and execute marketing campaigns.
4) What are the Salesforce Marketing Clouds' primary components?
Salesforce Marketing Cloud has a range of advanced products and features that help businesses to gain deep insights into particular customers and engage with them through different channels such as notifications, e-commerce, social media, and advertising. With Marketing Cloud, businesses can build personalized recommendations for each customer and develop meaningful one-on-one relationships.
Salesforce Marketing Cloud furthermore empowers businesses to improve their messaging and overall marketing strategies. With its progressive personalization capabilities, it allows effective customer engagement and collaboration between sales representatives and marketing teams.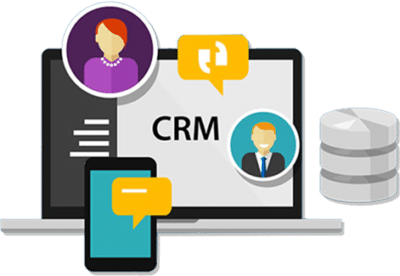 If you are new to automation and confused about Workflow or Process Builder. Need not to worry, we have got you all covered. Talk to our experts and clear all the cloudy thoughts about automation.