"The Salesforce IoT Cloud is an innovative platform set to transform business operations across various industries. With its transformative capabilities, industries such as healthcare and manufacturing are already experiencing its impact. However, the potential of IoT extends to every industry and business, predicting a new era of innovation and transformation."
IoT (Internet of Things) is an innovative technology revolutionizing the IT industry. It enables the interconnection of physical devices embedded with electronic instruments, connected to the Internet. IoT eliminates the need for direct human interactions and operates independently.
With its capabilities, IoT can proactively fulfil customer requirements even before they arise. Salesforce, a renowned leader in customer management solutions, is also embracing the potential of IoT to enhance its offerings.    
By integrating Salesforce with IoT devices, businesses can unlock the transformative potential of IoT Cloud. It empowers organizations to effectively manage and leverage data from connected IoT devices. This results in enabling the automation of business processes through the Visual Workflow technique.
Salesforce IoT Cloud, this solution can improve various aspects of sales, service, and marketing, while keeping customer-centricity at the forefront. With Salesforce IoT Cloud, businesses can drive their growth and success by harnessing the power of IoT technology.    
In this blog, we will take a deep dive into Salesforce IoT Cloud, discovering its unique advantages. Our focus will be on exploring the rich features and functionalities of Salesforce IoT Cloud and understanding how organizations can harness IoT data to enhance decision-making and operational efficiency.
Furthermore, we will address the potential challenges that businesses may encounter while implementing and integrating Salesforce IoT Cloud into their existing workflows. Continue reading as we uncover valuable insights into the dynamic world of Salesforce's IoT Cloud solution.    
What is Salesforce IoT Cloud?
Salesforce's IoT Cloud is an innovative platform powered by Thunder, a highly scalable real-time event processing engine. IoT Cloud empowers businesses to manage vast amounts of data collected from operations, locations, and connected devices.
By leveraging this platform, organizations can proactively improve customer relationships, boost interaction, and improve customer retention. Moreover, IoT Cloud offers valuable insights to reshape business operations for greater productivity and success.
Implement and experience the transformative capabilities of Salesforce's IoT Cloud for a more efficient and customer-centric approach to your business.
Salesforce's IoT platform efficiently manages vast amounts of data from sensors, devices, websites, packages, customers, and partners, enabling real-time actions and responses.
Powered by advanced technologies like Apache Kafka for high-speed messaging, Apache Storm for real-time big data processing, Apache Spark for distributed data streaming, and Apache Cassandra for distributed database management, the platform ensures seamless data handling at scale.
Leverage Salesforce's IoT platform to unlock the potential of your data and drive real-time insights and actions for your business.
Supercharge your business with Salesforce IoT Cloud services.
Unlock the power of connected devices and harness real-time insights for optimal performance. Take your operations to the next level.
How Does the Salesforce IoT Cloud Work?
Salesforce IoT facilitates the integration of smart devices with its cloud platform, engaging each device as a computer. Leveraging Application Programming Interfaces (APIs), smart devices can easily communicate with Salesforce and enable real-time tracking of captured data, including usage and performance metrics.
Additionally, Salesforce IoT empowers businesses to send messages and commands from the Salesforce platform to connected devices. Get seamless connectivity and real-time capabilities of Salesforce IoT to optimize device data management and streamline communication between devices and Salesforce.    
Leveraging the device-to-platform connectivity of Salesforce IoT, businesses can improve their everyday processes by incorporating real-world smart devices.
This functionality also allows different possibilities, such as triggering customer alerts based on device performance, analyzing device data, and sending commands directly from the Salesforce platform.
Salesforce IoT revolutionizes the way you manage and leverage smart devices within your business operations, here is how: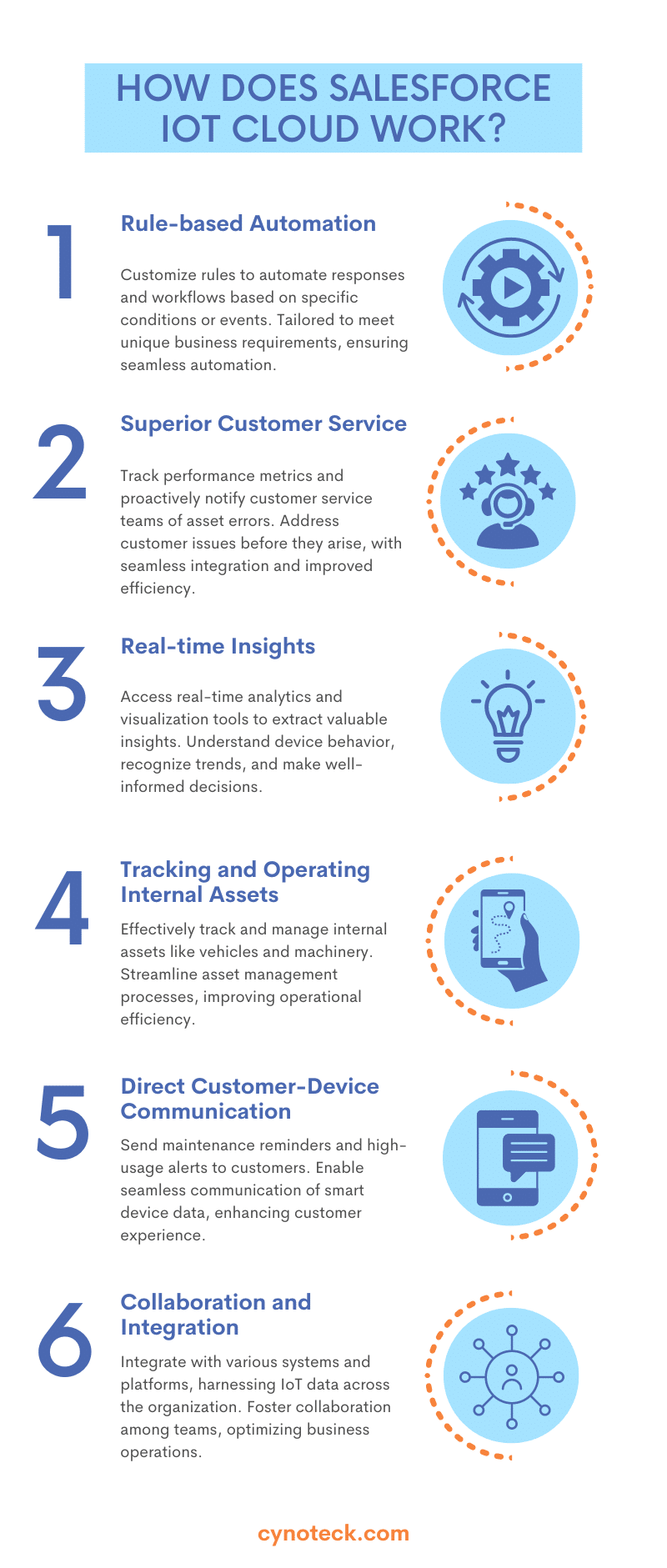 Copy Infographic
1) Rule-based automation
Salesforce IoT Cloud allows businesses to define customized rules and logic to automate responses and workflows based on specific conditions or events.
These rules can be tailored to meet unique business requirements, enabling seamless automation and efficient workflows.    
2) Superior customer service
Salesforce IoT empowers businesses to revolutionize customer service by tracking performance metrics and proactively notifying the customer service team of asset errors. This proactive approach enables businesses to address customer issues before they even arise, delivering exceptional customer service.
Additionally, its seamless integration with other Salesforce products allows for streamlined actions and improved efficiency within the Salesforce ecosystem.    
3) Real-time insights
Salesforce IoT Cloud offers real-time analytics and visualization tools to extract valuable insights from processed data. This helps businesses to understand device behavior, recognize trends, and make well-informed decisions.    
4) Tracking and operating internal assets
Salesforce IoT enables businesses to effectively track and manage internal assets such as vehicles, machinery, etc.
Through the platform, commands can be sent to ensure fleet vehicle maintenance, monitor assembly lines, and provide instructions, etc.
This helps businesses streamline asset management processes and improve operational efficiency.    
5) Direct Customer-device communication
With Salesforce IoT Cloud, businesses can effortlessly send maintenance reminders and high-usage alerts to their customers.
The platform enables seamless communication of important smart device data directly to customers, eliminating unnecessary bottlenecks.
This ensures that timely and relevant information reaches customers, improving their overall experience and satisfaction.    
6) Collaboration and integration
By integrating with various systems and platforms, Salesforce IoT Cloud empowers businesses to harness IoT data around the entire organization.
This seamless integration allows collaboration among teams and departments, promoting a cohesive approach to leveraging IoT insights for optimized business operations.    
Also, read: Salesforce Loyalty Management: The Key to Successful Customer Retention
Benefits of Salesforce IoT Implementation for Business Operations
Salesforce IoT Cloud provides substantial benefits across various business operations. By enabling comprehensive analysis and visual representation of IoT device data, it enhances understanding and empowers informed decision-making, leading to improved business outcomes.    
1) Data at Anytime, Anywhere 
Salesforce IoT Cloud empowers businesses with the uninterrupted collection and processing of input data, facilitated by its robust RESTful API. This adaptable solution enables seamless data importation from many devices, networks, applications, and service providers.
Moreover, Salesforce IoT Cloud's strategic alliances with industry leaders like Amazon Web Services (AWS) and Cisco Systems ensure a seamless and efficient data management experience for businesses, setting them apart from the competition.    
2) Smart Connected Environment 
Salesforce's IoT service empowers businesses to effectively manage and analyze vast amounts of data gathered from different operations, locations, and connected devices. With its autonomous and interconnected nature, it eliminates the need for human interactions.
Leveraging machine learning capabilities, the Salesforce IoT cloud identifies patterns in customer buying behavior, allowing businesses to optimize their strategies.
Moreover, the contextual profiling feature helps businesses in identifying potential issues and automating recovery processes in sectors such as manufacturing and construction.    
3) Improved Customer Experience 
Through the utilization of the visual dashboard, businesses can proficiently monitor and assess the adaptation of IoT products to ever-changing customer experiences.
With personalized research reports and a comprehensive customer view, Salesforce IoT Solution empowers organizations to enhance the customer experience through real-time and precise insights.
This invaluable information facilitates customer-centric decision-making, enabling businesses to meet customer needs, drive satisfaction, and attain exceptional management outcomes.    
4) Personalization and Proactive Engagement 
Access to comprehensive information empowers organizations to make informed decisions. Leveraging data analysis, the Salesforce IoT cloud generates personalized offers and information, proactively delivering them to customers well in advance.
This cultivates a proactive and highly personalized relationship between the organization and its customers. Furthermore, the Salesforce IoT cloud service seamlessly connects each customer's device to the cloud, enabling the sales team to gather precise product-specific details.    
5) No Code Technology 
Salesforce IoT leverages a user-friendly low-code approach, empowering business executives to execute IoT processes without relying on IT specialists.
Through IoT actions, data from IoT devices seamlessly flows into the Service Cloud or Marketing Cloud, automatically creating leads for customers.
This streamlined automation furthermore helps businesses to optimize task efficiency and set a cohesive workflow, accelerating goal achievement, and driving superior outcomes.    
6) Visualization and Monitoring  
Salesforce IoT possesses an inherent advantage i.e., observability. The visual dashboard serves as a traffic view or blueprint, providing a tangible representation of the return on investment for enterprises.
Through this powerful visual tool, organizations acquire valuable insights into the state of IoT devices within the dynamic customer experience.
Moreover, the capability to access accurate data on resource allocation empowers businesses to gather valuable information that was previously challenging to collect effectively. 
Also, read: Salesforce Development Lifecycle: From Planning to Deployment
Say Goodbye to Manual Data Entry and hello to Streamlined Workflows that Spark Joy.
Join us on a journey of automation, accuracy, and time-saving exhilaration. Try CTK Email Parser today and elevate your business to new heights!
Salesforce IoT Cloud – What industries can benefit from it    
Salesforce IoT Cloud offers significant advantages to various industries, empowering them to harness the potential of IoT and gain transformative results. Here are notable benefits of Salesforce IoT Cloud in different sectors: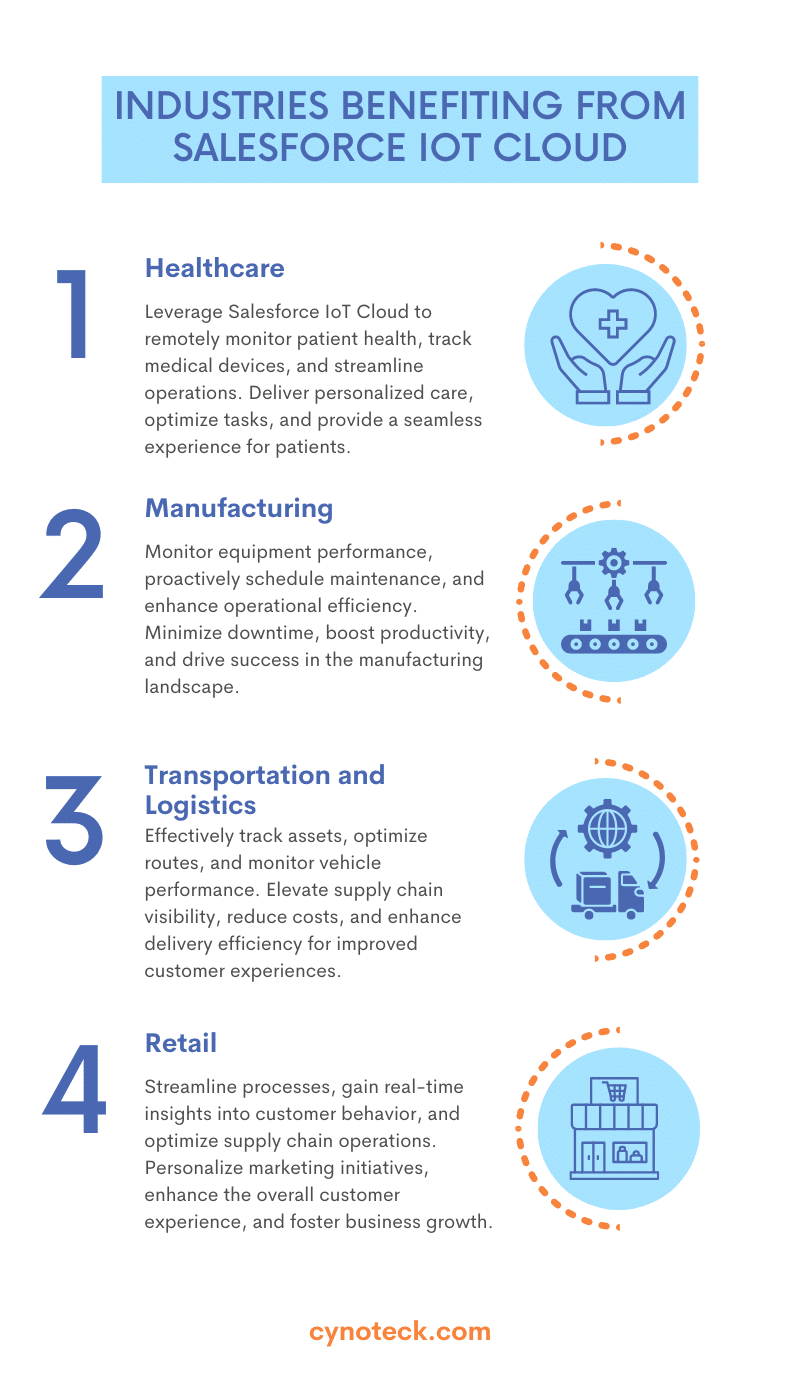 Copy Infographic
1) HealthCare 
As the healthcare industry strives to meet increasing demands while enhancing health outcomes, embracing modern technologies like IoT becomes essential. Salesforce IoT Cloud plays a pivotal role in supporting healthcare providers to achieve these objectives.
By leveraging Salesforce IoT Cloud, healthcare professionals can remotely monitor patient health, track medical devices, and streamline operations. This empowers them to deliver personalized care, optimize various tasks, and provide a seamless experience for patients.
With Salesforce IoT, healthcare providers can advance their capabilities and deliver better treatment outcomes.    
Also, read: IoT in Healthcare in 2023: Companies, Medical Devices, and Use Cases
2) Manufacturing 
Manufacturers today are experiencing a change in basic assumptions. They have a comprehensive understanding of the various facets of their operations and strive to optimize their performance for sustainable long-term growth.
The Internet of Things (IoT) is revolutionizing manufacturing by integrating sensors and devices throughout the production ecosystem. These interconnected devices collect invaluable data and facilitate seamless data sharing through cloud-based digital platforms.
With Salesforce IoT Cloud, manufacturers can effectively monitor equipment performance, identify irregularities, and proactively schedule maintenance activities.
This solution also enhances operational efficiency, minimizes downtime, and significantly boosts overall productivity.
By leveraging Salesforce IoT Cloud, manufacturers can unlock new levels of operational excellence and drive success in the dynamic manufacturing landscape.    
3) Transportation and Logistics 
The transportation industry is all set for substantial operational transformation, fueled by innovative technology. In today's digital era, the adoption of IoT is imperative for both transportation companies and customers.
Salesforce IoT Cloud presents a game-changing solution for transportation and logistics firms, empowering them to effectively track assets, optimize routes, and monitor vehicle performance.
By harnessing the power of Salesforce IoT Cloud, businesses in this industry can elevate supply chain visibility, reduce costs, and enhance delivery efficiency.
Moreover, Salesforce IoT empowers transportation companies to expand the reach of their customer services and optimize customer experiences. This results in promoting growth while ensuring prominent levels of customer satisfaction.     
4) Retail
By harnessing the power of Salesforce IoT in the retail industry, businesses can streamline and automate their processes, maximizing their potential for success.
With Salesforce IoT Cloud, retailers gain invaluable real-time insights into customer behavior, enabling them to understand and cater to their needs more effectively.
The platform also empowers retailers to track inventory levels in real time and optimize their supply chain operations, ensuring efficient stock management and timely product availability.
Through personalized marketing initiatives, Salesforce IoT Cloud furthermore enhances the overall customer experience, fostering stronger customer relationships and driving loyalty.
Additionally, the platform enables retailers to closely monitor lead flow and conversion rates, measure the impact of marketing campaigns, and make data-driven decisions for continuous improvement.
With Salesforce IoT, retailers can unlock new levels of operational efficiency, customer satisfaction, and business growth.      
Also, read: 15 Best Salesforce Integrations for Optimizing Your Business Operations
Salesforce IoT Cloud Implementation Best Practices   
Implementation algorithm: 
The steps in the Salesforce IoT implementation algorithm are as follows: 
Plan - Determine the events' actions or alerts.  
Connect - Conclude the data sources which you need to connect. 
Transform - Convert the real-world customer scenario to technical representations. 
Build - Add orchestration rule and include relevant logic using formulas.
Deploy - Finally activate the orchestration rule and become aware of the devices' states.    
Best Practices: 
To ensure successful deployment and maximize the benefits of Salesforce IoT Cloud, it is important to follow these best practices:    
Copy Infographic
1) Clearly define your objectives 
To ensure a successful implementation of Salesforce IoT Cloud, it is crucial to begin by clearly defining your business objectives and desired outcomes you aim for.
By understanding the IoT readiness of your business, you can identify areas for improvement in operations, customer service, and revenue growth.
This sharp vision serves as a guide for developing an effective implementation strategy.    
2) Look for the Required IoT Components 
To successfully implement Salesforce IoT Cloud, it is crucial to identify and include the necessary IoT components as per your specific requirements. These components may include a range of elements, such as sensors, communication protocols, etc.
By carefully choosing and integrating these components, you can create a robust and efficient IoT ecosystem that seamlessly connects devices, collects data, and enables powerful insights through Salesforce IoT Cloud.
This ensures that your implementation aligns with your business goals and optimizes the value derived from IoT technology.    
3) Assess data integration requirements to integrate it with other third-party products 
It is crucial to thoroughly understand the data sources and integration requirements necessary for capturing and processing IoT data.
This involves evaluating the compatibility of existing systems and devices with Salesforce IoT Cloud and identifying any potential gaps or additional data integration solutions that may be needed.
It is also important to consider the integration capabilities of Salesforce IoT Cloud with other third-party systems, such as enterprise application support utilized by the company.
By exploring all available options and ensuring seamless integration, businesses can maximize the value and benefits derived from Salesforce IoT implementation services.     
4) Data security and privacy measures 
It is very crucial to prioritize robust data security and privacy measures to safeguard sensitive IoT data. This includes implementing encryption techniques, access controls, and data anonymization methods to protect data privacy effectively.
It is likewise important to adhere to industry regulations and standards relevant to your business to ensure data integrity and maintain trust with stakeholders.
By following best security practices, you can mitigate security threats and ensure that your Salesforce IoT Cloud implementation is secure and reliable.     
5) Continue to monitor and iterate 
To ensure the continuous improvement and alignment of your Salesforce IoT setup with corporate goals, it is crucial to establish a robust monitoring and feedback loop.
This involves gathering user feedback and monitoring key performance metrics to assess the efficiency and performance of your Salesforce IoT implementation.
By regularly evaluating the solution's effectiveness, you can identify areas for improvement and make necessary iterations to enhance its functionality and impact.
This iterative process promotes ongoing development, ensuring that your Salesforce IoT setup remains aligned with your business objectives and delivers optimal results.
Also, read: Boosting Sales Performance: How Salesforce Benefits Your Sales Team
Salesforce IoT Cloud Challenges
During the implementation of Salesforce IoT Cloud, businesses may encounter certain challenges. Let us look into some of these barriers that organizations might face throughout the implementation journey.    
1) Security and Safety
The expansion of IoT devices and the vast volumes of data they generate present notable concerns regarding privacy and security for organizations.
The information collected from IoT devices becomes susceptible to targeting by competitors or malicious actors, resulting in potential financial losses and damage to reputation.
Consequently, prioritizing the protection of IoT data and implementing strong security measures becomes imperative for organizations to effectively address these risks and uphold their privacy.    
2) Addressing Concerns Related to Customer Data Privacy
Maintaining the privacy of customer data is of utmost importance in the implementation of Salesforce IoT. As organizations gather and analyze data from IoT devices, it becomes essential to prioritize the protection and confidentiality of customer information.
Salesforce IoT provides strong security measures, such as data encryption, access controls, and compliance with privacy regulations, to ensure the safety of customer data.
By following best practices and fostering transparency in data management, organizations can uphold customer privacy and build trust in their IoT endeavors.
3) Flexibility Limitations 
While Salesforce IoT Cloud offers customization options, there are certain limitations on the extent of customization that can be accomplished.
Complex workflows or highly specialized IoT use cases may require additional development efforts and resources beyond the low-code capabilities of the platform.
However, Salesforce IoT Cloud provides a user-friendly interface that allows businesses to create customized apps with ease, reducing the need for extensive coding. 
Also, read: Salesforce Experience Cloud: The Ultimate Guide to Features and Capabilities
Conclusion
Businesses are increasingly recognizing the advantages of Salesforce CRM in customer relationship management. By integrating IoT services, Salesforce allows the collection and analysis of real-time data from connected devices, adding significant value to business operations. Leveraging IoT technology can revolutionize field service operations, unlocking new levels of efficiency and effectiveness.     
Through our analysis done above, we have uncovered comprehensive details about Salesforce IoT Cloud, encompassing its benefits, implementation process, and associated challenges. Irrespective of industry verticals, businesses can leverage Salesforce IoT Cloud to effectively address evolving customer needs and take a proactive approach to resolving their issues. With its forward-looking capabilities, the IoT cloud platform represents the future of customer support, enabling businesses to provide the essential assistance their customers require. 
FAQs (Frequently Asked Questions)   
1) Why do businesses need an IoT platform?
By utilizing an IoT platform, business owners gain access to an asset monitoring tool that provides a comprehensive overview of operations, encompassing assets like vehicles and manufacturing equipment. Through the application of intelligent data analytics, this platform facilitates prompt decision-making, and efficient problem-solving, and drives sales growth. Embracing the capabilities of an IoT platform empowers businesses to optimize processes, streamline operations, and unlock higher levels of success.  
2) How is the Internet of Things different from Cloud Computing?
IoT revolves around gathering data from physical devices and transmitting it to the digital realm for analysis. When talking about cloud computing, it forms the infrastructure for processing, transporting, and storing this data. While IoT and cloud computing are separate technologies, they complement each other to provide effective solutions.  
3) What advantages does the Salesforce IoT Cloud have for your business?
For business users, Salesforce IoT Cloud will simplify the data collection process. It raises accusation rates and client retention. It helps professionals in developing more effective business plans. You can also use Salesforce Einstein to measure data events occurring in real time. This may introduce new concepts, goods, and services at a minimal IoT cost.  
4) What processes exactly do Salesforce IoT Cloud solutions streamline?
The following are the three important processes that will be streamlined:  
1) More effective and personalized customer engagement  
It improves customer interaction and retention rates and enables you to proactively address customer needs and problems.  
2) Initiate Personalized Action   
Identify relevant data and allow you to use it to set off tailored real-time actions for different business operations.  
3) 360 Degree Device View  
It connects data from gadgets, sensors, and other sources with ease, providing you with superior insights and prompt customer actions.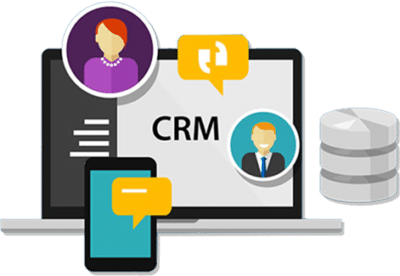 If you are new to automation and confused about Workflow or Process Builder. Need not to worry, we have got you all covered. Talk to our experts and clear all the cloudy thoughts about automation.