The sales culture of today is completely different from what it was in the past. Every business is now looking for CRM systems with a ton of features to manage all digital elements. Businesses today require a structured, compact system that is simple to install all at once. Salesforce CRM's amazing features and advantages provide firms with a much-needed boost. The majority of brands and professionals pick this top-tier cloud-based CRM solution. We'll go into more detail about the Salesforce benefits for the sales team later on in this blog.
The modern salesman depends more and more on digital systems and software tools to be successful. This has become essential at every stage of the sales cycle, with a wide range of daily duties ranging from lead finding to deal closure.
Automation is the key to success in the fiercely competitive, high-volume sales environment. It streamlines sales for your business, updates data, and frees up time for more beneficial activities. Businesses can more effectively focus on their primary goal—generating sales—by cutting down on the time spent on manual chores.
Digital technologies can help in this by offering automated solutions to bring your people, processes, and data together in one location. One such product that helps in boosting an organization's revenue and sales is Salesforce.
How Does Salesforce Improve Sales Processes and Help Your Sales Team?
Sales operations include strategy, data analysis, hiring and training, forecasting, territory design, and sales process optimization. Now, let's examine the advantages of Salesforce for the sales team. Salesforce, first and foremost, enables you to manage all of your client interactions and data in a single area.
This implies that it will be simple for you to obtain important information including contact information, previous transactions, and any ongoing conversations you may have had with them. This lets you create more individualized sales plans for each customer while also saving time.
Salesforce also provides several solutions that can help you streamline your sales procedures. For example, you can utilize this platform to automate activities like setting up appointments, sending follow-up emails, and delegating work to team members.
By doing this, you can increase your productivity and guarantee that everyone on your team is operating as one unit.
Salesforce furthermore provides reporting and analytics tools that can be used to identify patterns in your sales data, monitor customer behavior, and evaluate how well your team is doing. Making data-driven decisions and improving your sales methods can benefit greatly from this information.
Supercharge your sales with Salesforce!
Experience the game-changing benefits for your sales team today.
Top Reasons why sales reps should use Salesforce CRM to Increase Sales Productivity
In the modern corporate environment, the idea of Salesforce CRM software has helped firms become more customer-centric than product-centric and offered a tone of helpful advantages for them to increase the profitability of their sales operations.
Here are some crucial Salesforce features that can help sales teams in reaching their objectives:
Copy Infographic
1) Salesforce Increases the Business's Profitability
Instead of waiting, Salesforce CRM enables salespeople to close deals more rapidly. Staying innovative is also very important as per the new and updated revenue systems.
Using Salesforce CRM Cloud, you can merge all of your products and prices onto one platform. This results in producing precise quotes and reduces time wastage between the sales and manufacturing teams.
2) Lead and Opportunity Management
With Salesforce, sales teams can more effectively manage their leads, from acquiring and qualifying them to following them as they go through the sales pipeline.
Sales representatives can simply prioritize their leads using the lead management capabilities provided by Salesforce based on their level of interest, engagement, and prospective value. This enables them to concentrate their efforts on the most promising prospects.
Salesforce furthermore offers powerful solutions for managing sales opportunities. To speed up the closing process, sales representatives can monitor the progress of each opportunity, set alerts and reminders, and work together with team members.
Also, read: Salesforce Experience Cloud: The Ultimate Guide to Features and Capabilities
3) Sales Analytics and Forecasting
The analytics capabilities of Salesforce offer insightful data on sales success, including figures for win/loss ratios, average deal sizes, and conversion rates. Salesforce also provides strong sales forecasting tools that help sales teams predict future sales income more accurately.
Sales representatives can build projections that help in more efficient resource planning and resource allocation by using historical data and current sales patterns.
4) Customer-Centric – Finding the right customers
Using Salesforce makes it easier to find the ideal customers by keeping you on the right path. It will not only save time but it will also ensure that your resources and investments produce fruitful outcomes.
Sales will increase if leads are fully viewed, records are regularly kept, and connections are made by specifically targeting prospecting leads. It specifically helps the sales team in timing their analysis of customer needs.
Customer satisfaction will grow as a result, which is what businesses need. When sales representatives have access to all the facts, decision-making becomes quite clear and simple.
5) Cross-Functional Insights
Offering the departments, a streamlined and integrated view of the customer is at the top of the list of advantages of a Salesforce CRM. Salesforce help in the collection, tabulation, and customization of data in a report for specific departmental needs.
This provides departments with complete data and also speeds up work. The Salesforce CRM solution manages all customer-facing processes, from email marketing to available web tools.
Also, read: Salesforce CPQ vs Standard Quotes: Which is Right for Your Business?
6) Build Long-Term Relationships
If you want to reap long-term rewards, relationships with your customers should be built on a foundation of mutual trust and respect. Finding out the customer's objectives and examining the challenges are the first steps of this process.
The customer will feel more engaged in your business if you continue the conversation from where you left off. Salesforce CRM can work best here, you can create email templates, set up task reminders, and overall improve customer relationships.
7) Streamlining Decision-Making and Workflows
Salesforce CRM helps by providing you with a consistent view of the results and expectations of your sales team. One advantage of Salesforce CRM software is the ability to employ predictive analytics to determine whether your business is on the right track.
It helps in modifying your strategy based on the user data. With the help of the Salesforce CRM system, you can easily and conveniently develop and customize workflows for usage in your organization.
8) Work together as a team and manage time
The excellent time management efficiency of Salesforce is one of the most beneficial outcomes. No time will be lost due to team members' misunderstandings or uncertainty. You naturally reap the benefits of time management with the proper approach to work and resource planning.
Maintain real-time communication amongst all members of your team, including sales, support, and supply, by using the Salesforce Chatter tool. Chatter makes it simple to bring new people into the group, keeping everyone informed throughout.
Also, read: Salesforce Sales Engagement Mastery: Proven Strategies for Efficiency and Success
9) Rationalize the Sales Moves and increase productivity
Salesforce can quickly review all prior records and make connections while considering customer preferences, producing better outcomes with less time and effort. Using technology to your benefit frees your team from the process of searching through contact information.
Salesforce automates sales, service, and marketing and boosts employees' productivity. Automation is the key benefit of Salesforce, which helps sales representatives to run timely tasks. The need for Salesforce CRM is crucial to sales reps who want to increase ROI and improve customer experience.
10) Mobile Access and Compatibility
Sales teams can work anywhere and at any time because of Salesforce's mobile capabilities. As a result, sales representatives can access the platform from any location and manage their leads, opportunities, and sales activity.
Sales representatives can be more effective and responsive because of this feature, which also provides them with more freedom and autonomy.
11) Cost- and Time-Efficiency
Salesforce has an advantage over other digital data monitoring platforms because of its drag-and-drop reporting features. Quick access to the data you require is provided by the ability to quickly pull up necessary data or create a usable report.
Salesforce makes it easy to keep track of client purchase history, the top-selling products, and how best to allocate resources. This furthermore helps in lowering overall production and marketing expenses.
12) Close More Deals
You can improve all aspects of sales performance management, from tracking client contacts to reporting on targets, by offering a more effective, modern work platform – Salesforce.
Your staff will be more than just ready to close sales and boost your company's profitability with improved productivity, expanded access to data, and enhanced communication.
Any sales team trying to improve their sales processes and drive revenue growth will find Salesforce to be a great asset because of its user-friendly interface and extensive toolkit.
Your sales team can work more productively and successfully by utilizing Salesforce, which also offers insightful data on customer behavior and sales trends.
Therefore, it's undoubtedly a tool that any sales team looking to improve upon should take into consideration.
What is Salesforce Sales Cloud?
By using Salesforce's Sales Cloud module, your sales team is able to have meaningful interactions with their most valuable leads and contacts.
It enables end-to-end sales management by making it easier to create contacts, make product order IDs, log product price information, trigger emails based on client behavior, monitor deal progress, and much more.
Also, read: 10 Proven Strategies for Effective Sales Follow-Up Emails
What makes Sales Cloud for your sales team so effective?
Sales Cloud provides a user-friendly and easy-to-use user interface. The following are some important features and characteristics that make Sales Cloud effective:
1) Creating Intuitive Dashboards
With the help of Sales Cloud, your sales team can streamline and better utilize the available raw data to maximize its value. Sales forecasting is made simple by determining which campaign is effective, which accounts are actively engaged, the level of interaction with specific contacts, and more.
2) Lead Management
Sales Cloud enables you to keep track of the multiple interactions with their leads. Your sales team can strategically plan their next step to target leads that matter and ultimately result in closing them with the knowledge of the goods or services the leads are interested in, as well as a better lead scoring methodology.
3) Account Management
Salesforce Sales Cloud simplifies account administration by enabling your sales team to keep track of all corporate contacts, investors, and even competition information against the business account. This enables the sales team to prioritize high-potential contacts and leads to close deals quickly and aggregate information in a more centralized manner.
4) Campaign Management
The effectiveness of the subsequent level of communication is improved by identifying where the lead or contact came from (Campaign programs), such as an advertisement, telecall, social media post, email, or webinar, and the message to which they replied. For the sales teams, this makes it simpler to close deals.
5) Scalability and Customization
Sales Cloud can be easily customized to fit specific corporate needs and sales procedures. Workflow rules, page styles, and data fields are just a few of the customization options available. Additionally, Sales Cloud is scalable, this helps businesses to grow their sales operations and modify the platform as needed.
Also, read: Salesforce Service Cloud Use Cases with Examples
Salesforce for Sales: Get More Done in Less Time
The ability for your team to accomplish more in less time is one of the most important benefits of Salesforce for the sales team. In other words, this platform enables you to improve the productivity of your teams and processes.
It provides you with a comprehensive picture of your customer. This enables you to prioritize the work of your team and prepare more effectively while optimizing your marketing procedures.
In addition, the Salesforce platform makes considerable use of automation. These enable you to automatically communicate with customers depending on predetermined triggers.
Also, read: CRM Automation: Streamlining Sales and Marketing for Success
Quick Takeaways:
Sales Cloud allows comprehensive customer management which offers a centralized platform for managing leads, contacts, accounts, and prospects.
Salesforce strengthens crucial sales processes and operations while improving current ones, reducing complications as they appear, and optimizing existing services.
Einstein Analytics is exclusively available in Salesforce Lightning, it offers extensive data analytics and visualization capabilities.
As Salesforce integrates with your organization's existing systems, you won't have to give up any of your favourite tools.
Businesses can scale the Sales Cloud platform as required to match their unique sales processes, all possible with its customization options.
Also, read: Virtual Sales Teams with Salesforce – 10 Tips and Techniques for Success
Conclusion
The entire sales cycle is streamlined by the Salesforce system, which helps close more deals and enables the sales team as a whole to accomplish goals more quickly and creatively. There are multiple Salesforce benefits for the sales team as seen above. Artificial intelligence technology enables the sales staff to make accurate predictions and close deals.
So, are you ready to begin your sales team's adoption of Salesforce? You can count on us. We have platform training and adoption programs at Cynoteck intending to involve people in the adoption of CRM. These programs are based on a set of Salesforce-specific tools, methodologies, and standards.
Together, we create a systematic plan and technique to fulfil your implementation needs, accelerate platform adoption, remove obstacles, and quickly demonstrate Salesforce's value. Some of our primary Salesforce Services include Salesforce Marketing Cloud, Salesforce Community Cloud, AppExchange Apps, Salesforce Consulting Services, Salesforce Implementation Services, Salesforce Integration Services, etc. Contact us here for additional details.
Also, read: Sales Prospecting the Right Way – 10 Salesforce Tips
FAQs
1) How do sales teams use Salesforce?
With the help of solutions like artificial intelligence, Salesforce helps sales teams in gaining a 360-degree client picture, enhance sales coaching, and increase sales productivity so every rep can complete more deals whenever and wherever they are needed. Salesforce facilitates cross-selling and upselling, which in turn helps you gain customers and expand your business by bringing all of the prospect and customer data from throughout your business together.
2) Which Salesforce solution is the most effective for sales teams?
The ideal starting tool is Sales Cloud. Salesforce's comprehensive Sales Cloud platform is created to streamline and improve the activities of the sales team. Using Sales Cloud allows sales teams to work more efficiently, collaborate better, obtain insightful data, and ultimately increase revenue by managing leads, closing deals, and nurturing customer relationships.
3) How can Salesforce help my sales team work faster?
Every transaction a customer makes is recorded in their account, along with all other interactions the sales, marketing, and customer service teams have had with them. Sales representatives can also track changes in purchases over time, such as increases or decreases, which helps them better plan their sales strategies for their subsequent contact with the customer.
4) How important is customer service to prospective customers?
Around 75% of customers believe that a company's customer service demonstrates how much they value their business, and Salesforce's inherent ability to track customer data and interactions throughout their entire brand experience makes it easier for your team to develop successful, long-lasting client relationships.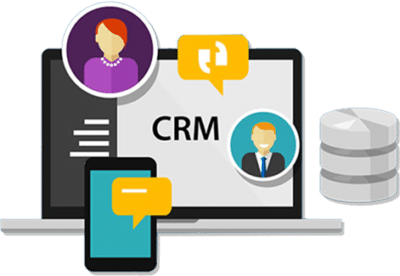 If you are new to automation and confused about Workflow or Process Builder. Need not to worry, we have got you all covered. Talk to our experts and clear all the cloudy thoughts about automation.