CRM software is seen as a business improvement that ensures a quick-fix impact on marketing, sales, and service performances. Numerous present CRM systems are offering the kinds of solutions that organizations require, but the quality of these platforms depends on the quality of their data. The CRM database is essential for both an efficient CRM tool and for maximizing customer data for fresh commercial insights.  
CRM systems are now a vital component of the business operations of the majority of enterprises. But, in order to get the most out of your CRM, it's critical to have reliable data, extract useful insights from it, and improve your data quality strategy.
Below, we'll go through what CRM data management actually entails; how poorly managed CRM data impacts your B2B company. 
What is CRM Data Management?
All customer data is gathered, controlled, transformed, and shared within a business in a CRM (customer relationship management) database.
It has features for marketing and sales reporting that are beneficial for running sales and marketing campaigns and raising client involvement.
CRM systems vary in terms of functionality, performance, and user-friendliness as well as their capacity to transfer data from other programmes. 
Also, read: CRM Automation: Streamlining Sales and Marketing for Success
Advantages of a good CRM database
A CRM system can be used across departments to make sure that all teams that interact with customers have access to the essential information to deliver amazing customer experiences. CRM has many advantages for a business.
Customized experience for customers
Knowing whom to target for what product or service included in tomorrow's campaign, discount, or reward is necessary for effective marketing. These insights originate from comprehensive, integrated, and controlled CRM data. Marketing teams can deliver the personalized experiences that consumers have grown to demand by using a CRM database that offers a single source of truth for every customer or lead.
It Increases sales
By streamlining your sales process, creating a sales pipeline, automating crucial processes, and gathering all of your sales data in one location, a CRM platform may help you boost productivity and sales. With the aid of a CRM, you can create a step-by-step sales procedure that your staff can adhere to consistently and that you can simply modify as problems emerge.
Centralized information
Another thing CRM software excels at is creating a centralized database that houses all of your company's customer information and makes it readily available to anyone who needs it. This makes it simple for a salesperson to determine, for instance, the products a particular consumer is interested in.
If the customer has previously interacted with the business, records of that contact will be included in the CRM and can be used to inform upcoming marketing campaigns and sales pitches.
This improves and increases the customer experience while saving your staff time from having to search through outdated files and information.
Also, read: 14 Best CRM for Real Estate Agents to Improve Their Productivity and Sales
What are the consequences of not maintaining your CRM platform efficiently?
Inadequate CRM data management results in lost opportunities that are extremely expensive for firms. Moreover, poor data quality in your CRM wastes time and resources and negatively impacts your brand's reputation through higher bounce rates, missed phone calls, etc. Poorly maintain CRM data management can have major consequences in the lead generation process.  
Cluttered data with unnecessary information hampers the lead-generation process. It is a time-consuming process. Also, if data management is not proper then it will directly hamper your business's growth rate.
In order to sustain productivity and brand integrity, data quality is crucial.
Different ways to improve your CRM Data quality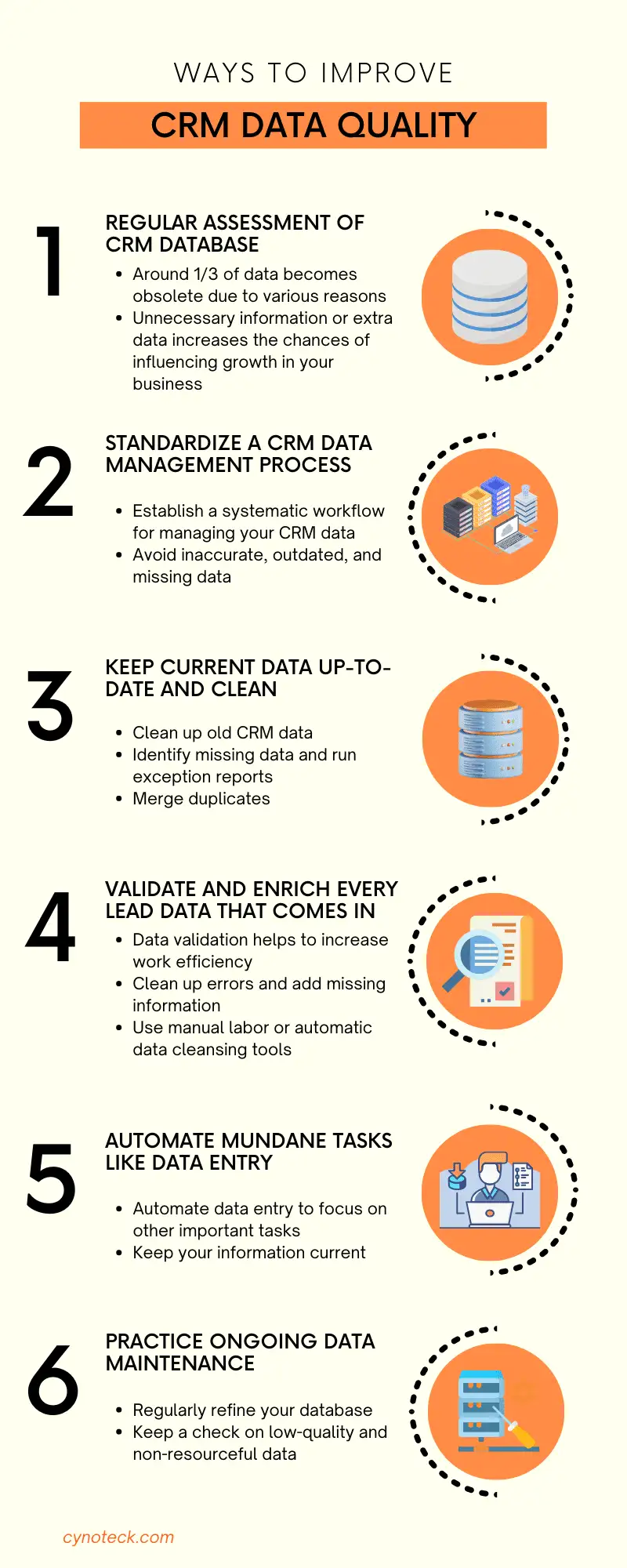 Copy Infographic
1. Regular assessment is necessary of your CRM database
Regularly evaluating the health of your database is one of the most crucial measures you can take to ensure that your CRM is producing high-quality data. Experts say that around one-third of data becomes obsolete due to various reasons.
Contacts move or get promoted, clients update their contact information, contacts shift firms, and so forth. Unnecessary information or extra data increases the chances of influencing growth in your business.
2. Standardize a CRM Data Management Process
It is highly important to lay down a systematic work process for managing your CRM data. If your organization doesn't have an established client data management process, you'll undoubtedly come across inaccurate, outdated, and missing data.
It makes the whole CRM data management way easier and more effective if the workflow is easily established.
3. Make Sure the Current Data Is up to Date and Clean
If you'd like to have quick results from your CRM implementation, then it is important to upkeep the data. The most practical method to start managing CRM data and make sure it stays that way over time is to clean up old CRM data. Here's a quick tip to attain a smooth flow of data cleansing of your CRM.
Plan your day so that you can identify important missing data. To check if the contact information, such as the phone number or email address, is missing, you can use a filter. Run the subsequent exception reports after that.
After you've begun data cleaning, make monthly reports of any exceptions. You'll be able to identify records that have missing data as a result.
Finally, merging duplicates is something we advise. Combining multiple duplicate records into a single comprehensive record is another efficient technique.
4. Validate and Enrich Every Lead Data That Comes In
Data validation is an important part of CRM data management. It helps to increase work efficiency by collating and verifying abundant data through various methods.
In order to validate and improve lead data, it must be cleaned up, errors fixed, and missing information added. Manual labor or trustworthy automatic data cleansing tools can also be used for this.
Information might not always be accurate as it eventuates from multiple sources.
5. Automate Mundane Tasks Like Data Entry
If your work on CRM, task automation should be one of the foremost things you should adopt in practice. We all know that data entry consumes loads of time.
By automating data entry one can focus or brainstorm on other several important tasks. Also, it will always keep your information current.
If you automate and cut down on the time your staff spends on manual administrative duties like entering CRM data, they will have more time for more crucial things.
6. Practice Ongoing Data maintenance
Did you know that around 25-30% of your CRM data is of no use? Although CRM gives you the option to import a sizable amount of data, the worth of these records is questionable.
Still, there is so much data that is low-quality and not as resourceful. It is important to keep a regular check and keep refining your database.
Also, read: CRM Implementation Failure: What Went Wrong?
Mastering CRM Data Management: A Four-Step Guide to Data Migration
To start with data migration, we have explained four major points to understand CRM data management. These four categories are major arenas that must be kept in mind while starting to shift your data for business growth. Now let's go through each point: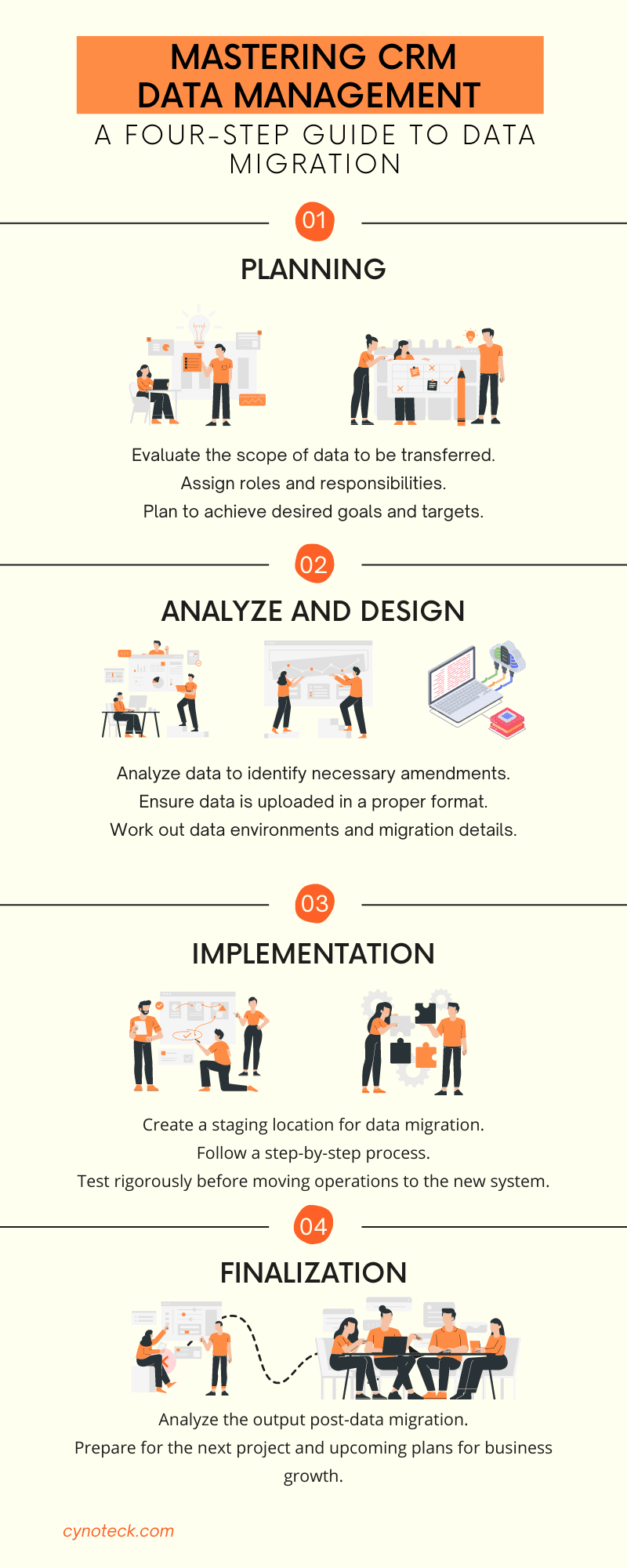 Copy Infographic
Planning
For any successful data completion, the key is thorough research and great planning. It is important for stakeholders, managers, and technical staff to evaluate and determine the scope of data that needs to be transferred.
The designated team must plan all the roles and responsibilities carefully. The whole planning process is a very important part of CRM data management as it prepares how to achieve the desired goals and targets.
Analyze and design
Post-planning data is evaluated and analyzed to see what all necessary amendments are required. It is important to note that for CRM automation or on any software or platform, data uploaded should be in a particular format. Any corrupted or improper formatting leads to a data error or repetition of tasks.  
That's why it is important to analyze the data. And also, how to safeguard data from beginning to end while according to rules. Data environments and migration details, including staging, testing, and production, are worked out by the technical staff.
Implementation
The first steps in the implementation process involve creating a staging location for the data to be migrated and following a step-by-step process.
Before completing the entire data migration, start with a small portion of the data. Operations must move to the new system after rigorous testing.
Finalization
In the end, post planning, and implementation the last stage involves all the output analysis post-data migration. This step helps prepare for the next project and upcoming plans for business growth.
Also, read: CRM Migration Checklist: Best Practices and Top Tips
How to optimize your CRM efficiently?
Having reliable and high-quality data is essential to a CRM system's value. Since more CRM data enters the system more quickly, this data must be kept up to date in order for it to be useful to the company, accessible to those who need it, considerate of an individual's privacy, and available to explore and uncover new business opportunities.
Upgrade your CRM Database
By keeping a top-notch, high-performing CRM database, businesses can stay up with their customers. When it comes to gathering, controlling, transforming, and distributing client information, a CRM database should shine. Its strength rests in delivering the appropriate information from a reliable source to the appropriate client at the appropriate time.
By incorporating numerous data streams and data systems into the CRM database, vendors have succeeded in achieving this goal. Because all data is reliable and accessible in close to real-time, this facilitates easier operations, analysis, and collaboration in sales and marketing.
Successful data transfer, followed by strong data governance and the greatest data quality, are the keys to an efficient CRM database. Cynoteck uses controlled self-service and automated IT tools to deliver simple CRM data administration. It effectively pipes data by connecting to all leading CRM platforms, including Windows and open-source tools.
We recommend using Cynoteck to begin by making sure your data is secure and the tools are in place for a seamless and quick data migration when your organization is ready to launch or upgrade your CRM database. 
Conclusion
To sum up, employing efficient CRM data management techniques is essential for raising the quality of your data. Organizations may optimize their CRM data to produce better business results by adopting a strong data governance structure, guaranteeing data integrity and completeness, utilizing data cleansing and enrichment procedures, and routinely monitoring and auditing data quality. Investing in data management and quality can help organizations achieve a competitive edge in the market, as well as increase consumer engagement and retention. 
Also, read: CRM Integrations You Need to Level up your Tech Stack 
Frequently Asked Questions:
Q. What are the key components of a CRM data management strategy?
The key components of a CRM data management strategy include data governance, data accuracy and completeness, data cleansing and enrichment, and regular monitoring and auditing of data quality. 
Q. How can data governance help improve data quality?
Data governance ensures that data is consistent, accurate, complete, and secure. By establishing clear policies, procedures, and standards for data management, organizations can ensure that data is of high quality and can be trusted for making important business decisions. 
Q. What are some techniques for improving data quality through data cleansing and enrichment?
Techniques for improving data quality through data cleansing and enrichment include deduplication, normalization, standardization, and appending missing or incomplete data fields. 
Q. How can businesses ensure ongoing data quality?
Businesses can ensure ongoing data quality by regularly monitoring and auditing data quality, establishing clear data ownership and accountability, and implementing continuous improvement processes to address any issues that arise. 
Q. What are some benefits of improving data quality?
Benefits of improving data quality include better customer engagement and retention, increased sales and revenue, reduced costs and wasted resources, and improved decision-making based on accurate and reliable data.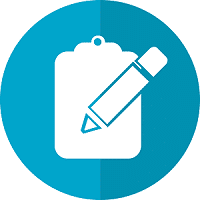 Do you want to implement a CRM system within your organization? Connect with our CRM Experts today!