Because of the IoT's widespread acceptance and multiple applications, including remote monitoring and medical device integration, the healthcare sector has seen a revolutionary transformation. There are many IoT applications in healthcare, including wearable sensors, security systems, and cloud-connected medical devices.
By utilizing IoT in healthcare, you can improve patient outcomes and improve the quality of treatment throughout the entire healthcare experience. As a result, the healthcare sector is adopting IoT increasingly. The beginning of the Internet of Things (IoT), which has numerous applications from remote monitoring to medical device integration, has completely changed how the healthcare business operates today.     
The Internet of Things (IoT) is applied to the healthcare industry to create interconnected monitoring systems, sensor equipment, and detectors that can record real-time health data. Different tools can compile varied patient data and get knowledge from medical professionals. Constant glucose monitoring for insulin pens that work efficiently for diabetic patients is an example of IoT in healthcare.
There are countless opportunities to work more efficiently, increase patient happiness, reduce backlogs, and do many other things with this wave of ongoing technological progress. But it also implies that cyberattacks are more likely to target the healthcare industry than ever before.
IoT healthcare devices can make rational decisions like contacting the emergency care team while gathering patient data in the event of an emergency. Additionally, they can communicate generic patient information to the person in question, including names of doctors, emergency contacts, and many more.
The IoT Healthcare gadget would transmit this important message to the cloud after accumulating passive data so that doctors could work on it — examine the overall patient status, determine whether calling for an ambulance is necessary, what kind of remedy is required, and so on.    
We will now discuss how the Internet of Things (IoT) has impacted healthcare in the past, present, and future. We will also examine how IoT is altering healthcare and how IoT security is impacted by medical IoT device use.   
The Evolution of Medical Technology
Healthcare organizations cannot passively assume that their current information technology infrastructure will be adequate in the future since doing so exposes them to potential fines from the government and lawsuits from patients.    
Technical developments have occurred in medical culture, and it would be difficult to explain these changes. Implanted defibrillators that use telephone networks and websites to update cardiologists on their patients are nothing more than modern magic, just as new medications that change emotions, and blood pressure, or kill microorganisms.
It is astounding how much healthcare has changed in the previous 150 years, especially considering the centuries of stability, and one wonders how this rapid pace of development will continue in the future.    
Healthcare organizations and facilities today are now willing to spend millions of dollars on protection and technology investments to ensure that their facility is on the forefront of this new wave of healthcare information technology safeguards.
Attacks and data breaches in the healthcare sector have increased, making it more important than ever for healthcare organizations and institutions to hire a new team and implement updated healthcare information technology policies.    
IoT devices in the healthcare industry can dramatically speed up decision-making, identify potential cost-cutting strategies, put those strategies into practice, personalize care more effectively to boost patient retention, and boost income in the long run.      
Also, read: 10 Must-Have Apps for Healthcare Professionals in 2023
Medical IoT Devices   
IoT devices provide several opportunities for patients to self-monitor and for healthcare professionals to monitor patients. As a result, both healthcare providers and their patients can profit from a wide range of wearable IoT devices.
Some of the most beneficial advancements include the ones listed below:    
1) Remote patient monitoring 
The most widespread use of IoT devices in healthcare is remote patient monitoring. Using IoT devices, patients without a physical presence in a healthcare facility can automatically gather health metrics, eliminating the need to travel and collect data themselves.
These metrics include heart rate, blood pressure, temperature, and more. A notice could be sent by an IoT sensor that notices a patient's exceptionally low heart rate so that medical personnel can act.
Making sure the extremely personal data that these IoT devices acquire is secure and private is a significant barrier for remote patient monitoring equipment.    
2) Continuous glucose meter
The process of manually checking a patient's blood glucose levels and recording the results is inconvenient, but it only reports the patient's blood glucose levels now the test is given. Additionally, the blood tests your patient analyses at home can:    
Monitor the impact of diet and exercise on blood sugar levels. 
Show how illness or stress can alter blood sugar levels. 
Follow the development of treatment objectives. 
When a follow-up appointment is due, let the patient and the provider know.    
3) Monitoring the heart rate 
Even for individuals who are physically present at medical institutions, measuring heart rates might be difficult, as is the case with glucose. Heart rate monitors are tools that can continuously detect and track your heart rate or pulse.
Many of these wearable gadgets are extremely accurate. These devices can tell you how many heartbeats a patient has each minute, allowing your team to inform them of the best times to exercise energetically and take medication.    
4) Depression, illness, and mood tracking 
Another type of data that has traditionally been difficult to collect continuously is information about depression symptoms and patients' general moods. These issues can be addressed by "Mood-aware" Internet of Things devices.
These devices can determine a patient's mental state by collecting and analyzing data such as heart rate and blood pressure. Using IoT technology, mood-monitoring devices can even track eye movements.    
Also, read: Acquiring Patients in a Competitive Healthcare Market
Some additional IoT/IoMT examples:
While wearable devices like the ones mentioned above continue to be the most often used IoT device type in healthcare, some devices go beyond monitoring and provide treatment, such as the following:   
1) Blood pressure monitor 
This simple inflatable cuff inflates, squeezes your arm, and then estimates your patient's heart rate and blood flow by detecting variations in artery motion as it deflates. To offer daily averages, certain blood pressure monitors take multiple readings.    
2) Ingestible sensors 
Using ingestible sensors helps reveal information about stomach PH levels or helps in determining the cause of gastrointestinal bleeding. These gadgets need to be small enough to be easily ingested. Also, they can disintegrate or neatly exit the body on their own.    
3) Connected inhalers 
Attacks caused by conditions like asthma or COPD frequently occur unexpectedly and without any notice. IoT-connected inhalers can benefit patients by tracking the frequency of attacks and gathering environmental data to help medical professionals in determining what precipitated an attack.    
4) Automated surgery  
Surgeons can carry out intricate surgeries that would be challenging to handle using human hands by inserting tiny Internet-connected robots into the human body. The size of the incisions needed for robotic operations performed by tiny IoT devices can also be reduced, making the process less invasive.    
Also, read: The Key Benefits of CRM in Healthcare: Improving Your Patient Care and Business Results
How Do IoT Services help Healthcare Sectors Increase ROI?   
Let us examine how IoT medical devices assist the healthcare sector increase its return on investment. The following are the main ways that IoT service providers can help the healthcare sector.    
Copy Infographic
1) Treatment and patient diagnosis improvement 
Healthcare experts can promptly detect acute diseases with the use of IoT devices like wearable technology that tracks vital signs and exchange data with them in real-time.
Moreover, IoT medical devices like capsule endoscopies can provide a detailed image of the patient's digestive tract and help medical professionals in finding infections and abnormalities.    
2) Patient experience is improved 
Patients can get their health information from any location with the help of IoT medical equipment. As a result, patients can promptly check the status of their appointments, drug regimens, and test results.
Physical places become smarter through remote monitoring of vital signs and symptoms, increasing the effectiveness of operations and healthcare duties, and resulting in a more individualized experience.    
3) Automation of Processes 
Healthcare can benefit from the Internet of Things by automating many processes and saving time and money. Automated medication dispensing also can monitor patients' medical regimens and notify them when it is time to take their medications.
Healthcare personnel can now devote their time to more important responsibilities as a result.    
4) Quicker and more accurate diagnosis 
Doctors can make better decisions with the real-time data offered by personal monitoring devices (such as glucose and blood pressure monitors).
They offer information to evaluate previous therapies, identify symptoms, cut down on mistakes, and improve ongoing disease management.    
5) Maintenance Planning 
IoT-enabled sensors can efficiently monitor MRI and CT scanners. Also, by monitoring the equipment's performance and lifespan, you can spot any issues as soon as they arise.
As a result, you can schedule maintenance tasks more effectively, decrease downtime for machines, and improve their lives.    
6) Improved Data Allocation 
Healthcare professionals must gather and manage a huge amount of data, including patient information, medical records, information about the inventory of medications and equipment, etc.
You can easily get data from a variety of sources, including medical devices, wearable technology, electronic health records, etc., with the help of IoT healthcare devices.    
7) Lower Prices 
Hospitals and doctor's offices can operate more cheaply with the help of remote IoT monitoring. Accessing and analyzing healthcare data managed electronically is also less expensive than with paper records. 
Also, read: 5 Strategies for Improving Patient Engagement in Healthcare
IoT in Healthcare: Use Cases and Applications   
IoT adoption has undeniable advantages for medical professionals and the patients they care for. The most common ones are: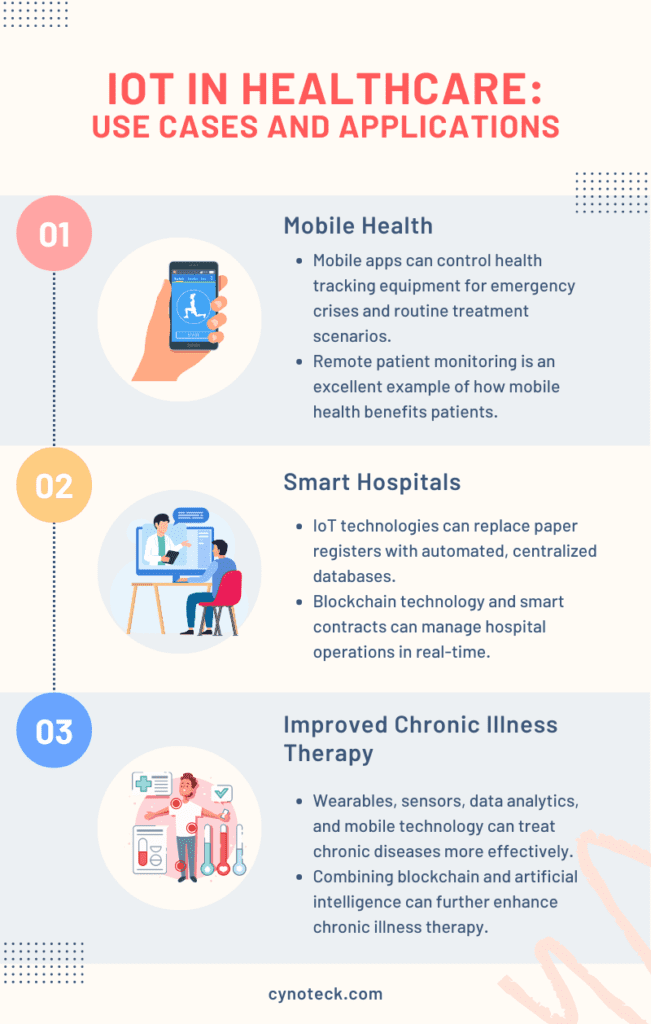 Copy Infographic
1) Mobile health 
Both emergency crises and routine treatment scenarios benefit from the mobile health sector. Mobile apps can be used to control health tracking equipment, as was already covered in the section on "Remote patient monitoring."    
2) Smart hospitals 
All these situations can be resolved by integrating IoT technologies. A comprehensive management system that can receive submissions, handle queues, and track team members in real time through smartphones can replace clumsy, large paper registers with an automated, centralized database with blockchain technology and smart contracts.    
3) Improved chronic illness therapy 
Chronic diseases can be treated more effectively and efficiently with wearables, sensors, data analytics, and mobile technology. With the inclusion of multiple new capabilities made possible by the combination of blockchain and artificial intelligence, all that technology enables achieving just that.        
Also, read: Cynoteck Expands Expertise in Healthcare Industry with Salesforce Health Cloud Services
Conclusion – The healthcare sector will thrive with IoT  
Every sector of the healthcare industry is being significantly impacted by the usage of IoT, with satisfying results. The adoption of IoT by healthcare facilities worldwide is expected to be rapid. Even if there are now some drawbacks as well as positives, the idea is working well.    
This is a rough illustration of how successful the Internet of Things will be when mobile health is commonplace on a global scale and fewer physical hospital visits become the norm. It is because IoT service providers are continuously producing innovative ways for healthcare professionals to improve patient care, streamline operations, and do other things.
Due to these benefits, most healthcare organizations have already begun deploying reliable IoT solutions. Medical facilities must use high-quality IoT devices and solutions to make the most of IoT technology in healthcare.       
FAQs (Frequently Asked Questions)
1) IoT in healthcare: what is it?
The Internet of Things (IoT) in healthcare refers to an ecosystem of IoT-enabled healthcare devices that are linked through chips, sensors, or other related technologies to continuously monitor patient vital signs (such as blood pressure, heart rate, temperature, respiration rate, etc.), physician's activity, and the overall hospital environment to increase the effectiveness of hospital equipment and personnel.  
2) What medical benefits might IoT devices provide?
The information acquired from wearables can be sent immediately to doctors and other healthcare professionals, enabling them to take preventative action in the event of an unfortunate event.     
Patient interaction and satisfaction have increased as doctor-patient contact has become simpler and more effective. Moreover, remote patient monitoring reduces hospital stays and prevents readmissions. IoT in healthcare has a significant impact on reducing healthcare costs and improving medicinal results.  
3) What Internet of Things healthcare devices are available?
IoT devices in healthcare can access a variety of data sources, including:  
Wearables:  
– Smartwatches  
– Rings\Vests  
Sensors and monitors:  
– Heart rate monitors  
– Sleep monitors  
– Temperature monitors  
– Air-quality sensors  
Technology for tracking:   
– Medication refill reminders  
– Tracking of drug effectiveness  
4) What are the IoT Healthcare Challenges?
There are problems despite the many benefits, as can be shown in examples of the internet of things in healthcare. Frequently, healthcare professionals are charged with maintaining the security of multiple sites as well as sizable data warehouses. However, transitioning a whole facility to a new system and practice takes time, and the initial investment and installation expenses can be exorbitant, especially for smaller medical facilities and clinics in remote areas.  
Revolutionize your healthcare organization with Salesforce Health Cloud. Connect with patients, track health data, and manage workflows seamlessly. Contact us now to learn how Health Cloud can improve patient care and streamline operations.