Customer relationship data can significantly impact a company's performance. You will be able to serve your customers more effectively the more you know about them. Hence, the secret to success in B2B marketing is having a proper CRM database and performing CRM data management effectively. It is not surprising that businesses nowadays aim to maximize the value of the information in their CRM systems.
Nevertheless, without ongoing and real-time CRM data maintenance, data can deteriorate and worsen, eventually turning into "bad data" that could pose a threat to your business. Your CRM contains more than just "wrong data," thus it is not just bad data, in addition, it involves outdated, incomplete, and incompatible data formats.    
Maintenance of your CRM data is essential to the effectiveness of any marketing initiatives. You can ensure a great relationship with current clients and customers and prevent selling your product to the wrong demographic by making sure the data is current and pertinent. Even the highest quality data can degrade over time. For example, email marketing databases naturally deteriorate by around 20% annually. Data quality deteriorates for a variety of reasons.
For marketing teams, inaccurate customer database data can negatively impact daily operations. If you were unsure about your customer's identity or their top priorities, how would you respond to their concerns?
This blog will explore how inaccurate data impacts businesses and B2B Marketing and why it must be improved. 
The importance of CRM data maintenance and how does it affect B2B business?
The entire organization is impacted by poorly handled data, with sales and marketing suffering the most. The marketing team's access to data is crucial to the effectiveness of its marketing campaigns. Frequent data updates stem from several factors.
The contact records that are now in your database might undergo some changes in the future. This can include switching phone numbers, email addresses, jobs, places of employment, etc.
If you do not frequently review and update your customer data, you run the risk of spending time and money communicating with the wrong people or sending information to incorrect addresses.    
As a result, your message does not reach the intended demographic, decreasing the success of your marketing initiatives.    
Mentioned below are the reasons that show the importance of CRM data management:
Copy Infographic
1) Affects the Segmentation Process 
Segmentation is the most crucial aspect of any marketer's job. All marketing efforts begin with fundamental marketing action. It is crucial to analyze lengthy customer lists and separate them to engage with each group.
You would not want your B2B marketing solution to approach a CEO and a marketing manager in the same manner. They differ in their demands and requirements. On each of them, the same message might never be effective.
You need to make a list of the audience members you will be speaking to and divide them into more manageable groups that share similar views. Poorly segmented audiences produce inconsistent data, which could reduce a marketing campaign's efficacy.
Any successful campaign speaks to several levels of management, so be sure to communicate effectively.    
2) Personalization 
Successful campaigns depend on individualized communications, and if your CRM data is reliable and consistent, your marketing can be highly personalized and consequently successful. Your capacity to tailor the marketing efforts will also be impacted by incomplete or poor data.
You execute advertisements based only on your presumptions since you are oblivious of the customer's pain issues. Longer sales cycles for B2B items will be particularly affected by the lack of tailored data.    
3) Poor Customer Experience  
Your brand messaging will suffer if the data is less accurate. A poor customer experience results from segmentation and personalization problems. Effective customer data segmentation is necessary to deliver pertinent messaging.
Customer happiness is significantly influenced by data quality. Without trustworthy data, businesses would not be able to satisfy their customers. Every step of your marketing initiative is impacted by the quality of the data. Without trustworthy data, customers may leave your marketing funnel without ever telling you why.    
4) Inaccurate marketing efforts 
In order to allocate marketing resources effectively, clean CRM data can also help you identify the sources of the best prospects. Since all marketing goals—whether they include establishing campaigns, providing targeted messages, or offering promotions—center on high-quality data.
Bad data provides poor context, which allows marketing efforts to fall through the cracks as you are unable to sufficiently understand your clients to communicate with them.    
5) Higher marketing expenses and decreased productivity 
Sending emails to the wrong recipients or pursuing leads that are not good for your company can waste a lot of time and energy.
Time is lost for every second spent searching through records to find the most comprehensive one. Your sales and marketing departments will waste money without seeing any results if they are using outdated or inaccurate data.
They will not have enough time to concentrate on high-potential clients as a result, which will cost them money. Such a strategy eventually damages your business's reputation and reduces its profitability.    
6) Affects market reports and forecasts 
Business insights and predictions all if there is inaccurate and poor data. Tracking your current marketing efforts can be difficult if your data is poor. Your reports become inaccurate and unreliable as a result.
So, to guarantee that the sales and marketing teams have access to the best data available, databases must be regularly updated, maintained, and cleaned.     
Also, read: CRM Automation: Streamlining Sales and Marketing for Success
CRM Data Maintenance Strategies   
The process of CRM data maintenance involves auditing your CRM records regularly. Mentioned below are some of the best CRM data maintenance strategies: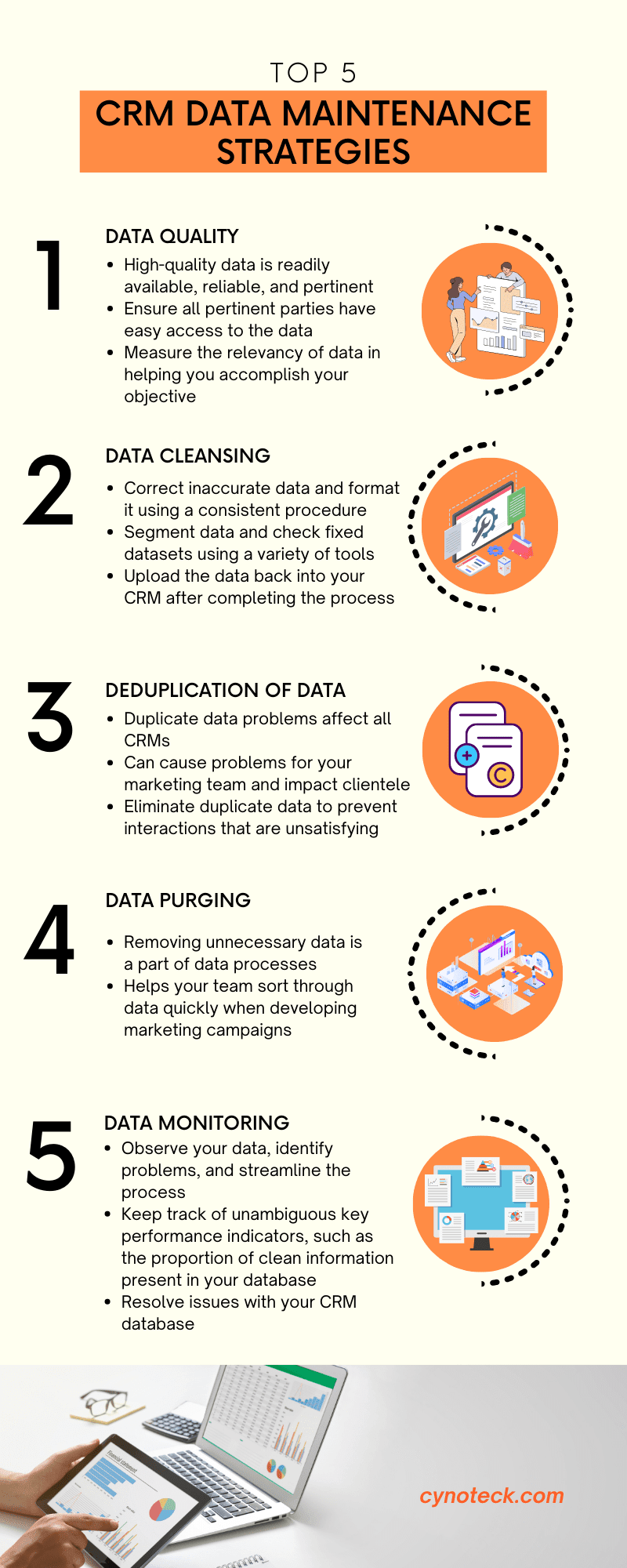 Copy Infographic
1) Data Quality 
Data readily available, reliable, and pertinent is considered high quality. Available implies that all pertinent parties should always have easy access to the data.
Relevancy is the measure of how useful your data is in helping you accomplish your objective.
If none of your B2B customer base's millions of records are exactly in line with your target market, it does not matter how many records you have.     
2) Data Cleansing  
Correcting inaccurate data and formatting it using a consistent procedure is known as data cleansing. You must segment the data before assigning the tasks to your team members.
Afterwards, check the fixed datasets using a variety of tools. After completing, upload the data back into your CRM.    
3) Deduplication of data 
Duplication of data problems affect all CRMs. Duplicate data can cause problems for your marketing team, regardless of how they were created.
They are going to get repeated messaging over the same platform if they have duplicate data. Throughout the sales cycle, it causes interactions that are unsatisfying. Most importantly, it has an impact on the clientele.    
4) Data Purging 
To ensure that your data is usable, you must first purge the data. Removing all data that is not necessary for your B2B organization is a part of data processes.
Your team will quickly sort through data when developing marketing campaigns if there is not any clutter.    
5) Data Monitoring 
You must observe your data, identify the problems, and streamline the procedure if you want to resolve issues with your CRM database.
You can monitor progress and the condition of your client data by keeping track of unambiguous key performance indicators, such as the proportion of clean information present in your database.       
Also, read: CRM Implementation Failure: What Went Wrong?
Final Thoughts
CRM data maintenance is always an iterative process. To correct any flaws and inconsistencies brought on by the old data, you must regularly update your CRM. Regularly audit it to ensure that you are creating B2B marketing campaigns with the correct customer data.    
Each new piece of data that enters your CRM has the potential to cause problems. Your business will be able to gain insights and correct the data to make it more pertinent with the help of a strong CRM data maintenance method. By using quality CRM data, you can communicate professionally, represent your business honestly, and enhance the customer experience.     
As data degradation occurs naturally for all businesses in a B2B environment that is continuously changing, cleansing CRM data should be a continuous activity for all B2B businesses. Not only you're marketing and sales teams but also your prospects and customers, will be a lot happier if your CRM data is periodically cleansed, even if you have not experienced losses because of faulty CRM data. 
FAQs (Frequently Asked Questions)
1) Why is regular CRM maintenance important? 
The main operational and decision-making database for a business can be a customer relationship management (CRM) system. A crucial step is to plan routine CRM maintenance to prevent potential system issues that can interfere with your everyday operations. A small data inaccuracy can be very costly to a business. Your marketing campaigns and outreach initiatives might not be as successful with filthy data as they would be with quality data. By performing routine CRM maintenance, you can:    
– Use more consistent data in all your organization's departments.  
– Improve your offerings so that customers will desire to buy them.  
– It helps you more effectively identify and classify your leads so you can take advantage of every sales opportunity.  
– Improve your customer service and raise your client acquisition and retention rates.  
– Conduct more targeted and successful marketing initiatives.  
– Improve your revenue.  
2) Why should data quality be a priority? 
Despite the benefits that clean data can offer, many businesses find it difficult to use their data effectively. A valuable tool for helping businesses in achieving their objectives is high-quality data. These are a few reasons why you should prioritize data quality management in your company's operations.  
i) Improved effectiveness and resource management  
Businesses can use less time, money, people, and other resources to manage diverse activities and daily tasks with higher data quality.    
ii) Improved adherence to regulations  
Review and verify to see if the data being utilized for your operations is secure, updated, and kept following business and industry requirements.    
iii) Improved decision making  
A business operator's choices have the power to make or break the company. To be able to make strategic judgments, you need reliable data. Business managers can make better, more informed decisions with the help of a well-maintained database.  
3) How can your CRM data be Cleaned? 
You need to decide on different strategies and possibilities for cleaning up your CRM. The three most effective ways for you to do this are as follows:  
i) Use of CRM maintenance tool  
The majority of modern CRM software now offers improved capabilities, tools, and integrations that support monitoring and maintaining the accuracy of CRM data. These options make it simple to find records that have problems with duplication, accuracy, or consistency.    
ii) Employ a database and CRM manager on the team  
Customer data management can be a full-time job. Employ a qualified database manager, or even a team, to handle your CRM maintenance requirements if your business wants to avoid dirty data. Your budget and the size of your CRM system will determine how many employees you will assign to this maintenance work.    
iii) Contract out your CRM maintenance requirements  
Data clean up and appending can use a lot of internal resources and be quite time-consuming. Consider hiring a trustworthy outside company to handle your CRM management. Maintenance can be speeded up for a small fraction of the time and expense by outsourcing these operations with a clear understanding of your requirements and processes.    
Your needs for CRM data cleaning and quality data management can be met by Cynoteck. We have experience working with businesses from all over the world and are aware of the value of confidentiality, security, and high-quality work. Our CRM maintenance services will ensure that your database is no longer plagued with dirty data.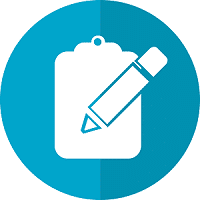 Do you want to implement a CRM system within your organization? Connect with our CRM Experts today!