Businesses are adapting CRM in their organizations and simplifying as well as assorting how work can be done efficiently. But are you aware of the benefits of CRM in healthcare? The healthcare industry is the most impacted post-pandemic. There have been major changes in the whole operation of the healthcare industry. Furthermore, medical organizations have adopted CRM and reaping its benefits.
In this blog, we are going to discuss in detail the major key benefits of CRM in healthcare. And how CRM is changing the whole healthcare domain. Let's get started:
What is a Healthcare CRM?
To define healthcare CRM in a simple way, its software is designed to handle patient care in an organized manner. CRM for Healthcare offers a chance to enhance patient communications. In this software, one can primarily store patient records.
A doctor can swiftly learn about the patient's health in this way and provide informed recommendations and much more.  A CRM for Healthcare typically involves the use of cutting-edge platforms that provide the most information possible about all pertinent patients.
A hospital can employ CRM features in this way to get a lot of patients to any institution. 
Also, read: 5 Strategies for Improving Patient Engagement in Healthcare
Importance of a CRM in the Healthcare Industry
Technology has transformed medicine. Be it patient data management or other operational activities, digital healthcare has changed the operational working of medical institutions.
Although digital healthcare is a fantastic advancement, it also presented a lot of difficulties. Such as client data accessibility and privacy.
Governments have proposed a multitude of legislation and regulations to secure patient health records, sparking a significant discussion across the globe.
A strong CRM works wonders if organizations want to enhance their services. More competitors enter the market; so, hospitals are now competing with one another to provide more individualized care.
Thus, hospitals make every effort to increase the number of patients that come to their facilities. They need reputable medical professionals, experts, cutting-edge tools, and other resources to accomplish this.
A thorough patient database can be managed by healthcare CRM software, it is securely maintained and is unreachable to outside parties.
The patients can readily obtain the necessary information from the CRM Medical software through different ways such as texting, calling, or emailing them at any time from any location.
Also, as a kind of marketing, hospitals can use this information to keep their patients up to date on individualized care.
To sum up we'd say that the availability of medical CRM enables the healthcare sector to provide immediate services and solutions and enhance the general effectiveness of hospitals.
It helps hospitals to manage the entire process from a single system and minimize errors that could be quite expensive in this important sector by utilizing an all-in-one CRM.
Also, read: Digital Transformation in Healthcare: Key trends in healthcare for 2023
What are Common Types of Healthcare CRM Software?
Customer relationship management (CRM) software's a communal platform. These systems can perform a variety of tasks, including data aggregation, operational assistance, corporate data analytics, and more.
CRM for Healthcare can be distinguished in three different ways: 
Analytical
Collaborative
Operational
Now let's understand each one of them in detail:
Analytical
Under this category healthcare CRM software primarily gathers client information and stores it for later analysis. Such an evaluation provides crucial information on numerous characteristics of each customer based on their demographic data, medication history, allergy history, drug use history, history of the condition in their families, etc.
This enables the business to communicate with customers in a highly targeted manner. If clients are aware that their healthcare provider offers specialist care, they are more likely to react favorably. This significantly contributes to the development of enduring relationships between healthcare institutions and their clients.
Collaborative
As the name implies, Collaborative CRM software for healthcare promotes long-lasting collaborations. For huge organizations with numerous departments overseeing various operations, it is extremely beneficial.
Every division can handle numerous communication channels with the complete customer base with the help of collaborative CRM software. 
It is possible to build long-lasting relationships with customers through phone conversations, text messages, emails, holiday greetings, announcements of new products or services, newsletters, and other means.
The collaborative CRM software then analyses the information gathered from these multichannel communications to determine the characteristics of the clients.
This knowledge is essential because it enables businesses to create customized communication plans that cater to the preferences of each client. Such a strategy greatly increases customer retention.
Operational
Software for operational CRM supports an organization's operations. Marketing, lead generation, conversion, pre-sales, and other activities all have associated workflows and tasks.
To enable teams to do more with the resources they already have, an operational CRM helps to automate and streamline many of these tasks. Employees can focus their concentration on the core skill rather than tedious, repetitive work, which saves a tremendous amount of time and effort. 
This kind of CRM system for healthcare helps firms maximize their productivity while streamlining workflows and lowering overhead by supporting mission-critical tasks that draw in and keep clients.
Also, read: Importance of Customer Service in Healthcare and Top Software
Functions of CRM for Healthcare 
Healthcare CRM is beneficial for the organization with multiple functionalities and departments. Patient participation is crucial for enhancing the entire patient experience and therapeutic outcomes, according to numerous studies and research. CRM software Healthcare excels at meaningfully interacting with patients. 
Avoids missing appointments
Patients who are more at risk for serious health problems could suffer greatly from a timely scan or a crucial blood test that is postponed by a few months.
With the use of a CRM healthcare, hospitals may set up automated reminders for both the next appointment and any upcoming ones. Emails, phone calls, and text messages are all used as reminders.
The best part is that everything is automated, requiring medical employees to enter pertinent patient information only once beforehand. The software platform handles the rest.
Patient feedback is beneficial
Courtesy of the advent of the internet, everyone expresses their ideas virtually on any topic. A CRM platform enables healthcare professionals to collect insightful patient feedback and understand the patients' perspectives.
This benefits both doctors and hospital management by enhancing a variety of services and enhancing patient experience going forward. The distribution and collection of feedback forms are automated by a CRM. 
Understanding patient response and patterns
One of the most beneficial outcomes CRM offers users is understanding clients' behavior, pattern, and needs. A healthcare CRM can assist physicians in recognizing and emphasizing each patient and understanding how they might communicate more effectively.
The sincerest patients, the most consistent or inconsistent patients, the incidence of no-shows, how patients find a doctor, the most efficient outreach channel, etc. are just a few examples of patterns that CRM software can identify.
With the use of all this data, doctors may learn how to engage with each patient more effectively and provide better care.
Also, read: Future of Mobile Technology in Healthcare
What Are the Benefits of a CRM in Healthcare?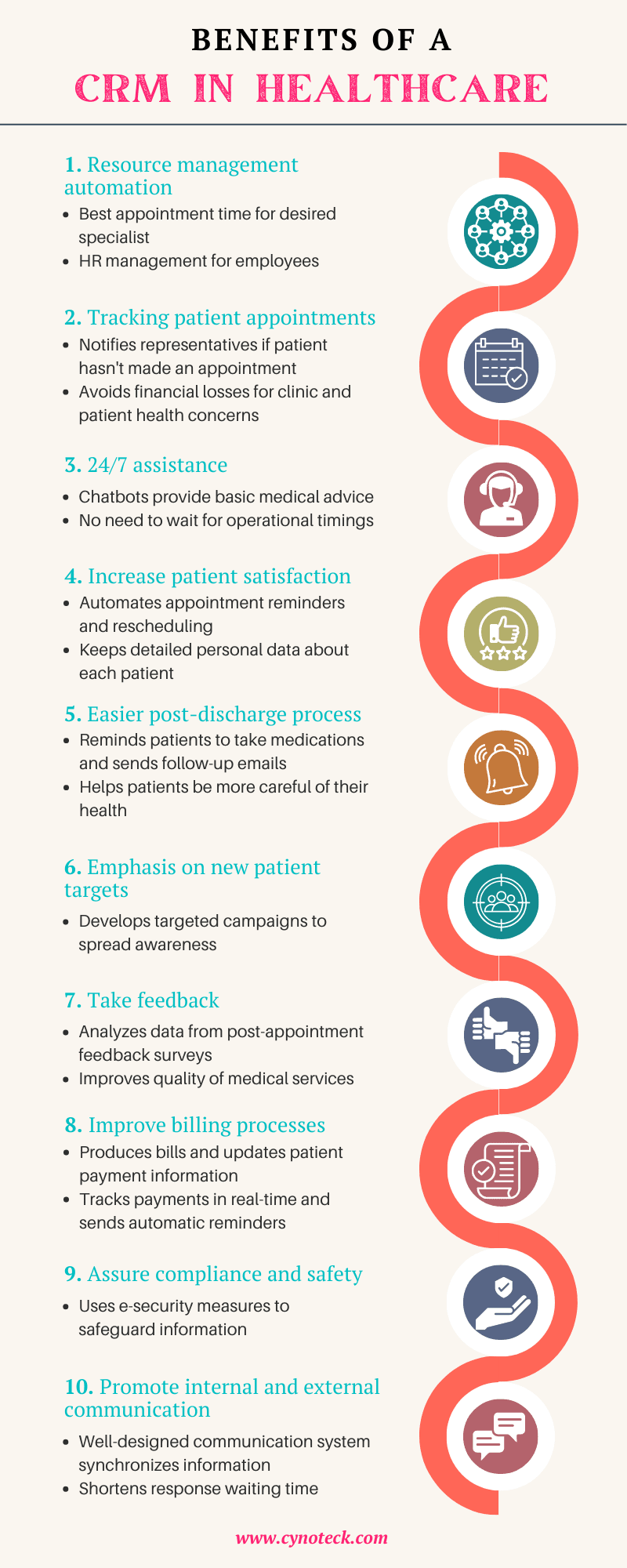 Resource management automation
Considering the location and the appointment's requirements, CRM helps to immediately provide the best appointment time for the desired specialist. It has the ability to rearrange appointments and notify patients of them. Payroll, sick days, and holiday time for employees can all be managed by programmes with HRM components.
Tracking patient appointments
The system will notice if a patient hasn't made an appointment. The healthcare facility's representatives will contact the patient and continue the interrupted care. Such a strategy will avoid both financial losses for the clinic and patient health concerns.
24*7 assistance
The availability of human experts may vary during the day. CRM chatbots can assist patients around the clock, soothing them and providing them with basic medical advice. One doesn't need to look for help in times of actual need or wait for operational timings.
Increase patient satisfaction
A system like this automates appointment reminders and enables prompt rescheduling if the patient is running late. Additionally, it keeps detailed personal data about each patient, including their gender, date of birth, the field of expertise, and more.
Based on this information, it can send notifications to remind people to take their medications, provide them savings on necessary medical procedures, wish them a happy birthday, and other things.
The post-discharge process is easier
This includes reminding patients to take their medications and sending them follow-up emails with health advice and healthcare services pertinent to their situation. Generally, patients forget to tend to be quite carefree once they get discharged from hospitals. Follow-up reminders help patients to be more careful of their health.
Emphasis on new patient targets
Medical professionals can deliver relevant content to groups of potential patients using a CRM to develop targeted campaigns. This helps to spread awareness regarding the updating of facilities and much more.
Take feedback
This programme can analyze the data received from post-appointment feedback surveys that can be sent automatically to patients. The procedure of assessing and raising the caliber of medical services should be made easier as a result. Professionals will also be able to move quickly to win back unhappy clients.
Improve the billing processes
A CRM can produce bills and gather and update patient payment information. Due to its built-in analytical tools' ability to track payments in real-time, the healthcare institution is able to plan automatic reminders in the event that a payment is not received on time.
Assure compliance and safety
The finest CRMs use e-security measures like multi-level authentication, digital signatures, data encryption, HIPAA-compliant data storage, and others to safeguard the information they contain.
Promote internal and external communication
Because these communication methods can be vulnerable to hacker attacks, medical workers shouldn't discuss professional matters over email or via standard messengers. Patients won't need to repeat the same tests or fill out their medical histories at several providers due to a well-designed communication system. The information will be synchronized across touchpoints, which will shorten the response waiting time.
Also, read: The Role and Risks of chatbots in Healthcare Industry
What Are the Healthcare CRM Features?
CRM in healthcare offers multiple features to users. Medical companies and their patients benefit from using healthcare customer relationship management (CRM) software. Patient satisfaction goes up as a result, and care is delivered more successfully. 
1. Database tools simplify information management
The top CRM software for healthcare can assist in storing it if you have a lot of data about your facility. Large-scale information retention and, more significantly, information search are strengths of CRM. Your patient management in this scenario can therefore be particularly effective.
After all, the pertinent technologies offer the opportunity to save all of their data in a handy single area. Have you ever felt deluged by the volume of information? A CRM gives clients numerous, excellent opportunities by permanently clearing up this uncertainty.
2. Customer-centric tools
According to recent data, there is a significant discrepancy between client expectations and the actual perception of the care they receive. This number may increase to 20% or even 30%.
A CRM offers a comprehensive array of options to close this gap. It provides means to track customers' requirements and, more significantly, it responds to their inquiries. The following list of digital healthcare features is typically accessible today:
Locating pertinent client records about particular ailments;
Seeking a medical professional with expertise in a particular disease;
Collecting information about patient visits;
Recording information about various elements of healthcare and offering commentary.
3. Team collaboration tools
Having a platform that enables team collaboration is crucial. A healthcare CRM provides a wide range of solutions to address the problem mentioned. It accomplishes this via mechanisms that, for instance, permit straightforward data sharing. The necessary patient information can be sent across departments by a doctor or nurse with ease.
In this method, information would practically immediately and without significant omissions reach the appropriate professionals. So, the method aids in preventing a high number of instances where experts miss an essential piece of the healthcare jigsaw.
It is also possible for hospitals with HRM systems that are similar or interoperable to exchange information. As a result, the tool offers an opportunity to keep the balance of healthcare providers.
4. Patient portals
Do you want to provide your clients with a health access center? CRM tools can make sure it shows up. Modern businesses can build patient databases using the tools already available.
A CRM, for instance, can be helpful if you want to display the availability of the pertinent experts. There may also be more pertinent data points.
For platforms to be developed where consumers can answer most of their inquiries, a CRM is essential. Having such a platform available is frequently essential for keeping a huge audience.
Also, read: How to Develop a Healthcare App in 2023?
What Are the Drawbacks of a Healthcare CRM?
In general, a healthcare CRM might have several problems that are crucial for particular kinds of facilities. Mentioned below are a few of the major concerns:
Systems of this kind are pricey; the cost of purchasing and maintaining healthcare CRM features is quite high. The systems typically return on investment quickly, however, they're not the ideal choice for start-up businesses.
Setting up a strong CRM system involves a great deal of experience as well as complexity. Only when the necessary personnel are present can CRM and healthcare collaborate.
Dependence on CRM software providers: Many businesses must adjust to the modifications made by development firms to the pertinent programmes. A high degree of reliance can occasionally cause issues with subscription models or updates that remove some important functions. For instance, some businesses charge up to $25,000 a year just to grant customers access to a product.
Steps to Build Your Own CRM for Healthcare  
Software for managing client relationships can be pre-built or modified to meet specific needs. On the one hand, pre-made software would be less expensive and take less time to buy and install. The likelihood is that it wouldn't entirely satisfy organizational standards.
On the other hand, a healthcare CRM platform made specifically for a particular business would meet all of its needs. It may be created to comply with organizational procedures in order to relieve staff members of any duties. If your business will be using a specially designed medical CRM, you should be aware of the following:
Step 1: Get the right assistance
Healthcare applications are available from a number of medical software development organizations. These could be telehealth solutions, remote patient monitoring systems, practice management, healthcare informatics, or healthcare analytics solutions. But it's important to find out if they have substantial expertise in creating CRM systems for the healthcare industry.
It doesn't necessarily follow that a business would rank among the top suppliers of medical CRM just because it might be known for producing particular sorts of medical software.
To build a reputation in the field, a company must have a certain amount of experience, and its track record is a powerful indicator of its competence. Prior medical CRM projects from a company should be examined before choosing.
A review of a company's prior work would demonstrate the caliber of its output and provide insight into what to anticipate. Such transparency would help in the decision-making process overall.
Moreover, keep an eye out for businesses that have won accolades for their efforts; industry awards are a great sign of excellence. Award-winning businesses can be more expensive, but the extra money would be well spent.
Choose Cynoteck Salesforce Cloud Implementation
Cynoteck helps you leverage Salesforce Health Cloud implementation to improve patient relationships. With an emphasis on strengthening patient relationships, this cloud-based system facilitates communication with patients across services.
We recognize that the way you interact with your patients is just as crucial and delicate as their health. To the advantage of their patients, communities, teams, and medical professionals, we help healthcare organizations in becoming the best they can be. With the help of our precise Salesforce health cloud solutions, you can therefore enhance your patients' health while also cultivating a closer relationship with them.
With best-in-class custom Salesforce health cloud implementation and integration services that help you build personalized, patient-centric experiences that grow revenue and improve health outcomes. Intuitive and trustworthy solutions are created for you by our team of qualified Salesforce health cloud consultants. You can use these solutions to build long-lasting, one-on-one connections with your clients, team members, and partners.
Step 2: Know what you want
Every piece of custom software must include functions that would improve efficiency and help the firm optimize its processes. It relies on the organization's objectives and growth strategy going forward. As was already said, a healthcare CRM may contain a variety of characteristics. But which ones you pick entirely depends on your company.
A modest ambulatory care facility would have different objectives than a big hospital or a tiny doctor's office. It might be best to hire a separate IT consultant or have a technical expert from the CRM development company assess your organizational workflows, operations, plans for scale, and staff strength before deciding which features you'd want to have included. This will help you understand what features might be appropriate for your healthcare center.
Step 3: Finalize a Budget
How much money can be spent ultimately determines every corporate choice. In order to create custom CRM software that meets an organization's demands, much speculative work is required. Since the software might need to advance to meet an organization's changing needs in the future, the development budget must also take that potential into account.
It's important to meet down with the company specialists and decide the costs after settling on the business and the breadth of your marketing and customer service operations. The number of features that will be added will have a significant impact on the budget.
Always consider the budget as an investment rather than an expense. It might take years for this investment to start paying off, but that's just how advertising works when it comes to cultivating client relationships. Any corporate expense, whether recruiting new employees, meeting with a company development specialist, or choosing digital solutions to automate operations, will only begin to pay off in the future.
Step 4: Rigorous testing
Testing the CRM software for healthcare is crucial after it has been developed by the organization. Months can pass during the development process, but it will be worthwhile. The testing needs to be done with consideration for the organization for whom the solution was created.
To make sure that the solution satisfies the stated requirements, it would be necessary to involve the healthcare administration and the CRM development team.
If any bugs are found during testing, they are noted and fixed by the development team. The platform is later retested, and if it passes inspection, it advances to the implementation stage. Implementation would usually take a short while, but it might take a few weeks to ensure that the personnel is used to it. When switching from a conventional process to a digital one, this is to be expected.
Also, watch our video on "Benefits of CRM Software in the Healthcare Industry"
Conclusion
CRM is still an effective tool; it solves a lot of typical healthcare problems. As a result, issues with cost and dependability are unlikely to outweigh the benefits they provide on their own. The future of healthcare in the modern era is without a doubt CRM tool. It's critical to avoid squandering an opportunity and skipping one of the best possibilities for building your facilities.
The introduction of new technology can aid in overcoming fiercer competition. We are aware that using these services is a difficult endeavor. The best course of action in this situation is to speak with several professionals. In this regard, our business offers the necessary professional assistance. We cordially encourage you to contact Cynoteck right away if you require any advice on the topic of CRM in the contemporary day.
Also, read: Healthcare Data Security: A Brief Overview of Challenges and Safety Measures
Frequently Asked Questions:
Q. What are the benefits of using CRM in healthcare?
The benefits of using CRM in healthcare include improved patient outcomes, increased patient satisfaction, streamlined administrative tasks, and more effective communication between healthcare providers and patients. 
Q. How can CRM improve patient outcomes?
CRM can improve patient outcomes by providing healthcare providers with better insights into patient health and medical history, allowing them to provide more personalized care and treatment plans. 
Q. How can CRM improve patient satisfaction?
CRM can improve patient satisfaction by providing patients with more personalized care, making it easier for patients to schedule appointments and communicate with healthcare providers while reducing wait times. 
Q. How can CRM streamline administrative tasks?
CRM can streamline administrative tasks by automating processes such as appointment scheduling, patient registration, and billing, reducing the workload for administrative team and allowing them to focus on more important tasks. 
Q. How can CRM improve communication between healthcare providers and patients?
CRM can improve communication between healthcare providers and patients by providing patients with more ways to communicate with their healthcare providers, such as through online portals or mobile apps, and by providing healthcare providers with more insights into patient needs and preferences.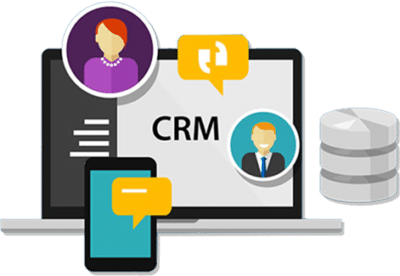 If you are new to automation and confused about Workflow or Process Builder. Need not to worry, we have got you all covered. Talk to our experts and clear all the cloudy thoughts about automation.