The strength custom mobile app development holds to proliferate your business is huge. Any business idea is a solution to cater to a need or ease out any difficult task in an effortless manner. Then the only question arises, why is conduct time taking and cost as well as manpower exhaustive techniques of traditional times to generate or evaluate tasks?
Growth is merely an update away! An average person spends almost half of the day staring at their screens and conducting almost every task on cell phones. Humans are highly dependent on mobiles. So, the most convenient way to persuade users is by making your brand or product mobile-friendly.
Now it's easy to distinguish as per user consumption which mode of approach a user prefers or to put it in a better manner, which way to better drive results and returns. We are discussing mobile web services by businesses and custom mobile app development.
A user is likely to spend way more time intentionally and unintentionally on apps compared to the user experience, better UI and UX, instant resolution of queries and doubts, etc. On the other hand, web services highly depend on the server speed and loss of interest due to the reloading of the page.
If the whole custom mobile app development is easier then it's obvious it'll attract more and more users. In a much simpler way, all that people desire is a quick and efficient result from minimum effort. Lesser the clicks are required, the happier a user gets and then prefers to return and opt for a specific mode only.
One of the prime examples is net banking and mobile pay apps – payments apps are easy and quick saving time and also trustworthy. However, net banking is also trustworthy but still is tedious in some manner compared to apps.
Why choose a mobile app?
Though we've answered this question above and will also be explaining it in detail below, it is significant to stress the importance of customer experience. The better the overall experience of any user the more it's ensuring that your service will be used again. If you want your business to grow, only focus on delivering the best to your users.
What is Custom mobile app development?
To simplify custom mobile app development, it's the process of developing apps keeping the user in mind. The needs and demands of a user, the challenges faced while operating on a task, and how to overcome the same with the least chances of failure.
The word custom is self-explanatory, specifically dedicated to a particular consumer. Instead of generalizing to a group, custom apps are created to fulfil the demands of audiences.
Also, read: Top mobile app marketing ideas to get your business to the next level
How does custom mobile app development ensure growth?
If you can deliver positive output through minimum effort, then it's a smart move, and your method guarantees growth. The functionalities of mobile apps are derived as per user behaviour which ascertains that users are likely to be drawn toward the service.
Customization highlights exclusivity for the users. If the consumers are empowered it guarantees your business's growth too.
Now let us discuss in detail why a choosing mobile app service is always superior and better: –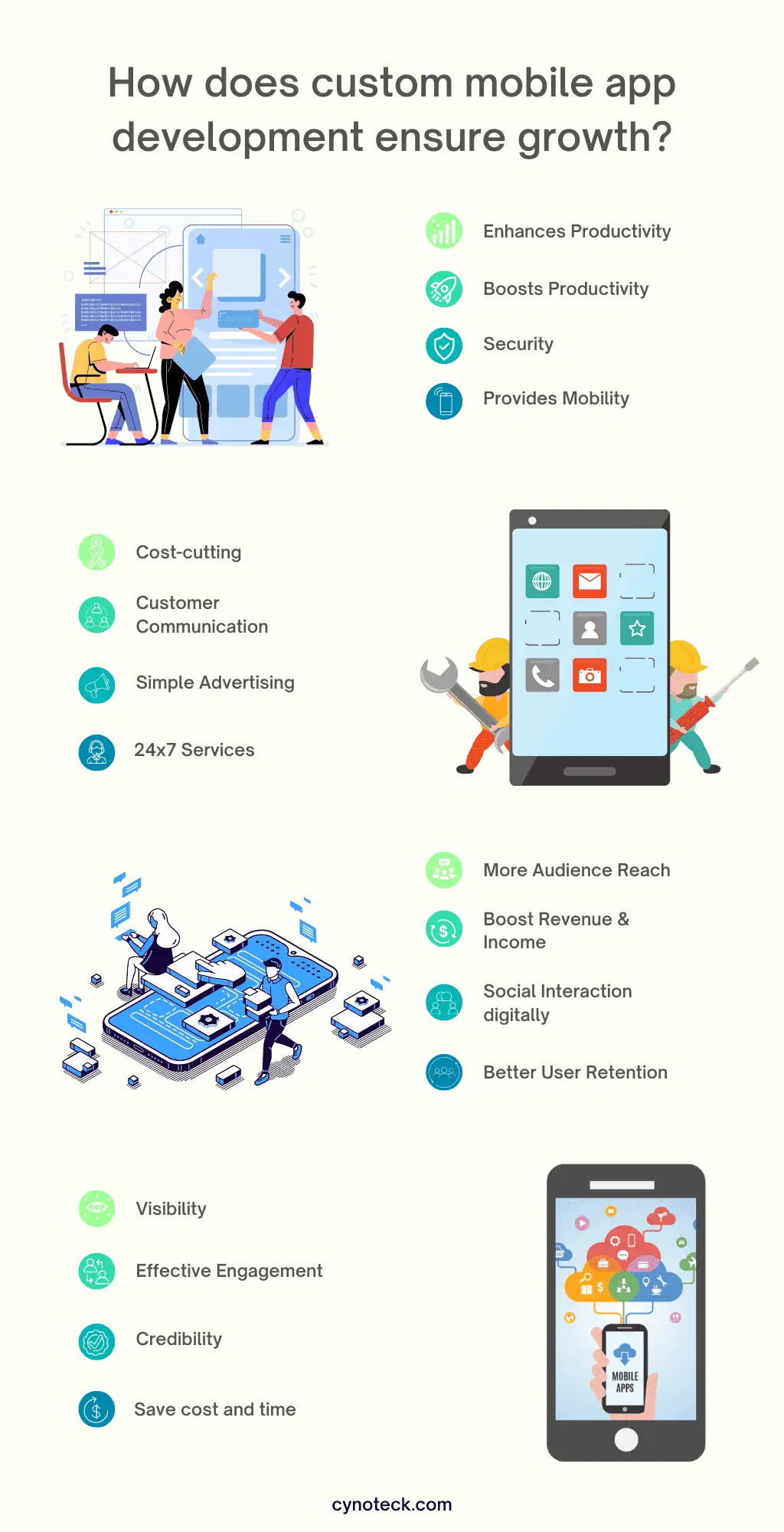 Copy Infographic
1) Enhances Productivity
To opt for a custom mobile app development service, we work on enhancing the efficiency and overall productivity of businesses to drive better results.
Instead of utilizing efforts on multiple platforms and applications, if all the workers work on the same application it generates better results and builds better working mechanisms.
2) Boosts Productivity
Customer dedicative programs directly impact the functioning and according to reports, it boosts the productivity of a business. If the targeted section of consumers is expanding, the user consumption increase directly improves and speeds up productivity.
The larger consumption grows the scale and speed of the business. Mobile application when customized helps in the overall productivity of the business.
3) Security
Information and user data are a huge part to ensure business productivity. These app developments functions to allow your business to provide different methods to acquire and imply security at varied levels.
Protecting customer data is one of the utmost priorities and helps to build customer trust. Not just a service for clients but these improved programs build an exceptional level of features that helps to keep data safe.
Also, read: Top tips to Build Secure Mobile Apps
4) Provides Mobility
If you have a great idea but your service is not adaptable for the consumers, then you won't be able to persuade the masses to believe and use your service.
Mobile app development must allow mobility; the user shouldn't have any difficulties using it. Smooth and simple edge help to make users habitual of using mobile apps.
5) Cost-cutting
Advancing with new ideas and technologies is the result of being cost-efficient for both business and service consumers.
Custom mobile app development saves time and effort at every level, it eliminates dependency and implies the automation of tasks.
It allows complete ownership and saves workforce costs which can be utilized in other required areas.
Mobile app development ensures the automation of multiple tasks in the same time sphere stimulating productivity at less cost.
Also, read: Factors to Consider in Determining Mobile App Development Cost
6) Customer Communication
Resolving user concerns and disputes over a simplified medium of mobile app development helps businesses to grow.
An app is an easier medium for consumers to contact to resolve their matters timely. The inclusion of these services also aids to collect additional information about users.
7) Simple Advertising
We cannot emphasize how important the role of push notification is in deriving better engagement and conversion of a user to avail of services.
Custom mobile app development helps to gain customer attention through various mediums right after the user has installed the app services.
8) 24×7 Services
Better flexibility of application, allowing users to navigate through services anytime and anywhere helps to gain user dependency. Modified programs allow accessibility and direct business growth.
Also, read: 11 Reasons to create a mobile app for your online shop – and how to get started?
9) More Audience Reach
One of the easiest ways to evaluate your business productivity is by analysing your business reach. Once users connect with your app they get more insight into your services and products and help to gain mass interaction. An enhanced custom app development assists to reach a large audience while advancing your business.
10) Boost Revenue & Income
Custom mobile app development helps businesses to allow to target consumers as per their consumption. A better understanding of user behaviour draws engagement and boosts conversions.
11) Social Interaction digitally
Integrating social media platforms helps in brand awareness among consumers. Redirecting users through multiple platforms draws new users.
Premium brands are optimizing their platform to be aware and informed through entertainment. People are consuming content, and they look for different ideas for their use.
Brands are engaging in various social media platforms, generating content, and using links on apps to engage customers.
Also, read: 8 Reasons Why your Website Needs a Mobile Application
12) Better User Retention
Mobile apps require the user's device permission such as GPS, camera, information, etc. for smooth functioning and a better user experience. Custom mobile app development helps to retain users by updating functionalities and dedicating it to customer requirements.
13) Visibility
For any business to grow and excel it requires visibility, through a mobile app you're likely to gain way more visibility compared to the mobile web version.
An app incorporates space in your device even when you're not connected to the internet. This ensures remembrance in the user's mind. It is crucial to be relatable, effective, and relevant to users.
Also, read: How to Conduct Mobile App Market Research as a First-Time Entrepreneur
14) Effective Engagement
Through customized mobile applications, businesses can build a great interactive platform for its user and disseminate ideas as per the user's interests.
As per recent analysis on various platforms, it has been observed that an application makes a more impact on the user because of the services being offered.
Feedback has business to enact its services as per users and even the users also value that their demands are timely met establishing an effective engagement for application.
15) Credibility
Exclusive rewards points and prices motivate users to stay in the loop and connected. The consumer feels connected by different approaches and sometimes develops trust and authenticity for your brand. Custom mobile app development helps to focus on the audience and gain trust.
16) Save cost and time
The transition toward the digital marketing approach has fastened and eased the process of trial and evaluation. Businesses can track new ideas and approaches smoothly and effectively.
Not only it's convenient to analyse but also to change and try a different set of approaches quickly, which eventually saves a lot of time and cost!
Also, read: How to Create a Mobile App Wireframe in 10 Steps?
What to keep in mind while deciding on custom mobile app development?
It's better to be clear than to start with a jungle of mixed thoughts. When you've decided that you want to switch your platform from a web page to an application then be clear on what you want to focus on and what are all services you'll be offering to the consumers.
It is always very important to know how your service is different from others. Why users should choose you over other existing applications.
Commencing as a new start-up
There are plenty of new ideas and services being delivered solely via custom mobile app development. Young entrepreneurs prefer reaching out to the masses in the most effective way and it saves costs too.
As a new bud, you can always experiment with something new as per user feedback.
A new phase
We are in the post-pandemic phase and every business wants to grow, even consumers are also conscious of the choices they're making. Time is a transition to make some new viewpoints, users are more ready than ever to try new features and offerings.
You can never be sure what the users will like and prefer, all you can offer is to bring forth something which has its individuality so that the customer can relate to it.
How to start custom mobile app development for your business?
Look for a skilled group of professionals and compare whether your demands are being met or not. You must be well able to articulate your idea into actuality. And to produce these tasks only qualified bodies can deliver.
There are plenty of platforms offering custom mobile app development. You can compare and decide on which service meets your demand and can present the desired outcome.
Also, read: The Guide to Developing and Adopting a Mobile App Strategy for Businesses
Also, watch our video on Mobile Application Development Best Practices
Conclusion
We've listed all the major points emphasizing the importance and effectiveness of custom mobile app development. If you're someone who's confused about which method to adopt for promoting your business and reaching out to audiences, then this write-up will be of your use.
And if you're a user it gets way simpler to decide what to opt for the next time you decide to choose between just a web page or an attractive app exclusively made for you.
We've included all the essential factors while preparing growth analyses of business from custom mobile app development. If you have any new ideas or methods which can further increase the growth spectrum of business do share them with us.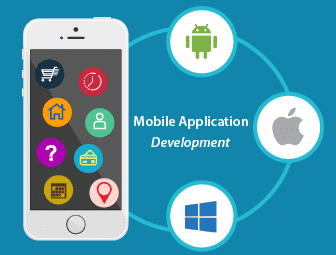 Do you want to leverage mobile technology for your business? Cynoteck is a one-stop Mobile app Development Services provider. We provide iOS and Android application development services so that you can reach your target audience on any device.