Start-ups commence their journey with new ideas and great determination. Yet they miss out on some essential moves required to ascertain growth. Mobile app development for small businesses is a mandatory domain nowadays. Never underestimate the great benefits of mobile app development for small business. Why? A mobile app consists of several breath-taking features that affirm the user's preference for your brand. 
An average adult actually checks their phone 262 times every day, according to research! Once every 5.5 minutes, then. That's unbelievable, right? And stats prove users spend around 88% of their time on mobile apps.
People are day by day becoming dependent on devices. Hooked for conducting even basic tasks. 21% of Millennials open an app 50+ times per day. Automatically proving the high demands of mobile app development for businesses over anything else. 
It's proven that if mobile apps are dominant then it's right now. Businesses need to switch their targeted platform to developing mobile applications. 
 By 2023, it is anticipated that mobile apps would bring in over $935 billion.
Mobile Plays a Vital Role
If you're running a business or are involved in it, you understand that how mobile plays a significant role and where the actions occur today—simply look at the stats.
The average smartphone users since 2008 have shifted from spending merely some minutes a day on their device to spending three hours every day, utilizing mobile digital media.
During 2014, it was for the first time that mobile use topped desktop use, and this trend is simply rising year over year.
Customers today are more dependent on their mobile devices than ever before, as they move along the path to purchase.
Customers await information on demand—plus proximity is the key to conversion; geolocation services allow businesses to predict and satisfy their customers' requirements.
Mobile marketing is the solution that provides an extremely personalized shopping experience for capitalizing on impulse shopping.
Other Marketing Mediums vs. Benefits of Mobile App Marketing 
Usually, people have around 27 apps installed on their phones. What does this imply to you? It means that you are competing with 26 other apps for attention and awareness.
However, no need to worry; that's nothing! Just think about how many websites you are competing with online. Hint: They are in the MILLIONS.
Also, read: How to implement an app idea – 7 actionable steps to take
Mobile Marketing vs. Social Media
If speaking, social media is still a different and new medium and several small businesses are now starting to examine their own Twitter and Facebook accounts. This is a free way to gain exposure for your app. Though there is steep competition here, and it's not simply concerning your retail competitors.
Users on social media normally are not looking to make a purchase, instead, they are there to hook up with friends, to know and check what's happening in the world, or post updates regarding what is happening in their lives. This sets your profiles in close competition with many things that your audience may find more interesting.
Also, read: The Guide to Developing and Adopting a Mobile App Strategy for Businesses
Mobile Marketing vs. Email Marketing
Email marketing is an old and excellent standby that still serves today for several businesses. However, even if someone subscribes to your list, there's no guarantee that they will check your email. Plus, if they see your email, there's no guarantee that they will read it.
With mobile apps, you also have something termed as "push notification." The updates that you receive on your smartphone are to make you understand that something new is going inside one of your apps. With Facebook, you may receive a push notification to inform you that someone sent you a message or tagged you in a post.
Your calendar may give a push notification to tell you about an event. Your app may send any push notifications for several reasons that you will define. Although push notifications occur for several reasons, there's one thing they all possess in common. They all get noticed.
As per Silverpop's Email Marketing Benchmark research, nearly 20 percent of emails are opened by the recipient and about 5.4 percent of people click on a link inside that email.
In contrast, push provider Xtify also revealed that 30 to 60 percent of users open push notifications and approximately 40 percent interact with the app instantly following the notification.
Have an App Idea?
Send us your requirements, we will help you to build customized mobile apps according to your requirements.
Also, read: Mobile App Development Process: Step-by-step Guide
Top 12 Benefits of Mobile App Development for small Businesses
For start-ups, there are numerous reasons to focus on mobile app development. We've listed down some major benefits of mobile app development for small businesses. 
Copy Infographic
1. Better & effective way of connecting with customers
Post-pandemic, there is a huge shift of consumers from offline to online modes of communication. Be it shopping, fulfilling grocery needs, or to even getting home service, people are preferring to unlock their devices and book an online product or service than just get out of their comfort zone. 
So, this clarifies to businesses and more specifically start-ups that they must approach the audience virtually on mobile applications. Mobile apps are more frequently used than any other medium. 
 According to statistics, Online payments via mobile apps are likely to increase from 41.8% in 2019 to around 52.2% in 2023.  
Mobile apps are undoubtedly a better point of contact. They eliminate the loading time of the website which directly hampers the bounce rate. Also, it's a 24*7 functionality available to users.
Apps are the first point of contact for customers if they want any service. So, if you have a mobile application, you are likely to grow way faster as a start-up. 
2. Quick conversion rates
In comparison to many other marketing platforms, mobile applications have a conversion rate of over 2%. Mobile applications' capacity to engage users is what makes them conversion tools. It simply makes users dependable on the desired action. 
If consumers find the functionality of a mobile app easy, they are going to use it again. As the dependability increases so does the conversion rate. 
Also, read: How to Conduct Mobile App Market Research as a First-Time Entrepreneur
3. Data collation & utilization boost customer-centric approach
A mobile app is an effective and valuable source of consumer insights. You can access customer information through a variety of entry points. A form during onboarding is most often the best option.
When you want users to submit a survey or fill out a questionnaire, you can also provide perks or awards. Your marketing's strengths and weaknesses are instantly apparent once you scientifically evaluate the data at your disposal.
There are some questions you need to ask yourself before working on your mobile app development. What aspects of the app did users use the most, and what are the most in-demand? If properly gathered, information and comments from apps can potentially influence an entire marketing effort.
4. Great Marketing Channel
From mobile applications, users can customize services and goods using interactive elements. Personalized features, content, and engagement activities can help firms increase brand recognition. Conversion rates can be raised by adding more mobile applications. 
Mobile ad spending is expected to reach $350 billion by 2022.
5. The maximum level of user engagement 
Reaching out to potential clients used to be an expensive endeavour earlier that involved things like newspapers and hoarding advertisements with an expiration date. Now in the modern era, there are mobile apps available, and the situation has changed.
Mobile app development for businesses provides a variety of advantages, and one of the most important ones is their accessible reach. One of the most effective methods of user engagement is segment targeting. 
Segmented targeting entails the creation of various user categories and the management of the material that is supplied to each user segment. Users can use it to offer customized in-app messages, make precise user recommendations, and gain a deeper understanding of the typical client path.
And one of the most important factors to note is that even if have an upper-edge capability if the UI/UX is subpar or it has limited accessibility, consumers are unlikely to stick around.
By customizing an app's features to the target users, you may ensure that all its benefits are unlocked. Think about how users interact with the mobile app, identify their preferences, and observe how user engagement develops.
6. Customer loyalty program
A key element of almost any successful firm is a strong client retention rate. Giving your customers a lot of value and always making sure they're happy, it's a frequent & achievable way to maintain a high retention rate.
It is important to understand that chances of being successful increase as you pay more attention to the convenience and needs of your clients. The important thing to stay accessible to customers is to ensure that various touchpoints can meet their demands. 
Loyalty programs are a great way to amplify bonds with customers. It aids in increasing consumer acquisition. It also acts as a marketing channel in addition to being effective for generating direct money. 
Also, read: Top tips to Build Secure Mobile Apps
7. An efficacious Promotion Platform
By developing a mobile application, you can attract many potential clients with appealing offers and promotions. Make sure to design an attractive offer and alert via an app. And reap the rewards of mobile apps for business. 
Mobile app development helps businesses to offer customers information regarding their business in more than one way. You can send push notifications to inform users regarding new updates or timely offers. If consumers are using your app or even if you are present on their devices, then it's a great way to be in a loop. 
On the other hand, remaining connected on regular basis with consumers is difficult. There's hardly any other platform as direct compared to the mobile app. 
Push notifications: Push notifications holds unquestionable power on mobile devices. These notifications often have an opt-in rate of up to 70%. The difference is obvious when compared to email marketing which is just a 5% conversion rate.
8. Helps in the brand build-up
Mobile devices are a very important component of our daily life. And with a high utilization rate, consumers are highly dependent on them. App developers can use this channel to their brand's advantage.
It's a well-proven and tested result, then better the logos and colour schemes. Brands are likely to have a better marketing outcome. Mobile apps can increase brand recognition, familiarity, and client trust. And the outcomes are also astounding.
Small and medium-sized organizations are adopting the mobile app trend because they realize that a successful mobile strategy requires more than simply a responsive website.
9. Round-the-clock accessibility 
Mobile applications offer people access to your goods and services around-the-clock. Apps are also easier to access than websites and provide personalized messaging and information. Some apps can even be used offline.
Meanwhile, the same offline feature is unavailability for mobile websites. A minimum approach such as restoring information or searching through pre-loaded pages on the app is a great way to intact customers. 
The 24*7 facility of apps affirms users to keep using the application for a longer run. Nearly 92.3 percent of smartphone users will be using voice assistants by 2023.
10. Mobile apps are cost-effective
Digital marketing helps businesses to save costs by eliminating traditional offline marketing. The earlier major cost was utilized for the same effort of marketing that is now easily attainable at a very reasonable cost. 
Now by increasing engagement, enhancing communication, reducing busy work, and streamlining data, apps can increase employee productivity. 
Technology is always changing. Customer expectations and requests are also similar. Maintaining the competitiveness of your firm is more crucial than ever. Creating a mobile app is the best way to match customer expectations, grow your business, and draw in new clients. 
Also, read: Factors to Consider in Determining Mobile App Development Cost
People spend the majority of their time on mobiles. From using apps to avail of services, or to engage in various social media platforms. One of the superlative advantages' businesses can avail is to use both these platforms on regular basis. Using all the active platforms can be highly rewarding for your business. 
'In 2021, social media apps and photo & video apps accounted for 7 of every 10 minutes spent on mobile.'
Social media campaigns help tremendously to outreach your mobile applications. Start-ups must utilize enough resources and time for both planning and implementing these campaigns. Running social media ads on well-known websites like Facebook and YouTube is a terrific method to obtain all the attention you need for your app as soon as it launches.
Encourage new people to register using their social media accounts as soon as they've received the essential downloads. Sharing content on social media will then be completely effortless. Users enjoy sharing content and can make it go online very quickly.  
While implementing features it is important to remember that including shareable CTAs in your mobile application. Inputs such as social networking buttons. You might need to provide users with particular incentives to encourage them to utilize your apps.
Also, read: Best ways to promote a mobile application to get more installations 
12. Be a cut above the rest – Out beat competitors
Mobile apps are better at satisfying the "demand for speed" of customers than traditional websites and other channels.
An effective mobile strategy can enhance your company workflow in a variety of ways, which will eventually make its overall impact on revenue-generating clear. If you are a start-up and planning to launch your platform. Then starting off with a great mobile app will definitely help you beat up your competitors. 
Among the total amount of time spent using apps on smartphones, 43 percent is spent on social and communication apps, 3.1% on entertainment apps, 25.4% on photo and video apps, 7.7% on gaming apps, and 20.8% on other apps.
Also, watch our video on 12 benefits of mobile app development for small businesses
3 Things You Stand to Gain from Developing a Mobile App
Copy Infographic
There are more than three possible benefits, but those should get you thinking about how to install the right app that works for you.
1. Earn money – Whether it's in-app purchases or with ads, intelligent retailers monetize their apps to generate another stream of income.
2. Reach a new set of customers – Let's assume that a great number of your modern customers download and use your app, additionally, there should be the potential to reach a whole new audience that experiences your brand for the first time.
3. Showcase products and services – Although your app will have a purpose, an advantage to the end-user, it will further act much like a not-so-obvious advertisement for your business.
Also, read: Hybrid apps vs native apps- the checklist to figure out what's right for you
Drafting a Small Business Mobile App
Now, once you have decided that an app is a correct move for your business, it's time to get down to the nuts and bolts regarding planning your app. Depending on the extent and size of your organization, the first step is to select an app team—a group of stakeholders that describes the major business functions within your organization.
For most, this implies a representative from the C-suite, your marketing department administrator, and someone from IT who knows the development and supports your different processes.
Your app team's initial step is to create a list of what you want your app to accomplish. These normally come into one of these three categories: Acquisition, engagement, and conversion. Once you've set your goals and objectives, analyze the features your app requires to accomplish them.
Also, read: 7 Examples of hybrid apps that have taken businesses to the next level
Some of the most popular app features today include:
Virtual Reality
If you have ever wanted to convince a buyer that a black leather sofa would look fabulous in his/her living room? or maybe to show a customer how she'd look in a new and different hairstyle? For several businesses, these interactive features are a tremendous marketing tool and a means to build engagement.
Push Notifications
This is one of the most important app features as it enables timely, appropriate, on-demand communication, which doesn't get trapped in a SPAM filter. Push notifications can offer a more personalized experience when combined with location-based messaging.
Integrated Loyalty Program
Maintain your loyalty program by your mobile app so that the customers can simply collect, monitor, and redeem their points using the mobile device.
Geolocation and Map Integration
Understand exactly where your customers are and provide them detailed directions on how to get you. Take advantage of location-based incentives or coupons or inform staff whenever a VIP customer enters your store.
Mobile Shopping/Mobile Payments
This is a must-have feature for maximum mobile apps—make it as simple as possible for your consumers to shop for and buy your products and services.
One-Touch Contact
This should be obvious but remember and learn to include all your contact information: emails, social connect, and one-click calling. Why not add step-by-step directions with a single tap?
Social Integration
Integrate all your social media platforms and make it simple for your consumers to connect and engage with you on Twitter, Facebook, Pinterest, etc.
Smart Updates and Smart Sync
Automatically sync content and push updates over all your digital channels with your mobile app.
After you've planned what you want your app to do and the features you want to include, it's time to answer important questions, such as:
What platform will you use for your app? Google Analytics will provide your insight into what devices your consumers use.
What is your timeline for launch? Are there special events, such as the introduction of a new product or service or the opening of a new branch, which would dovetail with the app launch?
What is your app budget? Add both support, development, and marketing costs to your plan.
How will you create and support your app? Most small businesses can create full-featured, attractive apps utilizing a platform like Build Fire, although some prefer to hire out app development.
Also, read: What is HIPAA Compliance?
Final thoughts
Around 53.96 of web traffic comes from mobile phones. So, if you want your business to grow exponentially then understanding mobile app development is critical. No matter if you've been in the business for a very long time or you're a budding start-up. The benefits of mobile app development will help you to expand your business and improve overall conversion rates. 
Almost all areas of your company will profit from implementing a mobile app, from branding to customer service and marketing. To compete and establish a strong impact in a fiercely competitive industry, small firms must adjust to new changes. While not simple, it is not impossibly difficult either.
Also, read: Most Popular Mobile App Development Frameworks for App Developers
Frequently Asked Questions:
Q. Why mobile app development is important for businesses?
Mobile apps give businesses the opportunity to communicate with customers directly, fostering a lasting relationship. In order to foster consumer loyalty, this is crucial. Customers can be connected authentically and sincerely using mobile apps. Customer loyalty to your brand may result from this. 
Q. Does one need to have a mobile app even if there's already a mobile website?
The majority of customers find it more convenient to shop using mobile applications, so it's shrewd to provide them with value and make sure they have a positive experience. There are several benefits of the mobile application over the mobile website.  
Q. What essential points to keep in mind while planning on a mobile application?
* Ensuring constant exposure to clients, both old and new. 
* Seamless usability and rapid alternatives that encourage transactional activity. 
* Enabling in-app purchase payment choices. 
* Providing efficient support with instant messaging options. 
Q. How mobile app helps to boost revenue?
You may build a brand for your company and generate revenue from mobile apps by promoting plenty of app store ratings, reviews, and downloads. If your users discover that a large number of individuals are happy with your app and brand, they will undoubtedly think that they will be happy as well. 
Q. Why online security is important for mobile apps?
The majority of the software of a native mobile app is customer-centric, which makes it simple for mobile malware to follow faults and vulnerabilities in the source code and design. Attackers frequently employ reverse engineering to repackage popular apps into malicious apps.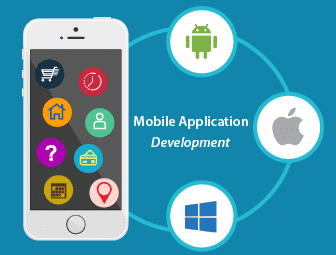 Do you want to leverage mobile technology for your business? Cynoteck is a one-stop Mobile app Development Services provider. We provide iOS and Android application development services so that you can reach your target audience on any device.