Websites have now become an essential tool for any business that wants to grow and succeed in this modern age. Being at the forefront of technology is no longer necessary while building a website. How we all communicate with one another and how digital data is transported, shared, and received have undergone an intriguing change during the past ten years.
Accessibility for businesses has expanded with the rise of smart devices like tablets and smartphones. Because of this, using mobile applications to increase the functionality of your website is a great idea.
A well-designed and useful app opens a world of opportunities because so much of our internet-based activity now occurs on the go. With customers utilizing their mobile devices whether on public transportation, when sitting in cafés, or simply walking down the street to stay connected.
There is no avoiding the fact that you need an app if you currently run a website that interacts directly with customers or other people in your industry. 
Today, apps have taken on a crucial role in our everyday lives and the way we conduct our work, personal connections, and personal lives. The most logical next step in the multichannel marketing strategy of most businesses is the development of a smartphone app.
App development is comparatively simple, and expenses can be increased based on the functionality you require. The ongoing exposure your business receives from having an app on a user's phone increases the likelihood that you will be able to move more customers through your sales funnel and achieve repeated conversions.
If your website does not already have an app, you are missing a variety of opportunities that could take your site's purpose to the next level. Apps are not only the future; they are also very much the here and now.
We can stay in touch with our website visitors, clients, friends, or readers of our content because of these apps. They enable us to deliver updates, provide promotional materials, or offer exclusive deals and speedier services. They make things simpler to use and enable 24/7 accessibility.
Consider the following example to better understand:
Let us say you find yourself in a position where you need to purchase shoes. You have two choices at this point: either you open a browser, perform an internet search, find the product, and then buy it.
The second scenario is where you launch the app and quickly look for the product through its description to make a purchase. You might have now understood why having a mobile app is necessary even if you already have a website.
Mentioned below are some of the reasons why you need an app for your website:
As stated previously, using an app makes it easier to complete transactions, which increases conversion rates.
Most mobile users recommend using a mobile app over a website as the number of mobile users is growing daily.
The mobile app will improve and strengthen your brand as it has some in-built features that allow you to connect your marketing efforts to your targeted markets.
A mobile app can speed up your process of buying if it is mobile responsive; else, it may keep loading. It should be like just click on it and go.
You would not need to open your laptop or PC because apps are more accessible as they are used through mobile devices.
Also, read: Factors to Consider in Determining Mobile App Development Cost
Reasons Why you should have a mobile application for your website
Although mobile apps are incredibly practical, the best option will depend on your objectives.
A mobile app can help you drive more visitors to your website and deliver clients with tempting offers.
They may also help you in making wise choices about your marketing strategies while preserving positive customer relationships.
When creating an application, you need to be sure that your investment will be profitable.
You should have a mobile app for your website for the following reasons:

Copy Infographic
1) Brand Strengthening
An app is a fantastic way to share your company's history with customers and let them know who you are and what you do. Having an app will enable you to communicate with your clientele in new ways.
It will help you to stay in touch with them and being in touch will help build and maintain your relationship.
An app will help in boosting brand loyalty, which will increase the chance that your customers will make future purchases from you.
By providing another easy customer services channel, it can also help in brand strengthening.
2) Push notifications
Today, businesses' marketing efforts are primarily focused on mobile devices. When you build an app for your business, you open a brand-new channel for mobile marketing i.e., push notifications.
Even if your customer is not using the app right now, push notifications are messages that show up on their mobile device. It might be one of the most intimate ways for a business to sell its goods.
These messages provide you the opportunity to speak directly to your customer and can be used to spread knowledge of new items, offers, or events.
3) Improved Visibility
Customers spend a significant amount of time interacting with mobile apps. People will be reminded of a smartphone app every time they see their home screen, even if they are not actively using it. Your brand's and your products' visibility will benefit from this.
Additionally, it will increase the probability that any offers delivered will be viewed fast, enabling you to reach customers with the right app at a suitable time.
If your app is helpful, other people may promote it to their friends, family, etc., and end up using it more often, which could also result in new customers for you.
4) Mobile apps are faster
When a customer wants to access one of your products on a mobile device, they must first open their internet app, search for your company, select your website from the search results, go through the menu, and then choose the product page.
A well-designed mobile app, on the other hand, will undoubtedly operate at a faster speed than a mobile website.
With a mobile app, your customer can download it once from the app store and then have easy access going forward.
Apps can also save users time by remembering their preferences and leveraging them to take initiative on their behalf.
Also, read: The Guide to Developing and Adopting a Mobile App Strategy for Businesses
5) Increase Conversion Rates
Your website needs a mobile app for several reasons, including the fact that it will improve conversion rates. A website may have problems including slow-loading pages, form-filling requirements, and difficulty locating what you are looking for.
All these problems can be minimized to the absolute minimum with an app. You can use an app to send offers and other marketing materials that recipients can accept with a simple click.
This makes it so much simpler for your clients to accept your offer, which will result in more sales. By helping to personalize your offers, it can also help in increasing conversion rates.
6) Enhanced Customer Experience
People may become irritated and give up trying to purchase if the website is clunky and difficult to use. This results in lost sales. But the user experience might be much better with a well-made app.
The customer's experience is seamless and hassle-free because they can receive what they want by pressing a button.
A better experience increases your chances of making sales and provides the customer with a positive experience that increases their likelihood of returning for repeated sales.
Additionally, they might tell their family and friends about your app, which could lead to even more sales.
7) Mobile Apps provide excellent value and more data
Mobile applications have tremendous potential to provide value to your customers. Look at these examples below:
Provides Delivery Location: The travel and delivery industries will find this extremely helpful. Customers appreciate being able to confirm the status of their order and view estimated or actual delivery times.
Mobile payments: These are excellent for businesses like restaurants and stores where customers expect quick payments. By enabling your customer to order in advance and pick up when it best suits their schedule, it helps expedite the process.
Mobile Rewards: Any business that wants to keep its clients interested and engaged should use this feature. A customer loyalty program built inside a mobile app can be used to increase engagement and attract inexperienced users to your product.
Your customers can receive excellent value from apps in ways that a website alone cannot deliver. You can learn a lot more about your customers' behavior with an app.
It can reveal details such as their whereabouts at times when they are most active online and the offers, they liked and rejected.
By personalizing offers with this data, marketers can make sure that the correct offers are presented to the right people at the right time.
8) Mobile apps make for excellent SEO, and they are everywhere
The market for mobile devices is expanding today. Your business must have its app if it wants to remain relevant. It provides you with an advantage over other businesses in your field by helping you sell your goods and keep clients interested. Additionally, all your social media pages can link to your mobile app.
This is one of the best ways to increase your site's SEO, using a mobile application for your business provides various benefits.
A mobile app can be used to showcase your business and content in a specific location, making it simpler for search engines and other mobile apps to find.
Also, read: Top tips to Build Secure Mobile Apps
App Development – Pros and Cons
The complexity and depth of today's mobile apps alone offer advantages and disadvantages built into the platform.
Today, significant investment is required to create an app with the functionality and quality that customers demand. Instead, the same number of resources can be used to improve already-existing services, develop a more appealing web application, or re-invest in the team.
It can be difficult to decide which route to take to help your business grow. The solution that works for your business might not be the best one for others.
Here, we examine the advantages and disadvantages of developing mobile apps, knowing what they can provide for your business.
For every business that wants to have a chance of surviving and developing, apps may seem like a sensible next step.
They do, however, have advantages and disadvantages, just like every business decision you make. What counts is whether the app fulfills your expectations and goals. Among the advantages of app development are:
Improved brand visibility.
Improving user engagement and experience.
Boosting customer engagement.
Giving your business a competitive edge.
Generating additional revenue.
Even though the advantages appear like something you should accomplish without a doubt, there are some drawbacks too, when developing apps, such as:
Rising development and maintenance costs are a result of the requirement for different development teams for Android and iOS apps.
An app is a supplement to a website, not a replacement.
There will be more updates and maintenance work.
Apps do not help with SEO.
Also, read: 11 Reasons to create a mobile app for your online shop – and how to get started?
Final Words
We believe this article helped you to learn the significance of having a mobile app for your website to set you on the right path for promoting your business. Apps can increase your sales and impress people, so they return to you. They can also provide you with valuable information that facilitates making the right decisions and keeping your customers happy and loyal.
Developing an app for your website is certainly something you should consider if you want to improve its performance. Hopefully, after reading these 8 reasons that your website needs a mobile app, you understand the true importance of an app. If you would like to build your mobile app or website or need help with app ideas, contact our team at Cynoteck today.
Also, read: Top mobile app marketing ideas to get your business to the next level
FAQs (Frequently Asked Questions)
1) How can we
develop our
app over time?
You need to know exactly how your app will change over time. The feedback that app developers receive from customers who have used the app for a while is one of the best indicators. As the app developer, you need to discover solutions to them right away.
This requires investigation and verification of your conclusions. You can always design your app so that it will continually add value for its end users if you can identify what your customers need. 
2) How often should the app be updated?
Developers also have this question in mind, but this depends on a variety of things. These consist of: 
> Modern technologies that your app might use are now available. 
> How well your competitors are doing. 
> Any negative reviews that draw attention to the weaknesses in your app, which you must subsequently fix. 
3)
Is there any need to make a dedicated website for your app?
Not necessary, but there are benefits. One benefit is that it immediately conveys to users that you are a skilled developer. This is essential for making a positive first impression and gaining users over time. 
4) How important is it to have a relationship with your users personally?
Research and studies show that direct communication with your audience can improve user acquisition and conversion. Speak with your users. Create a message for them that will influence them to download and use your app. Spend some time developing a message that will appeal to your intended audience.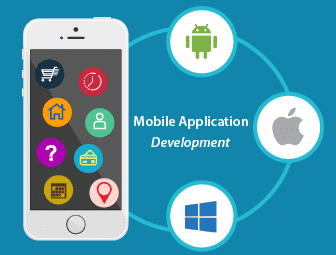 Do you want to leverage mobile technology for your business? Cynoteck is a one-stop Mobile app Development Services provider. We provide iOS and Android application development services so that you can reach your target audience on any device.