Why do retailers even need a mobile application?
Previously, business stakeholders and retailers were hesitant to build websites for their businesses, and the same can be said for releasing a mobile app for their online shop.
You may think that it is unnecessary but let us look at 11 reasons to build a mobile app for your online shop, which might force you to change your mind.
1) The recent pandemic has resulted in a massive surge in mobile shoppers worldwide; consumers find it more convenient to shop online on mobile apps, from groceries to medicines to clothes and electronic accessories.
2) You will be available 24/7 for your customers and can be in touch with your global audience with the mobile application enabling them to be in direct contact with your brand.
3) A well-designed app with a seamless UI/UX design may easily enhance conversion rates. Integrating your social media platform into your app can increase brand engagement by a huge margin.
4) The convenience of shopping on your mobile app can enable customers to turn into repeat buyers, and you can also add loyalty programs to retain the existing customers.
5) The best part is there is a secure payment getaway, and customers can use multiple modes of the transaction to complete their payments.
6) According to a report by Merchant Savvy, 58% of all multi-channel purchases are now completed via mobile.
7) According to Statista, in the first quarter of 2021, mobile devices were the source of almost 50% of the internet traffic and note that this percentage excludes tablets.
8) According to Oberlo, the percentage of consumers using mobile phones has gone up by 25% in the last five years, and the shares of mobile e-commerce sales have risen to 79.2%.
9) And most significant statistic of them all, a report by Flurry states that customers spend almost 3 hours and 40 minutes every day on their mobile phones and almost 90% of their time is spent on mobile applications.
10) You can integrate multiple advanced technologies into your mobile app, such as geolocation, QR scanner, etc., to build a better in-store experience for your customers.
11) The most excellent part of purchasing online on a mobile app is the analytics and personalization. You can effortlessly analyse consumer interactions, buying trends, and likes and dislikes using data gathered from their activities on these apps. You may analyse this vital information with artificial intelligence algorithms to predict precisely what clients want and provide them with a personalized shopping experience.
Mobile applications are turning out to be a significant market differentiator to stand out in today's competitive retail market, and you can grow in the business by developing a state-of-the-art mobile app that caters to all your consumer needs and wants and provide them with the best shopping experience ever.
If you are ready to launch a mobile app for your online shop, now is the right time to start!
Also, read: Top mobile app marketing ideas to get your business to the next level
How do you get started with creating a mobile application for your online shop?
You can develop the mobile applications for your online shop by selecting the features that will best help you leverage the mobile platform to build a loyal customer base, high sales, a personalized experience, and a seamless user experience for customers.
You already know that a mobile application gives the finest remote shopping experience based on the 11 reasons listed at the beginning of this blog.
But first, let us look at some of the rich features you can add to your mobile app to improve your brick-and-mortar store's shopping experience.
Copy Infographic
Product Evaluation
A customer in a physical store can be interested in a product that cannot be unpacked and does not have a live model on display. In this scenario, the mobile app can show a static visual preview of the product, a video, a 3D model, and customer reviews.
This complete product preview on the mobile online shop app helps customers choose the right product for them.
Geolocation Technology
Geolocation technology helps customers find the nearest physical store in their area for a product they are searching for, along with details of opening times, services provided, and customer reviews.
The business can furthermore connect with their consumers outside of their physical store by detecting and locating them when they are nearby and offering discounts, exclusive offers, or coupons to get them to come in.
Beacon Technology
Beacons are tiny sensors that interact with the customers' device and trigger action on the online shop mobile app based on the customer's activity in the store.
Imagine a customer standing near a product for a long time. In that case, the beacon can prompt the mobile app to display more information about the product, such as discounts, customer reviews, and so on, to assist the customer in making a more informed decision.
Code Scanner
The customer can scan the QR code of a product with their camera, and detailed information about the product is presented on the mobile app once this action is taken. The customer has immediate access to the price, additional features, customer reviews, other colour options, special deals, and so on.
Mobile Payment
You can avoid the long and frustrating queue leading to the payment counter by using the mobile payment option to check out after purchasing all the necessary products.
Promotional programs
An online shop mobile app helps retailers easily create personalized offers for their customers who have shared their personal information or even general offers for their other customers.
Customers may just show the coupon on their mobile app to the cashier or press a button on their phone to activate it. Launching deals, discounts, and distributing coupons have never been easier.
Also, read: Native Mobile App Development: Pros, Cons, Alternatives, and cost optimization
Conclusion
Mobile applications are a critical component in determining the success of your retail business. Incorporating all the critical features into your mobile shop allows you to better serve your customers in every manner imaginable, resulting in a better shopping experience for them.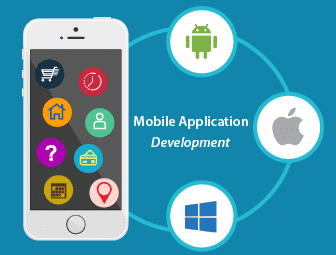 Do you want to leverage mobile technology for your business? Cynoteck is a one-stop Mobile app Development Services provider. We provide iOS and Android application development services so that you can reach your target audience on any device.