Mobile app marketing has become an important part of our lives. Almost every business today is aware that a meticulous marketing strategy is the best way to stand out in today's app market and can work as the kind of driving force that brings the coveted results.
In this competitive mobile application industry developing a mobile app is time-consuming and expensive. And currently, there are around three million mobile applications available in the app store.
On top of that, as more and more apps are becoming available on the market, it's more important than ever for marketers and small business proprietors to develop marketing strategies specific to their mobile apps. It has become challenging for young start-ups to get along with well-established companies.
Hence there arises a need for discovering innovative ways of mobile app promotion to make mobile apps stand out. Leveraging a comprehensive mobile app marketing campaign is essential for success. Having such a strategy ensures success while keeping you ahead in this competitive landscape.
Competition today is very tough and challenging, even the apps that have millions of everyday users have not become successful after a mystical finger snap. So, simply relying on word of mouth alone for promoting your app will not do.
You need to understand and explore the mobile marketplace and employ suitable marketing strategies to get people to like, use, and speak about your application. Hence you need to deploy better tactics to start driving downloads.
Also, read: Build and publish an Android app on the Google Play Store
Why is mobile app marketing important?
Mobile app marketing refers to the bunch of techniques and tactics deployed to draw, engage, and retain app users with the main goal of improving their overall lifetime value. The scope of mobile app marketing is extensive.
Determining how to market your app is a crucial process as there are so multiple apps with different marketing approaches that make the competition extreme.
So, you need to carefully build a marketing plan that will not only improve the ranking of your mobile app but also facilitate your users to download it and use it constantly.
The most significant reason to enter into the mobile app marketing world is to reach out to all your smartphone users and make them aware of your mobile application. With numerous apps moving in the market, there is a possibility that they will bypass your enterprise app without detecting it on the app store.
Now, in this article, we will cover the important mobile app marketing ideas that you need to know and how they can be employed to reach your target audience.
Looking for Mobile App Development Services
Send us your requirements, we will get back to you with a quote
Best ideas for mobile app marketing
Understanding several ways to market your app is important to successfully develop your overall strategy and market your mobile app. Defined below is the list of some of the best ideas and tactics to get your business to the next level:
Copy Infographic
1) Make an app landing page and pick a well-designed app icon
Landing pages work as effective promotional tools that usually serve as the starting point for a user's journey as your website is the first impression of your business for several users.
Next comes the app icon which is something that a potential consumer sees in an app store, so you need to ensure that you invest in building the one that is visually appealing, recognizable, and eye-catching.
Your app icon should provide users with a powerful idea of what they're going to get after they download and open your app.
Also, read: 7 Construction industry software solutions that have increased revenue for our clients
2) Get reviews and ratings for your mobile app
Many people before making any new purchase research to see what others believe before reaching a firm decision. Mobile apps are no different: ratings and reviews help influence new users to download the app.
You can help users to review your app by creating features that make it comfortable for them to write a review for you. Replying to reviews can be a useful source of fresh ideas, spotlighting areas for improvement, and showing potential new users that you listen.
3) Use mobile communication channels, and create deep links to your app
Another strategy you can employ is connecting with your current users instantly on mobile. This can work as a great way to continue engaging users and facilitate your app, providing it the growth it needs. Whether it's push notifications or in-app messaging, mobile-specific channels permit you to reach your users at the right time with a targeted message.
Creating deep links into your app can permit users to effortlessly drop into the mobile experience. This is another way to substantially increase the downloads of your app. This makes your mobile app both more accessible and more visible to users.
4) App stores optimization
Apps in terms of ranking are similar to websites, just as you have to optimize websites to rank on a search engine results page, in the same way, your app's listing has to be optimized to emerge at the top in the app store search results.
App store optimization is important to get your app to stand out among the millions of apps on the app store. You will have more exposure to potential new users when you rank higher.
Also, read: A self-learning chatbot is easier than you think: steps to create your own
5) Launch a website and blog, and you can also create a demo video
To better target your potential customers and expand the reach of your application you can link it to a website and blog. You can set up an SEO-optimized website that expands the information that you deliver in your app store listing. You can also include a blog on your website to showcase different uses for your app.
Another way you can showcase your app and increase downloads is to make a demo video that illustrates the why, how, and what of your app. You can share this video on your social media channels, website, and can also add it to your app store listing.
6) Have a Social Media Presence
Social media provides useful insights into your followers. There are around 3.6 billion social media users all over the world, so it's crucial to promote your app on one or more of these platforms.
This will help you understand the hobbies, interests, demographics of users, when they are most active, and more, so that you can improve your advertising procedure.
If your target is industry or business professionals, you need to promote your app on Twitter or LinkedIn. You should show your audience how others are utilizing your app and begin real conversations. You can even utilize a mixture of promoted posts and sponsored stories targeted to mobile news feeds through Facebook.
7) Do not overlook email marketing
Email marketing has always been the most efficient form of digital marketing. After creating a blog and website dedicated to your app, you can build an embedded sign-up form or utilize a landing page to gather the emails of interested prospects.
You can then share content from your relevant articles or blog to continue engaging those prospects until they transform and then onboard them appropriately with a welcome email sequence.
Also, read: Turning an app idea into reality – the step-by-step guide
8) Measure Your Key Performance Indicators
To measure the performance of your app and know how well your app is growing, you need to routinely check and analyse the growth key performance indicators like your daily active users, the number of downloads your app has, retention rate, and more.
Estimating performance with these KPIs will give a transparent view of where your app is functioning well and where the improvement is required.
Conclusion
The importance of mobile app marketing cannot be ignored or neglected. As the world progresses with nearly everything available on mobile phones with simply a tap of your finger. This shows how effective can mobile app marketing be, if done in the right way, it can help you reach a wider range of audiences.
Mobile app marketing begins at the start of app development and continues after it has been launched. This helps businesses and developers to understand what their users want and provide an app that fulfils their requirements. There are different methods to market your mobile app, and each plays an important role in providing your app with much-desired visibility.
Defined above were some of the best and practical mobile app marketing ideas that can help you to take your business to next level.  Ultimately, a well-thought-out approach could prove to be very practical in encouraging users to download and start utilizing your app. After the users have got your app, ensure that they keep coming back day after day. All the best!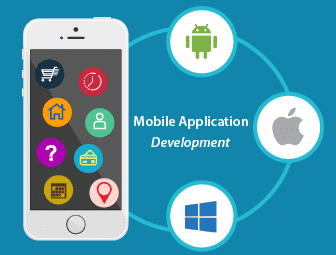 Do you want to leverage mobile technology for your business? Cynoteck is a one-stop Mobile app Development Services provider. We provide iOS and Android application development services so that you can reach your target audience on any device.