Salesforce Service Cloud is a business intelligence system that has demonstrated through numerous success stories throughout the world that it is one of the best technologies for putting businesses on top. One of the pillars of every organization's healthy growth and development is providing exceptional customer service. In today's difficult economic and competitive market, sales executives, salespeople, and customer service representatives must work together to differentiate themselves from their competitors via products, pricing, and service.  
Service Cloud is a comprehensive customer service system designed to assist customers at any time and in any location via phone, email, social media, chat, and self-help pages or communities.
Customer support can be made smarter, quicker, and more personalized with this Salesforce service cloud solution. The application also measures key performance indicators and analyses service metrics. Users can improve the customer experience in every connection using Service Cloud, making it easier for the team to provide individualized attention across any channel.
What does the Salesforce Service Cloud do? 
If we focus on how such tool works, we will notice that most of these solutions are on-cloud, which means that these applications are developed and hosted online, allowing users to access this platform from the device, and the information managed there is completely online and always up to date. 
With Salesforce Service Cloud, businesses can automate service processes to deliver better customer services. It helps disseminate customer information to various departments in a systematic manner to help them work in synergy.
Salesforce Service Cloud aims to provide the right tools and appropriate data to your team to assist them in providing top-notch customer service. Better customer services provide delightful experiences for customers, resulting in establishing brand loyalty and better customer retention.
One of the most appealing features of Salesforce is that it does not require a team of professionals to maintain the platform because it does not rely on hardware or programs installed in your offices. 
Also, read: Salesforce Lead Management Features and key stages
Why Salesforce Service Cloud?
Salesforce Service Cloud is what you should be searching for if your company is serious about customer service. You will have various clients submitting support tickets and queries regularly, whether you are in a B2C or B2B sector. Your service agents will get these tickets.
It makes it easy to keep track of and fix these issues. This is not the only technique to improve consumer satisfaction.
Let us look at how Salesforce Service Cloud assists to make organizations efficient.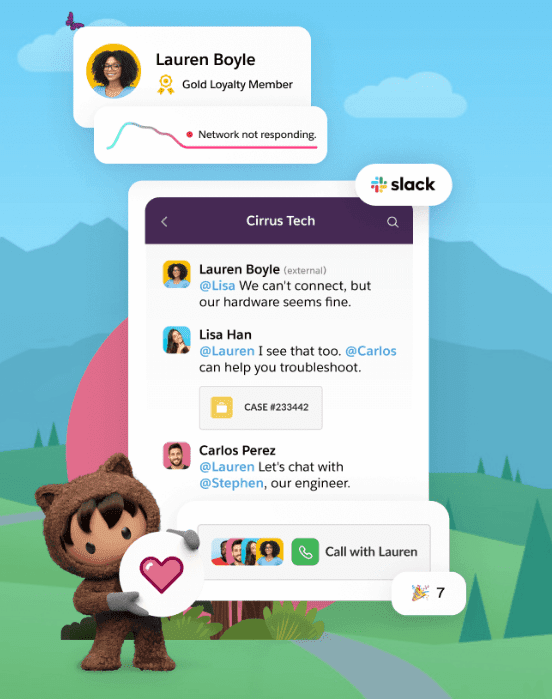 Increase Productivity: Increase agent productivity by allowing them to work from anywhere using Service Cloud. Agent productivity is boosted by automating repetitive tasks like email responses, or updating field values etc. Lightning Console helps agents view all relevant customer information on a single screen.  
Transform the customer experience: By interacting one-on-one with each customer through live agents, customer connections are drastically enhanced. You can improve customer loyalty, delight, and retention, resulting in repeat business from existing customers, increased customer LTV (Lifetime Value), and favourable word-of-mouth for your company.  
Security: With the Service Cloud platform, your data is entirely secure. It takes a multi-layered strategy to safeguard your company's sensitive data.  
Social media: Salesforce Service Cloud uses social media platforms such as Facebook and Twitter to communicate with your customers in real-time, resulting in improved management of a person's everyday tasks and a significant reduction in manual mistakes.  
Also, read: Salesforce pros and cons? Consider them to choose the right CRM
Salesforce Service Cloud Pricing
Salesforce Service Cloud has four pricing options that range from $25 to $300 per user, per month, and are charged annually. The key variations between the plans are the number of contextual recommendations per user, the quality of customer assistance, and access to special features like service contracts, smart case routing, service order management, and web application programming interface integration (API).
At a glance, these are the Salesforce Service Cloud price and plan features:
| Support Desk Plans | Essentials | Professional | Enterprise | Unlimited |
| --- | --- | --- | --- | --- |
| Pricing ($/User/Month)* | $25 | $75 | $150 | $300 |
| Knowledge Base | ✓ | Read-only; additional $75 per user, per month for read-write function | Read-only; additional $75 per user, per month for read-write function | ✓ |
| Chat (Live Agent) | Limited functionality | ✕ | Additional $75 per user, per month | ✓ |
| Facebook Messenger Support | Limited functionality | ✕ | Additional $75 per user, per month | Additional $75 per user, per month |
| Case Management and Service Console App | ✓ | ✓ | ✓ | ✓ |
| Telephony Integration | ✓ | ✓ | ✓ | ✓ |
| Service Contracts and Entitlement | ✕ | ✓ | ✓ | ✓ |
| Web Services API | ✕ | ✕ | ✓ | ✓ |
| 24/7 Support and Configuration Services | ✕ | ✕ | ✕ | ✓ |
*Based on a yearly fee. The Essentials edition is available on a monthly basis for $35 per user, per month.
Looking for Salesforce Development and Implementation Services
Send us your requirements, we will get back to you with a quote
Features of Salesforce Service Cloud: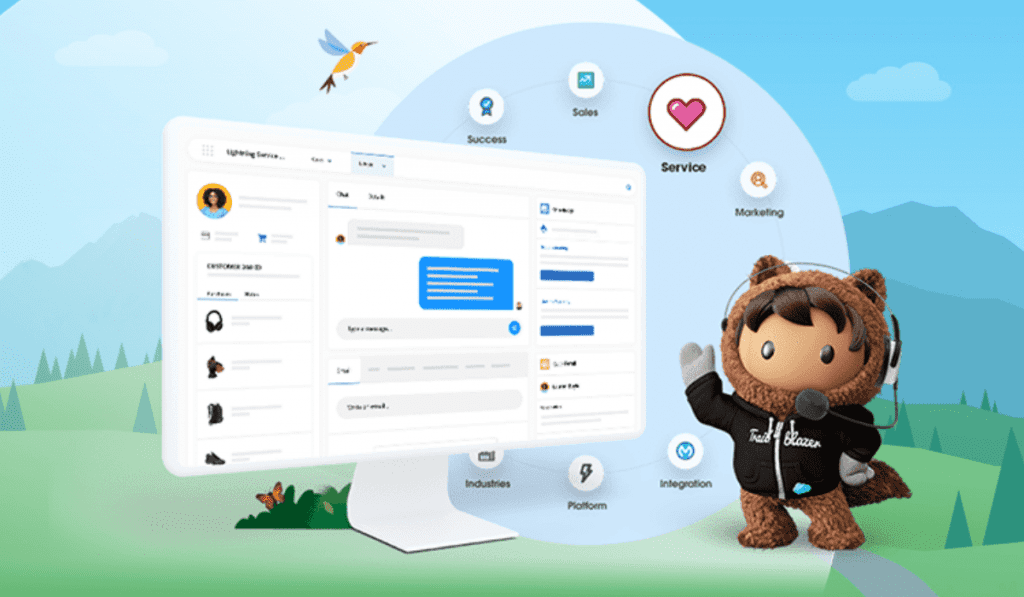 All cases assigned to an agent may be managed via the cloud service platform. Further helping in prioritizing tasks. 
Another prominent component is the knowledge base. The knowledge base organizes all resolutions for the known issues. This facilitates troubleshooting. 
The Live Agent tool provides real-time chat support. 
Customers communicate with social customer support through the social media platform rather than visiting separate web pages. 
Salesforce mobile platform is also used to handle customer support. Customer support can be managed from any device, anyplace using Salesforce.  
One of the things that help consumers support each other is cloud service communities.  
Also, read: Salesforce Account Management: Best practices for Effective Customer Communication
Benefits of Salesforce Service Cloud: 
Salesforce Service Cloud is one of the most comprehensive and complete applications since it incorporates not only particular functionality for automating customer service procedures, but also the commercial activities of Sales Cloud.
It is a cloud-based, strong yet adaptable solution that allows your service agents to focus their efforts on customer delight by streamlining work, simplifying procedures, and providing a multi-channel approach that allows customers to have an excellent shopping and service experience. Some more advantages that it offers are:
Possibility of expanding your service region by simply adding more users as needed, without the need to purchase more hardware because the service is hosted in the cloud.  
By connecting it with Sales Cloud, you can get a 360-degree view of your customer, including their history as a prospect, purchases made over their life cycle as a client, and so on.  
Reports and information boards will provide you and your representatives with information about your goals and objectives, as well as the outcomes achieved, categories of cases resolved, number of tickets in process, and so on.  
Customer support is tailored to your needs by storing all the customer data, you will be able to better satisfy your customers' demands than your competitors.  
Customer service across several channels. People nowadays employ a variety of media depending on their needs, ranging from the most classic, such as the telephone, to the most modern, such as live chats. Obtain a constant level of service and quality by offering your client the most appropriate approach according to their desire without seeing the difference between one and the other.  
Anticipate customers' needs by fixing problems before they emerge with timely data. Give your agents all the tools they need to succeed, and your consumers will be wowed by your knowledgeable and proactive service.  
Your agents will have access to libraries containing information and knowledge, allowing them to be more autonomous when looking for answers to comparable issues or valuable material to help them address client requests more quickly and agilely.  
The Assistant Cloud software allows you to deliver service 24 hours a day, 7 days a week, both through an agent and by allowing customers to self-serve through communities and portals, so that they may receive answers fast and effortlessly.  
Also, read: Salesforce Artificial Intelligence for Marketing, Sales, and Service
Gain customer insights with Salesforce Service Cloud
The Salesforce Service Cloud allows users to have a deeper understanding of their customers. Some of its features and qualities help them do this, such as:  
Service Cloud gives businesses a 360-degree perspective of their clients, making it simpler to provide smarter, quicker, and more personalized services.  
Service procedures may be automated, and workflows enhanced with Service Cloud, transforming the sales agent experience.  
It makes it simple to communicate with each customer individually over numerous channels and on any device.  
Users of Service Cloud may provide real-time, individualized help by phone, email, and chat.  
Salesforce Service Cloud helps organizations boost productivity and customer happiness by making self-help capabilities accessible and simplifying all service interactions. Furthermore, by using Support Cloud, you may lessen the workload of the customer service area by using a self-service portal that allows customers to be part of a personalized community. This links them with other users, to share information about Salesforce Service Cloud-related subjects.
Also, read: How Salesforce Helps Businesses Resolve Critical Email Marketing Challenges
Conclusion: 
Many companies have been able to provide excellent customer service because of the Salesforce service cloud. Telephonic integration and virtual remote support are two features that enable you to communicate with your customers in real-time.
Other features, such as AI-powered chatbots, assist customers in finding the information they seek. Salesforce Service Cloud enables businesses to provide top-notch customer services for better customer retention. Furthermore, Salesforce Service Cloud's Console and Analytics tools help agents work more efficiently. 
In conclusion, it can be said that Service Cloud significantly enhances your business operations, resulting in a better customer experience.

Frequently Asked Questions:  
1) What is the cost of Salesforce Service Cloud? 
There are numerous pricing models to choose from, with additional features with each rising cost model. The lowest affordable tier is $25 per month, while the costliest tier costs $300 per month and is paid annually. Service Cloud, like other Salesforce solutions, has a flexible pricing structure and is completely adjustable. Even though features are grouped into four levels, customers can contact a Salesforce representative after purchasing to request more features or have features removed from their existing bundle. This will be reflected in the pricing. 
2) Is Service Cloud part of Salesforce? 
Service Cloud is Salesforce's customer service CRM product. It is one of the components of Salesforce CRM. Because Service Cloud is part of the Salesforce platform, your team can utilize it by downloading it from the Salesforce AppExchange. Salesforce CRM customer database can be used for Service Cloud, Sales Cloud, and Marketing Cloud.  
3) What is Salesforce Service Cloud?
Salesforce Service Cloud is a multi-channel customer service system that can support customers at any time and from any location using phone, email, social media, chat, and self-help pages or communities. With this Salesforce service cloud solution, customer assistance can be made smarter, faster, and more customized. It is a platform that allows any department in your company, including marketing, sales, customer service, and e-commerce, to get a complete view of your customers and focus on providing better customer services. 
4) What is the Salesforce Service Cloud license? 
After obtaining a Service Cloud membership, your company will have immediate access to Salesforce Service Cloud. Service Cloud has four license options: Essentials, Professional, Enterprise, and Unlimited. Your budget and desired attributes will determine which one you need.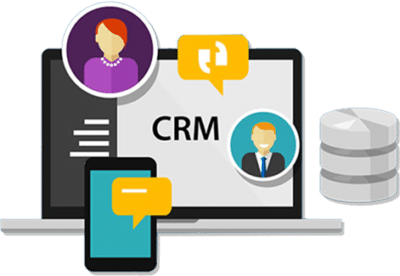 If you are new to automation and confused about Workflow or Process Builder. Need not to worry, we have got you all covered. Talk to our experts and clear all the cloudy thoughts about automation.