Salesforce, one of the most widely used CRM available in the market, is renowned for its optimum utility and personalization. Its lead management module gives you a comprehensive solution for end-to-end lead management processes, including lead generation, distribution, and qualification, as well as follow-up and conversion. It is an excellent tool for managing leads.
In a nutshell, Salesforce Lead Management helps businesses to convert more leads into sales, therefore generating more revenue. It also provides you with tools to enhance the processes from lead creation to lead qualification.
An effective lead management software helps users in determining the future course of action for lead conversion. The solution should also help sales agents with how they should connect with leads to convert them into finished sales transactions. Salesforce Lead Management gets to the point and allows you to concentrate on the sales process, which is exactly what salespeople want from their software.
To understand the lead management process better, let us cover some basic requisite information about leads before discussing the aspects of lead management.
What is lead?
Leads are those prospects who can be potentially converted into clients. Prospects may be businesses or individuals who are interested in the company's services and products.
Major Lead Sources:
Lead Sources where your leads come from:
Direct Marketing
Client Events
Client Referrals
Social Media Campaigns
Advertisements
Webinars
Websites
Also, read: Salesforce pros and cons? Consider them to choose the right CRM
What is lead management?
It is pretty evident that sales are imperative to sustain a business. Effective lead management results in sales and the generation of revenue for a business. Lead management refers to managing leads and nurturing them into sales. It is one of the most important prospects of a business.
It refers to the process of converting leads into sales. An effective lead management system involves defining leads, nurturing them into sales, and closing them. For a business that offers complex services and products to other businesses, lead management is extremely beneficial. It assists users in making more sales by providing certain tools to interact smoothly with potential clients.
The purpose of lead management is to ascertain that the process of converting a lead into sales is executed smoothly, from the first point of contact to selling them the products and services. The name lead management is quite self-explanatory, it assists businesses in streamlining their sales process and generating more revenue by effectively converting leads into sales.
Salesforce Lead Management Features
Salesforce offers several features that can help you generate and effectively manage leads, and convert them into sales, some of them are as follows: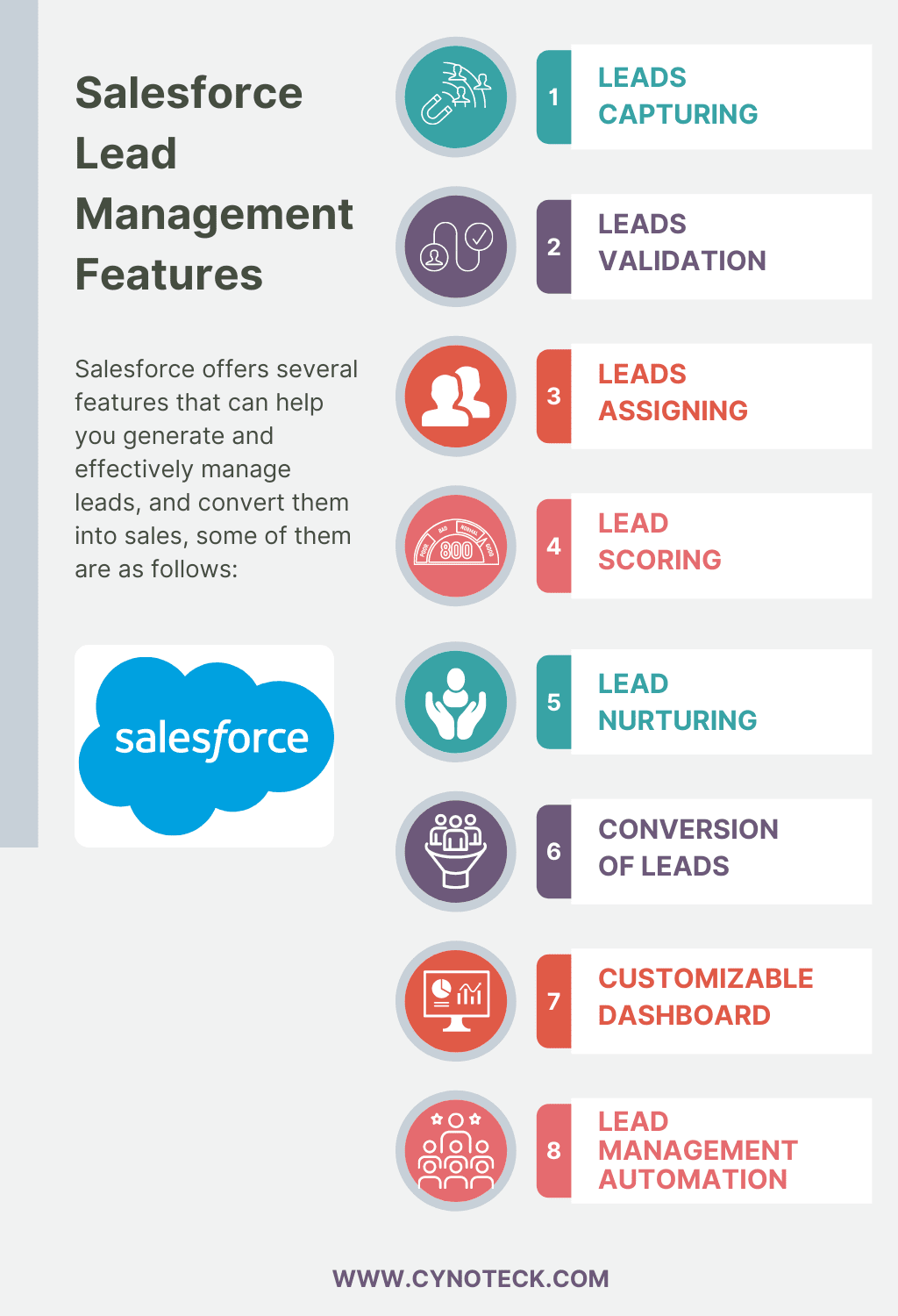 Copy Infographic
Leads Capturing: One of the main sources of capturing leads is the contact form on the website. It helps reduce manual entry by using the existing information in the database, adding to the convenience of potential customers. It makes it more convenient to capture leads from websites.
Leads Assigning: This Salesforce function automatically allocates leads to sales reps based on predefined parameters like industry, location, and so on. Helping the management save time and effort by assigning leads automatically.
Lead Scoring: Salesforce scores the lead according to the level of interest shown by the potential customers in the products and services offered by the service provider. It helps the users focus on the good leads by determining the leads that are most likely to be converted.
Lead Nurturing: Lead nurturing helps users to send automated emails and messages to potential customers and helps them convert leads to sales. Automated workflows help businesses to nurture leads and convert them to sales.
Conversion of Leads: Salesforce's lead conversion tool allows customers to track a lead's progress from prospect to sales conversion. It helps businesses determine the effectiveness of the marketing strategy.
Customizable Dashboard: The dashboard allows the users to access all the information about leads and their status. Users can also use customizable tools to add filters to search for specific types of leads.
Lead Management Automation: Salesforce Lead Management Automation increases the efficiency of a business by automating repetitive tasks such as sending follow-up emails, enabling the businesses to focus on other important tasks.
Also, read: Salesforce Account Management: Best practices for Effective Customer Communication
What are the different stages of Salesforce lead management?
The different stages of the Salesforce lead management process are as follows:
Copy Infographic
1) Attracting potential customers
The number of leads captured is directly proportional to the sales made. A greater number of leads increases the probability of more sales conversion. Salesforce lead management can help you attract more leads in numerous ways, such as:
Salesforce consists of several features that can help a business get more leads by automating the lead generation process like Web-to-Lead, integration LinkedIn and other third-party lead generation tools.
With the Salesforce data import wizard tool, users can import massive information pertinent to leads in one go. It enables users to import data from Excel spreadsheets, Gmail, Outlook, and other similar channels.
It makes manual information entry convenient for users.
2) Identifying Sales Conversions
Identifying and filtering good leads from bad leads has always been a concern for businesses. Identifying good leads prevents business organizations from wasting their time and efforts on dead leads (the leads that are not likely to convert to sales). Thus, it is imperative to set a standard criterion for lead qualification.
Salesforce allows users to set a lead conversion point for the sales pipelines to drive leads through it to convert them into sales.
3) Set priorities for leads and assign them to the appropriate salespeople
It is safe to say that the lead conversion process is a time-sensitive process. If you do not prioritize leads and work on them in time, there is a high chance that the lead will not be converted, or your competitors will get the best of them before you do. Salesforce lead management enables users to investigate the best chances so that the sales team can respond quickly.
It is important to take follow-ups on your lead; however, you should also be sensible to not go overboard with it. Salesforce lead management assists users in providing timely responses to potential customers to keep the interaction smooth, thus increasing the probability of sale conversions significantly.
4) Turn quality leads to sales opportunities
The basic idea of lead conversion is that the leads should always be moving towards the path of conversion. To achieve that, assigning a follow-up task is a recommended practice to ensure that leads do not remain leads for an extended period.
Working on a priority basis can help the sales team convert good leads timely and focus on other leads to significantly increase their probability of conversion.
5) Potential clients who are not ready to buy should be nurtured
The nurturing process is a crucial aspect of lead management since it aids in the development of effective connections with leads, as well as the retention of less qualified leads for future interest. The nurturing process is sometimes overlooked, but this should not be the case.
If a prospect is not ready to buy your products or services right now, sales professionals should pursue lead nurturing, which is generally a complicated process. Lead nurturing is more than just sending a monthly email or calling a lead frequently to check its conversion status.
A sales representative should start meaningful dialogues by delivering guides, suggestions, industry research, and other relevant information that will not only assist leads to solve their problems, but also establish your organization as a reliable partner.
6) Assess the status of lead management
The finest part of adopting Salesforce CRM software is the strong data analytics. Salesforce provides you with a centralized platform where you can store all your lead management data. You also get tools to help you analyze all this data.
Your team can use data analysis to find areas where your lead management process could be enhanced. It is a continual procedure that should be done frequently to keep your sales funnel flowing smoothly.
Salesforce offers various matrices to keep a tab of your lead management progress such as:
Lead history reports guarantee that numerous lead parameters, such as lead source, industry, or yearly revenue and opportunity quantities, are all traceable.
Users can track the progress of lead-generation activities using various metrics such as the number of sales conversions, and the number of leads to be converted.
Also, read: Top 9 Software Development Models to Choose From: Phases and Applications
Conclusion
Any business process requires effective lead handling. It assists businesses in generating income and expanding. It is an innovative idea to invest in software solutions like Salesforce to make lead handling as efficient as possible. Salesforce CRM has features that help a company's lead management process run smoothly. Salesforce enables users to utilize lead management capabilities to the fullest by customizing and integrating their Salesforce CRM with third-party software.
Lead creation is a time-consuming procedure. Finding good leads, keeping track of them all, and nurturing them through the sales cycle are all challenging tasks. A solid and effective lead management system, on the other hand, is critical for many firms' long-term success. The efficiency of your lead management and sales funnel is determined by two factors: the tools you have and how you use them.
Frequently Asked Questions
1) How can Salesforce's lead management help my business?
Salesforce lead management features can majorly help you convert leads to sales. With an automated workflow process, Salesforce eliminates the need for sending follow-up emails manually. Salesforce also helps keep an organized tab of all the lead information. Other applications of Salesforce include lead nurturing, lead validation, lead assigning, lead management automation, and more. With the functionalities of Salesforce lead management, the probability of lead conversion to sales increases exponentially.
2) Why is lead management important?
Lead management is important for businesses to convert leads into sales more effectively, therefore generating more revenue. Additionally, lead management increases the efficiency of the organization by eliminating repetitive tasks and further assisting sales representatives to focus on other important aspects of lead conversion.  
3) What are the benefits of Salesforce lead management?
There are numerous benefits of Salesforce lead management such as capturing more leads, managing lead information more effectively, nurturing leads, lead scoring, filtering leads, prioritizing leads, and more. Briefly, Salesforce lead management features help users to convert leads into sales more effectively, therefore generating more revenue.  
4) Can we integrate Salesforce with other applications to enhance lead management capabilities?
Yes, third-party tools and software can be linked with Salesforce to improve lead management capabilities. However, it can be a complex task, thus it could require technical assistance for the integration process.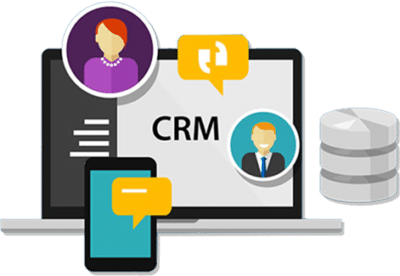 If you are new to automation and confused about Workflow or Process Builder. Need not to worry, we have got you all covered. Talk to our experts and clear all the cloudy thoughts about automation.