Customer service is key to business success and is one of the important measures to give a business leverage over their competitors. Businesses that have been in operation for a long time are likely to run into issues with account management.
It is difficult to keep track of and maintain all of their accounts and interactions with each customer that provide a large number of business references. Many organizations use PowerPoint, Excel, and third-party apps that are compatible with a variety of systems, as an account management solution. As a result, teams have not been able to collaborate on random ideas, resulting in missed opportunities and a disorganized customer experience.  
But the good news here is: you can overcome all of these problems by using Salesforce account management. Salesforce account management is the best solution for your business solving most of your day-to-day business challenges along with providing several new opportunities. 
Salesforce Account Management
Customer Relationship Management (CRM) allows you to collect and manage all information pertaining to your customers in a single location easily accessible to all authorised users.
Since companies want to deliver the best possible service to all of their customers, CRM makes it easy to understand customer's need, so that you can offer a solution that is best fit to their needs.
Traditional CRM approach does not provide businesses with the required inputs, that is why businesses today are moving towards software solutions like Salesforce.  
Salesforce allows you to group your clients as: contacts, leads, and accounts. Salesforce CRM's technology helps its clients in keeping track of their customer database in an orderly and efficient manner.
Salesforce account types allow you to store information about not only your customers and partners, but also competitors, investors, resellers, and any other parties with whom you may interact throughout your work process.  
Salesforce account management lets you centralize all customer data, as well as all key interactions and customer service cases in one place. As a result, you can take your customer conversations to the next level and streamline your sales process.
Right from approaching potential customers and generating successful leads to staying in touch with current customers and connecting with them regularly. 
Also, read: Salesforce Artificial Intelligence for Marketing, Sales, and Service
Why there is a need to create Salesforce Accounts? 
Mentioned below are the three situations that might lead your team to set up a new Salesforce Account:
1) By importing a list of Contacts and/or Accounts from a data provider, you can create an account.
2) After your sales team has converted a lead, Salesforce creates an account. In this process, the lead will be converted to a contact, and the company to which your lead belongs will be converted to an Account (in case the account does not exists in the system).
3) Furthermore, you can create an account simply by entering information into Salesforce CRM or after successfully closing a sales deal or completing an outbound marketing campaign.
Create a complete Salesforce account profile to efficiently manage your accounts 
Salesforce account object lets you store the following data points:
Company name 
Industry 
Website 
Phone number 
Size (the number of employees) 
Company billing and shipping address 
Account Owner 
Apart from the above standard datapoints, you can always customize the solution to add more datapoints which are critical for your business.
Salesforce also, maintains the relation between Accounts and other related information such as contacts related to an account or cases reported by contacts of the said account, current or past opportunities (business discussions) with the account, activities (phone calls, emails, meetings), and so on), allowing you to not only get a quick overview of the account, but also explore the details.
All of these data sets and information when combined provide you with a complete picture of your customer or any other account type you've built in Salesforce.
Looking for Salesforce Development and Implementation Services
Send us your requirements, we will get back to you with a quote
Also, read: How Salesforce Helps Businesses Resolve Critical Email Marketing Challenges
How to utilize Salesforce Accounts to Effectively Manage Your Customers
Usually, salesforce is an Account centric system, where almost all the data can be tracked back to Accounts. Salesforce Accounts store important information such as customer documents, who last communicated with the customer, and what they talked about.
Here are some Salesforce account management tips and tactics to help you get the most out of Salesforce! 
Copy Infographic
To manage customers in Salesforce, you must first understand how Accounts and Contacts are related. You can consider an Account as the firm with which you conduct your business, and Contacts as the people with whom you do business.
You can either associate a newly generated Contact with an Account or associate an earlier created Contact with an Account. 
2) Never lose contacts, always associate them with accounts
It becomes critical to link contacts to accounts when utilizing both account and contact, in your Salesforce system. A Contact may only be visible to its owner, creator, and system administrator, depending on your sharing settings.
It is recommended to link Contacts with Accounts to better organize the data and it will also help other users to know the professional association of a contact with an account.
3) Setup Person Accounts
Person Accounts are used, usually to capture a B2C business model, it is a combination of Account and Contact fields that keep the business data you need for a specific person. Person Accounts can't be turned off after they've been enabled, so try them out in a Sandbox first.
If you work with both individuals and businesses, you can have both Person Accounts and Business Accounts in your organization.
4) Discover "Inactive" Salesforce Accounts
There are cases of "inactive" accounts on which people no longer work, in a Salesforce-enabled firm. Users waste time looking for their customers by scanning through irrelevant Accounts!
You can set up automation to find and alert users when their accounts become "inactive" to fix this problem.
Using automation to locate inactive accounts will help you find customers faster while managing your accounts successfully. 
5) Check that the accounts are not possessed by inactive users
Users can own accounts even if they are inactive, so you must re-associate all accounts linked to inactive users to active users to avoid losing track of customers! Fortunately, Salesforce provides information on accounts owned by inactive users, allowing you to quickly search your whole system for accounts with previous owners.
Also, read: Top Salesforce Automation Tools to Help Your Business Grow
Advantages of Salesforce Accounts Management
Setting up and managing Salesforce Accounts offers your business with the following advantages:
You can use Salesforce account management to relieve your sales team from paper-based account management, as it is a cloud-based software platform.
Managing Salesforce Accounts lets you consolidate all of the businesses with whom you engage on a centralized platform.
Salesforce Account management allows you to maintain the consistency of the Accounts managed by your team.
It enables you to create new customer accounts in real-time, letting you maintain the pace of your business.
To expand and boost business communication, you can create significant Account teams and assign an appropriate Account owner.
Salesforce Account management enables users to keep track of the most important Accounts and prioritize them for customized sales and marketing operations. After the Accounts have been ranked, Salesforce Marketing Cloud may be used to successfully target high-ranking customers.
Salesforce Accounts help you in representing the organizational structure of a company you work with and the relationship it has with its subsidiaries.
Keep a track of your top accounts to prioritize your sales and marketing efforts.
Final Words – Salesforce's accounts and contacts help you effectively communicate with customers to close more deals
Salesforce Accounts and Contacts allow you to work the way you want to close more deals faster. Every day, you'll be ready and prepared to sell from any device. You can refine your list to ensure that you're concentrating on the right accounts. Then take a closer look at each of those customers and what matters to them.
Then, without navigating away from the record you're in, you can access the account and contact information at a glance.
And when you meet new people, it's simple to add them so that all of your contextual information is accurate and up to date, and all of your data is gathered and tracked in real-time from anywhere.
Also, read: Salesforce ideas to grow your revenue in 2022
FAQs (Frequently Asked Questions)
1) Are Salesforce use cases different for account-based marketing?
Salesforce provides account-based marketing while aligning sales and marketing for your business. Account-based marketing which is also known as key account marketing. It is a strategic marketing approach that focuses on company's assets and resources on a small number of targeted accounts within a market to increase account awareness. 
2) How can a right CRM solution help you achieve more leads?
Using the right CRM will give you in-depth analytical insights into your customers and how to start in the right direction. You'd be able to track campaigns and stay on top of current communications as well. A good CRM platform has all of these features. If you utilise the right CRM, you will be able to convert potential clients because you will have the necessary knowledge on how to communicate with them.
3) Can a Salesforce CRM be customized to improve sales performance?
Customizing your Salesforce CRM could help you increase sales because each company operates in its own unique way, with its own set of strategies and methods. This can be done in accordance with your company's needs, ensuring that your environment is tailored to your requirements.
4) What do you mean by a sandbox in Salesforce?
A sandbox is used for testing and development. You can utilise the sandbox to test a newly created Force.com application or Visualforce page at any time. Sandboxes are extremely valuable since they are completely separate from your Salesforce production organisation, allowing you to test new ideas on a duplicate database without upsetting the production environment.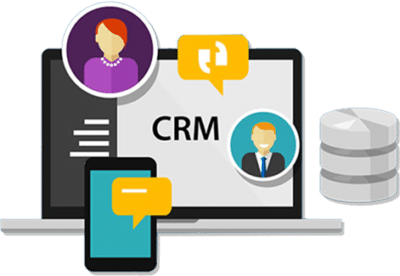 If you are new to automation and confused about Workflow or Process Builder. Need not to worry, we have got you all covered. Talk to our experts and clear all the cloudy thoughts about automation.